There isn't much there to give any indication of what lies at its end – the narrow dirt road that turns off the main road just outside of Allouez Location. Heavily overgrown and obviously seldom used – its narrow confines are made even narrower by the heavily encroaching trees and brush along its path. So close that as you drive down it you can hear the branches and brush scrape up against your car's sides and most likely scratching its paint job as well. But its worth it to discover what lies at the end of this old road.
Quickly those encroaching tree's depart and the view opens up to a large open field dotted with old overhead lights. Turns out the road was a driveway, leading right to what was once a large parking lot – now heavily overgrown and absent of any cars but your own. Ahead of you lies a large concrete pedestal half covered in red-tinted mine rock. On either wide sits a pair of steel-framed buildings – their openings sealed shut and the weeds growing high up along their rusted walls.
These are the remains of the last mine to be opened in the Copper Country – a last ditch effort to pull profit from an industry that was in its final days. Known as the Kingston Mine, it opened in 1964 with much hope and anticipation. After the end of the Korean War in 1953, the government contracts and price guarantees that had artificially kept the copper industry alive had ended and the great C&H (one of only two great copper superpowers still in operation at the time) was desperate to find the new "mother-load" that would keep the industry operating. While promising the Kingston would fail to live up to the hype, and in just five years would become abandoned.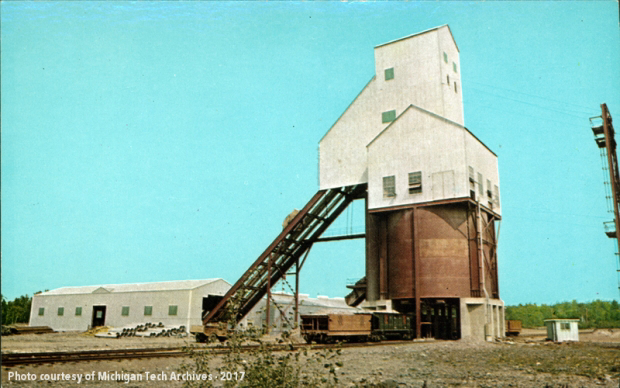 archive image courtesy the Michigan Tech Archives | this post is an update to one that first appeared on this site in November of 2006. Some of the comments seen below are original to that earlier version.