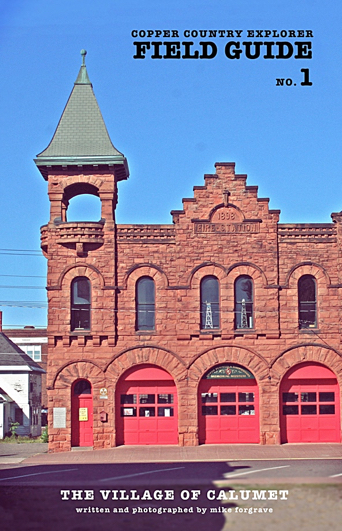 Originally known as Red Jacket, the town of Calumet first formed to the north of the great C&H mine around 1864. As the mine prospered, the town of Red Jacket expanded in response. By 1900 the small town had managed to grow to nearly 5,000 residents, which when combined with the surrounding suburbs created a sprawling metropolis of nearly 30,000 people. Along the village's brick-paved streets were all the trappings of a modern metropolis: multi-floor department stores featuring the latest in European fashion, an opulent 1200 seat opera house boasting nationally touring stage plays and acts, and an elegantly manicured city park designed by one of the country's most renowned landscape architects.
However, by the 1960s the great Copper Empire had fallen from greatness, the great C&H was no more, and the village's fortunes were no more . Within a decade the village's population shrunk to near obscurity and most of its businesses shut their doors. A city built for tens of thousands of people was now home to just under a thousand. As a result hundreds of homes were left vacant and dark, dozens of massive commercial blocks along the village's wide streets were abandoned , and the bells in the village's soaring churches were forever silenced.
Though no longer the great metropolis it once was, the streets of the old village continue to showcase more than a few remnants leftover from its golden age. Soaring cathedrals, sprawling commercial blocks, and architectural gems continue to grace the village yet today – along with more than a few clues to the village's more populous past. Helping you find these remnants and uncover those clues is the Copper Country Explorer Field Guide. Inside its 100+ pages are featured over 65 points of interest scattered about the the old village. Street by street the FIeld Guide takes you on a tour of these remnants and remains from a time gone by, bringing to life the great booming metropolis that was once the village of Calumet. Each point of interest is illustrated by full color photographs of the buildings as they appear today accompanied by descriptions, histories, and addresses.
Order Your Copy Today!
Each Copper Country Explorer Field Guide is available in two formats, both as a digital download and as a full-color printed paperback. The digital versions have been designed specifically for use on small-screen mobile devices, allowing them to be easily used while on-the-go on your phone or tablet. The printed versions are trade paperback size (5.5″ x 8.5″), printed in full color with perfect bound binding.