Shadows of the Copper Empire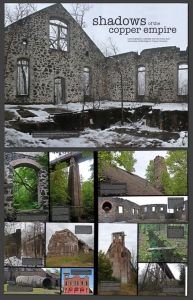 Introducing CCE's very own Coffee-Table Book – "Shadows of the Copper Empire".
Packaged in a massively sized hard cover book, "Shadows of the Copper Empire" features excerpts from over ten years of CCE journal entries illustrated with over 50 gorgeous super-sized photos of the old empire's most impressive remains. Together they serve to tell CCE's story –  one of exploration, discovery, wonder, beauty with a little history mixed in for good measure. The book measures 14 inches wide and 11 inches tall, and when open creates a two and half square foot photographic vista showcasing the Copper Country's most impressive ruin-scapes.
In addition to its massive Coffee-Table sized version, there is also a smaller standard sized version available measuring a more subtle 11″ x 8.5″ size. Both books feature 23 pages plus  printed full-color back and front covers. The Coffee-Table sized version is $69 while the smaller version is $49.
The Coffee Table Book will be limited in number and after the duration of our fundraising campaign will no longer be available for purchase. Pre-Orders are open until Monday November 14th. Books will be mailed out the first week of December, with delivery occurring between 7 and 14 days.
Thank you for your support!
Payment is processed via PayPal. You can pay securely using your PayPal account. If you don't have one you can still pay securely via credit card. Just look for the credit card icons on the PayPal page.