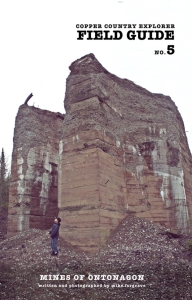 The great Copper Empire extended far past the boundaries of Houghton and Keweenaw Counties, its industrial reach extending far into the interior of neighboring Ontonagon County as well. There several mines took shape along the rugged hills, remote and isolated sites residing far from hustle and bustle of the rest of the empire. These mines included far more failures then successes, resulting in a landscape sprinkled primarily with nothing but abandoned shafts and empty adits. Yet there were some successes, mines such as the Victoria, the Mass, the Lake and the Minesota; whose copper riches fueled the erection of sprawling modern surface plants adorned with towering rock houses and massive hoisting plants. Today those mines are long gone, but the remains of their impressive surface plants can still be found deep in Ontonagon's rugged interior.
Take a tour of these abandoned mine sites and their impressive ruins with the Mines of Ontonagon Field Guide. Hike along the rugged hills and soaring cliffs found between Mass City and Rockland and explore the remains of four major Ontonagon copper mines – the Mass, Michigan, Victoria and Lake. From the sprawling ruins of the Michigan's centralized hoist house to the towering remnants of the Lake's massive rock house, over 65 ruins are on display within the Field Guide's 90+ pages.  Each entry is accompanied with full color photographs, brief histories and locations. The volume also features several detailed maps of the mines' surface plants an the ruins that remain.  (97 pages, 5.5″x8.5″, 17MB)
Order Your Copy Today
Each Copper Country Explorer Field Guide is available in two formats, both as a ePub digital download and as a full-color printed paperback. The ePub versions have been designed specifically for use on small-screen mobile devices, allowing them to be easily used while on-the-go on your phone or tablet. The printed versions are trade paperback size (5.5″ x 8.5″), printed in full color with perfect bound binding. Choose your format of choice from the options below: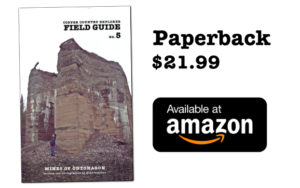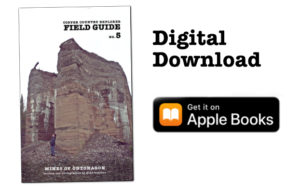 EBOOK TERMS: Ebooks are for personal use by the original buyer only – it is protected by copyright and other intellectual property laws. You may not reproduce, transmit, modify, participate in the transfer or sale of, create derivative works from, distribute, display, or in any way exploit, any of the content of this eBook in whole or in part. The order is immediate and you will receive instructions on how to download the eBook via email so cancellation of your order is not possible. A refund will not be given on your purchase if the eBook has been downloaded. By purchasing this eBook, you agree to the above terms.