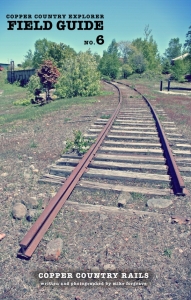 The great Copper Empire was complemented by an equally impressive network of rail, roads of iron that connected shaft to shaft, mine to mill, and mill to shore. Joining these mine railroads was even more rail, a trio of common carriers along with a street railway transporting people and freight to and from communities all across the peninsula. In the end the Copper Country would boast over a dozen railroads and several hundred miles of track, creating one of the densest and most prominent rail networks in the nation. Â A century later finds those mines closed and the railroads that supported them abandoned. Yet a great deal of the old rail network remains, hidden alongside the road and deep within the forest, scattered remnants of a great empire that once was.
Ride the rails again with the Copper Country Rails Field Guide as it takes you along the abandoned railways and explores the ruins and remnants of the great transportation empire that was. Discover old depots, roundhouses, and water towers that remain to this day, along with old locomotives and pieces of rolling stock that continue to haunt old rail yards and long-abandoned spurs. Even old trestles, cuts, and fills are on display here, providing over 60 railroad remnants in total. The Copper Country Rails Field Guide is your guide to the expansive railroad heritage of the Copper Empire.  Each is accompanied by full color photographs, detailed maps, and historical descriptions. (109 pages, 5.5″x8.5″, 15MB)
Order Your Copy Today!
Each Copper Country Explorer Field Guide is available in two formats, both as a ePub digital download and as a full-color printed paperback. The ePub versions have been designed specifically for use on small-screen mobile devices, allowing them to be easily used while on-the-go on your phone or tablet. The printed versions are trade paperback size (5.5″ x 8.5″), printed in full color with perfect bound binding. Choose your version from the options below:
EBOOK TERMS: Ebooks are for personal use by the original buyer only – it is protected by copyright and other intellectual property laws. You may not reproduce, transmit, modify, participate in the transfer or sale of, create derivative works from, distribute, display, or in any way exploit, any of the content of this eBook in whole or in part. The order is immediate and you will receive instructions on how to download the eBook via email so cancellation of your order is not possible. A refund will not be given on your purchase if the eBook has been downloaded. By purchasing this eBook, you agree to the above terms.