After some absence, CCE's reporter on the spot Craig Aldinger returns for another back woods exploring adventure. This time he takes a trek to find the old mining community of Superior City – a platt of land once serving the short lived Superior Mine. 
This only took me forever and several bushwhacking trips into what one might think is a short walk from where I live in Dodgeville. Do not be fooled by old maps: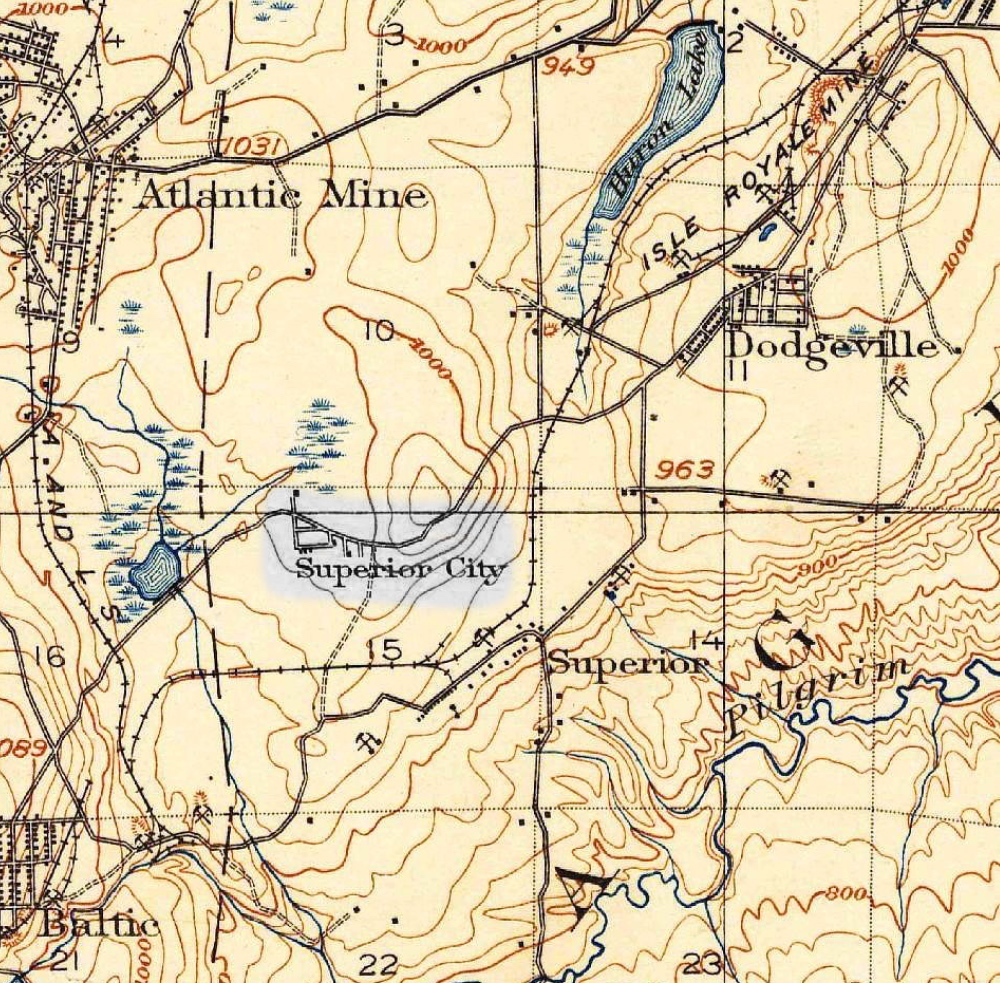 Straight line from my place is short, the reality of what is there now is something else entirely. It took me three different Sundays to finally find one of the foundations still there, the only thing you can see on modern imaging is an obvious rectangle, Mother Nature isn't too impressed with straight lines.
Despite having that info to look at on a computer screen, it was still an adventure to actually walk through the country and remembering the compass skills I learned as a kid – I still got sidetracked several times before I finally got there.
Here's a screenshot courtesy of Acme Mapper 2.1, X marks the spot, GPS coords in the bottom right corner: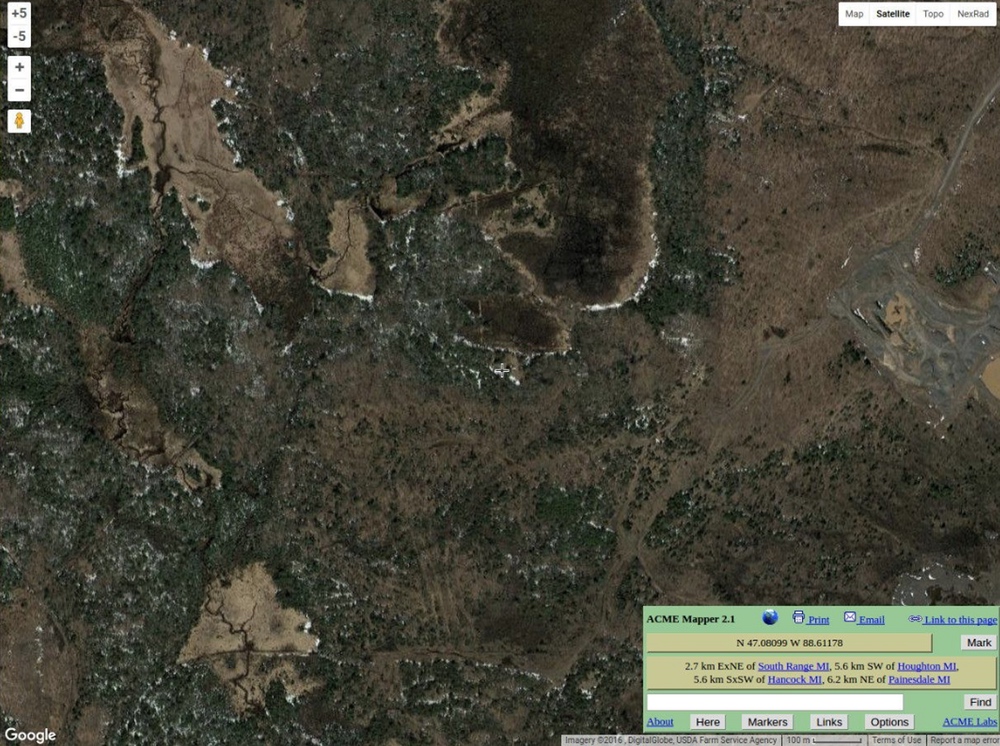 If anybody wants to go for it, don't ask me for directions. Don't want to spoil the fun; this is actually open land to walk on, the DNR has control, obey their rules and you can walk around. I spoke to some folks at a hunt camp, there are some bits of private ground scattered in there but, if you are respectful, walking is fine.
They were the ones who gave me the last clue, I took a right in the forest and followed a two-track… You have no idea just how thick the woods are, all the other pictures I took are pretty much the same, this shot is the lane in to the old property.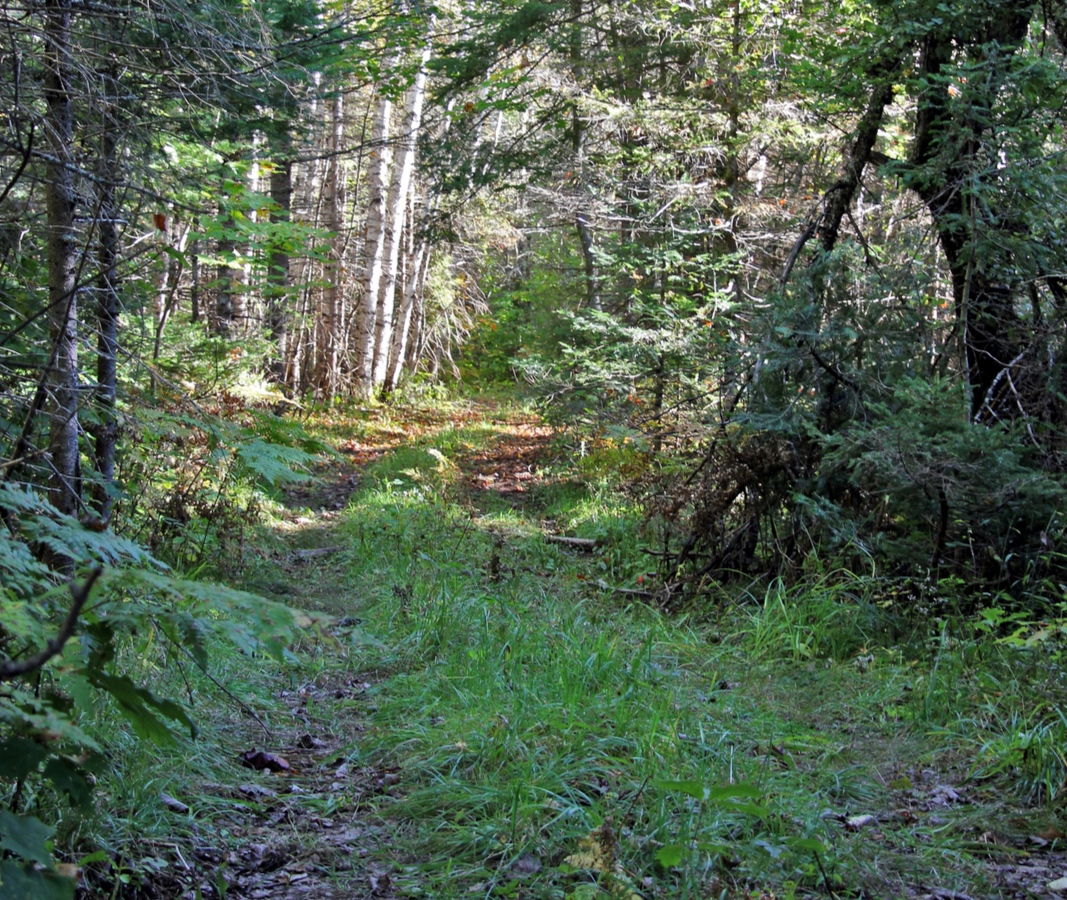 One of the things I've learned while wandering around the countryside, if you find a stone-cold wild and scraggly apple tree, humans were nearby in the past. I came out of the woods right next to this one, there were a dozen different trees scattered around the property.
And, yes, I picked two or three each from some of them, took them home and one of my roommates cut them up into little chunks and made an excellent cake with them, nothing like wild Michigan apples!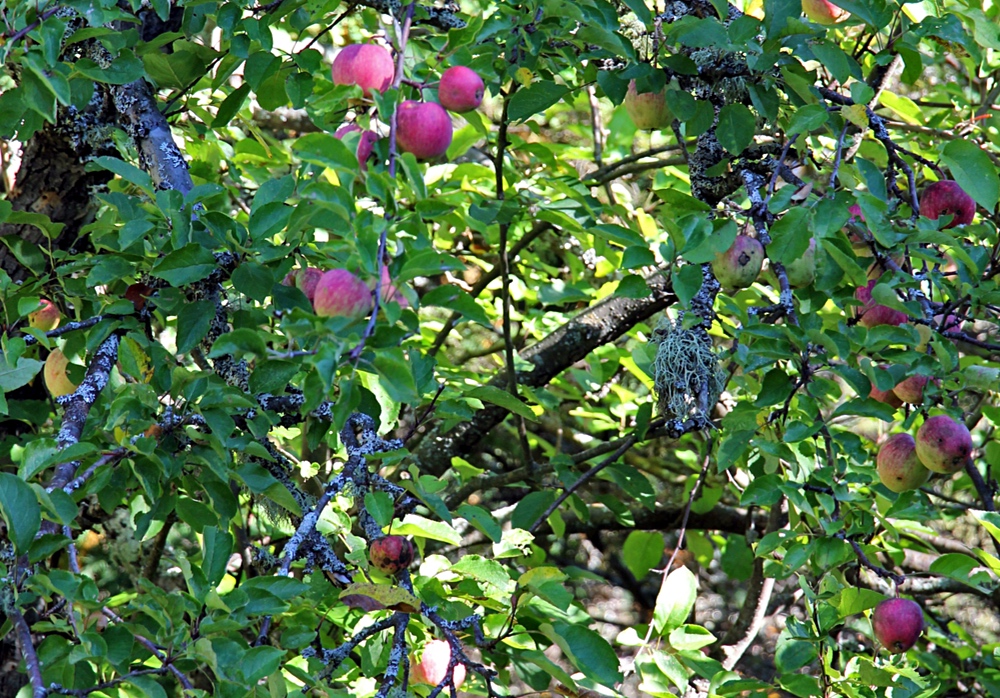 There is actually very little detail about Superior City that I can find in the Archive at Michigan Tech (Thanks to the folks there, I can't say enough in appreciation for all their help!), I did find a blueprint, however, here's a crop from it: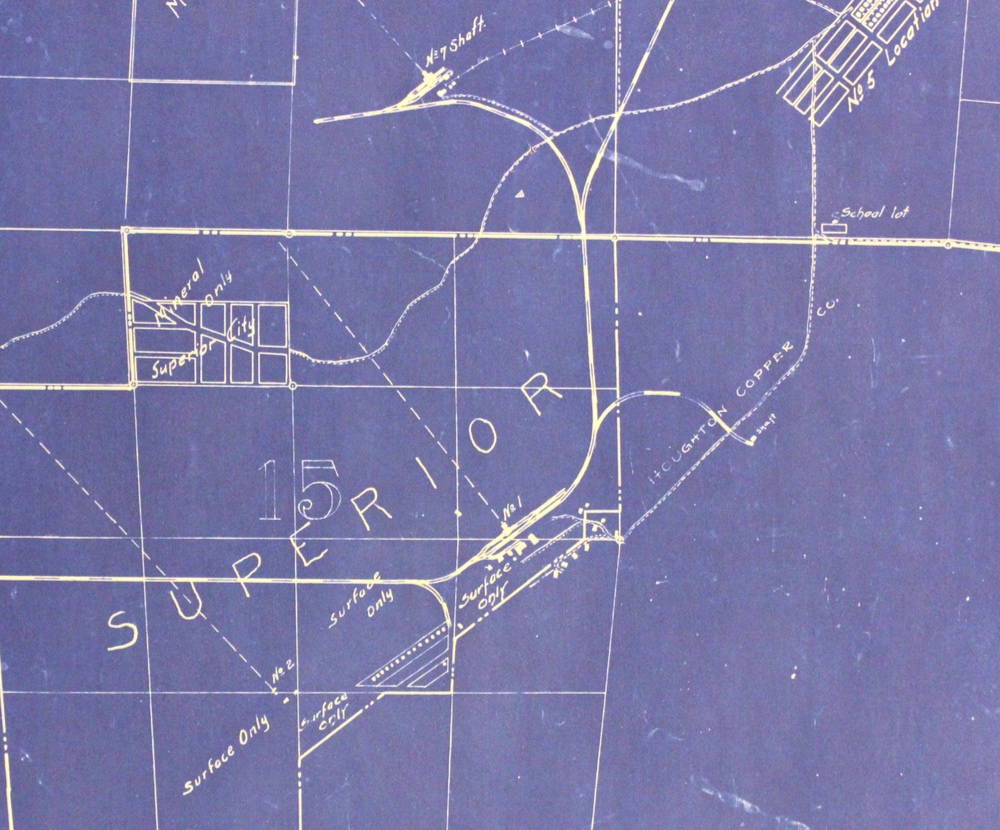 Sorry for the distortion, shooting these pictures in the Archive without flash and standing on a stool using the short end of my lens isn't the most accurate representation. Superior City is/was about halfway between Dodgeville and Baltic, what happened after the 1915 USGS map and the blueprint has pretty well vanished into the mists of time and second/third growth of the forest over the past century.
Here's a couple different crops of '38 aerials from the USGS, the layout is clearly visible and there were several buildings in the area, there were folks who cleared and cultivated the land back then.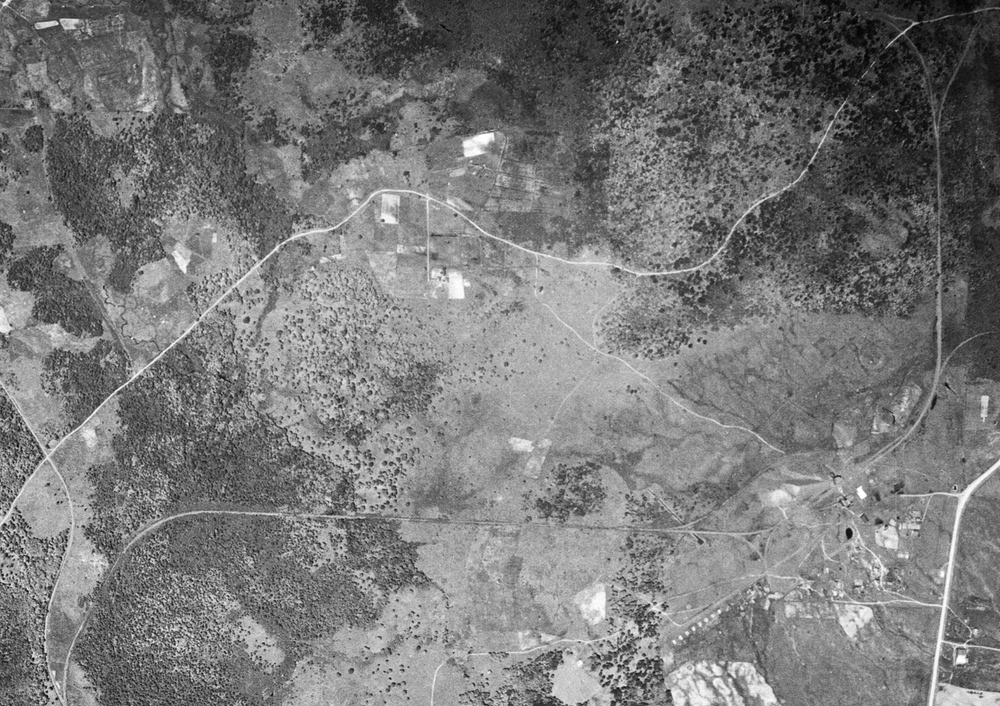 You can match that up with the 1915 topo, here's a closer shot of the town. I was at the place in the center/lower part of this one: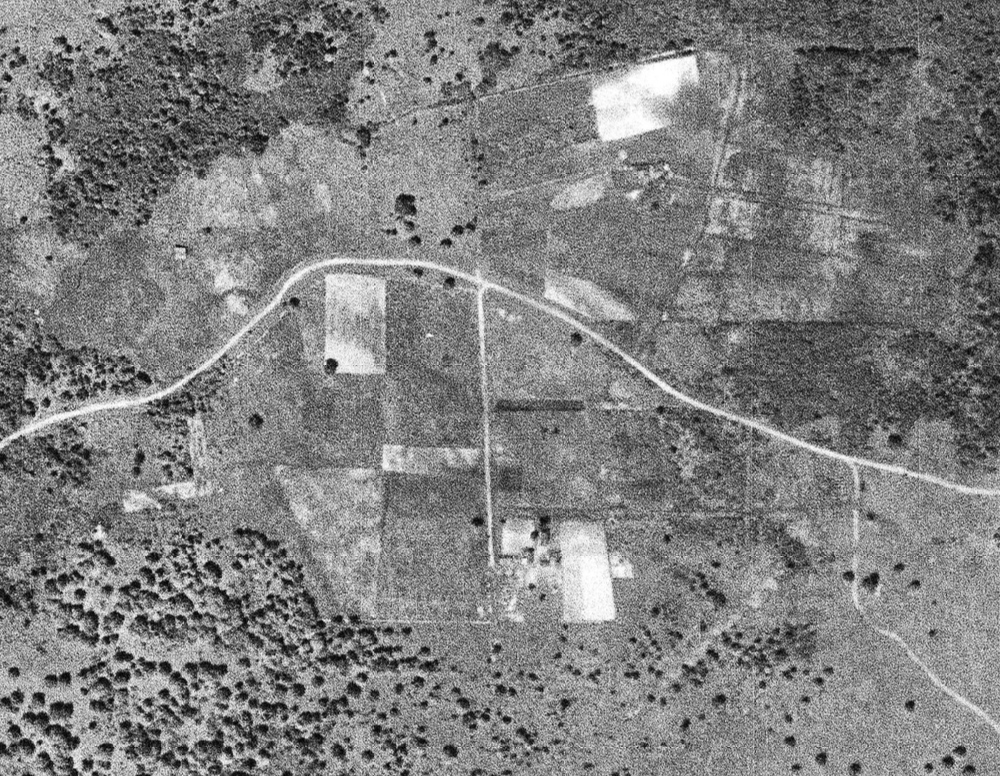 A whole lot different today….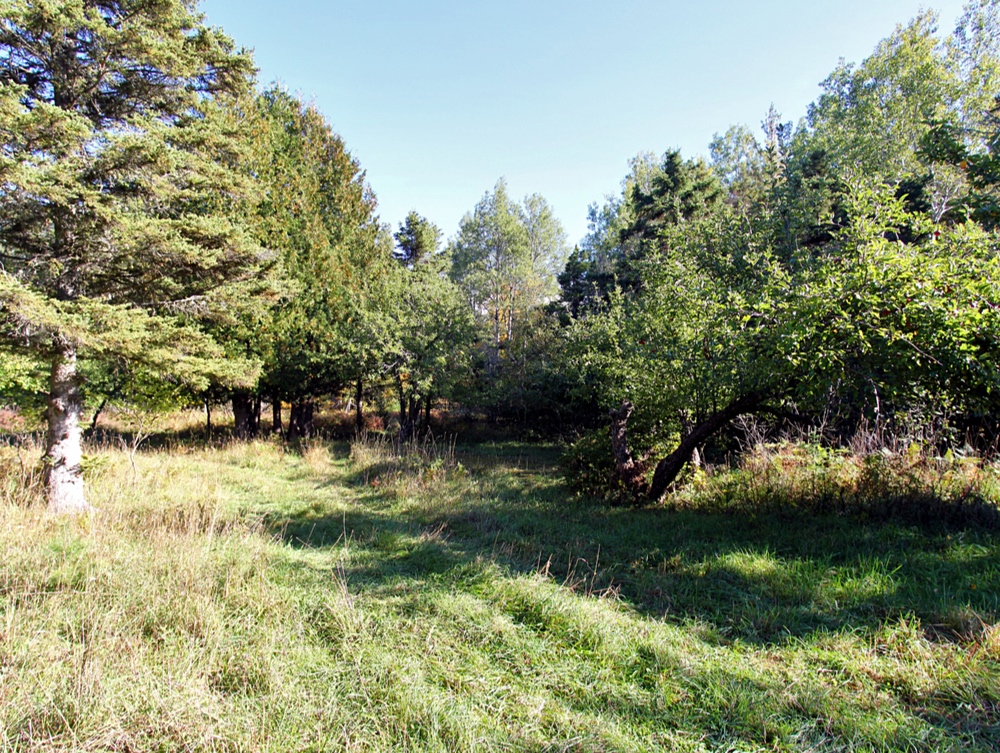 Yeah, that's one of the apple trees, all broke down and split, on the right of this panoramic. If you keep walking to that tree, you step right onto: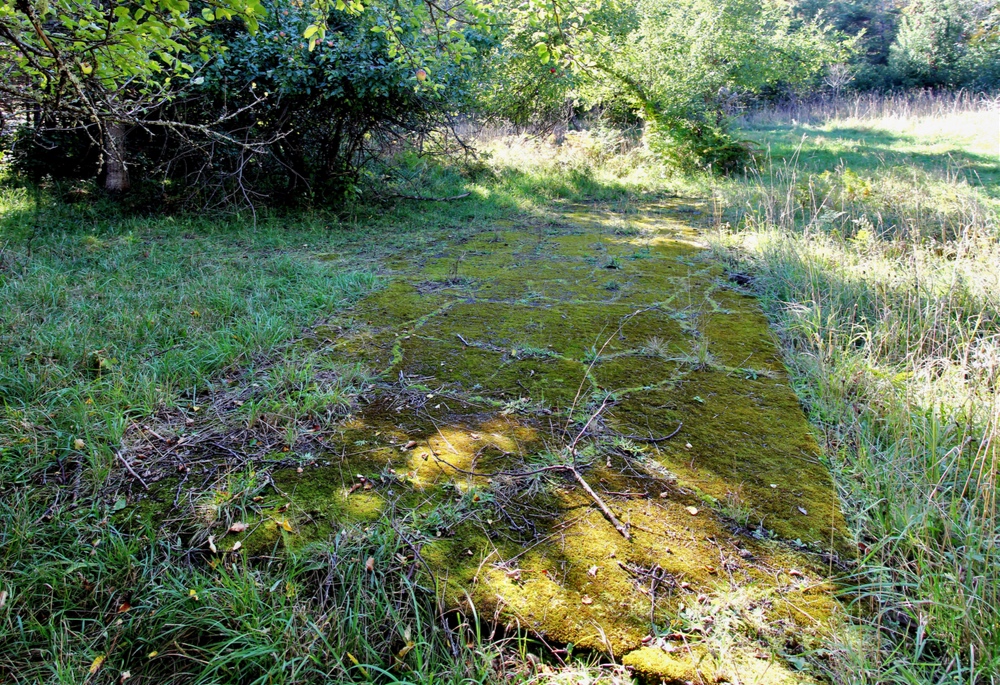 That's what is left, a 26′ by 8′ moss covered concrete pad with apple trees on three sides. I think there is another foundation a couple hundred yards to the northeast of this one but I couldn't get to it that day, there was a bit of a swamp in between and I didn't feel like walking back home in wet boots…
Looking at the maps and modern overhead imaging, you can still make out the old street grid, on the ground there is nothing to be found of it, the forest has completely obscured what was once there.
Here's an added bonus that was discovered by my roomie and the next-door neighbor when they were scouting deer hunting places from the Baltic side of the old road, the remains of a dam in the middle of nowhere: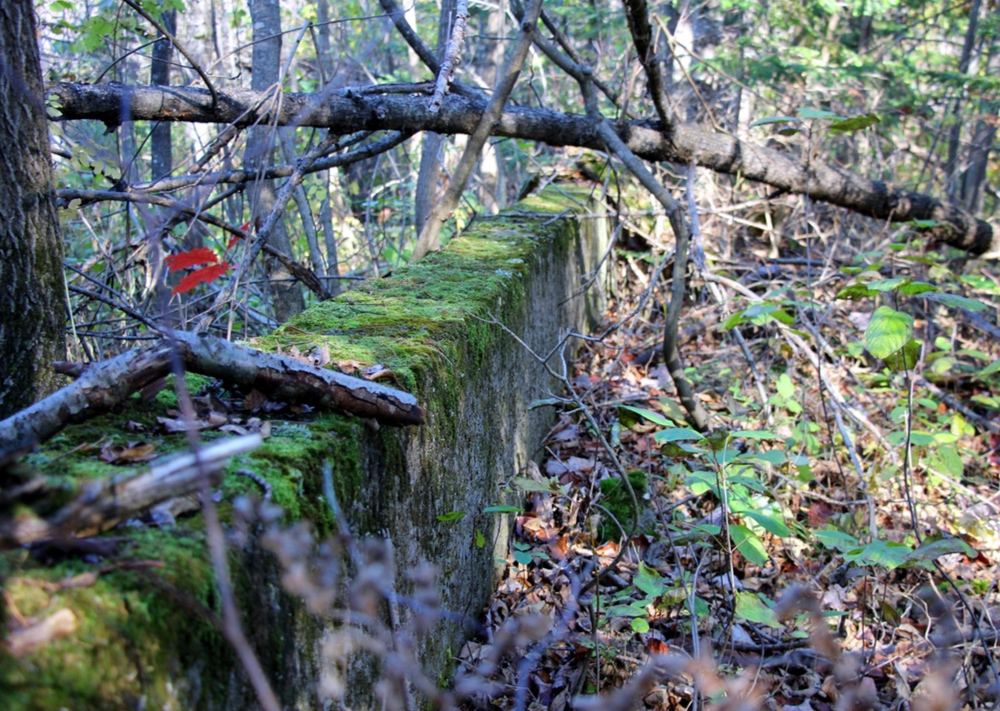 If you look at the 1915 topo, it shows up about halfway between Superior City and Baltic on the old road but is gone in the 1938 aerial. I went with them one day and found the west side of it, a concrete wall in the woods. Then, on the last trip, I walked clean through from the Superior City side and paced the thing off at approximately 300 feet long, the center of it had been intentionally knocked down: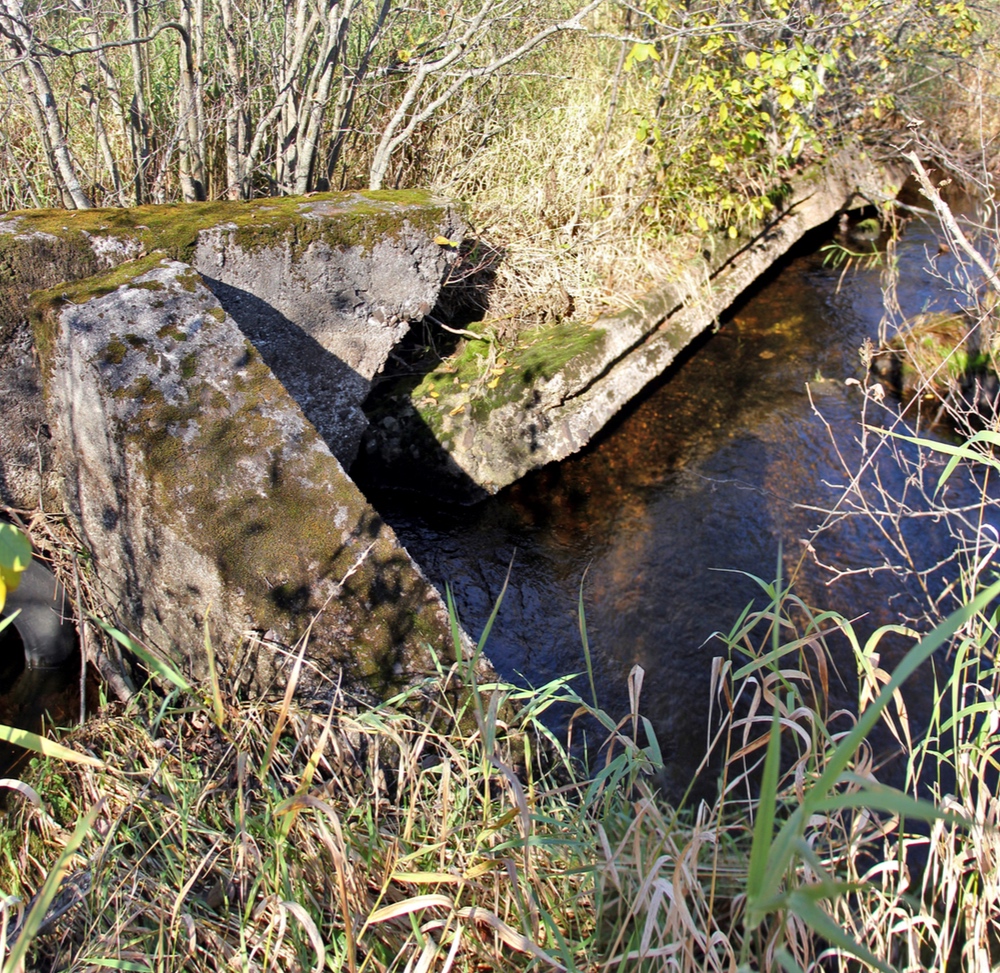 At a guess, I don't think the pond behind it was but ten feet deep.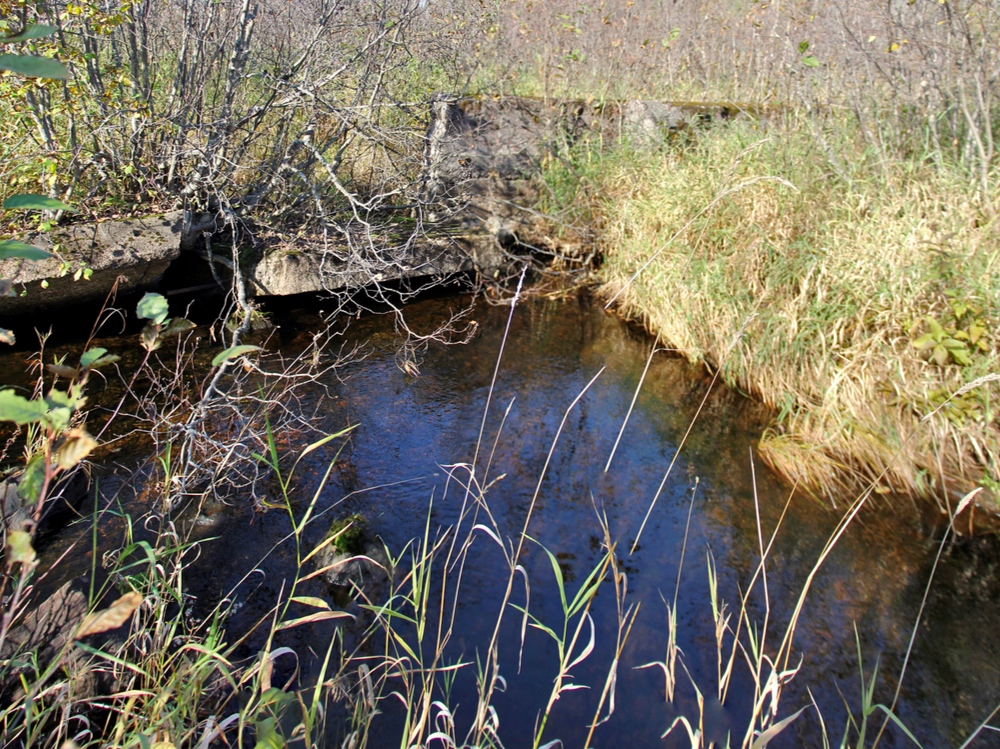 Hard to photograph, the intervening years have rendered it almost unseen in the undergrowth. We have puzzled over this bit of infrastructure but can't figure out why it was built there. Superior City was uphill from there and has water onsite and Baltic has its own access to water…
If anybody has any clue, please put up a comment!
Do you have a Copper Country adventure of your own you would like to share? CCE is always looking for new pieces of Copper Country history and heritage to share and I would love to post your own story right here on CCE! Just drop me an email through our contact page and you too can see your work shared across the globe thanks to the world wide web!