The Mansions of College Ave
Unlike its neighbor across the pond, Houghton's origins were not tied directly to any mine company. It was instead born from private interests, hoping to take advantage of the mining industry and the related industries that were developing within the Portage Valley in the mid 1850s. That didn't mean that the city's evolution was completely absent mining company influence, however. Houghton shared its Portage valley home with several neighboring mines working the adjacent Isle Royale Lode, mines which constrained the village's original platt. The vast lands of the Huron pressed in from the west, while up the hill it was the neighboring Isle Royale and Portage Mines which constrained the village's southern expansion. To the east it was the combined properties of the Shelden and Columbian Mines that held the village at bay – lands home to not only several shafts but a working stamp mill on shore neat the current site of Houghton's Super 8 hotel.  Thus as  the burgeoning village expanded it found itself increasingly constrained in on all sides by mine property unwilling to cede land.
For enterprising developers and real estate agents the only options were to create new platted lands outside of these neighboring mine properties, a move which around 1875 resulted in the creation of East Houghton. More suburb then addition, East Houghton consisted of about a half dozen block of land sitting just outside of the Shelden-Columbian properties about a mile east of the city center. In an area largely decimated by industry, East Houghton was a breath of fresh are both figuratively and literally. It was land still largely covered by forest, set atop a scenic bluff overlooking the west arm of Portage Lake.  Besides a single rail line running along shore the area was devoid of industry, along with the noise, activity, and pollution that accompanied such things. As a result the available land became highly sought by the region's elite – managers and businessmen looking for clean and scenic land on which to build their sprawling Victorian homes. It would also attract the attention of Houghton's young institution of higher learning – the Michigan College of Mines. The college would buy up a large plat of land atop the scenic ridge and establish its first campus there in 1889 – anchored on its western end by the towering sandstone tower of Hubbell Hall. With the arrival of the college the surrounding land would attract even more of the region's upper class  – this time its academic elite. As a result by the end of the 19th century East Houghton would become what Laurium had become to Calumet, – the village's very own Beverly Hills.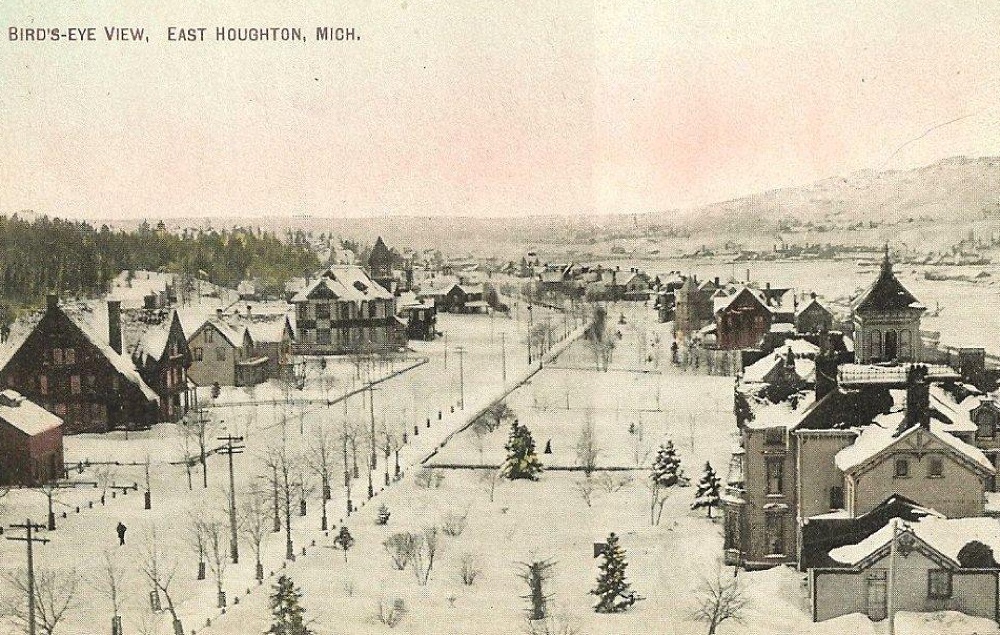 East Houghton's popularity among that elite would force its own expansion over time, an expansion that centered around the new platt's main thoroughfare – a state road connecting Houghton to the lumber towns of Chassell and Baraga to the south. In the East Houghton plat this well traveled avenue would be known as Main Street and unlike the similarly names streets in other towns, it was not commerce that would be attracted to its length but instead the region's rich and famous. This was most likely due to the fact that the wide avenue ran along the edge of a high ridge – which provided sweeping and stunning views out across the Portage and the hills beyond. This was some of the best real estate in the area – and as such would become home to some of the region's richest and most famous individuals – men with such infamous names as Douglass, Hoar, Van Orden, Hubbell, Harris, and Shelden.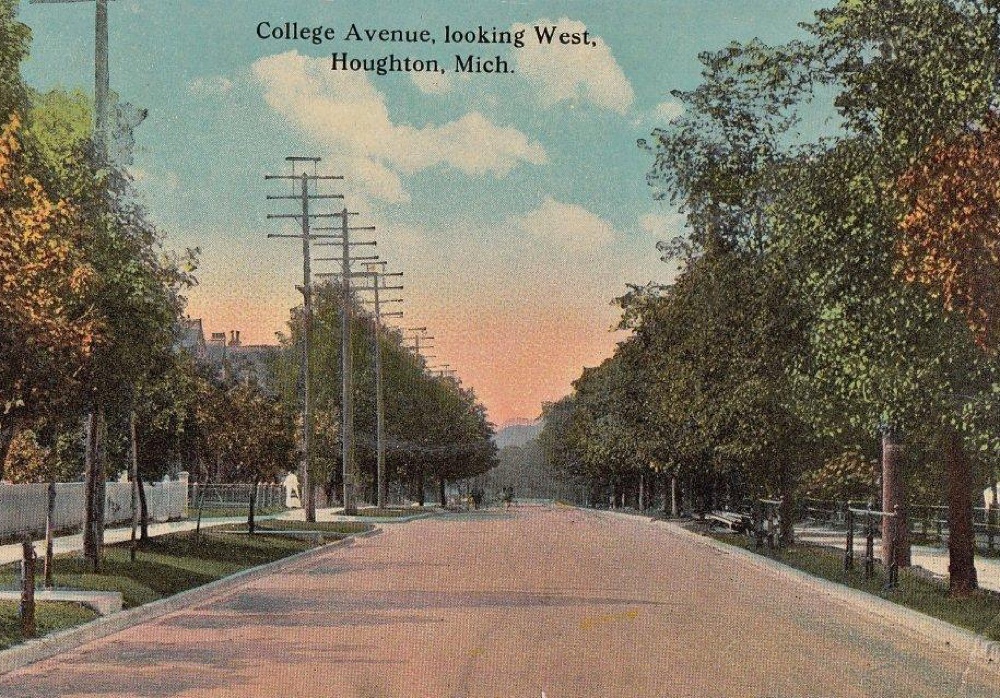 By 1890 the old thoroughfare had become known by another name – College Avenue – a moniker given due to the presence of the Michigan College of Mines along its route. Along with the new name came a rather refined and presitgous look – the wide avenue now lined with concrete curbs, walks, iron hitching posts, carriage stoops, white picket fences, and towering lines of trees on either side which shaded the road from the sun.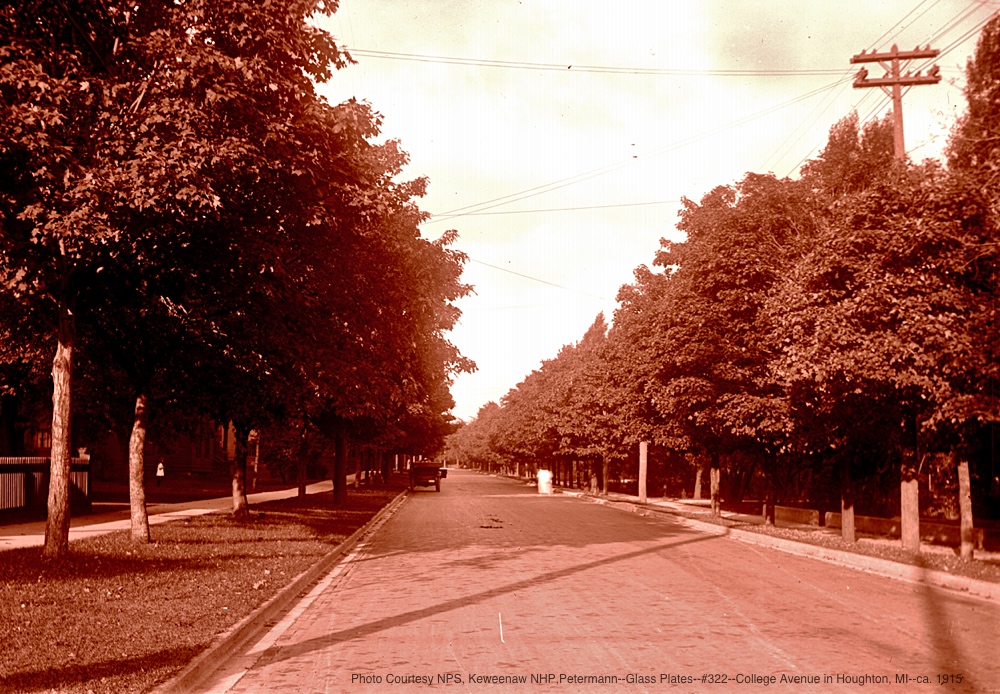 Later as the automobile replaced the horse and carriage College Ave would loose its hitching posts and carriage stoops while the trees along its route became even more lush and full. While beautiful this lush canopy blocked from view the road's plethora of beautiful Victorian homes and ornate mansions, leaving what looks to be at first glance just a beautiful road in the country. Unfortunately such a impression would not last forever, as what looked to be a country road was in actuality a major state highway – US41. As the modern age approached, its highway status began to take precedence over its  residential nature – as increased traffic meant eventual road widening and realignment. As a result most of its trees were removed, leaving a far more open view for those passing by.  While this may have destroyed the old road's more scenic nature, it did allow for far better views of those grand mansions and homes once hidden from view.
It was a view I knew all to well during my time at Michigan Tech, as I had often walked along the old avenue to and from Houghton many times a week. While my obsession of all things Copper Country had not yet fully bloomed, I couldn't help but be interested in the grand mansions I saw along the way. Decades later I took that same old stroll once more, this time making sure to bring my camera along the way.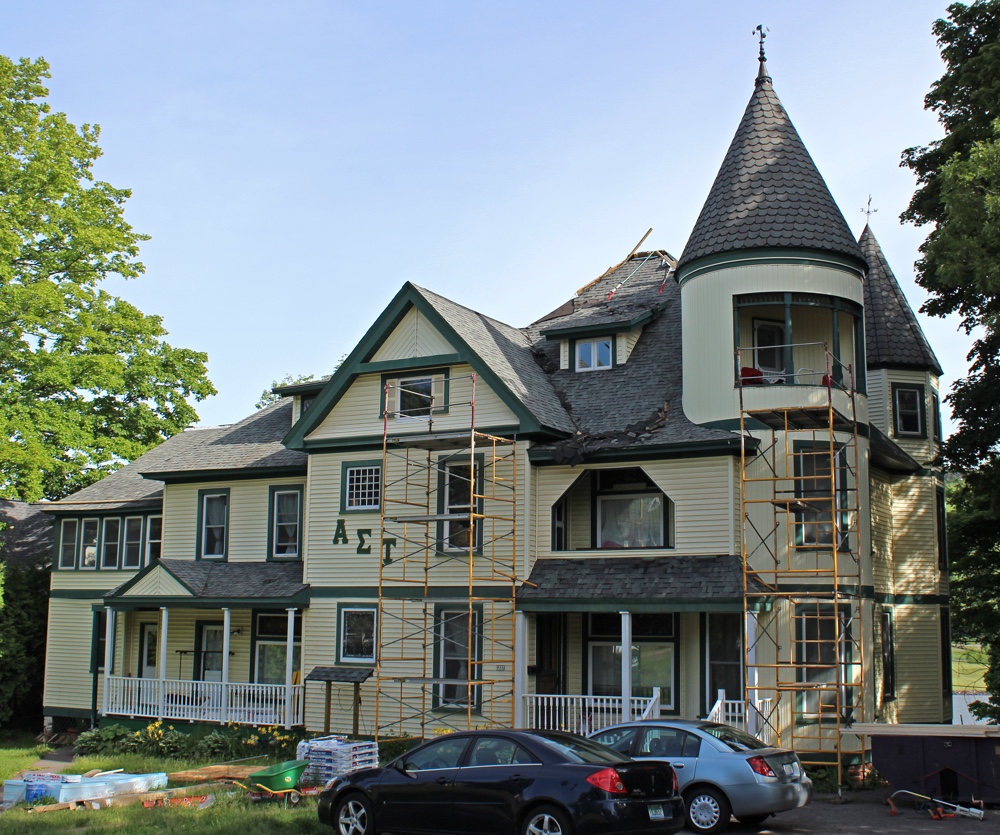 The first of these homes to come into view is this canary conundrum – which at the time of this photograph was undergoing a roof replacement. As the greek letters on its facade would indicate this house is currently home to a sorority – the local chapter of Alpha Sigma Tau to be specific. This is a rather common theme found up and down the College Ave of today, as many of the old mansions along its length have come under the control of local fraternal organizations in their later years. Its a perfect fit really, as many of these homes would be too large to be used for just a single family. Instead their multitude of rooms serve as homes to dozens of Michigan Tech students. This particular house houses over 20 students today – scattered amongst the old mansion's three floors and twelve bedrooms.
A century ago, however, far few people called this house home. In 1917 it was home to William Uren, his wife Emma, their son and their live-in maid Elsie. William Uren was the Manager of the Keweenaw Central Railroad and its not clear if he built it or he simple bought it from an earlier owner. I do know the home was a relative latecomer to the block, not built till around 1900.  It's an incredibly convoluted home, however, its facade graced by two turrets, four porches on multiple levels, and several protrusions and additions scattered about its perimeter.
UPDATE: Thanks to fellow readers I now know the original owner of this house – James Pryor. Mr. Pryor owned the neighboring Pryor and Son lumber mill, which was located just down the hill from this home along the lake. He would build this home around 1889 at the age of 56, passing away in 1912. At some point after that the house became home to the Uren family.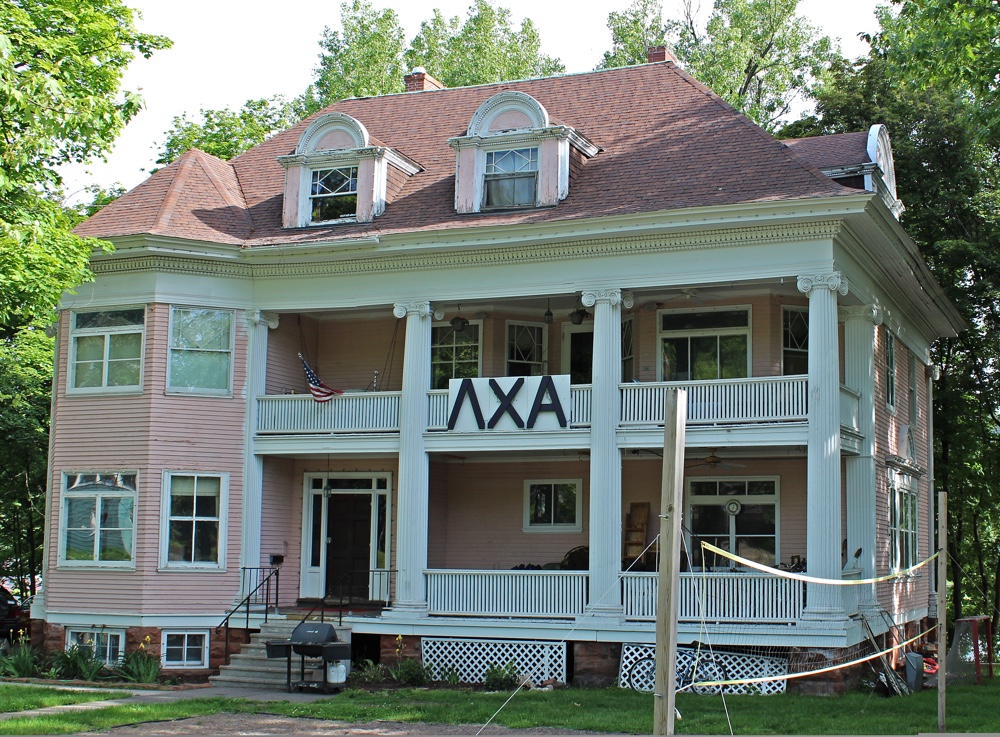 Next door to the old Uren House we find another grand home graced with more greek lettering. This is the current home of the local chapter of the Lambda Chi Alpha fraternity – the odd salmon hue of the home notwithstanding. While today it houses dozens of young men, a century ago it was home to Mr. Allen Rees. Mr. Rees was a highly regarded lawyer, partner at the Rees, Robinson and Petermann firm whose offices could be found in the Houghton National Bank building downtown (now the Wells Fargo Bank Building). Mr. Rees also had the distinction as serving as Houghton County's prosecuting attorney for some time.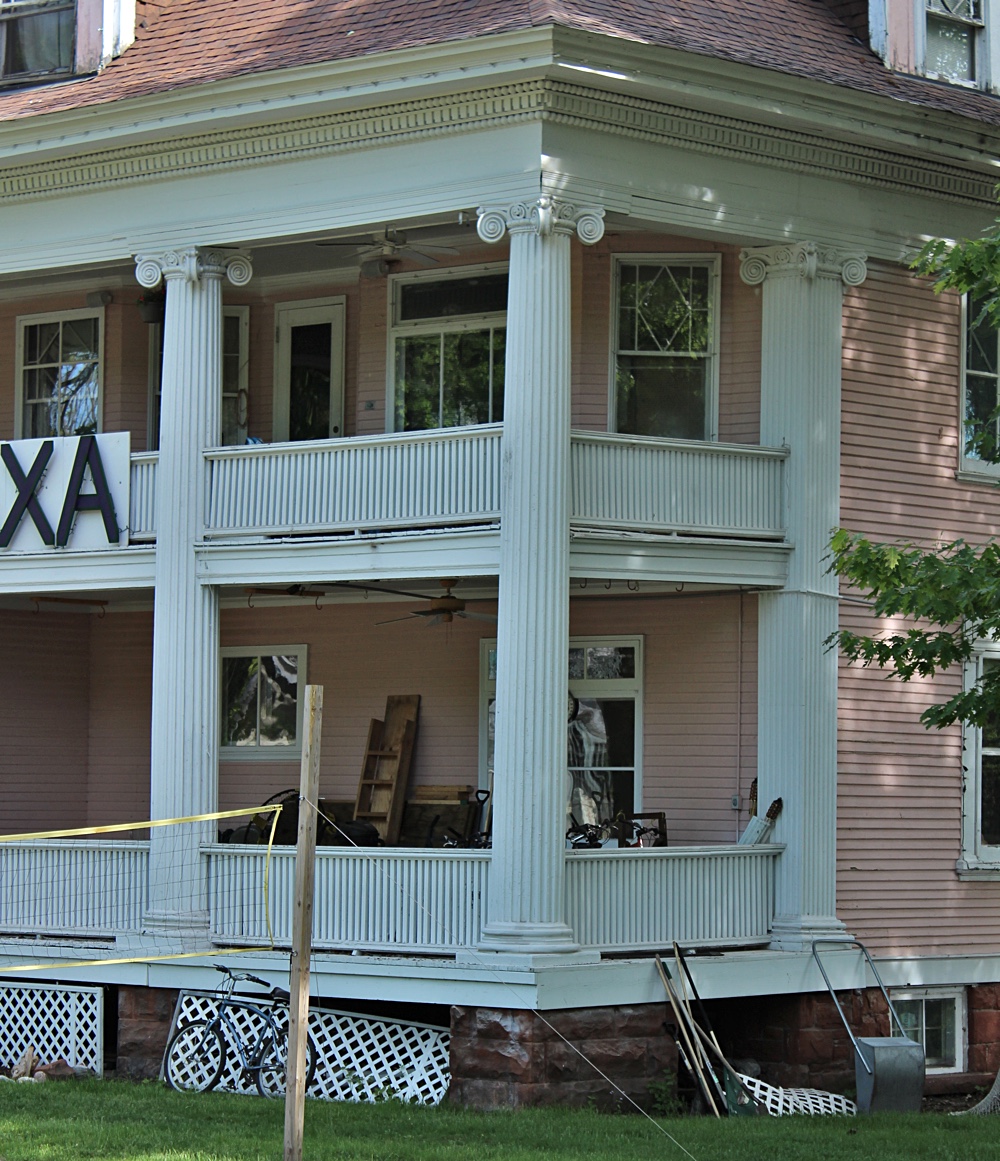 Mr. Rees had this massive home built in 1900, occupying a large corner lot bordering the access road to the neighboring Pryor Mill. The home's most prominent feature is its two-story portico along its front facade accented with a collection of soaring greek columns complete with massive capitals at their peaks.  Mr. Rees lived here with his wife Caroline and two live-in servants until his death, the home staying with the family for the next half century. Later it would serve as a bed and breakfast for many years before being converted into a frat house in 2005.
Looking across the street we find this curiosity hidden behind a thick veil of evergreen trees. While the house is rather hidden, its unique concrete garage up along the road is more visible – as is the sandstone walls and line of concrete steps meandering their way up to the home. The garage is a more recent addition, but the home dates to a time a bit older. This was once the home to prominent Houghton businessman Edward Haas – of Ed Haas & Co. fame. In addition to the new garage, the home has been modified since its role serving the Haas family – loosing a large covered porch along its front facade. The sandstone foundation – however – is original.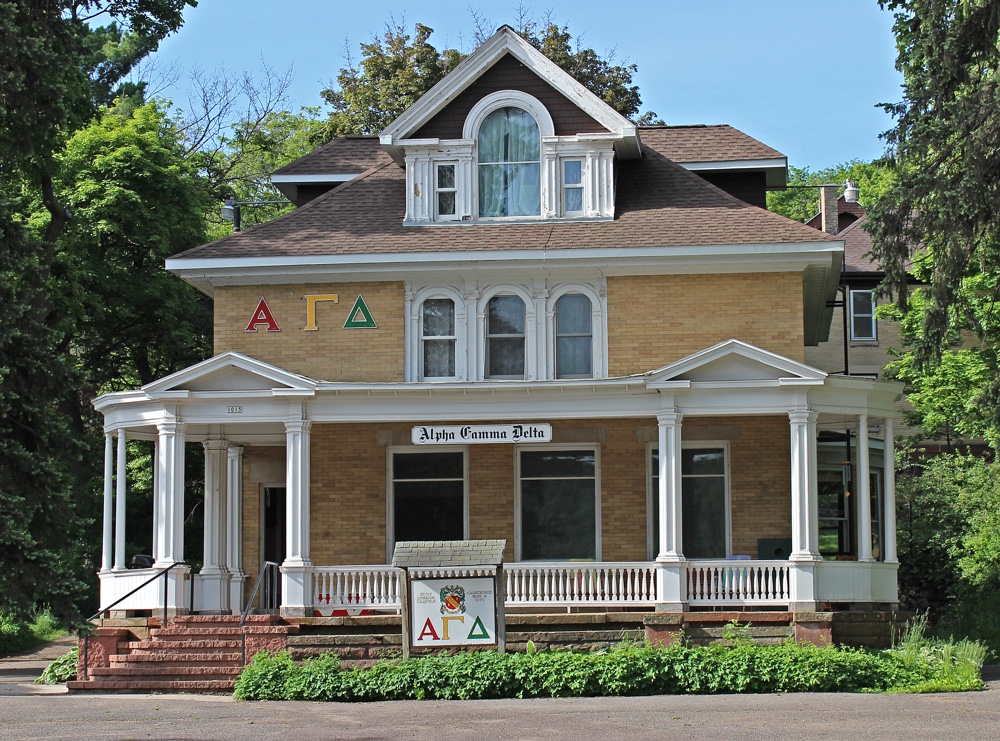 Further along the road we come across this dignified brick veneered home set far back from the road. This home belonged to one of Houghton's most prestigious families – the Pryors. James Pryor was a English mining engineer who came to the Copper Country in 1852 to work at the Albion Mine near Eagle River. He would go on to work at several other mines in the region as well as operate his own lumber company just down hill from this home known as the James Prior & Son Lumber Mill.  James Pryor would be married twice, both his wives passing away at young ages. In addition to his business and vast work history, Mr. Pryor's legacy also included seven sons who each went on to leave their marks on the region as engineers, an architect (who was responsible for the incredible Roehm House in Laurium) and even an inventor – the man who once called this house his home.
Reginald C. Pryor was the youngest of the elder Pryor's  sons, graduating in 1888 from the Michigan College of Mines down the street. After teaching at the school for a couple of years, Reginald would follow in his family's footsteps and enter the mining engineer trade. Later he would become a businessman, establishing his own lumber company along with Citizens National Bank of Houghton and later the South Range Bank of South Range. His true love was inventing, and over his life he submitted patents to various whimsical mechanical contrivences including an air-powered piano and a playground swing.
Some of that playful whimsy can be seen in the house he called home in his later years – which featured a large front porch with rounded corners and a pair of symmetric pediments. Up on the upper floor graceful arches and pediments grace the windows including an impressive arched window up on the third floor dormer.  Today the house is home to yet another sorority – this time the local chapter of the Alpha Gamma Deltas.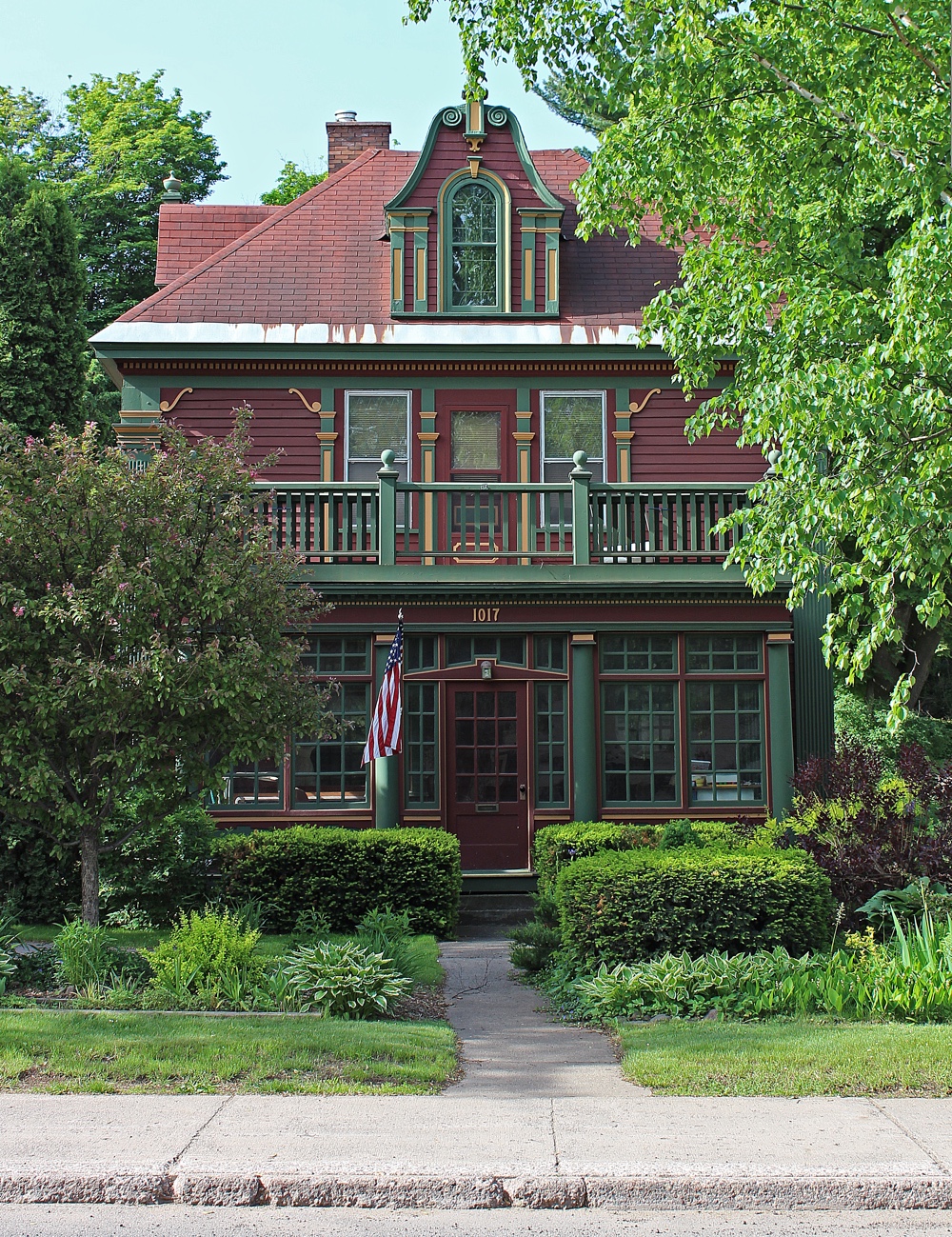 Standing next door to the Pryor house stands something a bit more impressive – a true Victorian age home of ornamantal excess. This incredible home has been beautifully renovated in it's later years, returning the structure to something more akin to what it would have looked soon after its construction. The home was originally built around 1904, and would become home to Milton Dickens. Mr. Dickens was an insurance agent who was partner in his own insurance company as well as serving as a clerk for the massive Shelden estate. Such a position granted him a wealth and status which made this house possible – and necessary to some degree.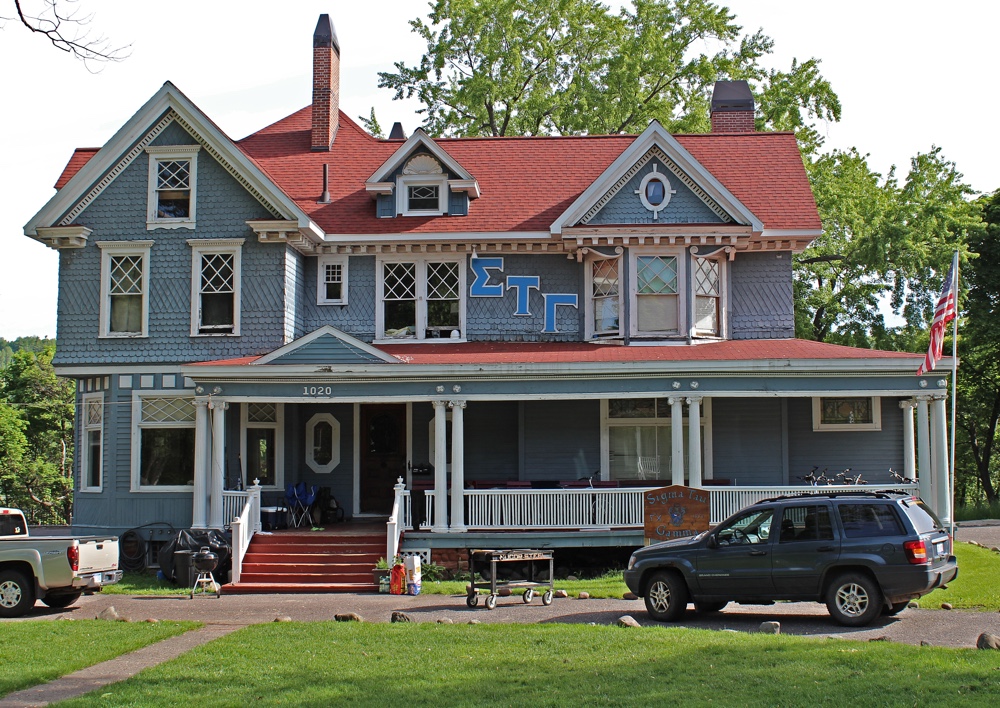 Turning our attention back to the opposite side of College Ave we find another fraternity house – this one belonging to Sigma Tau Gamma. A century ago the house was home to Richard Edwards, a man  from yet another long line of Houghton royalty, his grandfather first arriving to the Copper Country in 1850 at the very dawn of the Copper Empire – managing both the Albion and Manhattan Mines at one time. His grandson – the owner of this home – took a more academic path graduating  from the Columbia School of Mines in New York City before serving as a professor of mining at the Michigan College of Mines for several years. He would later put his knowledge to more practical use at the Tamarack Mining Company, where he would live and work for over a deacde. Around 1900 Mr. Edwards would return to Houghton to run the recently consolidated Isle Royale Copper Company. At that time he would build himself this grand home along College Ave, a home he would live in with his wife Mae for most of his life.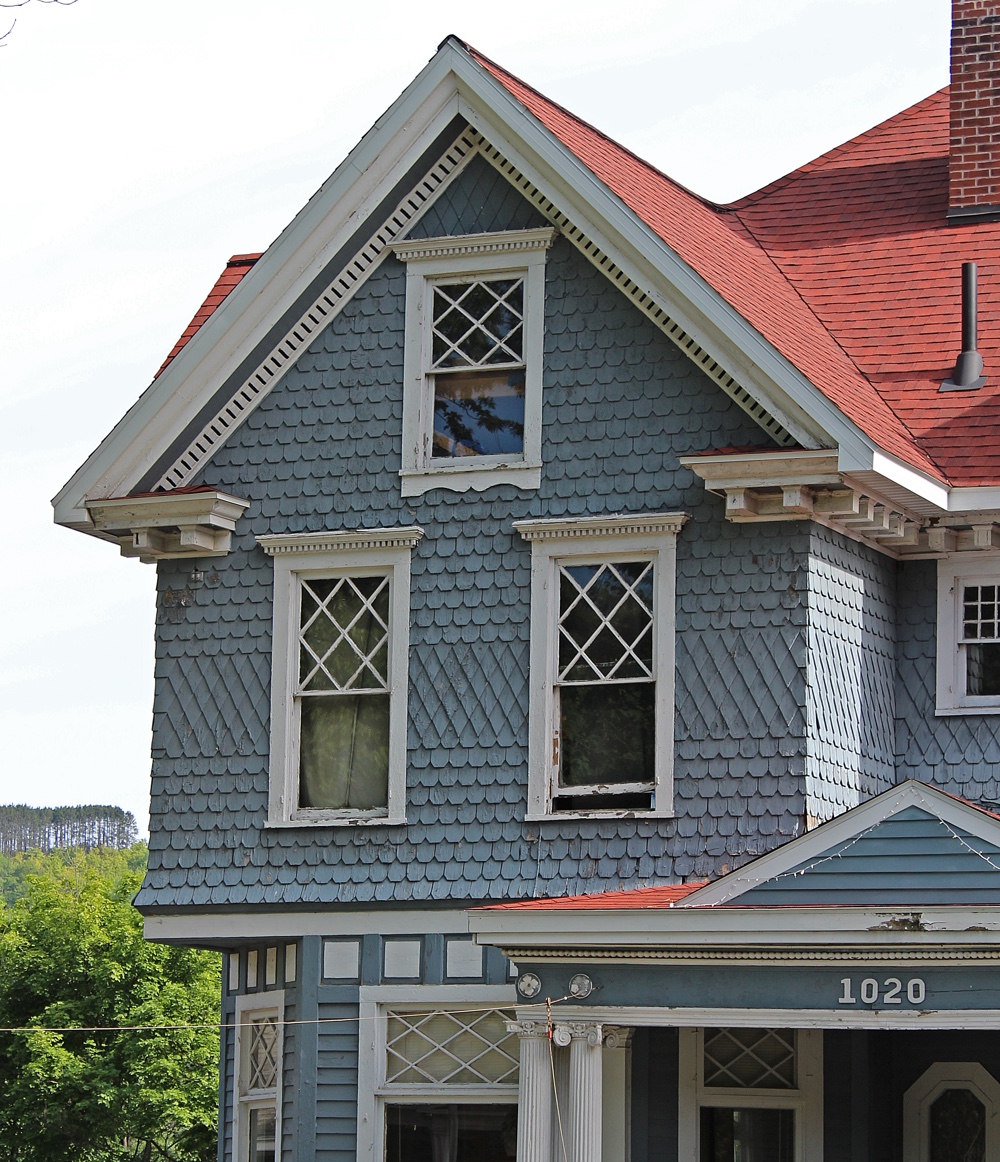 The home was exceptionally large, its most dominate feature being the large wrap around porch which enveloped three of its facades. Up on the second floor scalloped shingles along with intricate wood scrolls, dentils, and cross-hatching give the home an almost gingerbread house-like feel – easily its most impressive feature.
For our next house we have to take a rather long walk past a few more recent additions to the landscape. While a century ago the north side of College Ave would have continued to feature several more massive homes, time has not been kind. Most of those homes have disappeared from the landscape, the once grand spaces now home to apartment complexes and a pair of modern churches that offer little to no architectural interest. That all changes, however, as you come across this brick and sandstone beauty  – a home that now houses the Sigma Pi fraternity.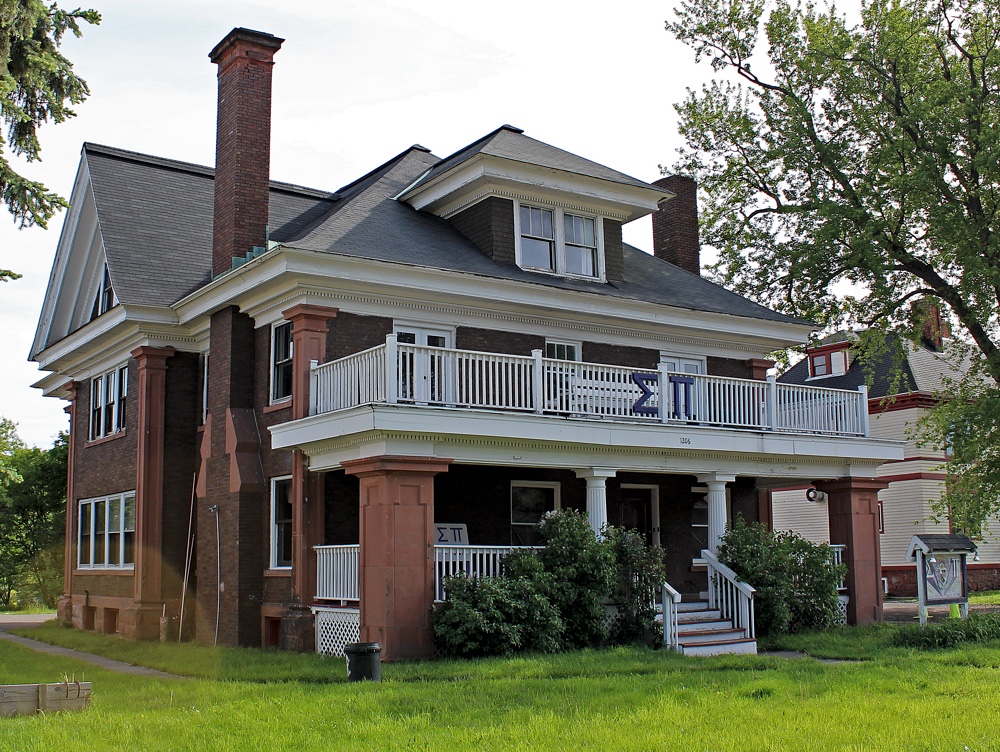 The house was once owned by James Gaul along with his wife and several boarders. That's unfortunately all I could dig up on the man, though by the looks of the house he must have had some wealth at his command. While the home may look to be a masonry structure inside and out the building is actually wood-framed with a brick and sandstone veneer placed on its surface. The home's most impressive element is the massive covered porch on it front facade – a porch help up on its corners by a pair of sandstone columns that look slightly oversized for the building they adorn.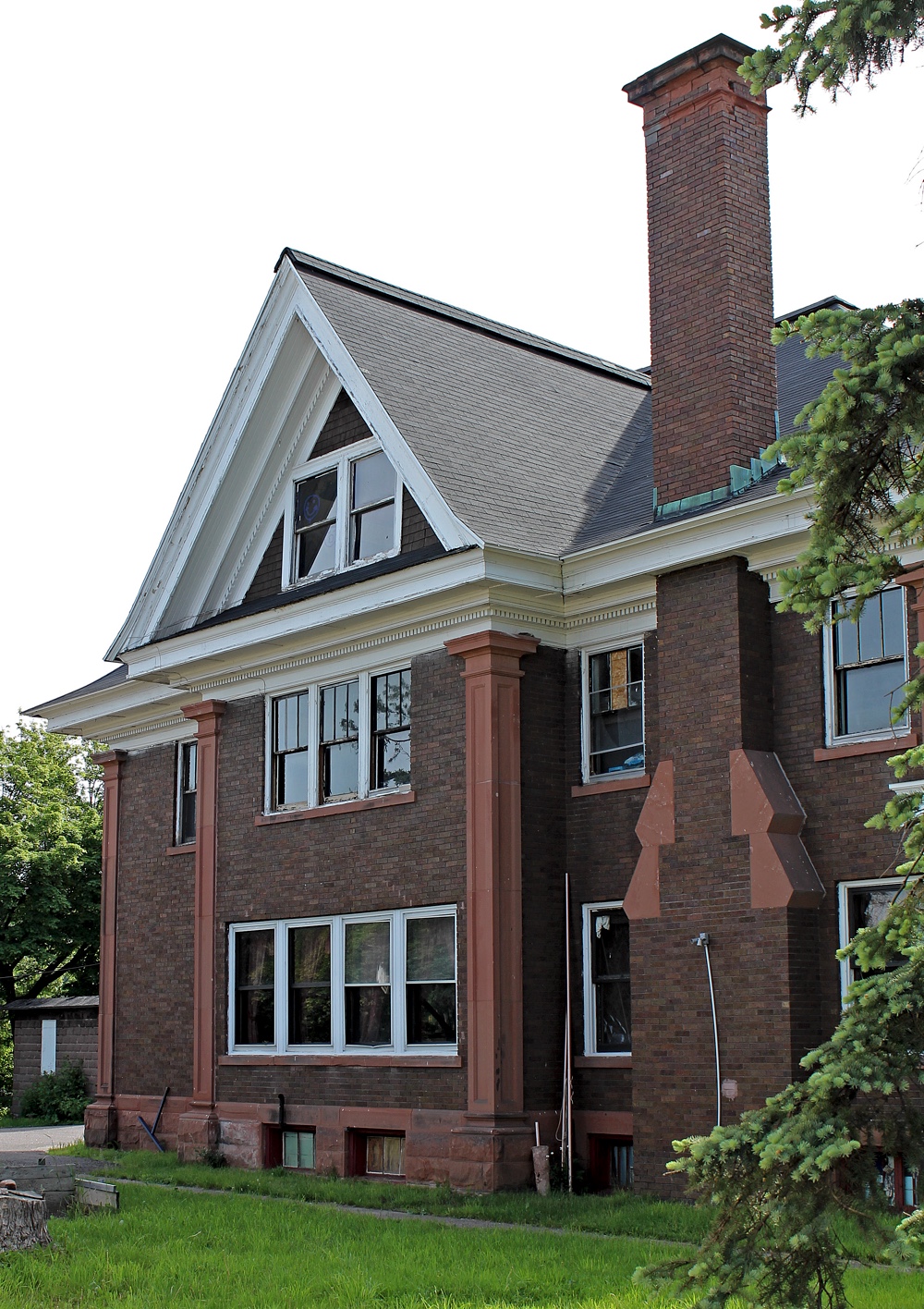 Even more sandstone can be found littered along the rest of the building, including several corner pilasters topped by their own carved sandstone capitals. The maroon stone is also used below the window openings, along the foundation, and a even a few large blocks can be found along the soaring chimney.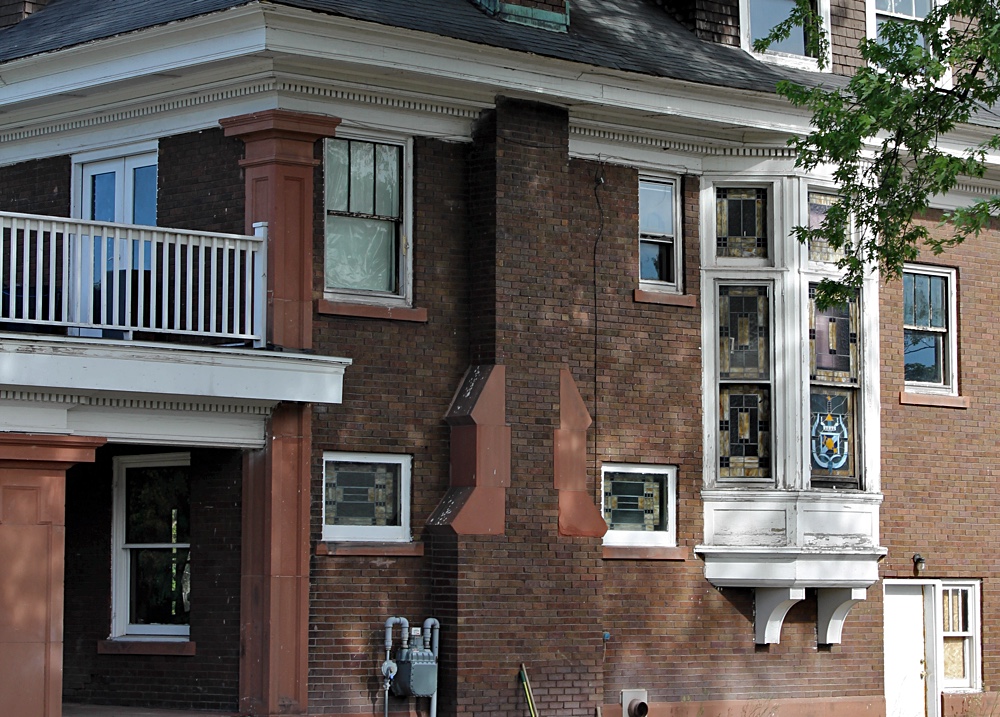 Along the home's opposite side those generous sandstone highlights are joined by a good deal of stained glass window work – most likely illuminated the homes main stairwell. From this angle the building looks to be almost desperate – grasping for attention with any architectural trick it can think of. This is in stark contrast to the more subtle architecture found on other houses along the way. Though I don't have any idea who Mr. Gauth was, I would surmise by this display that his money was new money and he was hoping to make a name for himself in the good old boys club that largely make up the College Ave streetscape.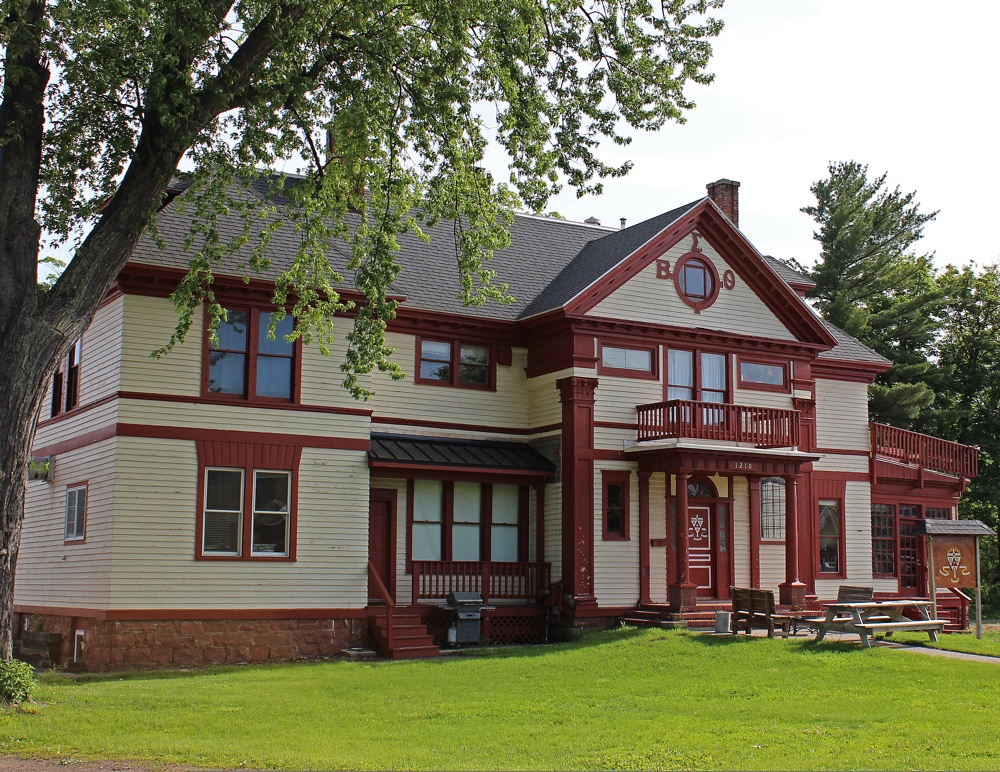 Next door we find a house of a bit more restraint, its only exuberance being the loud red coloring of its trim and woodwork. Once again this old home is occupied by a local fraternity, this time Beta Sigma Theta. The house was acquired by the fraternity in 1963 after it was forced to vacate its original home further to the east – a home which had been torn down to make room for Wadsworth Hall. While this house's neighbor to the west may have come from new money, this home was very much born from old money – a family who has ties to the very genesis of the Copper Empire itself.
Probably the most famous of the Douglasses was Christopher Columbus Douglass, cousin and assistant to state geologist Douglass Houghton and one of Houghton's earliest businessmen. As such the family gained a great deal of notoriety, fame, and most importantly wealth as the empire expanded,  rising to the upper echelon of Houghton's elite in little time. This particular house was home to Frank A. Douglass, who in 1858 founded the Frank A. Douglass Agency – an Houghton based insurance broker which still remains in business to this day. Upon Frank's death the business was handed over to his son – Corbin Douglass – who would later call this house his home around 1917.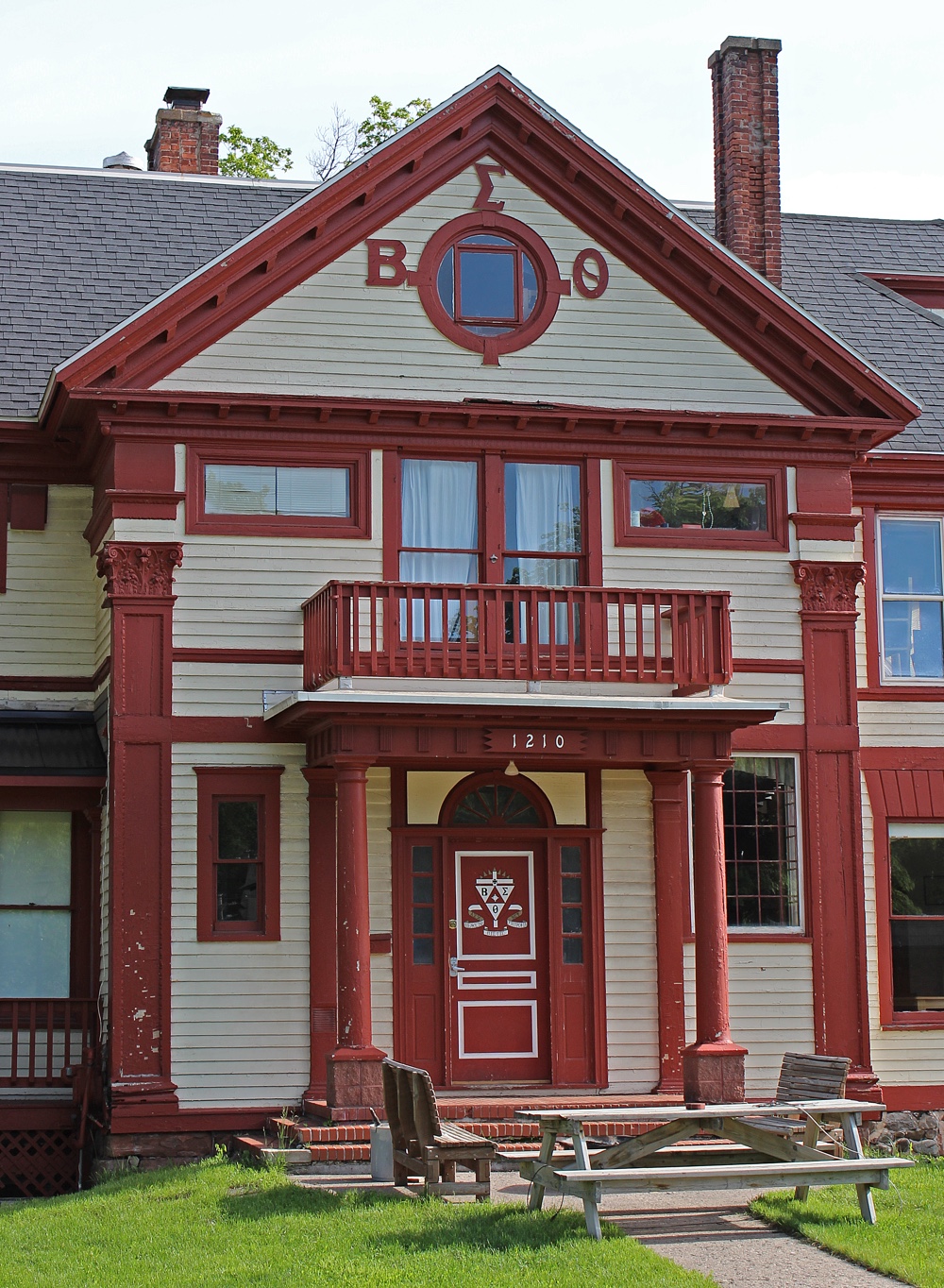 Douglass lived in this home with his wife, mother, and one live-in maid. Even with four people the home was a bit overkill, as inside could be found over 27 rooms. Up front the massive structure was dominated by this pedimented center protrusion accented on its corners by wood pilasters capped with intricately carved capitals. The portico in front is a later alteration, as the house originally sported a circular one instead of the rectangular one seen here.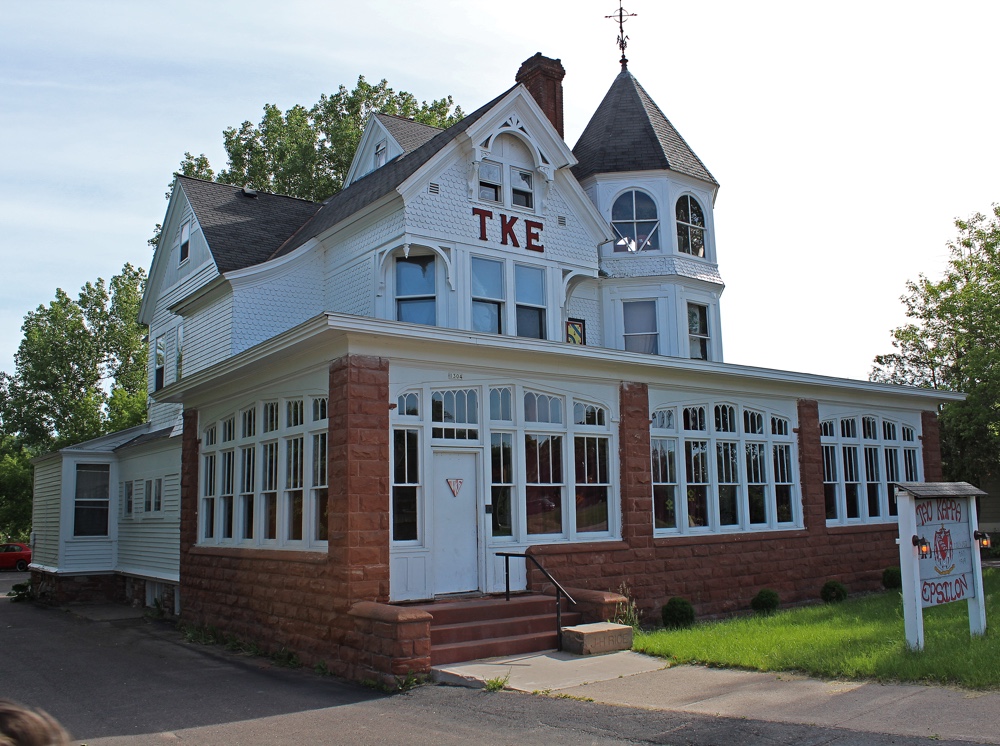 Last but not least we come to the final mansion along this stretch of College Ave – a home most notable for its oversized front porch built of locally quarried sandstone. Today it serves as yet another frat house – this one housing members of the Tau Kappa Epsilon fraternity. It also happens to be on the list of National Register of Historic Places as a home belonging to Houghton's founding family – the Sheldens. Ransom Shelden moved to Houghton before there was even a Houghton, platting out the town and setting up his general store at its heart. Shelden also had a hand in the early mines of the area as well, most notably being the mine sharing his name that happened to own the land on which College Ave was placed – the Shelden-Columbian Mine.  This was advantageous when Shelden's son – Ransom Shelden Jr. – was looking for space to build his own home. As such he bought up several lots of his father's land and erected this home around 1896.
Junior would only live in this house for just a couple years, leaving the area in 1898 to head off to the new mineral rush out west. The house would be sold to yet another prominent Houghton figure – John H. Rice. Mr. Rice was the president of the First National Bank of Houghton, and would also end up being a director of the Copper Range Railroad. Later he would help create the Houghton Chamber of Commerce.  Mr. Rice would live here with his wife, daughter, and a live-in servant, the home staying in the family until the 1940s.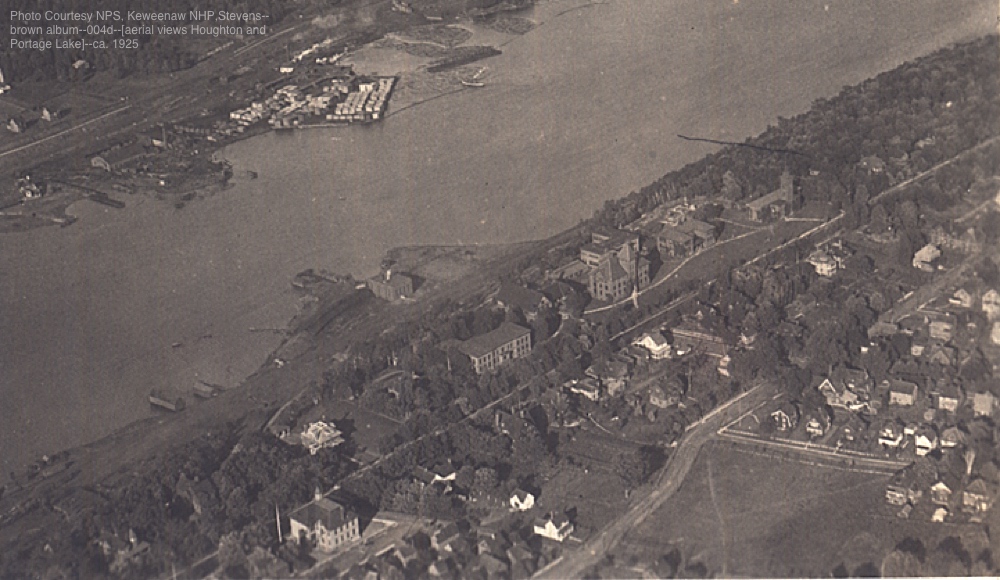 Continuing on from the Shelden House College Ave heads into the old campus of the Michigan College of Mines – seen in the center of the old photo above (the Shelden House can be seen on the very bottom left).  Unfortunately this portion of College Ave no longer exists – as a 1960s expansion of the old college resulted in the obliteration of the remaining half mile of the avenue as a new road – Townsend Ave – was laid around the expanded campus. The collections of old mansions to be found along this stretch of road were removed from the landscape, to make room for the new buildings and dorms of the modern Michigan Tech we know today. Thus today the Shelden House marks the end of the line when it comes to Houghton's prominent College Ave neighborhood.