Our look at the lost Milwaukee Hotel along Hancock's Aztec-inspired Tezcuco Street got me inspired to take a look at a few more lost treasures of the Copper Country – buildings and places long gone before CCE had a chance to document them. Luckily there are many other copper country explorers out there, people like Tom Roberts who made sure to document the Copper Country's history before it disappeared from view. Because of them we can still explore those lost treasures – insuring that they are never really lost as long as they live on here on the pages of CCE.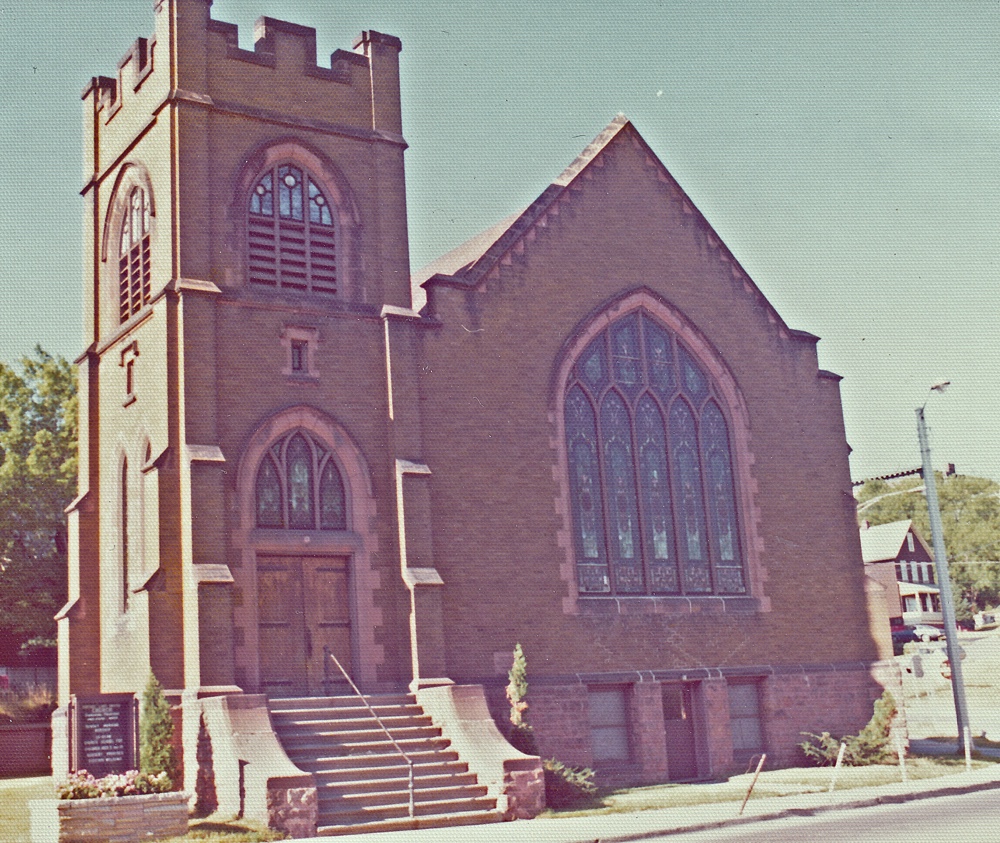 We start our tour in Houghton, with a look at one of the town's missing churches as photographed by Tom Roberts. This is the First Presbyterian Church, a building erected around 1903 at the corner of College Ave and Franklin Street. It would later merge with Houghton's First Congregational church to form the Portage Lake United Church. That new church would operate out of this old building until the early 1970s when it unfortunately found itself in the way of a proposed highway re-alignment and was demolished. The parishioners moved into a new modern church building further up the road near MTU. Today this spot is now part of Montezuma Street and US41.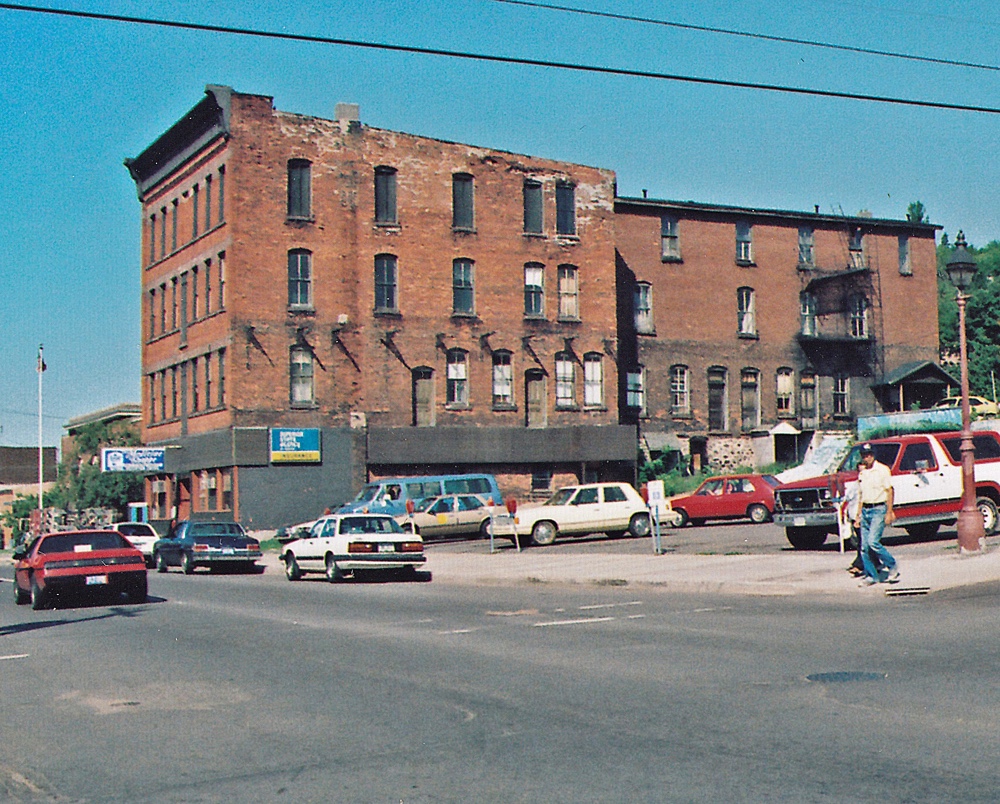 Heading across the pond we find this massive brick structure taking up an impressive amount of space along Hancock's main thoroughfare. This is the old Northwestern Hotel, originally built in 1886 as the town's premier high-class hotel. By the time Tom Roberts caught it on his camera in 1988 it was known as the Finlandia Building. Ten years later it would be demolished, making room for an expanded parking lot for the adjacent post office (this building happened to be still standing when I arrived in 1995 but I do not recall it unfortunately). The lot continues to stand empty still today – featuring a small spot of green in a congested downtown thoroughfare.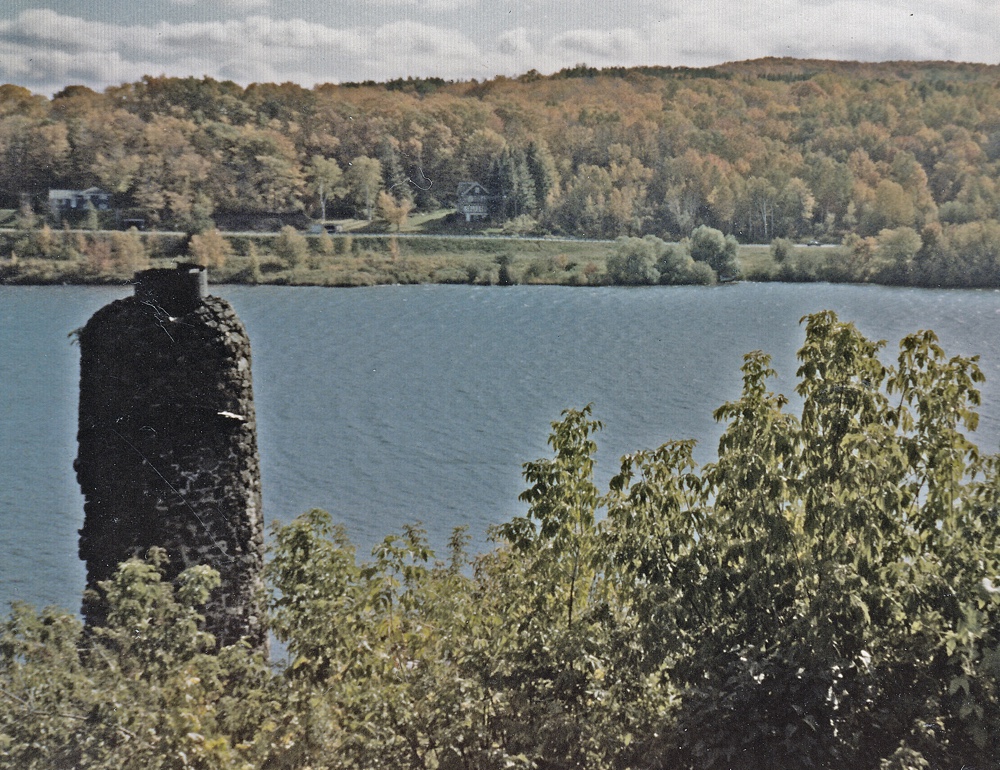 Staying in Hancock for the time being we take a look at a view Tom Roberts could see out of his Grandmother's home along Lake Street. This old stone stack sat along the Portage shore, possibly part of the old Hancock Stamp Mill complex which once occupied the space. Later it would be home to a foundry and then a sawmill. By the time Tom shot this image – 1988 – that space had been abandoned for some time. All that remained of the old industrial residents was some old docks and this lone stack. Unfortunately today that old stack is no longer with us.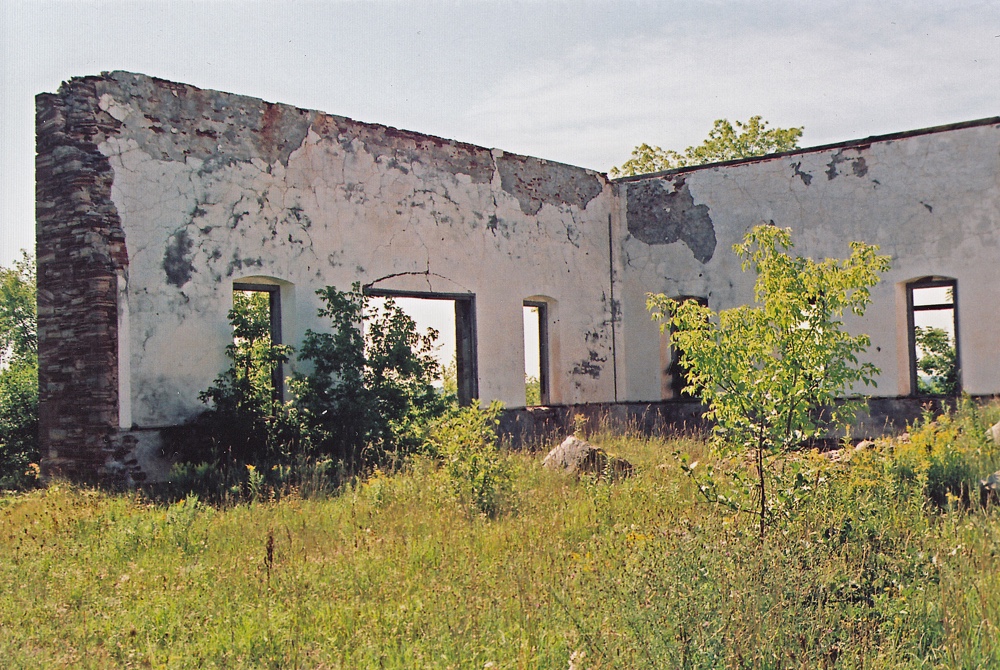 Another interesting ruin Tom photographed that I wish was still around upon my own arrival to the region were these stoic masonry and sandstone walls sitting within what looks to be a rather idyllic setting. These are the remains of the old Quincy No.7 Hoist House, a building that was located in the unfortunately named Kowsit Flats area just downhill from the Quincy Lookout. Interestingly the old engine foundation once located within these walls looks to have been buried by top soil – leaving just the walls themselves standing tall. This shot was taken in 1988, but today the walls are gone.  The area is now just home to an empty field.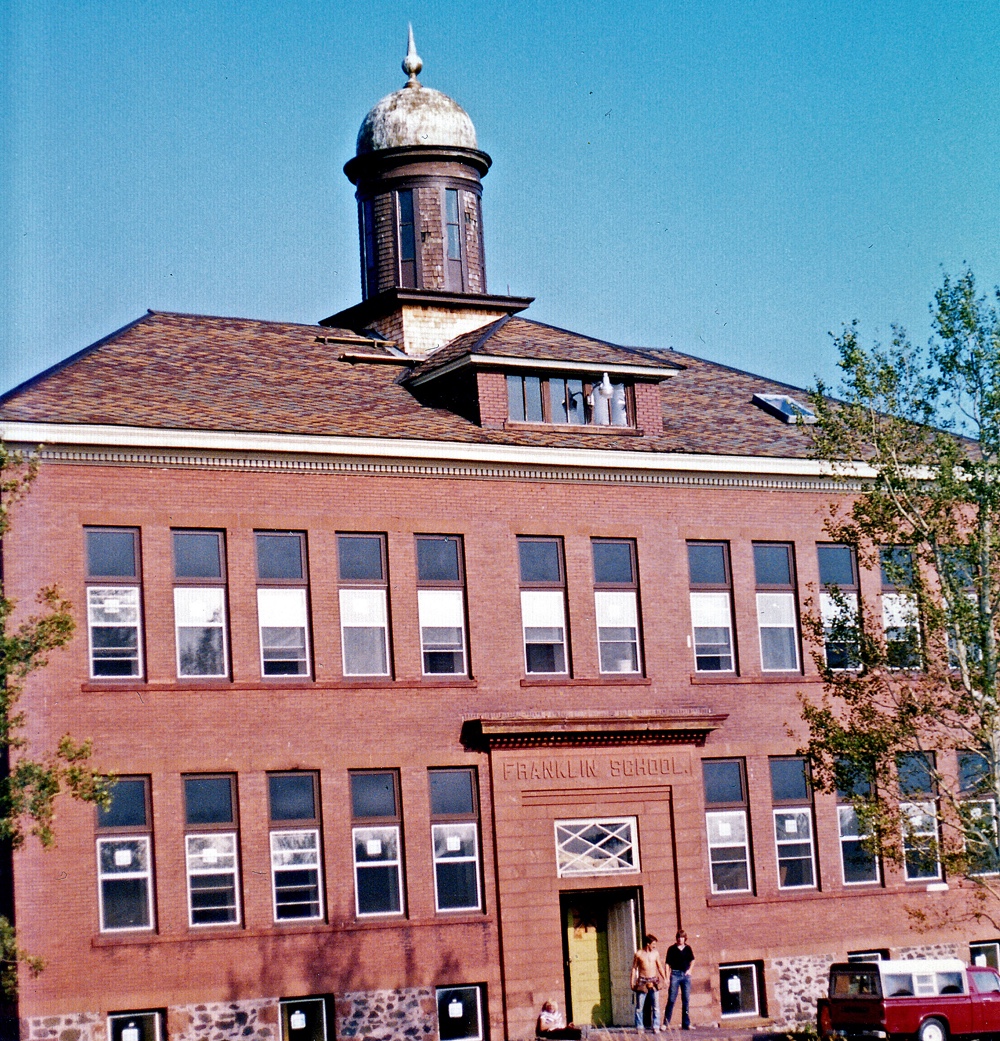 One last Tom Roberts shot brings us face to face with the massive front facade of the old Franklin School – a building which once sat tall and proud along US41 just north of the Quincy mine. The building was erected in 1908 to replace a much smaller wood-framed structure at the site. The school was erected by the Franklin Mine to serve the children of the surrounding mining locations. The school was closed in the years to follow the Quincy Mine's abandonment and subsequently sold to private interests in the 1950s. By the time Tom captured this image in 1981 the school looked to have been wonderfully restored – complete with all new windows and roof (with skylight!). Unfortunately just one year after this picture was taken the building was destroyed in a disastrous fire. Today only its stone foundation remains, though the "Franklin School" sandstone pediment was saved.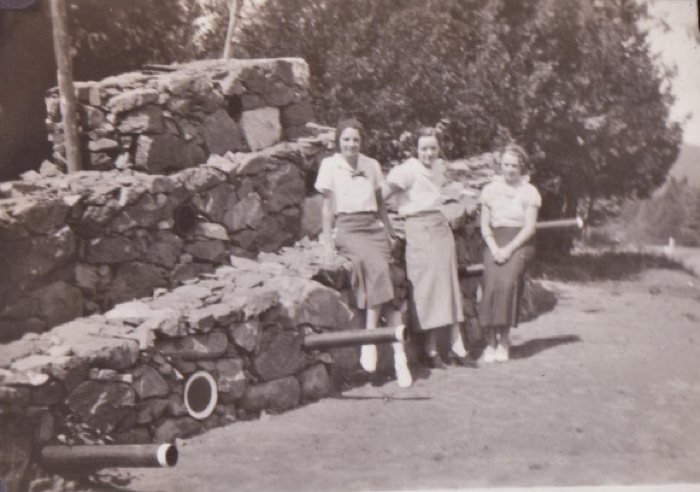 We now move away from Tom's work and feature another fellow copper country explorer – Matt Heikkila. Matt sent me this photo a few months back, a photo of what looks to be one of the Copper Country's famous stone boats taken in the 1930s. This one, however, is not the one currently found along US41 in Kearsarge, nor is it that boat's smaller brother located in the old school yard at Centennial Heights. This looks to be a whole different boat, possibly the missing third brother who once resided along the highway near the Franklin School. Yet even that doesn't seem right, as the road seen in the background seems way too curvy and the topography way too hilly to be near the Franklin Mine. Its possible that this was a fourth stone boat – one previously unknown to have existed. One thing is for sure, however. It doesn't exist any longer.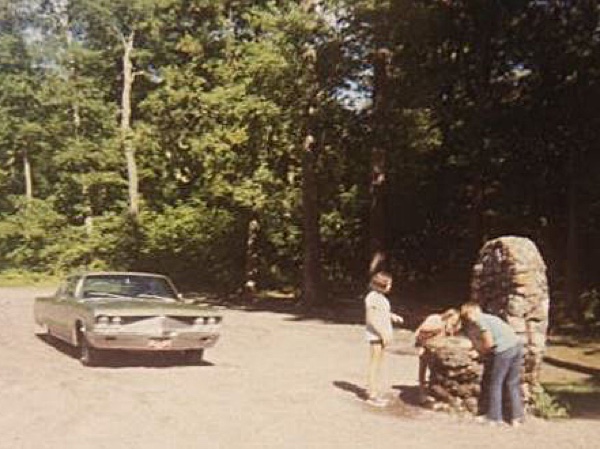 Another missing stone roadside attraction can be found above – thanks to a photo sent to me by Dale Gauthier. This is the Trimountain Fountain, yet another old roadside fountain in the same vein as the old one we featured years back along M203 near Calumet. This one I believe once sat along the curvy section of old M26 that once connected South Range with Trimountain – a section that has since been abandoned with the highway's new alignment up atop Six Mile Hill. I faintly recall this fountain, but I'm not too sure. Perhaps others can help job my memory but I'm pretty sure its not there anymore. The road isn't even there anymore.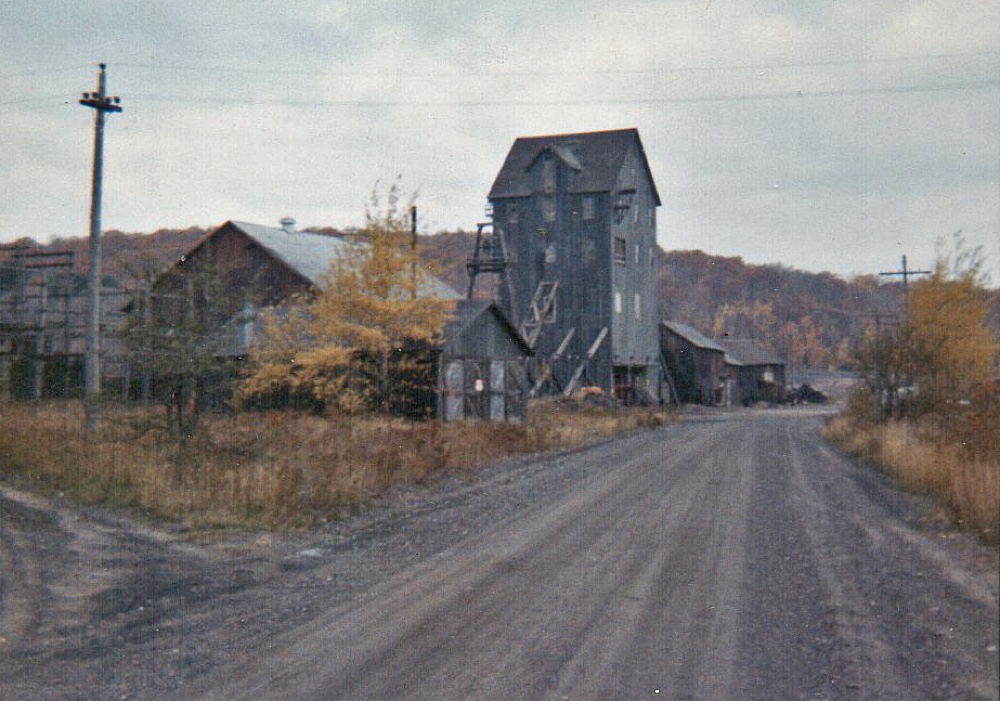 We wrap up our nostalgic journey with another set of reader-provided photos, this time a series on the old Allouez Mine as photographed by Hans Schlegel. More specifically this is Allouez No.3, more generally known as the Allouez Douglass Shaft. We've explored this old mine before, and have also featured another set of photos taken by fellow explore Paul Meier. Paul's photos, however, were taken in the 1970s while these were from a good decade earlier.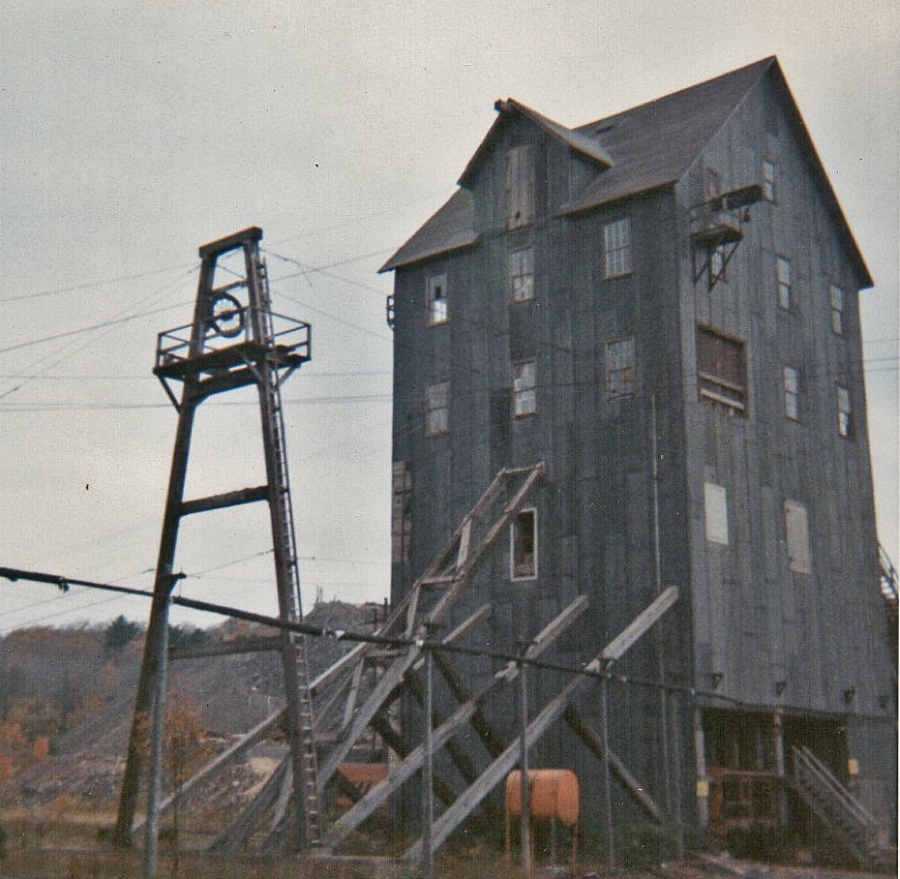 Here's a good look of the old mine's shaft / rock house – a wood framed structure standing about a dozen stories high.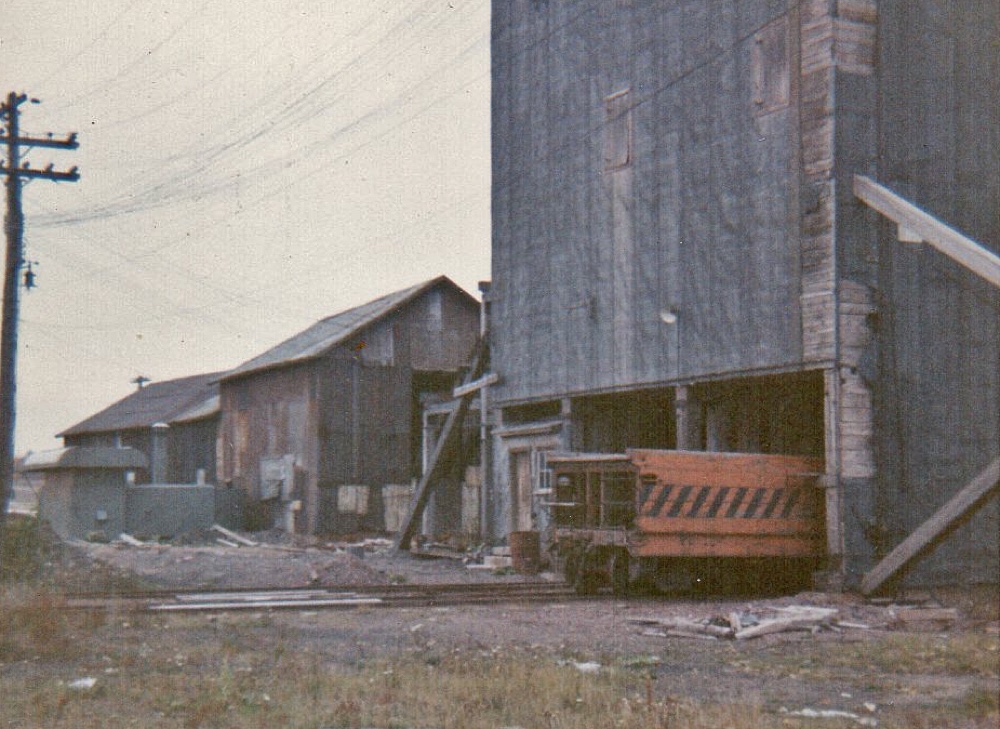 Most interesting about Hans' shots is the old  rock car which still stands waiting its turn at the rock bins inside. The orange color and black striping was the typical color scheme C&H used on its rock cars at the time – the operator of the mine at the time.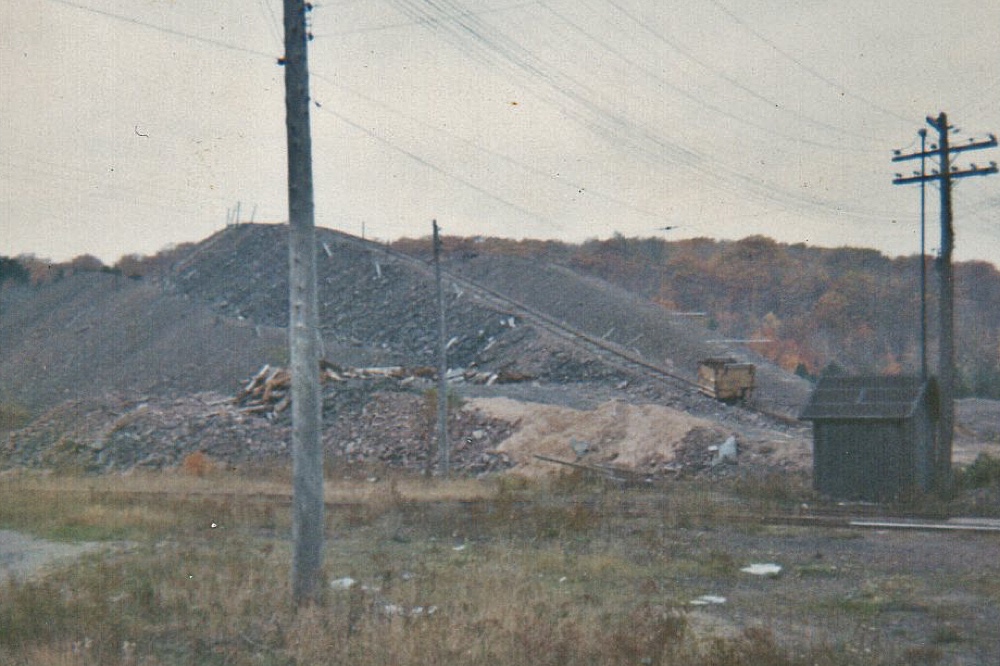 Another interesting piece of equipment can be found out at the poor rock pile. Above we can glimpse an old poor-rock tram car, which would have ran up that inclined railway to the top of the pile before dumping its load of copper-less rock. I'm assuming the car was pulled up the hill by an endless loop system connected to an electric winch possibly housed in that small shack seen at the base of the power pole.
Unfortunately this mine is only. a memory, as almost all of its structures have been removed from the landscape. Even that rock pile itself is a shadow of its former self, the rock crushed and hauled off for road projects across the peninsula. Yet like the rest of the missing items seen in this post the old mine lives on thanks to the foresight of fellow copper country explorers who documented them when they were still with us. That's a good thing, as it allows those of us to young to have seen them ourselves (or to notice in the case of the Northwestern Hotel) can see them for ourselves.