Making Memories with CCE
Copper country exploring is best done with a friend
As a student in his first few years of coursework at Michigan Tech there were two things to do in place of studying or attending class. The first of these requires no explanation for those who also attended the old mining college. Since I didn't drink, it would be the second option that would occupy most of my free time – Copper Country Cruisin'. As the name would suggest, this past time consisted of just driving around the Keweenaw looking for cool stuff to explore.  And boy was there plenty of cool stuff to explore in the Keweenaw.
It was during those many Copper County Cruisin' explorations that my love for the region was born, slowly soaked into my psyche in the years to follow. For anyone who has spent any time in the Keweenaw that feeling is known all too well, as it doesn't take long to find oneself drawn to the mystery and awe of the Copper Country's rich history and haunting landscape of ruins and remains from an empire that left a deep and immortal mark on the region's soul. It would mark my own soul as well, and after my time at Tech had ended it would bring me back to live out the next decade of my life in its presence.
In the years that followed so too did more explorations and more Copper Country Cruisin'. Those explorations became an obsession, as my time in the woods and around the shattered ruins of the past seem to define me and my own purpose in the world. So much so that I soon began to share those explorations with the rest of the world, sure that there were others that felt the same way about the Copper Country as I. Turns out there were others that enjoyed the region as much as I, far more then I had even expected in those early years. With readers came purpose, and my Copper Country Explorations had become CCE – the site you are all still reading a decade since its inception.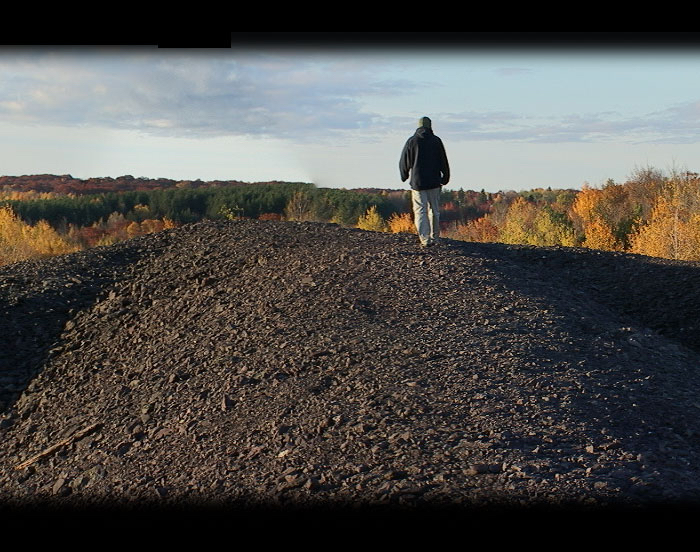 Yet I didn't take those explorations alone. Worried that I may fall down a mine shaft or tumble down a rock pile my wife insisted that I implemented a buddy system resulting in my first exploration partner, Chris. He can be seen in many of those early posts – most famous of which is a shot atop the Kearsarge No.2 rock pile seen above. Chris and I would head out on explorations three times a week; hiking trails, following old rail grades, scaling rock piles, cutting through thick brush, and driving all across the peninsula's highways and back roads. Back then almost everything was new and fresh – scenic vistas that awed us, ruins that impressed us, and remnants which intrigued us.
Chris and I would explore the Copper Country for nearly three years, until life moved on and so too did Chris. He graduated college, got married, and moved away to start a new chapter in his life.  In need of a new exploring partner I turned to CCE's own readers for help, finding another Copper Country explorer to fill the void – Dave.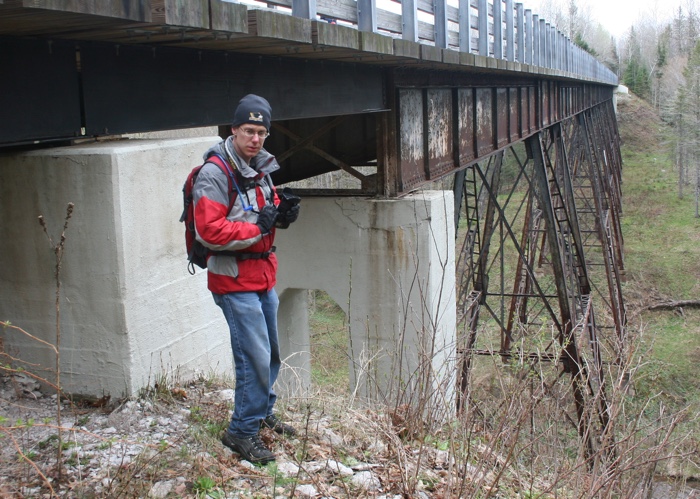 Dave was already an accomplished photographer and Copper Country historian on his own right, having explored many places CCE had yet to find. With his assistance we documented and explored dozens of more sites in the years to follow – expanding our reach with weekend excursions to Rockland and the Porkies. Dave would help a great deal with CCE, and help me improve my photography skills slightly along the way. He also was great at providing scale in more then a few occasions.
Dave and I would continue having our own Copper Country Cruises for nearly half a decade, until he too finished college, got married, and moved off to start the next chapter in his life as well. It was time for me to find a new explore partner, but this time it was someone a bit more closer to me.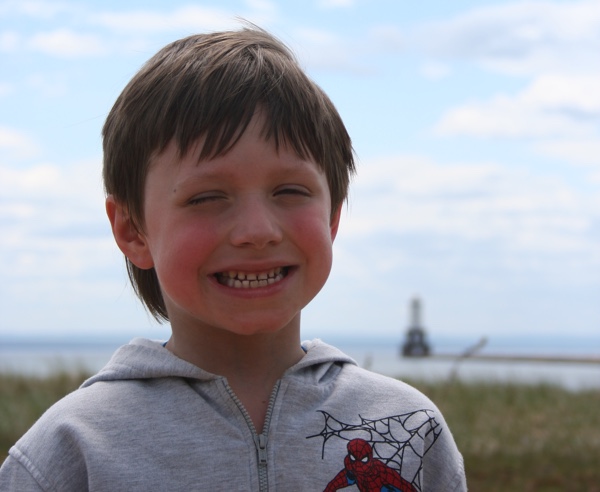 This is Steve. He's my oldest son, born just before we returned to the Copper Country for our extended stay. When I started CCE he was just four years old, and since I took care of him during that day that meant that for any Copper Country Cruisin' he'd be riding shotgun the whole way. Back then that meant riding along in his red wagon – conveniently complete with oversized off-road tires. Those tires came in handy as I pulled him all across the Keweenaw, down railroad grades, along trails, and in and out the ruin-scapes of the region. This meant everywhere I went, he went too. The old Q&TL, the Franklin Jr., the Redridge Dam, the Mohawk Mill – all marred by the tracks from his red wagon.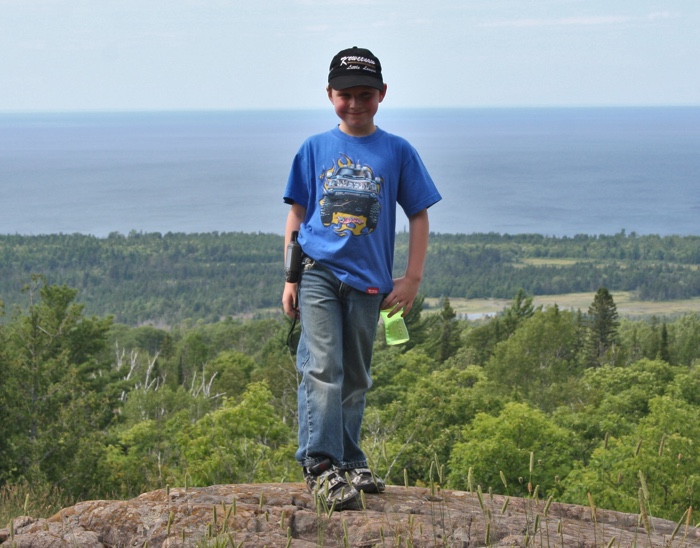 Once Steve got old enough he graduated out of the wagon and followed along on foot like the rest of us. He loved being responsible for the GPS, proudly clipping it to his belt along with his water bottle. He was never that into sports as a kid, generally the type that liked to play by himself in his own world. Copper Country Exploring was our father and son time, time we cherished as he quickly grew up and matured.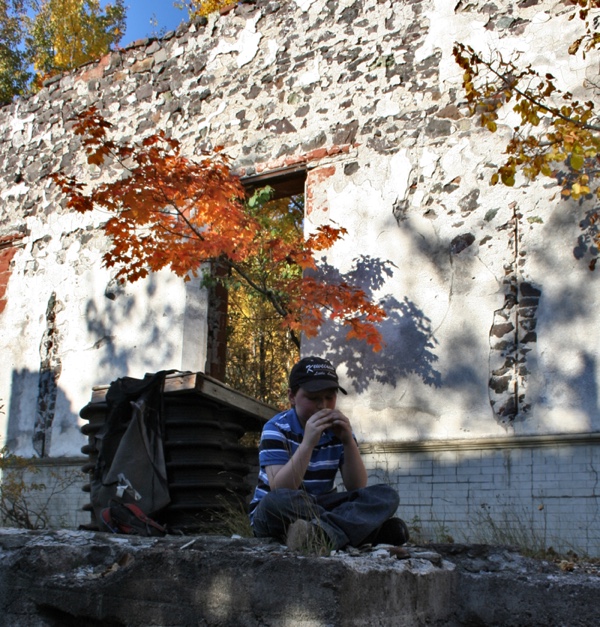 As my four year old turned into a ten year old, his adventurous spirt and fun-loving nature was infectious and made our Copper Country explorations even more enjoyable. From chasing butterflies, eating apples from the trees, skipping rocks, or checking out the newest bug or animal found along the way – Steve was always willing to explore his world to its fullest and brought us along for the ride. Memories were made and a bond between father and son was forged.
After seven years of exploring we would move away from our adopted home and set up residence "under da bridge" in Traverse City. CCE would go on, along with my need for a new Copper Country Cruisin' buddy. It would be my son who would take up the challenge, and travel with me once a year back to the Copper Country to embark on enough explorations to fill a year's worth of posts.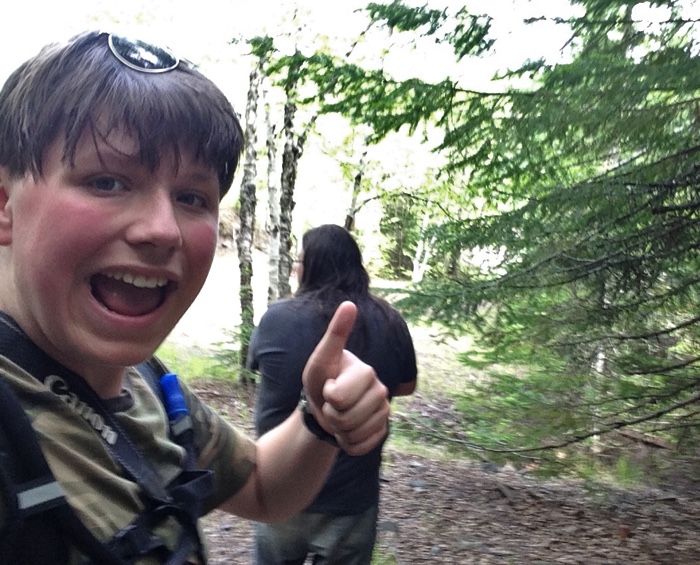 Today Steve is 15, a high school student preparing for his future and figuring out his role in the world. Before we knew it a decade had passed, and a relationship between a child and his dad had evolved into one between a young man and his father. Those Saturday explorations we embarked on together all those years ago have grown into four day Copper Country vacations, where a year's worth of Copper Country explorations are done at a marathon pace. For most of the year my life and his are on separate paths, as he makes his own way through life with me as more guide then fellow traveller.  But for at least one week each year, my son and I take that journey together as we explore the ruins and history of the Copper Country. Just like its been for over a decade.
Though this may be my story, it's also the story of a great deal of those who also have done their own fair share of Copper Country Cruisin'. Exploring the Copper Country is not just an adventure in its own right, it's also an integral part of most of our lives. It's time spent not so much in the pursuit of history, but in the making of memories with the important people in our lives. Its about living life to the fullest – eating those apples and chasing those butterflies along the way. Its about making connections through time, bridging the gap between our pasts and our futures. For me personally – its about quality time spent with my son and the memories both of us will have for a lifetime.
This is what CCE means to me, but I'm sure it means something similar to you as well. Almost everyone who enjoys this site has some connection to the Copper Country and some memories of Copper Country Cruisin' of their own. Be it a vacation taken with your parents when you were a kid, or time spent at Tech as a TOOT, or time spent growing up in the area – all of us have memories of the Copper Country that we keep with us as we age and move out across the country. CCE helps keep those memories alive, bringing us back – for a moment or two – to a time we cherished in our lives and connecting us to the people in our lives. CCE not only works to keep the history of the Copper Country alive, but also works to keep our cherished memories alive as well.