Top 10 Most Awe-Inspiring Houses of Worship in the Copper Country
The Copper Empire was a massive industrial enterprise, one that required a great deal of manual labor for its operation. As a result the Keweenaw was soon inundated by workers from all across the world, people in search of their own "American Dream" in the new world. At its peak the region boasted over 100,000 people, easily the most populous region of the Upper Peninsula and within the top tier of populous areas for the entire state. This massive population required a great deal of public and private institutions to support it, none perhaps as integral to the region's cultural identity as the church.
While the residents of the Copper Country were largely Christians (predominantly either of the Catholic or Protestant persuasion), those Christians were heavily segregated by their ethnic differences.  Germans attended German churches, Italians attended Italian Churches, and so forth and so on. While this division may cast doubt on the traditional narrative of the American Melting Pot, it also meant the Copper Country overflowed with houses of worship. In large cities like Red Jacket, this manifested itself most severely with the inclusion of over a dozen Catholic churches alone – not including the dozens of other Methodist or Lutheran churches scattered about as well.
What this all means is that when it comes to making a list of the region's top houses of worship, whittling such a large list of contenders down to just a few is a rather monumental task. For this list we looked at the most awe-inspiring of these houses of worship – structures that best invoked a sense of the divine and encapsulated  the awe and wonder of the heavens right here on earth. These are architectural triumphs that work to transcend the terrestrial and embrace the celestial in both form and style. At least in my opinion.
Lets begin…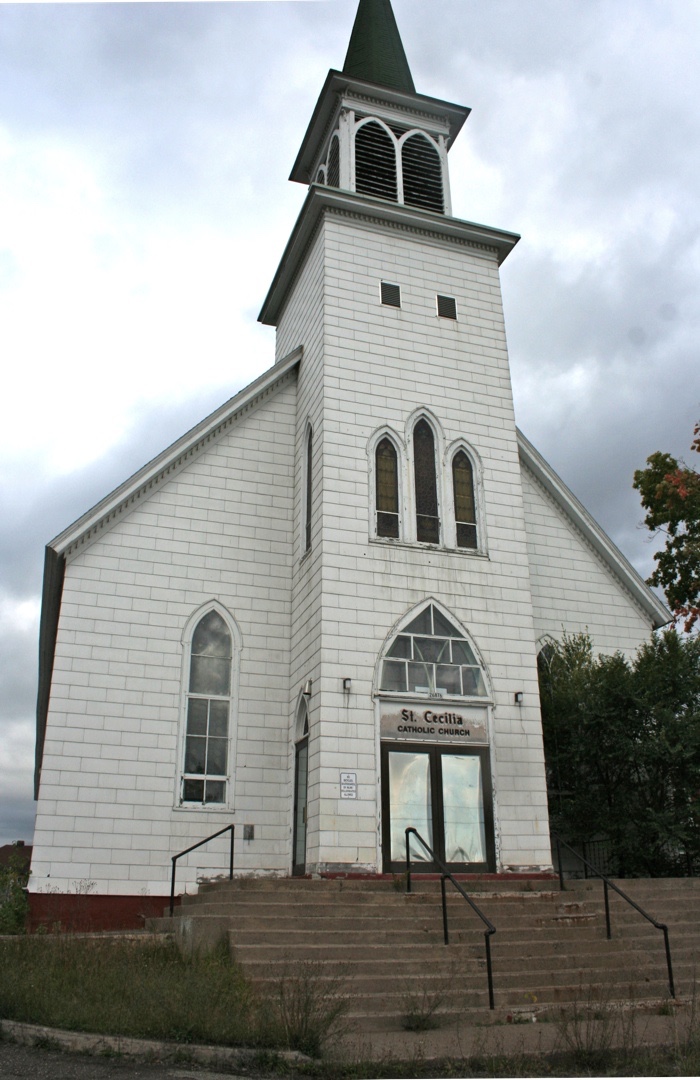 10. St. Cecelia – Hubbell
Starting off our list is this massive wood-framed church occupying  a central position in the old smelter town of Hubbell. While the building's humble construction offers very little in terms of architectural wonder, its the building's impressive perch atop a hill high above the town that garners  it a spot on our list. Such a tall perch allows the building to sit high above almost everything else around it, its steeple making a strong visual statement for miles around. Adding to the building's soaring stature is the tall line of steps that grace its front entrance – a conveyance that works to both physically and metaphorically carry parishioners  upward as the tower above points confidently towards the heavens.
St. Cecelia Church is no longer an active house of worship, and today sits empty. It can be found at the corner of Guck Street and I Avenue in Hubbell – one block up the hill from the highway. 
9. First Congregational – Lake Linden
Down the road from St. Cecelia stands this impressive architectural gem – a house of worship that was erected by Lake Linden's upper crust. While not as soaring as its sister to the south, this old home to the First Congregational Church gains a higher rank due to its unique and impressive architectural style. Known generally as "stick style", this Victorian form utilizes a series of boards attached to its facade to give the illusion of exposed framing. The liberal use of scalloped shingles  and wood cross hatches also makes the church look like some type of gingerbread house – a look that works wonders in elevating the structure from its mundane setting to something more resembling a fairy tale.
The First Congregational Church is now home to the Houghton County Historical Society's Heritage Center, and is open to the public on a limited basis. It sits at the corner of First Street and N Ave on the south side of Lake Linden – one block from the highway.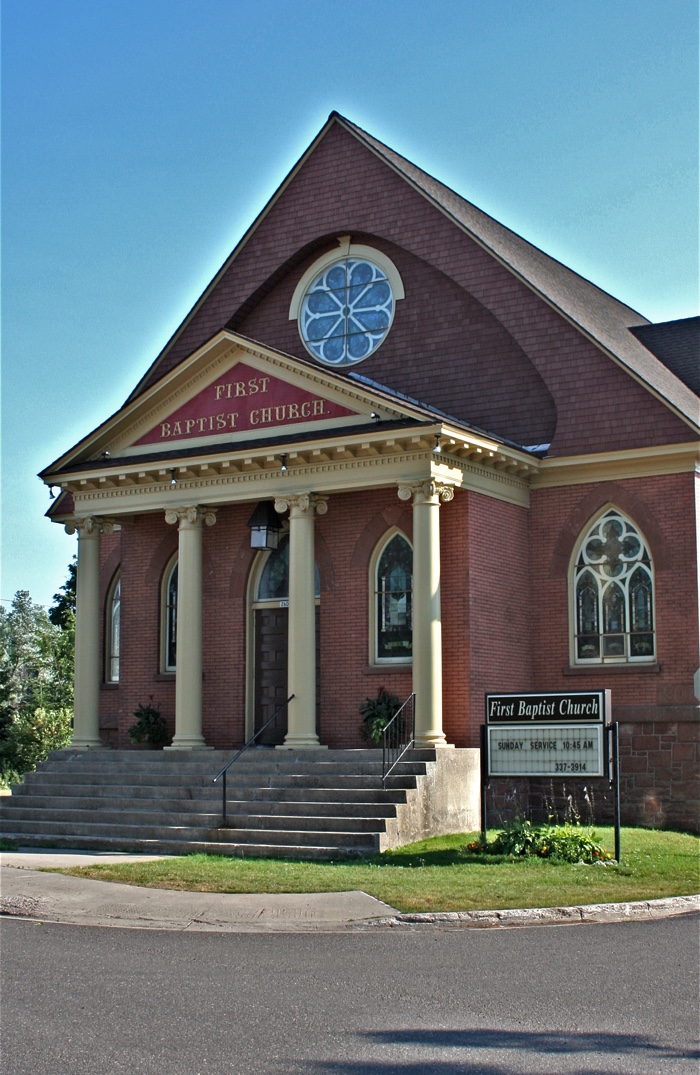 8. First Baptist – Laurium
While there are a great deal of churches to be found in the upper class region of Laurium, only this unique structure managed to make the final cut. Here is a building that looks like no other, a church without a steeple or tower of any kind. Instead its facade is dominated by a massive portico topped with an impressive pediment engraved with the church's name – the First Baptist. For a summer I use to walk past this dominating entranceway twice a day, each time as equally impressed as I was the time before. Stepping up those steps and under the shade of that massive pediment creates a powerful statement for those entering the structure – exactly the type of awe-inspiring impression this list demands.
The First Baptist Church of Laurium continues to serve the area's residents, and is a fully operating church with weekly Sunday service. It sits right alongside M26 on the corner of Laurium Street – three blocks west of Laurium's downtown.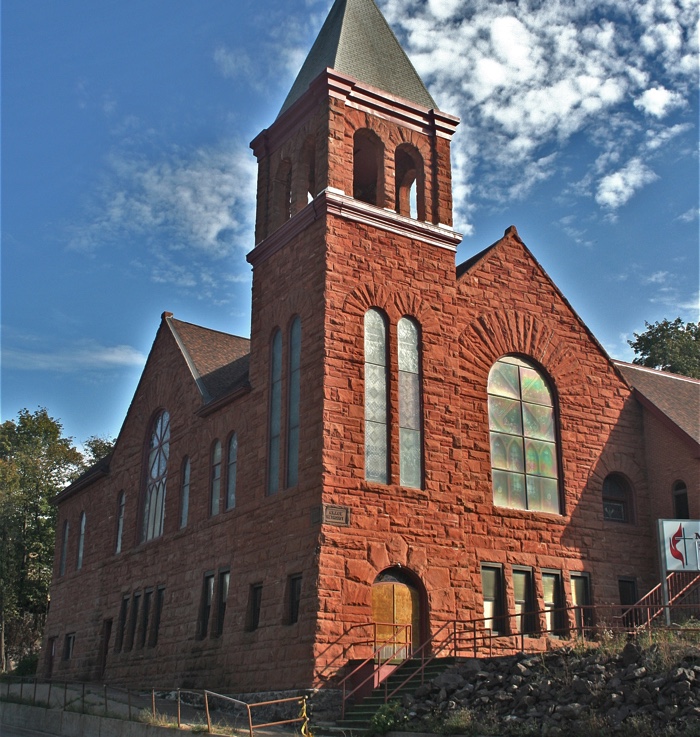 7. Grace United Methodist – Houghton
Now we find our first masonry church to make the list, and what a beauty it is too. In addition to its beautiful red sandstone and soaring corner bell tower, this church is further elevated – literally – by its perch along a rocky outcropping on Houghton's north-east side. Its placement along one of the city's major thoroughfares doesn't hurt either, bringing its impressive stone walls into view for thousands of passer-bys each day. Its a view that demands your attention, as it did mine each time I drove by as well.
Grace United Methodist is still an active church, having received a hearty addition to its south end to accommodate a growing population. It stands along east-bound US41 (Montezuma Ave) in downtown Houghton, just a block from the start of College Ave.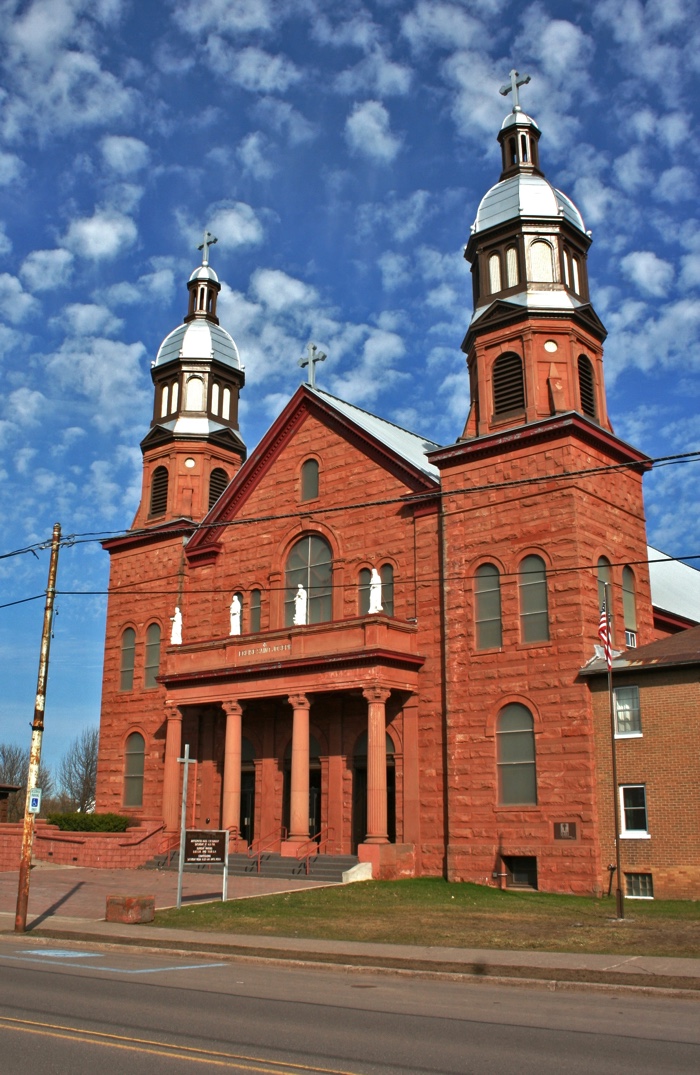 6. St. Joseph's – Lake Linden
This monster cathedral is easily one of the greatest sandstone structures in the region, it two dome-topped towers a particularly unique element not found on most other houses of worship in the region. What hurts its placement on this list, however, is its physical location which places the impressive structure far back from view and partially blocked by trees, power lines, and a rather ungainly brick priests residence attached to its south side. Get close enough, however, and the building is something to behold for sure and deserving a place on this list.
St. Joseph's continues to serve Lake Linden's Catholics and continues to hold weekly services. The building sits along M26 in downtown Lake Linden, just a block north of the village's High School.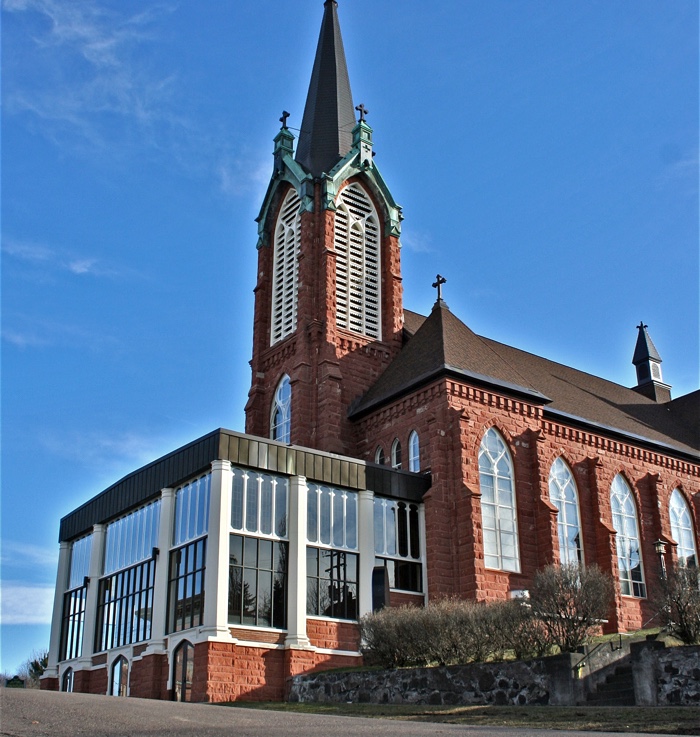 5. St. Ignatius – Houghton
Originally this was Houghton's only Catholic Church, and as such it was built to be as impressive as it could be. Its incredibly Gothic in style, featuring an array of pointed arched windows, sandstone buttresses, and a soaring central bell tower beautifully adorned with copper pediments. Unfortunately that impressive facade has been largely blocked by the rather ugly and obtrusive covered portico added later in the church's life. Fortunately the church's high placement along the hillside above Houghton easily makes up for such an architectural intrusion – the soaring belfry being the tallest structure to be found within Houghton's limits, and an integral part of the city's skyline.
Yet another church that continues to serve its constitutes, Saint Ignatius Loyola Church stands tall along Houghton Ave just two blocks east of the county courthouse.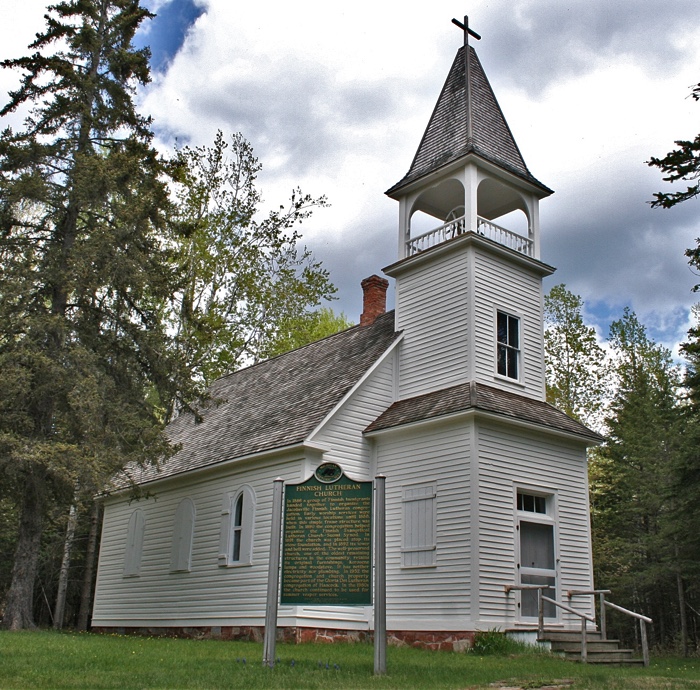 4. Finnish Lutheran Church – Jacobsville
At first glance the inclusion of this rather diminutive wood framed structure so high on a list of awe-inspiring churches would seem ludicrous. But while this old Jacobsville house of worship may lack any architectural gravitas, it gushes with something far more impressive – purity. The building sits deep in the woods, shrouded in the greenery of the natural world. Here it sits unhindered by the modern world – no electric lights, no running water, no plumbing, and no wifi. Light is provided only by a oil-burning lamps, and heat by just a small wood stove in the back. Services begin by the ringing of its archaic bell – not by the push of button but by pulling on a long rope dangled down from the belfry. To visit this church is to take a trip back in time, immersing oneself in the comfort of  a slower and far simpler time –  an especially awe-inspring experience that easily garners it a top spot on our list.
This country church is open for services during the summer months, sitting at the end of a narrow two track road off of Jacobsville Road just west of the old quarry town of the same name.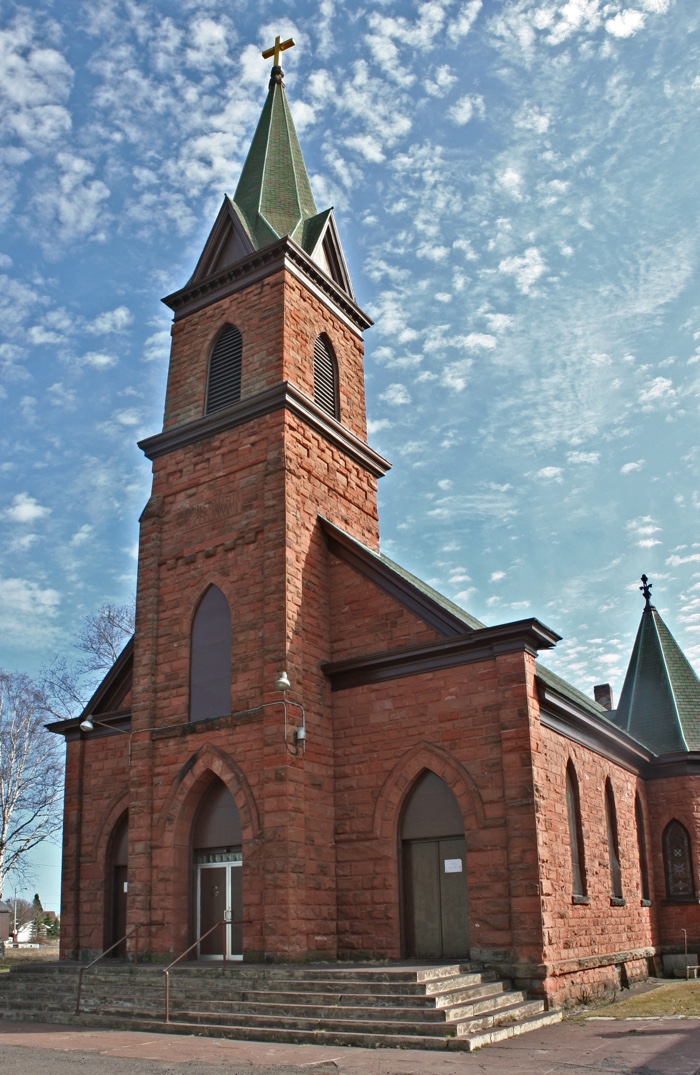 3. St. Mary's – Yellow Jacket
This small little sandstone beauty was a relative newcomer to the Red Jacket scene, resulting in the structures erection outside of the village limits in neighboring Yellow Jacket. Such an out-of-place placement helps elevate this particular cathedral to a higher place on our list – as its gothic ruggedness contrasts nicely within the residential trappings it finds itself. While the church hasn't been used for some time, its abandoned and deteriorating appearance only strengthens its charm – like an old medieval castle still standing tall over the homes it once defended.
This old Catholic church is no longer open, having been closed since the 70s. Today its under private ownership, but can easily be viewed from nearby Portland Street just four blocks west of Calumet's downtown.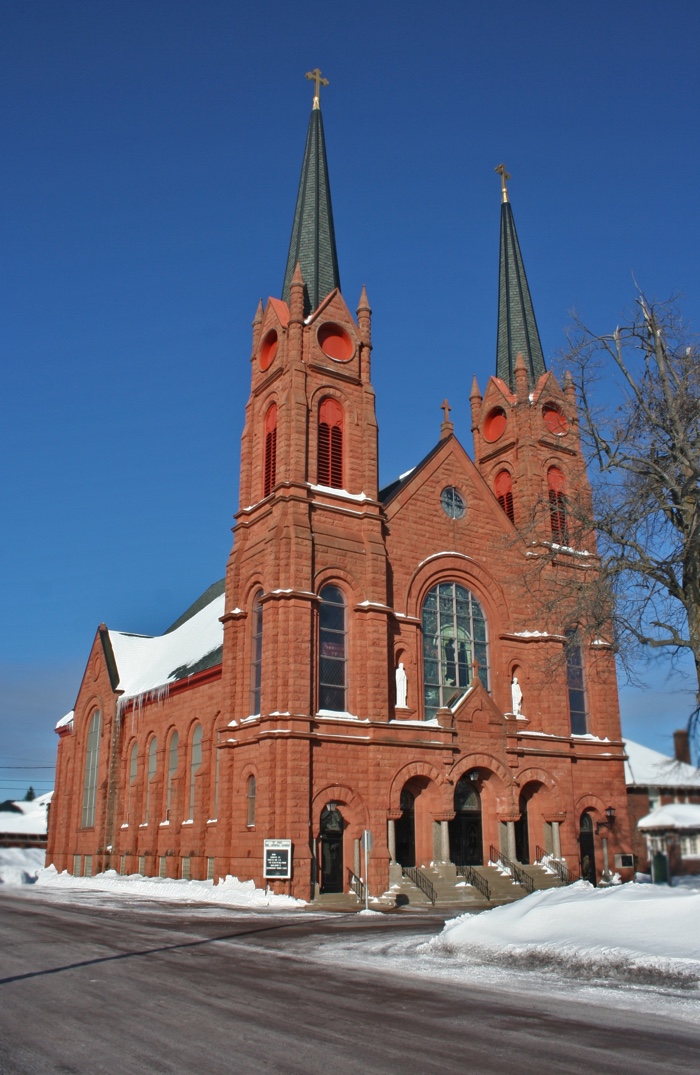 2 – St. Paul's (St. Joseph's) – Calumet
This is easiest the largest church to have ever been built in the Copper Country, its twin spires soaring over 150 feet into the air. Its an incredibly impressive structure, looming large over the residential neighborhood it serves. Its perch at the end of Oak Street elevated the village of Calumet into metropolitan status by just looks alone – a cathedral one could easily mistake for residing in Chicago or New York. In 1900 it costs over $100,000 to complete – nearly $3 million dollars today.  Its easy to see where all that money went.
St. Paul's continues to serve as a fully operating church and is open for weekly services. Interior tours are also available during the summer months. It sits at the corner of Oak and 8th Streets three blocks west of Calumet's downtown.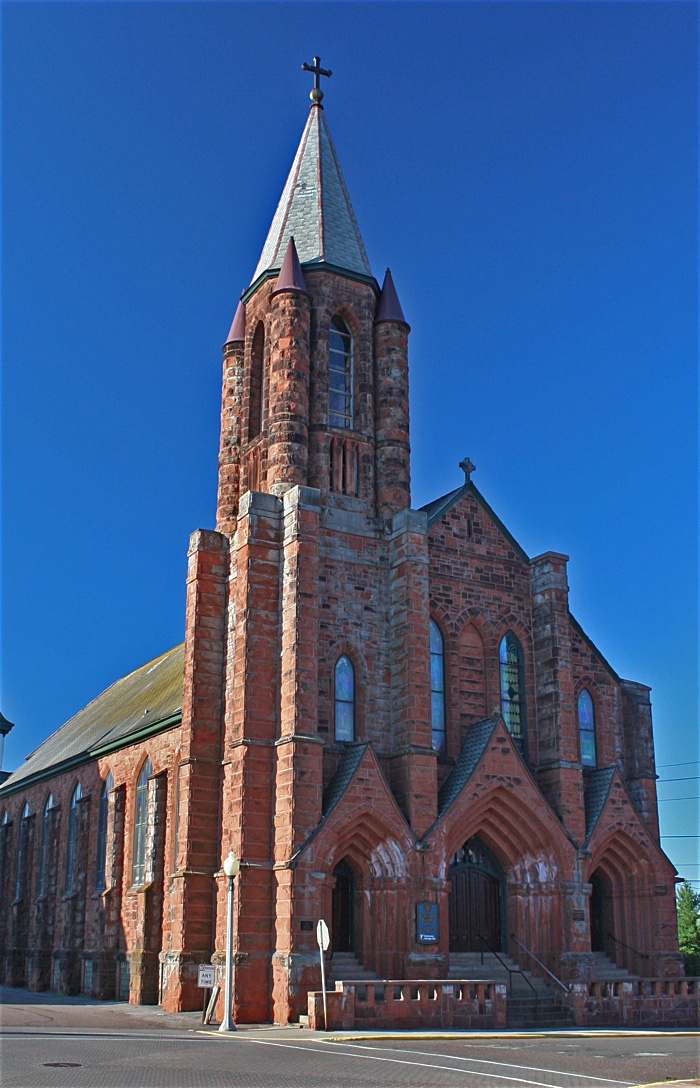 1. St. Anne's – Calumet
Finally we come to the great granddaddy of them all, the region's absolute most awe-inspiring house of worship. Most of that title is owed to its incredibly rich gothic parlance – as the entire structure is dripping with gothic sensibilities including robust buttresses, stepped pointed-arched entranceways, and incredibly rich stained glass windows adorning its exterior. Most impressive is its commanding position at the foot of Calumet's main business district – its rugged tower viewable from all along the once busy thoroughfare. What's more, its massive bulk sits right up along the road – making everything that passes by feel incredibly small and insignificant in its sky-yearning presence. It's easily the most awe-inspring church in the Copper Country.
St. Anne's has been closed for nearly half a century, but today is in incredible shape thanks to its new role as the home of the Keeweenaw Heritage Center. Housing annual exhibits on Copper Country culture the building is open to the public during the summer months. It sits at the head of Calumet's downtown, at the corner of 5th and Scott Streets.