An American LaFrance in Calumet
In 1873 a man by the name of Truckson LaFrance founded the LaFrance Manufacturing company, which primarily built hand-powered fire fighting equipment. With the popularity of steam-powered equipment rising, LaFrance expanded its operations into the new field and began building steam powered engines of its own. In 1903 the company merged with the American Fire Engine Company to become the American LaFrance Fire Engine Company. The merger would catapault LaFrance to the nation's largest manufacturer of fire fighting equipment – a somewhat monopolistic position it would enjoy for several decades. For the first few decades of the 20th century if you needed a fire engine, you got yourself a LaFrance.
One such entity in search of new fire fighting equipment was the C&H Mine, whose sprawling wood-framed surface plants and timbered underground workings required a well-equiped fire fighting force to insure the company wouldn't be burned out of existence. Towards that end the company staffed and equipped three fire stations – one at its mill complex on Torch Lake and two more at its mine site outside of Calumet (a Hecla station and a Calumet station). Around 1919 C&H required a brand new gas-powered pumper truck for its rather extensive fire fighting force – and it choose LaFrance to build it for them.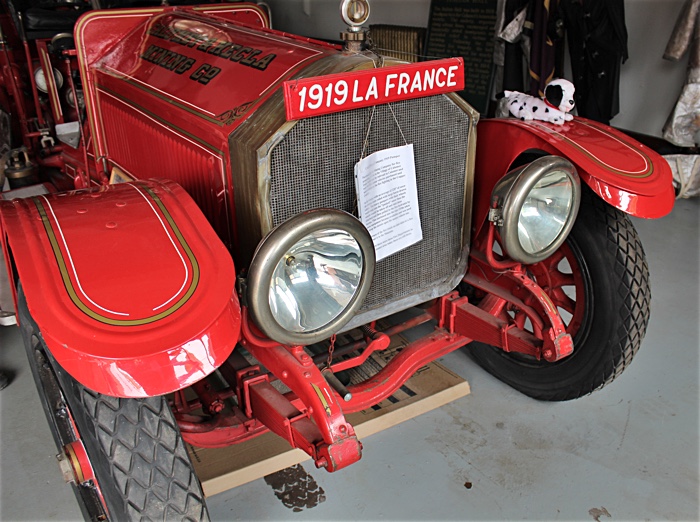 Today that same pumper – now nearing centenarian status – still calls Calumet home, though it hasn't been used to fight a fire in over half a century. The truck currently sits within the Red Jacket Fire Hall, a municipal fire station built to serve the village of Red Jacket. Today the village's fire department resides across the road in the village hall, the beautiful old fire station now serving as a fire-fighting museum.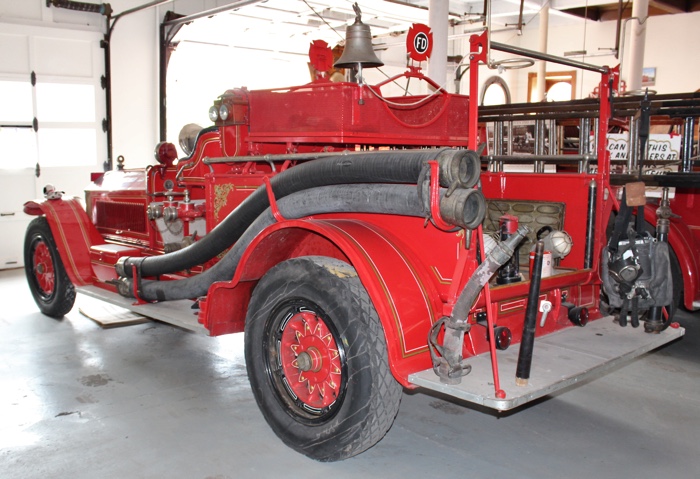 A pumper is basically a water pump on wheels, used to bring water to a fire wherever it may be. Early pumpers were hand powered, requiring a team of fire fighters (about half a dozen). This pumper utilized mechanical power, using the same gas-engine powering the truck itself.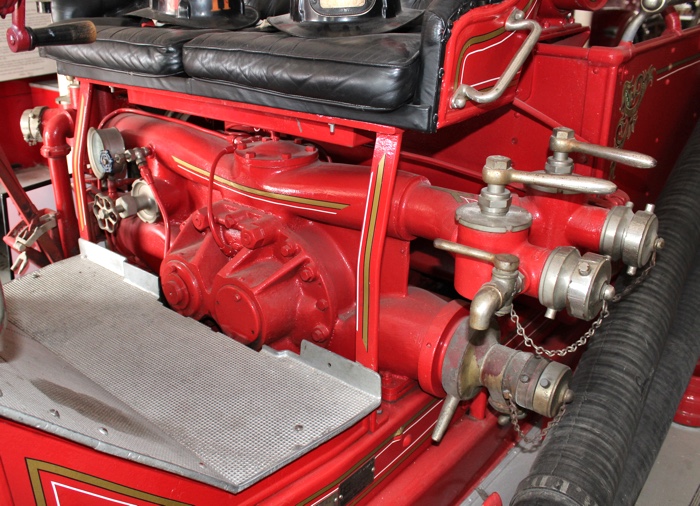 In the LaFrance engine that water pump can be found sitting just below the driver's seat. I would guess that the input valve for the pump is at the bottom, while the two valves up top were outlets. This particular engine could supply two hoses with water simultaneously.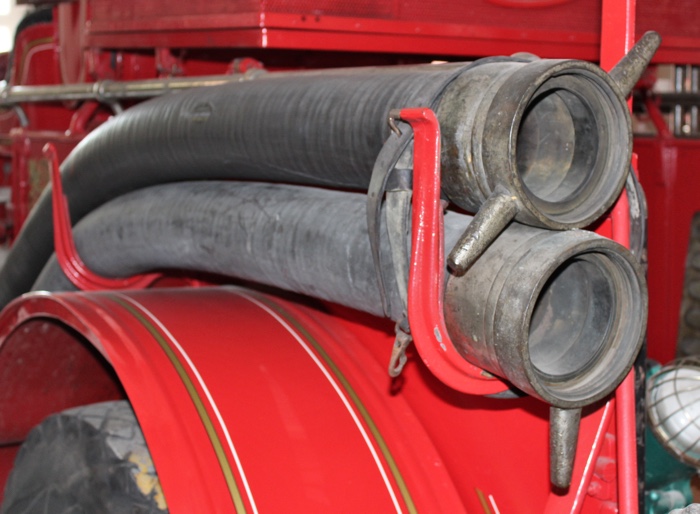 Supplying that water to the pump itself was the job of these large hoses cradled along the truck's back fender. These would be used to connect the pump to a hydrant or other water source.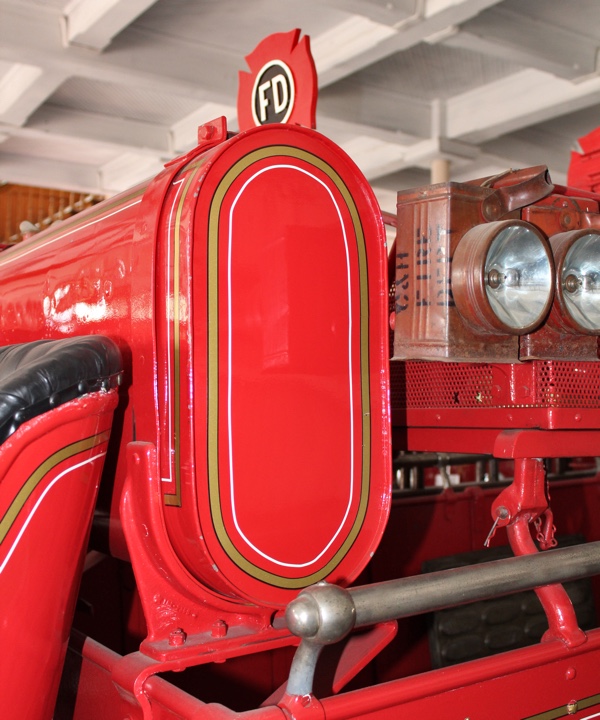 Up behind the driver's seat is this small tank, an item I thought was for storing water at first. Turns out that is incorrect, as this is actually the truck's gas tank. Apparently they put those things on the tops of trucks a century ago.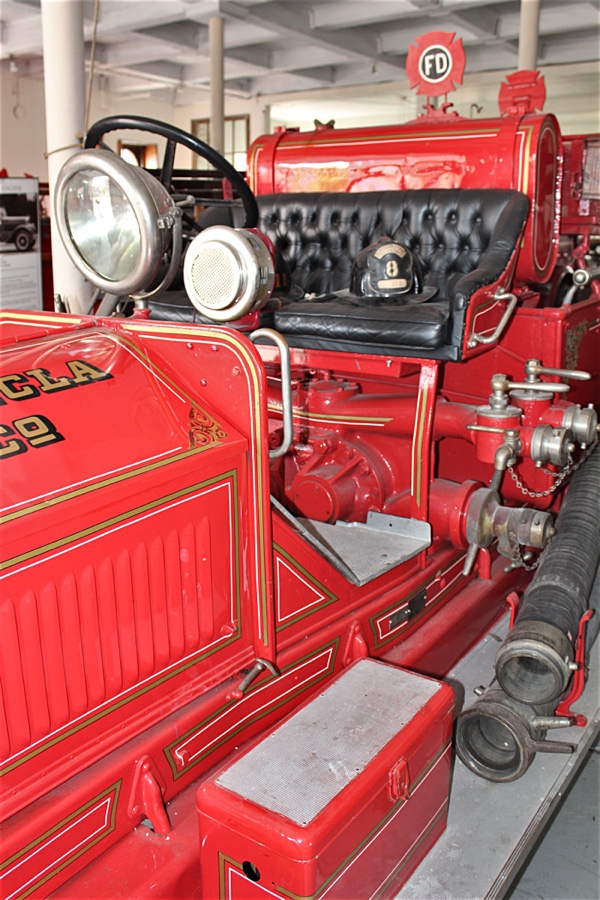 In addition to the pump and hoses, the truck also provided space for two firefighters (though others most likely could hang off the back on the way to the fire). Those men sat highly exposed on a raised seat set atop the pump apparatus, and while such a perch provided a great view around the vehicle it didn't provide much in terms of weather or safety protection. While a windscreen may have helped, that space is taken up here by a large light and the fire truck's hand-cranked siren.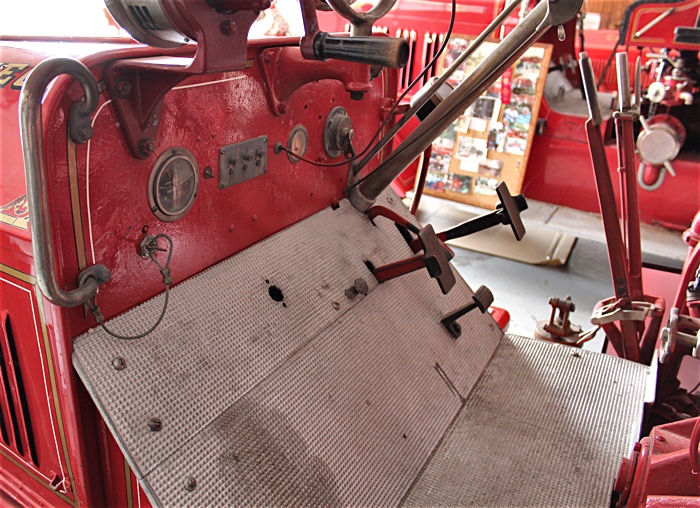 Controls were a bit sparse as well. Brake, gas, and a clutch on the floor, some gauges and light switches on the dash. To the right a series of large levers, one for shifting and another to apply the parking brakes.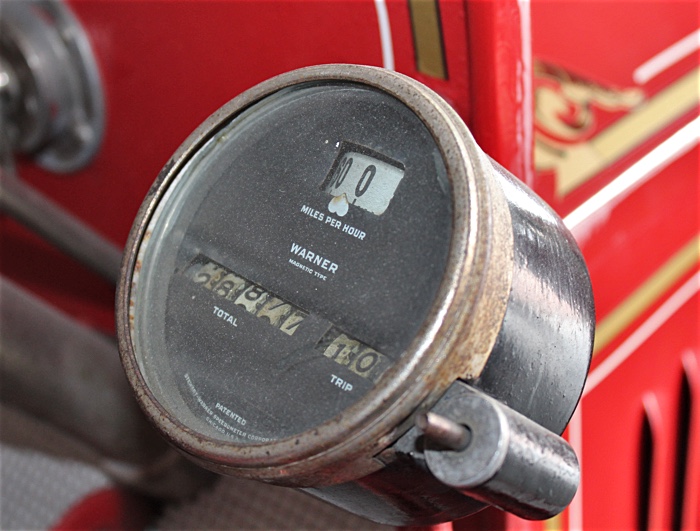 As an apparent afterthought, a small combination speedometer and odometer sits off to the right. I would guess that the odometer had rolled over at least once, since 28,000 miles seems a bit low for a century old vehicle.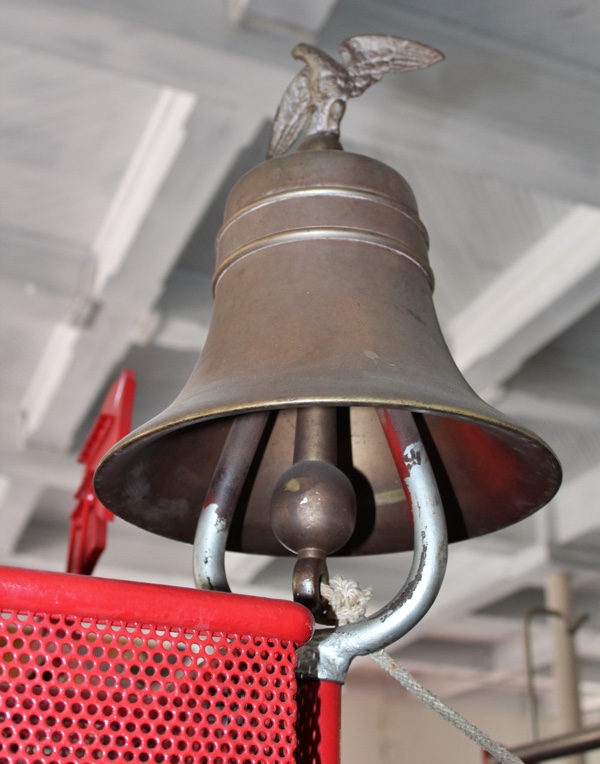 Of course no fire engine would be complete without its bell. This brass beauty if adorned by a small eagle on its crown – a nice touch that is apparently standard on LaFrance trucks.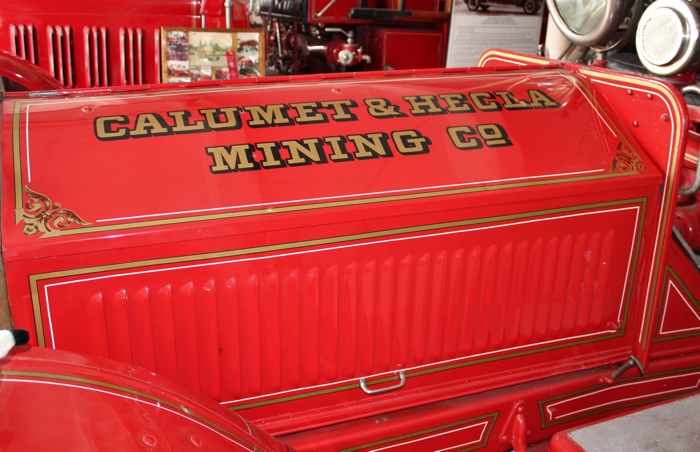 Along with that bell, the old truck has several other impressive pieces of ornamentation scattered about its surface. Most notable of those is the gold stenciling and striping found around the engine cowl.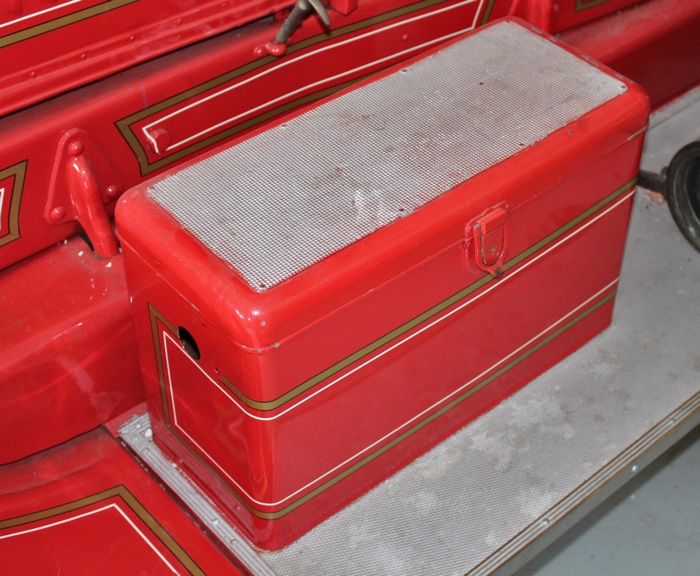 More of that stenciling can be found along these large storage boxes attached to the truck's running boards. While I assumed these were simple storage boxes for tools or other fire fighting equipment, they are serve to store batteries for use by the engine.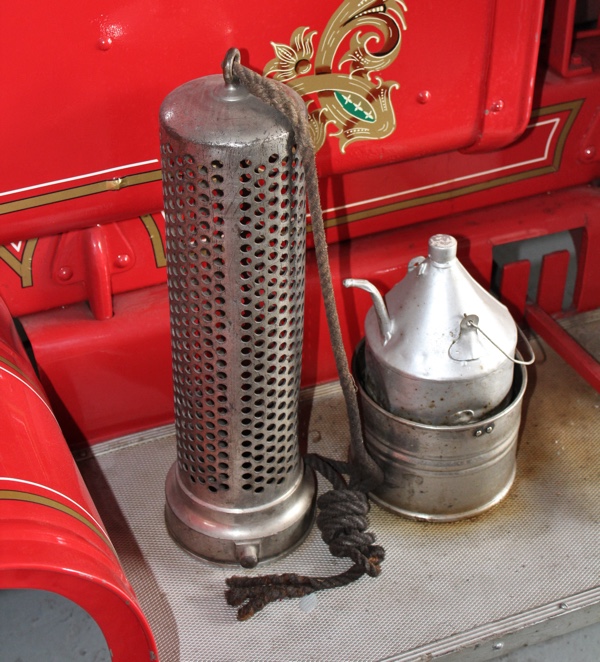 Also found along those running boards are these two interesting items. To the right looks to be an oil can, while the other object is a bit more of a mystery. thanks to an informed reader, I now know that these were used to place at the end of the suction hoses when utilizing a water source like a stream or pond. The screens insured that no debris made its way up into the pump which could damage it.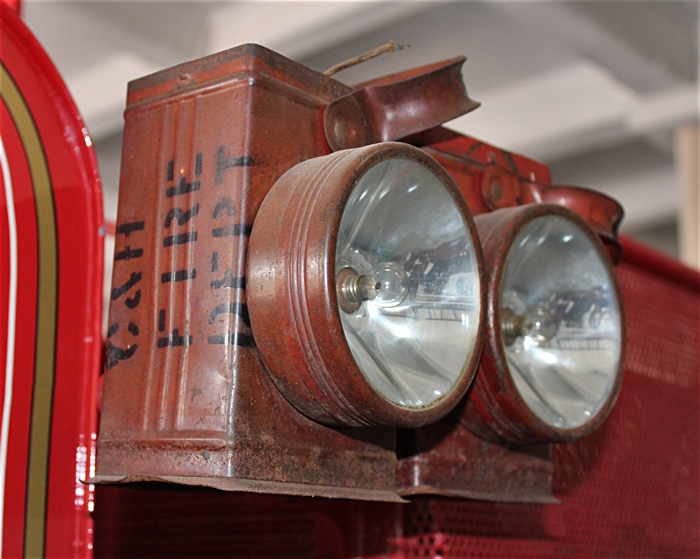 Up top a pair of large battery-powered lights sit ready for use near the engine's water tank. Looking at these just shows how far battery technology has come over the century. Most of that enclosure is just for the battery. In addition I'm sure those lights were pretty hefty as well.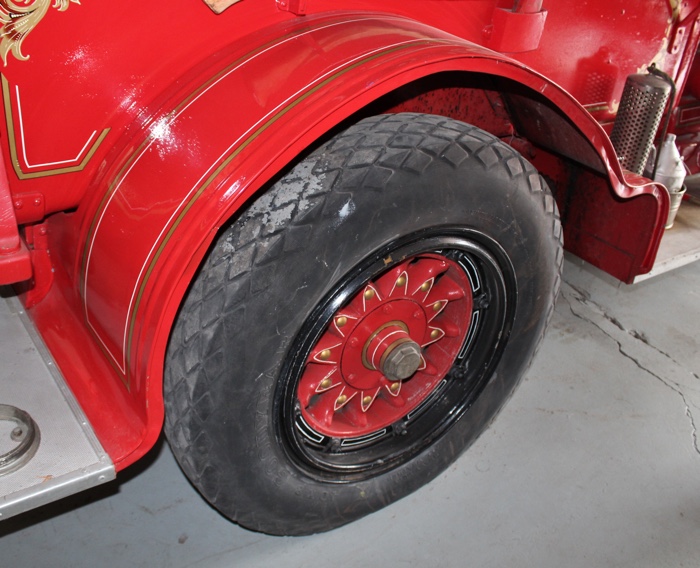 Down below some hefty tires are adorned by more gold highlights along the rims. While these tires would work find during the warmer months of the year, they were far more problematic during the winter months. Until the 30s streets in Calumet would have simply been packed down by horse teams on rollers. While the packed snow would be find for horses, these large tires would simply sink into the snow and get the truck stuck. Thus in the winter months these wheels were often removed and replaced with sled skis, the trucks towed by horses to the fire instead of driven.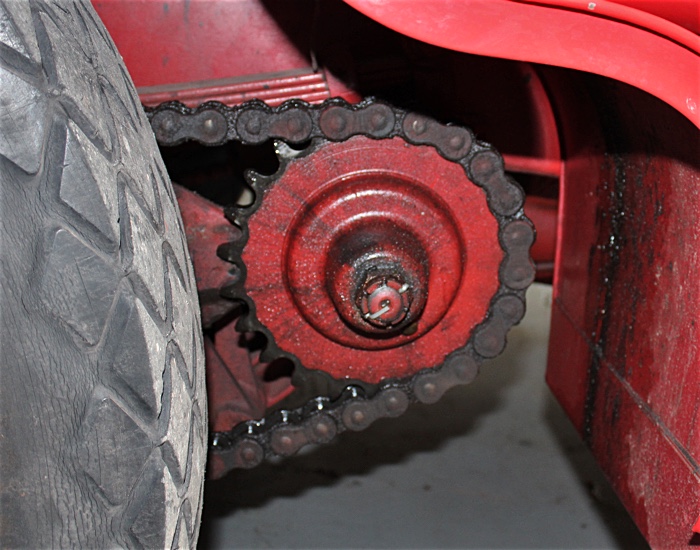 Interestingly those tires look to have not been driven directly. Instead there were turned thanks to a chain and sprocket much like a bicycle.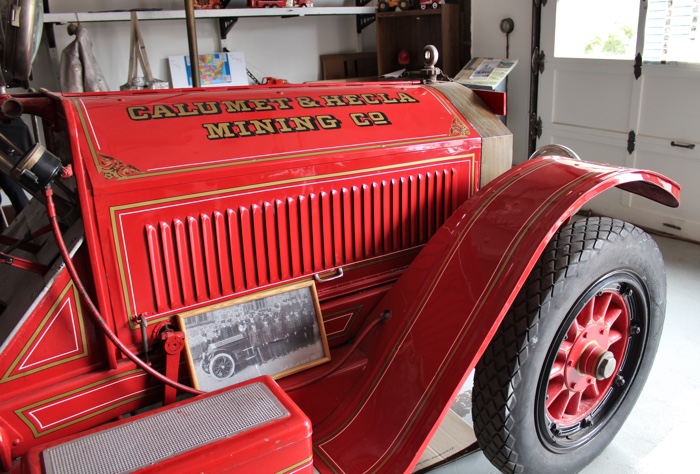 The C&H fire department would continue to serve not just the mine but the surrounding community as well for several more decades. In time this engine would get replaced by larger and more capable machines – some of which continued to be built by the American LaFrance Fire Engine company. The company would continue to make fire engines throughout the 20th century, bought up by a subsidy of the german car manufacturer Daimler in 1995.  It entered the 21st century as the nations No.5 fire engine manufacturer, but quality and management issues began to mount greatly diminishing the brand's once stellar reputation. The company closed its doors for good in 2014 – nearly 150 years after building its first piece of hand-powered fire fighting equipment.
Its CCE's ten year anniversary! Don't forget to sign the CCE Birthday Card for your chance to win a free copy of the commemorative coffee table book "Shadows of the Copper Empire" ! Just leave a comment sharing what CCE means to you!