Several years back I received in the mail a package containing a collection of photos, real photos on real photo paper complete with the negatives neatly sealed in little bags. On the back of the photos were hand-written notes detailing the exploration of an old mining town that today has largely slipped off the radar. In fact at the time I received the package I didn't even known where this place was, and had to look it up on a map. The town was Winona, and the photographer and explorer in question was long time reader and supporter Jim Fruehauf. The photos included a CD with the same photos in digital format, with instructions to do with them as I wished. I filed the photos with the intention of finding a way to feature them on CCE, but the project was put onto the back burner as other posts and series took up my attention. 
Fast forward another three years and those photos remained in that envelope. Then I received a submission for a guest post from another long-time reader and supporter – Ian Tomashik. Ian's submission was an ambitious series of posts on his exploration of a mine site of his own – none other then the same Winona Jim had explored years earlier.  Finally I saw a great opportunity to feature Jim's old photos, as an alternate look at what Ian featured in his series of guest posts. Thus I dug those old photos out of the drawer and slid the CD into my computer. Finally after three years Jim's tour of Winona is seeing its day, as narrated by yours truly. 
The copper deposits of the Keweenaw extends from its tip down to the Porcupine Mountains, an expanse of land over a hundred miles in length. Yet those copper deposits aren't deposited uniformity throughout that distance, and for the most part the great Copper Empire consisted of two distinct concentrations were the majority of mining took place. The first is along the Keweenaw itself, while the second sat down in Ontonagon County around the Rockland and Mass City area. Between them lies a rather empty land largely devoid of any mine or town of significance. Smack dab in the middle of the expansive no-man's land, fifteen miles from the nearest major town or mine, stands an exception.
From the highway its hardly noticeable, with only a small green sign pointing west to "Winona". Without the sign you would most likely miss it completely as the route to this mystery town is half shrouded in trees – a narrow road that looks more like a driveway then a public right of way. Once down that road the town doesn't even materialize for several miles and even then only a couple of homes and an old sign signal your arrival.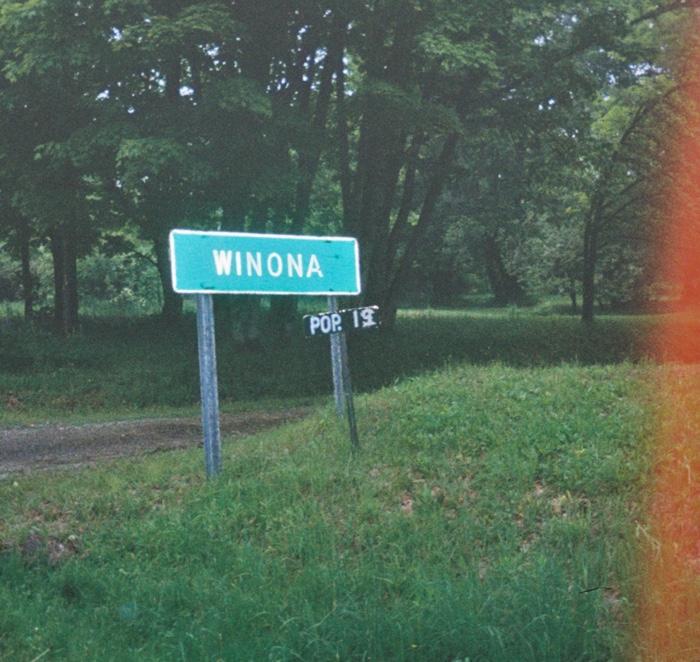 The sign notes a population of just 19, a collection of homes hardly warranting a sign marking its location. Yet a century ago things were quite different, as this small little collection of homes was once the location of the Winona Mine, a company which operated for over 20 years and produced some 17 million pounds of copper. At the mine's peak the adjacent town boasted nearly a 1200 residents, all of which worked at the mine or its mill. Both industries would shut their doors in 1920.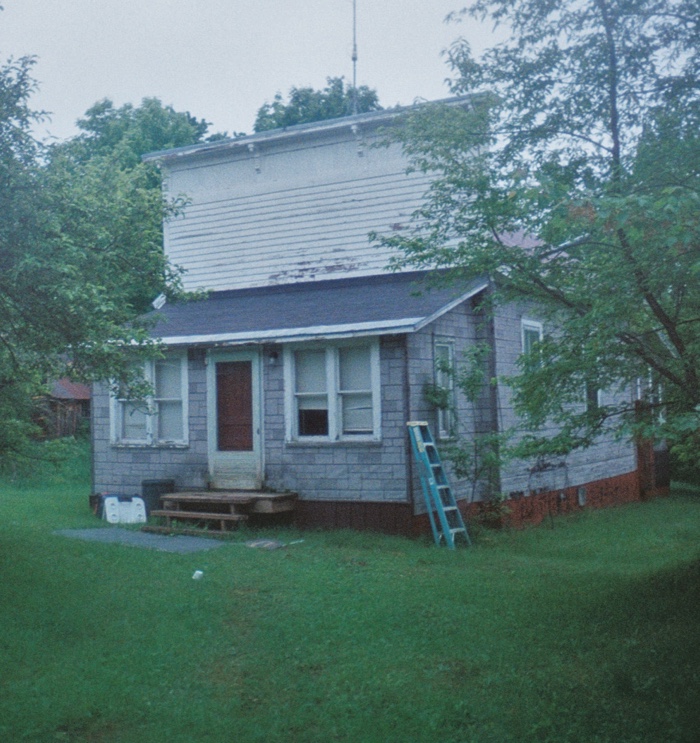 One of those homes seen nearby features a faux facade on its upper floor, a sign of what most likely was some type of commercial building back in its day. Though Winona featured over a thousands residents, its commercial offerings were rather limited. In 1917 only one store was even listed in Polk Directories – the H.S. Goodell & Co. Store. The store begin its life as a company owned and operated general store, later selling its interests to a private party. That private party happened to be Mr. H.S. Goodell, secretary of the South Range Mercantile Company. Though in private hands the store continued to be run like a company store, as no major competition was allowed into the mine location.
The Goodell Store was rather large, and as such would not fit into the small commercial space seen above. This building may have been a later addition, perhaps a convenience store, confectioner, or other small retailer. Its angled location along the corner may also indicate it served as a gas station at one time.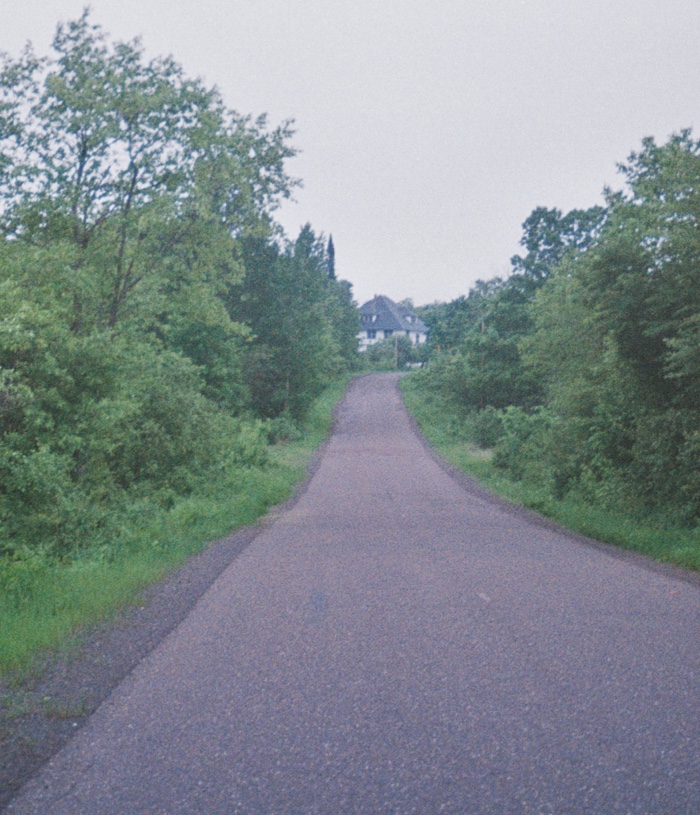 From the vantage point of this old commercial building the road continues lined by nothing but trees and brush. At the far end, however, can be seen yet another large building of note. This one was easily two stories in height, and was of a size and dimension more suited for a large store like the Goodell Store. Turns out the building was for a far different purpose.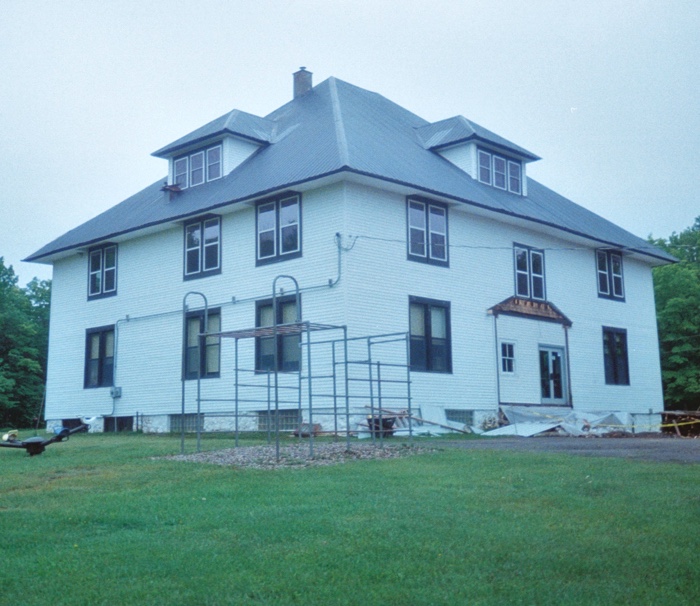 This massive building was no store, this was the Winona's main school building. It was originally built as a one story building in 1906 but would later receive an additional two stories as the community grew. In addition to the town of Winona, the massive school building also served the neighboring farming locations as well. Unlike most schools in the copper country, this building served as both a primary school and a secondary school, offering classwork up to the 12th grade. The first floor contained classrooms while the second featured a gymnasium complete with locker rooms and showers. The school boasted seven teachers in addition to a manual training instructor for the older boys and a "domestic science" class for the older girls.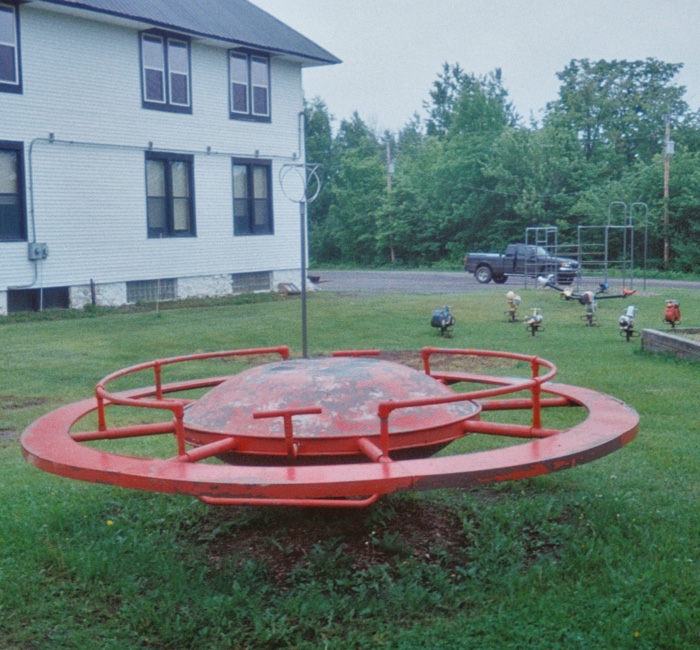 Outside can still be found the school's collection of playground equipment, a somewhat odd occurrence until you realize that this school would continued to serve the region's students long after the mine surrounding it closed its doors. In fact it continues to serve as a school still today, over a century since its inception. Today a total of eleven students call the old Winona School home, now known as the Elm River Township School. It no longer serves its students until high school however, as instruction ends after sixth grade. From there students must finish their education as Jeffers High School in Painesdale, some 15 miles away.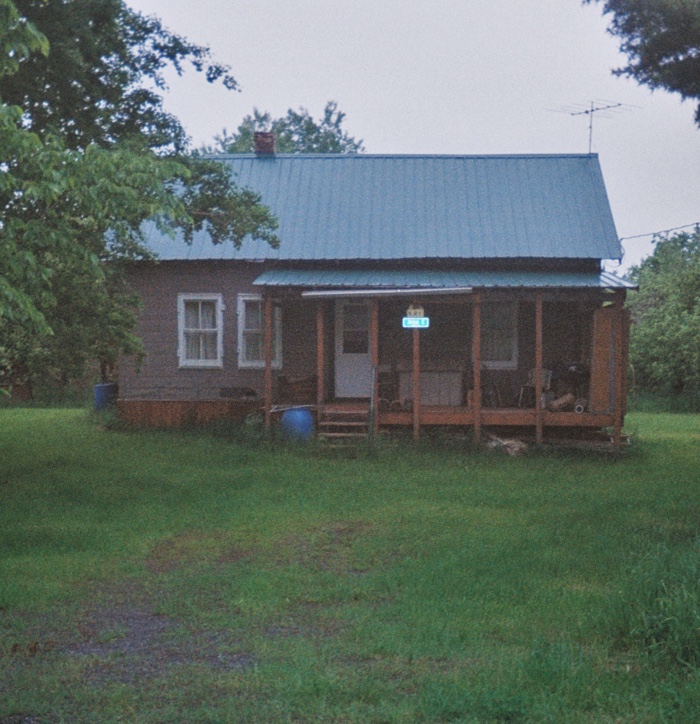 The presence of that school is perhaps the only thing that keeps Winona on the map, as only a scattering of old homes remain standing in its shadow. Where there was once dozens upon dozens of worker homes there is now nothing but cellar foundations. One of the few survivors is this small one story building, whose size would indicate that it was probably a duplex in its original configuration. Today it has been converted into a single family home.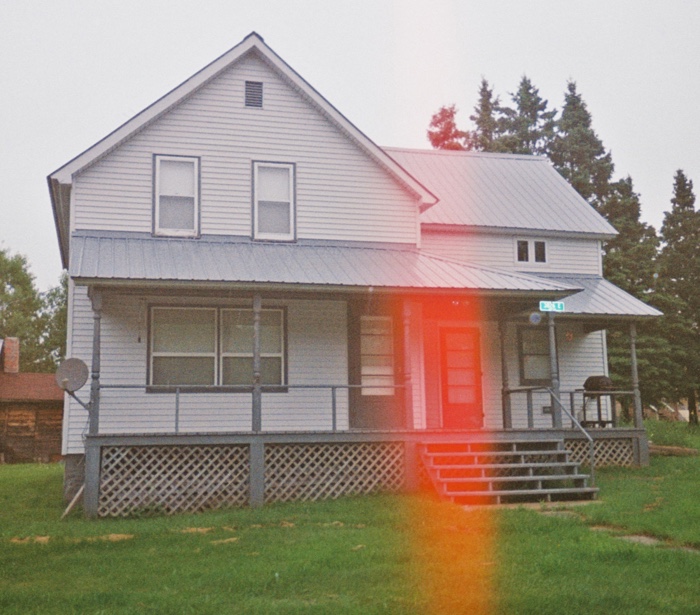 Of course Winona featured more then just worker homes, there were also a few residents built for a higher class of tenant. These were built along a road near the school known as "Bosses Row", a higher class neighborhood otherwise known as "Managers Row" or "Snob Hill" in other communities. In contrast to the four or five room homes built for miners, these featured over ten rooms and were outfitted with all modern conveniences including electricity, running water and telephone service.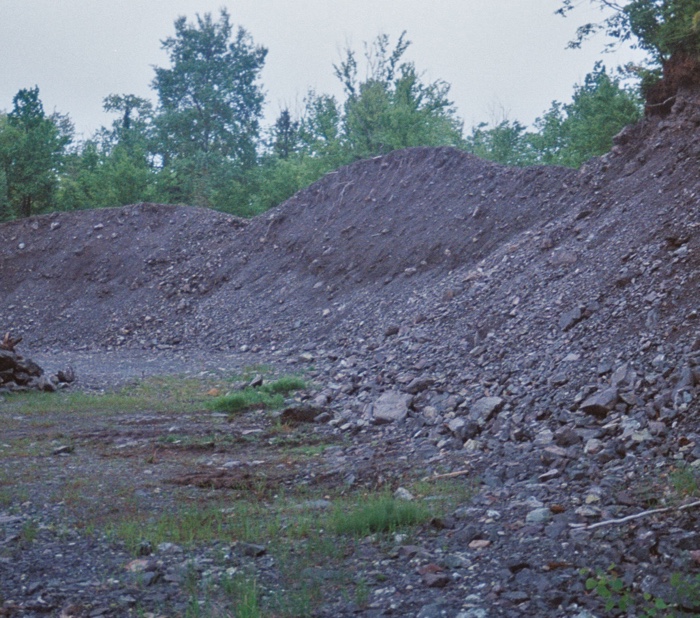 Of course the town of Winona was not just a random town in the middle of nowhere, it was a town built specifically to house and cater to the workforce of the neighboring Winona Mine. Thus in addition to old homes and school buildings, a trip through Winona today will also bring to light more then a few old poor rock piles like the one seen above.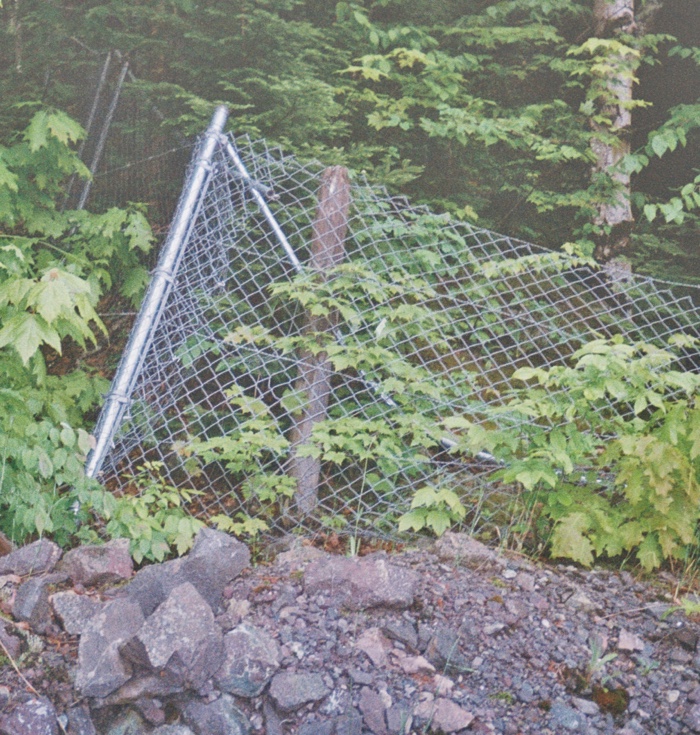 Nearby you can also find a few areas closed off by chain link fences, like the one seen above. These are protective barriers meant to keep people from inadvertently stumbling into the old mine shafts which still dot the landscape around the town.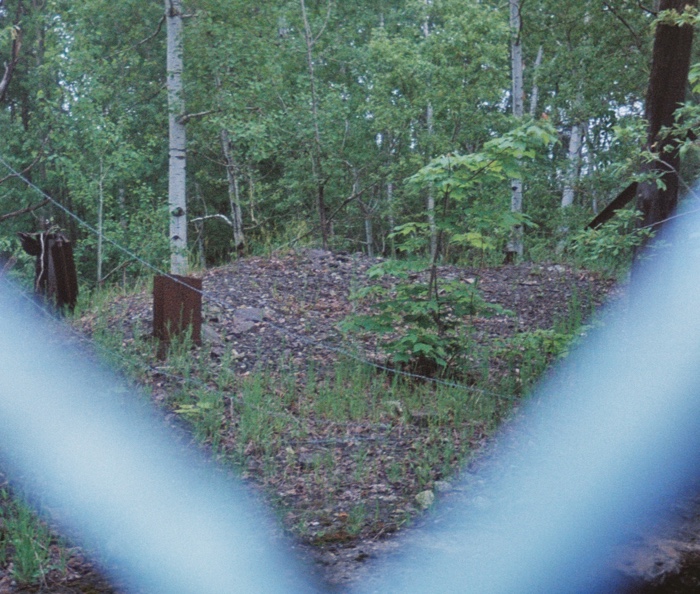 Peeking through those fences reveal a few more mine remnants hiding out in the foliage, such as these iron posts sticking up from the ground. 
There's also a few old concrete foundations to be found as well, remnants most likely to the old shaft houses which once covered the deep underground openings.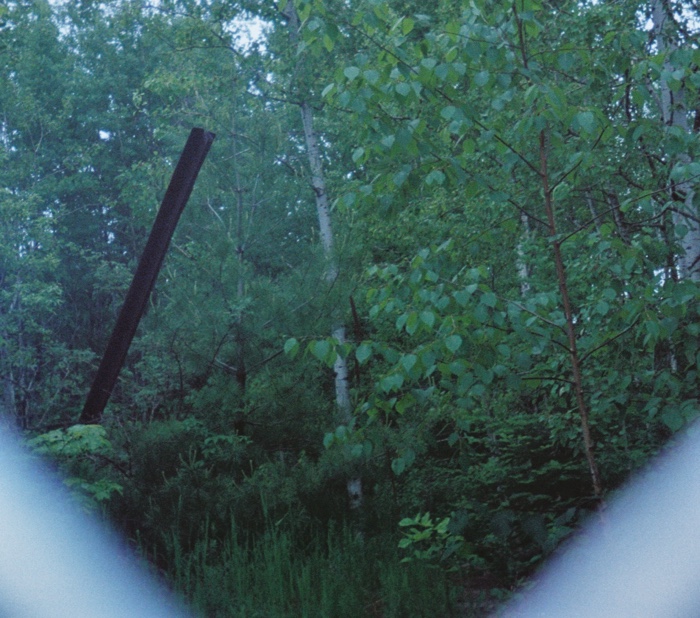 Then theres this impressive remnant – an old rail rising up out of the ground. This is a remnant of the skip road which once brought skips of rock and cars of men in and out of the underground – a industrial corridor once serving the mining operation that also called Winona home.  A mine we will take a closer look at next…
To Be Continued…
My thanks to Jim Fruehauf for providing me with these images all those years ago- my apologies for taking this long to finally feature them.