An integral component of any mining empire was the railroad. These iron beasts of burden worked tirelessly to transport materials between not only mines and mills but also between city and countryside and region to region. Though indispensable, they were not  immortal. As the empire died so too did the railroads, and piece by piece their legacy was dismantled and removed from the landscape. For the Quincy Mine and its railroad, however, things transpired a bit differently. At the end its railroad was simply abandoned in place, rock cars left on the tracks and its trio of locomotives left berthed in the locomotive house. For a half century these remnants simply rotted away, forsaken along with the rest of the great mining remnants.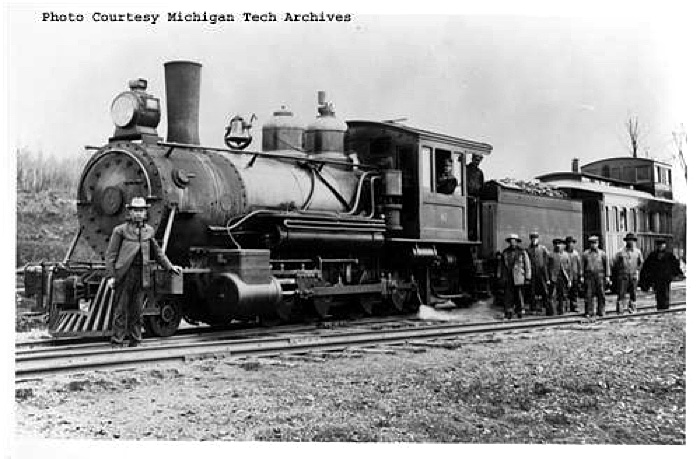 One of those forsaken pieces stands proudly above – the Q&TL No.6. This was the last locomotive acquired by the Quincy line, and it was also its largest and most impressive. The engine  arrived to the Copper Country in 1912, and would serve the mine for over twenty years until the mine's closure.  The No.6 was subsequently abandoned,  locked away along with its fellow engines in the Quincy's locomotive house. There it would sit forgotten and untouched for another thirty years.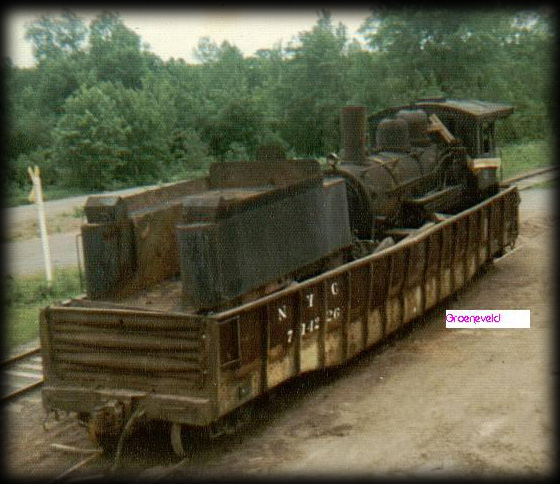 Though it took thirty more years then normal, the Q&TL No.6 would end up suffering the same fate as the rest of the region's railroad heritage as it too was finally removed from the landscape. This is where CCE first met the wayward loco, thanks to this  photo from fellow CC enthusiast Bruce Groeneveld. Here the old engine can be seen resting comfortably in its travel accommodations, which happens to be nothing more elaborate then a gondola car. Its ability to fit into the standard rail car is due to its stunted stature; while it was Quincy's largest locomotive the No.6 was still narrow gauge and thus was far smaller then the standard gauge car it rode in.
From here the locomotive would be transported over a thousand miles eastward, ending its journey at its new home in New Jersey. There it would join other old railroad equipment at the Pine Creek Railroad where it was hoped it could be restored and given a second life in a new home.
Fast forward another forty years and we find our old friend looking a little worse for wear. Needless to say the plans for restoration never came to pass and instead the No.6 was once again abandoned and forgotten. This time, however, the old Baldwin didn't have the protection of a locomotive house and suffered for it. Besides the obvious aesthetic issues, the passage of time had  rotted out the engine's boiler and rotted its  cab to such a degree that it caught fire when being removed.
Luckily for the once proud locomotive its far flung internment was coming to a close as the actual owners of the No.6 – the  Quincy Mine Hoist Association (QMHA) – had returned to reclaim their long lost locomotive. The engine was technically only on loan to the east coast tourist railroad, and with no restoration forthcoming the QMHA brought the No.6 back home so it could finally receive the restoration it so desperately needed.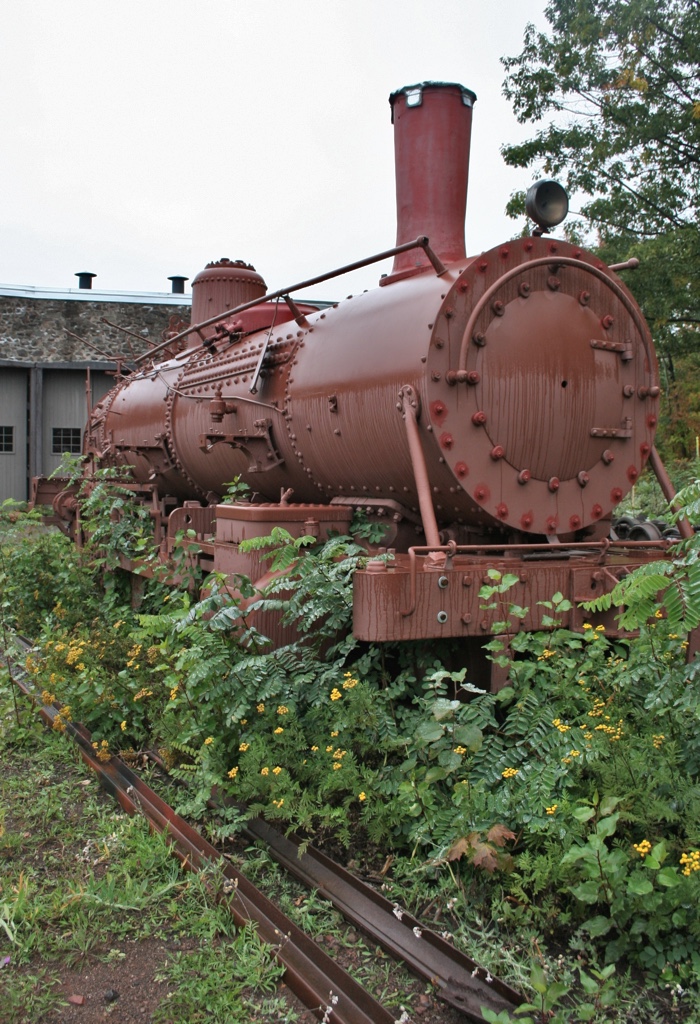 This is where CCE once again met up with the No.6, which after a thousand mile journey was once again sitting out front of the place it once called home. While her injuries were far too severe to ever allow her to return to service, the good folks at Quincy hoped to at least make her stand proud once again after a lifetime abandonment. The first step in doing that was to protect the engine's iron skin and bones from further rot and decay, a task accomplished by first coating the engine in a thick coat of paint – thus the odd color seen in the photo above.
Yet even under the paint its easy to see that the No.6 would never truly be the same locomotive she once was, at least not as she was brand new. Even for a mine as successful as Quincy, money was tight and large expenditures were mostly avoided if at all possible. Thus in order to keep the locomotive running and the railroad operating, engineers at the time repaired the aging locomotive with limited tools and resources, often utilizing  less then standard methods. Today the engines carcass reveals old breaks and cuts that were rather hastily repaired, leaving behind deep and lasting scars that mar her face still today.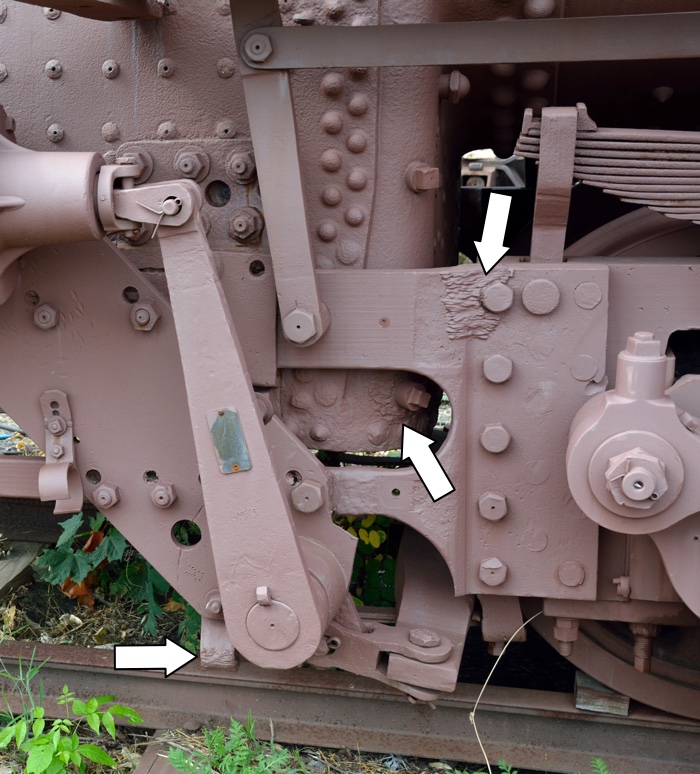 Here we find several spots were pieces were welded back together, or new pieces were crudely fabricated and installed…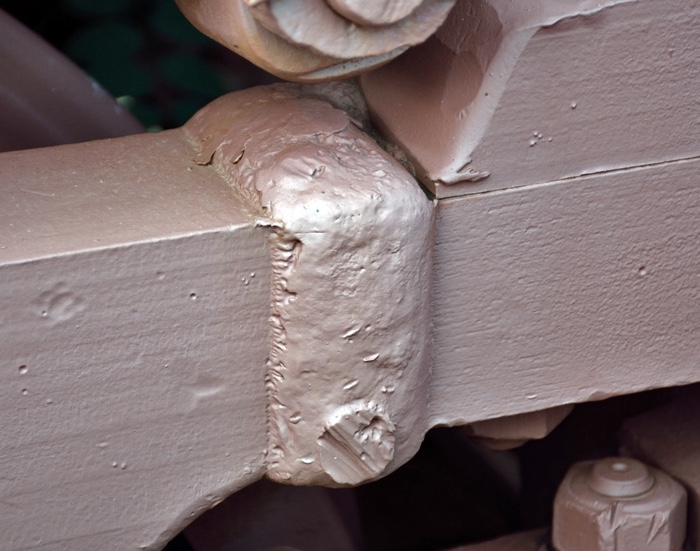 …and here a rather serious break in the frame was crudely welded back together. While these hasty repairs may have worked a century ago in a rather loosely regulated industry, they would never pass in modern times. In fact it was probably these repairs that kept the No.6 from ever being restored in New Jersey, too much of the old engine would have to be completely replaced just to make her operable again – at least legally.
Fortunately the folks at Quincy today had no such aspirations, and with only a cosmetic restoration on the agenda they could go ahead without delay. Over this past summer they did just that, getting even closer to their eventual goal of having the No.6 as the centerpiece of a future railroad museum located within the recently rennovated Quincy roundhouse.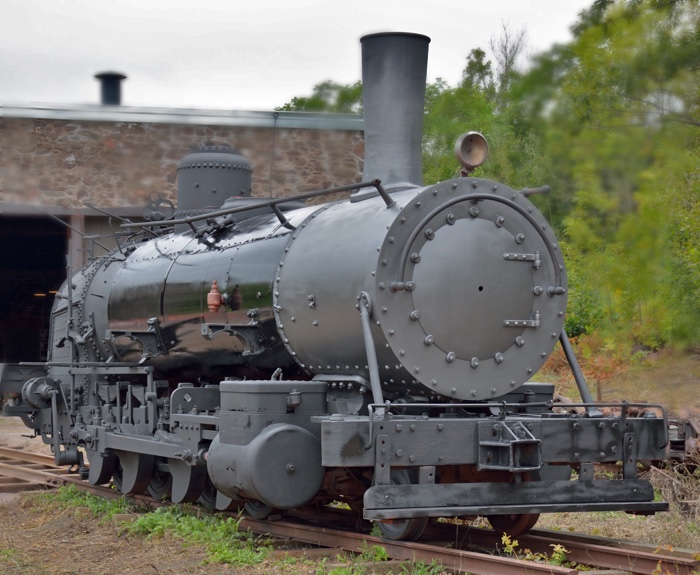 It is near the end of that process that we find the No.6 today, thanks to photos provided to me from fellow CC enthusiast Paul Meier. Over this summer work was continued and the engine now sports a brand new (and more age appropriate) color scheme along with a new glossy jacket. All that remains to be done now is rebuild the engine's wood cab, which will be re-built from scratch out of Maple off site and attached to the engine's iron frame.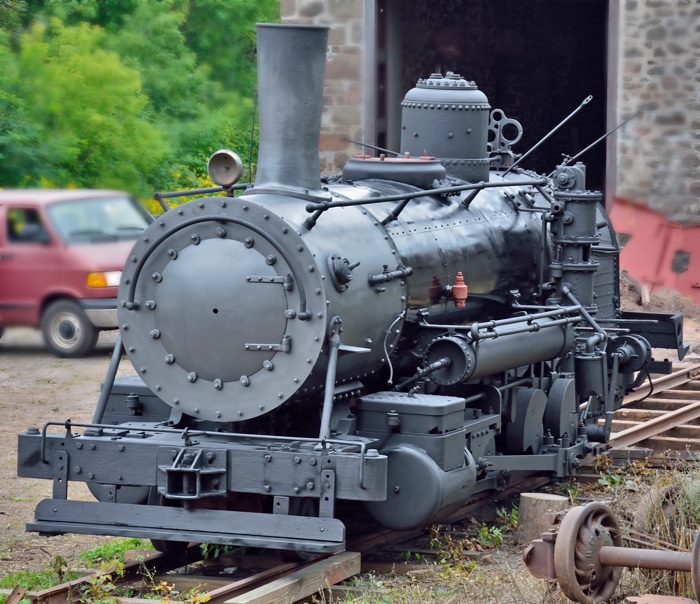 In addition to the work done on the engine itself, track has also been laid between it and the empty locomotive house standing ready behind it. After the track has been properly spiked and ballasted, the engine can then be carefully rolled back into its old birth from which it once came nearly a century ago.
While there is much work to be done, the journey already taken by the No.6 has been nothing short of incredible. This little engine has faced a lifetime of toil and later abandonment only to be hauled across the country a thousand miles from home. Yet through all that the little engine that could has  managed to survive and against all odds make its way back to the place it once called home.  Though battered, bruised, and scarred from a lifetime of labor and subsequent infirmity, the old engine will soon be reborn with a newfound purpose as proud and stoic as the day it first fired up its boiler.
This is all no small accomplishment, especially considering the fate suffered by a great deal of other Copper Country heritage. Most notable of which is the No.6's own traveling companion, another piece of Quincy infrastructure which made its way east to New Jersey for restoration and a second life.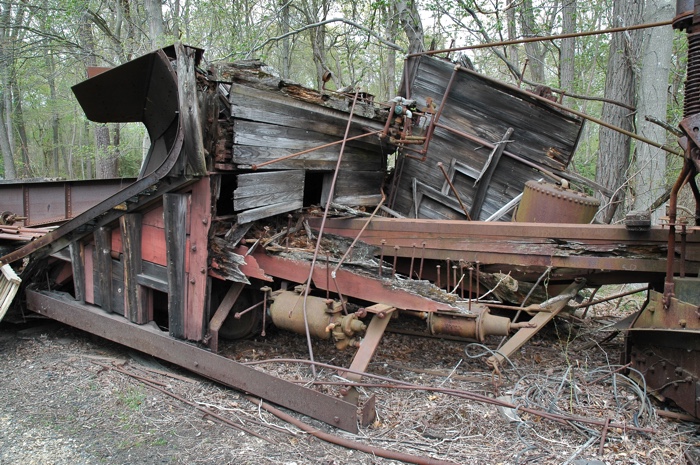 This was that railroad car's fate. Along with its locomotives and rolling stock, Quincy also left abandoned its snow plow, a small wood framed rail car similar in design to the C&H Snow Plow still sitting up in Calumet. This specialized car also made its way to New Jersey but like its iron sibling its restoration never took place. Instead the elements took its toll, leaving behind nothing but a tangled mess of wood and iron. It's journey was not incredible at all, and in fact was rather ordinary.
Thankfully the No.6 will not suffer the same fate.
Special thanks to Paul Meier for providing me with photos and updated information on the fate of the No.6.