It wasn't much of a house really, a rather plain looking gambrel roofed home with a squat attached garage. It looked exactly like all the other houses on the block, as well as the next block and the block after that. A century ago C&H had built this entire neighborhood for its workforce, erected three blocks of trunk style houses in the vacant land between Laurium and Calumet – a place known as Hecla Location. It was a small house, but thanks to a pair of war-era additions it was a bit larger then C&H's original plan called for.
The house could use a paint job, its tinted siding had begun to fade and peel. The inside wasn't much better: the rooms were small, the carpet shag, the bathroom pink, and the decor looked straight out of the 60s. As we walked through with our real estate agent we passed by faded magazines, piles of unopened junk mail, and a container of sewing supplies next to the couch. In the back room we spied a pair of worn and slightly tattered chairs looking out through a big picture window onto the back yard. The house had belonged to an old women who along with her late husband had lived here for most of their lives. The empty chair was hers, and the one with books belonged to her late husband. It looked as if the two had spent a lot of time in this room, and because of that even now vacant and dark the room felt like home. We decided it could be our home as well.
When we moved in those chairs were gone, but the shag carpeting was not. We wasted no time tearing those carpets up, discovering a wealth of old newspapers had been laid carefully underneath. The new color TV's were in at Kirkish, and there was a big sale at Vertin's. We carefully peeled the papers up, folded them and put them in a pile up in the closet. We called Kirkish to lay new carpet. The old paint on the walls were peeling, and underneath we discovered a half dozen layers of wallpaper. Faint outlines of old family portraits and paintings could be seen in the dust and grime. We painted over it all with fresh new colors and attached large decals of construction equipment up on the wall of our son's room. In our bedroom we discovered a small silver cross nailed to the wall, circular grooves etched into the paint around it where someone had been spinning it over the years. We painted over the grooves but left the cross in place.
That spring we were surprised to find the trees in the yard blooming with beautiful cherry blossoms while a carpet of bright red and yellow tulips sprung up along our side yard. Turns out the old lady that once lived here absolutely adored the colorful perennial and had obsessed with planting them everywhere she could. Even in the overgrown areas in the far corner of the property we discovered more beautiful flowers taking bloom. Without lifting a finger our yard had blossomed into a lively cornacopia of color, planted generations before we had even arrived.
A decade later we would find ourselves walking through an empty house once again. Those carpets we laid down were now replaced by laminate flooring, faint outlines of our photos and pictures could be seen on the walls, and rising up along the frame of a doorway were several hand written heights measuring our son's growth. We proceeded to paint over the chart, remove the brightly colored truck stickers from our son's room, and painted over the grooves in our bedroom wall around that silver cross. Gone was one of the old cherry trees, after it had split from a strong storm and threatened to fall on the house. The tulips, however, were still there and in the far backyard past where I normally mowed a few beautiful flowers still popped up out of the weeds. Joining them was a small hand-made cross etched with children's writing marking the final resting spot of my son's pet fish.
The real estate listing described the house as a small three bedroom home with enclosed front porch, large dining room with picture window, and cozy yard with tulips and cherry trees. It was an accurate description, but it said nothing about a house we had spent eleven years of our lives in, a house that had become our home. In that front porch our son waited for the bus to take him to his first day of school, that back dining room was home to many Thanksgiving feasts, and that cozy yard was where we built snowmen and I taught my son how to throw a baseball. It was also in that yard where the old lady planted all her tulips, and it was also in front of that picture window that her and her husband sat together in the evenings. In the same living room where my son eagerly opened his Christmas gifts, another family had huddled around a wood burning stove during the cold winter days of the Depression, the father out of work and the family struggling to get by. In the same kitchen where we held my son's Lego pizza party, a tired miner was once comforted by a home cooked meal prepared by his young pregnant wife. It may have been our home, but it was also that old couple's home, that poor family's home, and that young miner's home.
For over a century family after family left their mark on the old home, each leaving behind a piece of themselves in the creaking floors and peeling walls. We had each helped shape the house's own personality and shape a place with its own story to tell, experiences and memories of times long past that remain etched into the walls and planted in the ground. Now a new family calls the old house home, and once again their experiences and memories will also be imprinted onto the house's antique wood bones. Through the simple passage of time that little wood-framed building with the squat garage has become something more then just a building – it's become a part of our shared history. It's become a piece of our heritage.
Our old house is no different then any of the other dozens of houses scattered across the Copper Country; or any of the old buildings standing tall along city streets; or any of the old industrial buildings slowing rotting away along the shores of lakes or deep in the woods. Those buildings and places we find along our streets and buried in our forests have a personality all their own, each with their own unique stories to share with the world. That's where this site comes into play.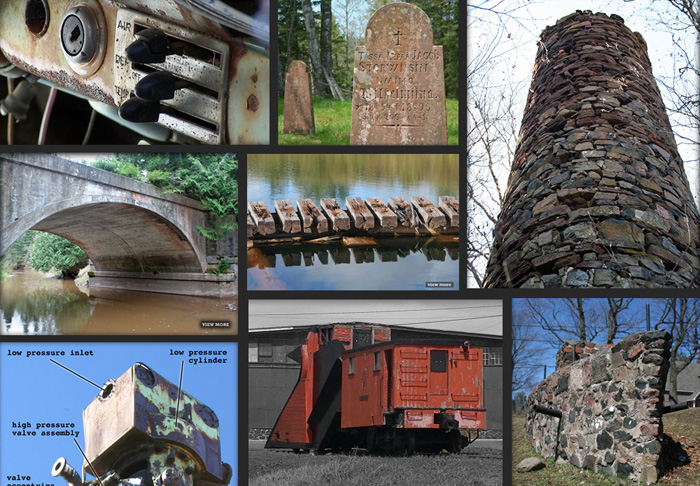 Helping Keep History Alive…
Copper Country Explorer has been sharing the stories of the many unique places found all throughout the Copper Country for over seven years now. In its substantive archives are one thousand and thirty three such stories; stories of not only the celebrated pieces of history tourist boards feature on their brochures, but scores upon scores of less famous heritage found scattered all throughout the peninsula. We tell the stories of places lost, places forsaken, and places ignored. We tell the stories of piles of rubble in the woods and lines of pilings along the shore. We walk along city streets and tell the stories of both the renovated and repaired along with the run-down and abandoned. We tell the stories of the men and women who once walked our streets, lived in our homes, and worked in our buildings. We tell the stories that have made the Copper Country what it was, what it is today, and what it will be in the future. We tell the stories of us.
Unfortunately as time continues to pass these unique places will began to disappear from view, plowed under by the march of progress. It's a process inherent to the passage of time, and is inevitable. While we may be able to save some of these places, it is impossible to save them all. In fact in just the short time since I've been writing CCE dozens of unique places have fallen to the wrecking ball – some of the very places we've featured here on these pages. For those places lucky enough to be featured on CCE they can continue to live on through the virtual world of the internet. For all the rest their unique stories remain untold, and its as if they don't even exist at all except in our memories. And memories are as mortal as the people that hold them.
This is why helping support CCE is an effort to help keep Copper Country history alive. With your purchase of our yearly Calendar you help keep the lights on and the rent paid; you keep the 1000+ individual stories contained within these pages alive and accessible for anyone who wishes to see them and provide a means for others to share their own stories and relive their own connections to history. Most importantly you allow history to break free from our mortal memories and allow them to slip into the great digital era of the world wide web. CCE's continued existance means that even if a physical location falls victim to the passage of time its essence will continue to live on here on CCE.
The story of our old home is just one of millions found here in the Copper Country. Helping to ensure CCE's future is helping to ensure that these stories live on as well, and provide immortality to the special places in the Copper Country we all know and love.