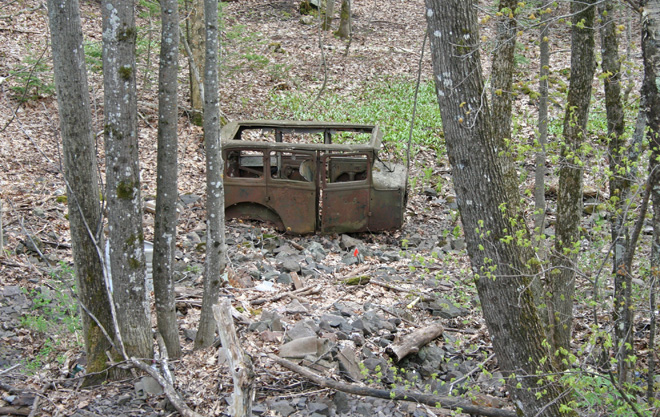 If history is just a story of us told from the perspective of the victors, whose story does this old hulk tell? It resides neither in a museum or collector's garage, but instead sits at the bottom of a deep ravine neighboring an old mine site. Though gutted and stripped with its rusty frame left bare, this old vehicular contrivance stands tall and proud. It almost appears to still be sitting on the curb, waiting to transport its passengers to some far off destination. Only no passengers will ever arrive, and the rotting skeleton that remains has no place to go.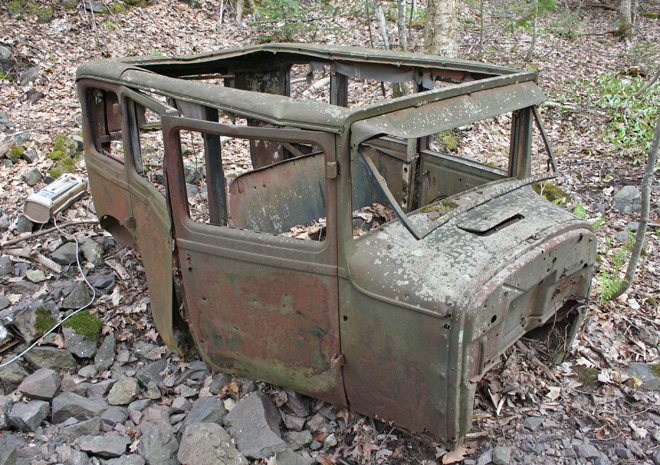 I know very little about cars, except that this particular model is an old one. I would guess the 20s or 30s, but I suppose it could also be as new as the 40s. Whatever its age, there was one thing I was sure of. People must have been incredibly short a century ago, considering how impressively small the whole thing was.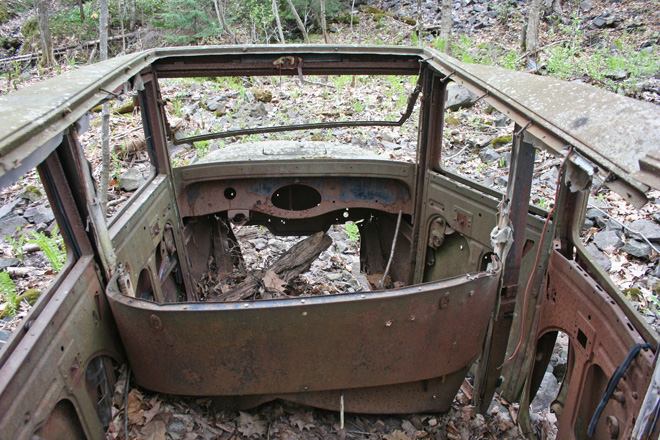 I took this shot of its interior from above its roof – a spot a good foot below me as I stood. Granted its tires and undercarriage were missing, but even with those the entire vehicle couldn't have been any taller than six feet off the ground. Worse yet the interior was only a good four to five feet across at best. From this angle the car looked like it could barely fit one modern adult, let along two side by side. I knew for sure that two men of my size wouldn't be getting in there at all.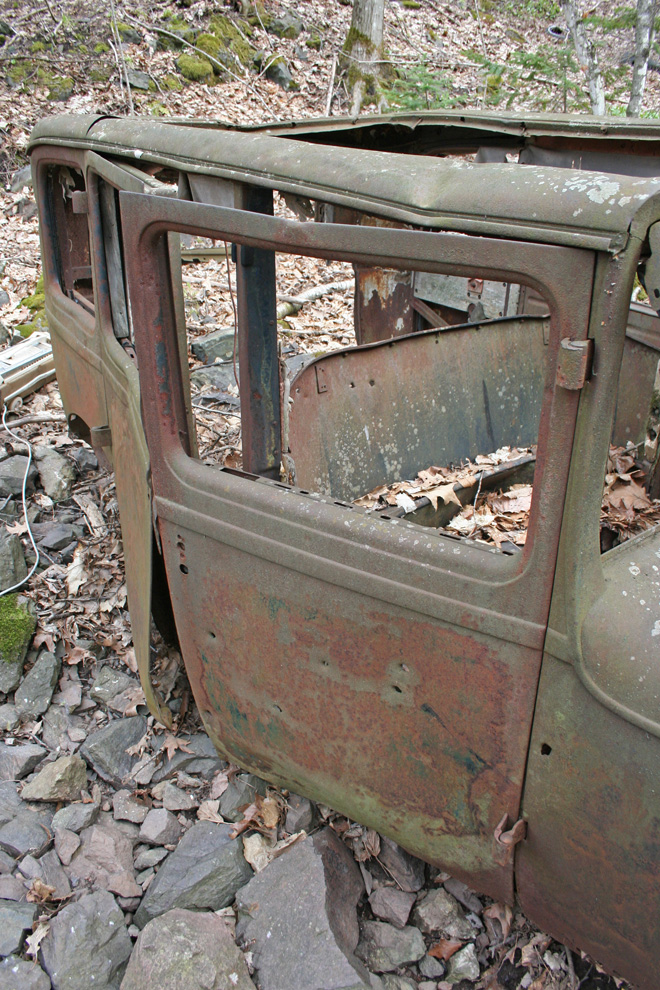 The car was a four door model, with the doors opening opposite each other much like french doors. While a steel bench marked the front row of seats, the back row of seats had nothing indicating any seats were there at all. But even if there were, I don't know where they would have sat. There just doesn't seem to be much leg room back there.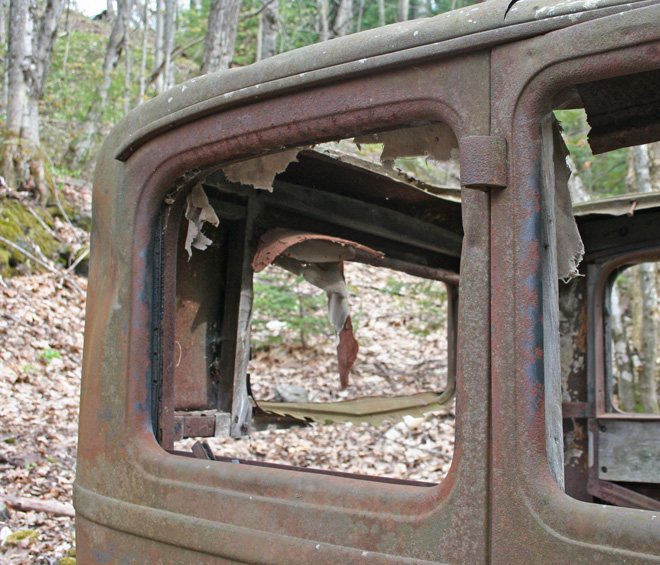 In addition to the forward two rows of seats there was a third pair of windows at the back of the car that seemed to indicate a cargo space of some type, almost like the back compartment in a modern SUV. It's also possible I suppose that this area was just an extension of that back row of seating. Maybe there was a bit more leg room back there than it would appear.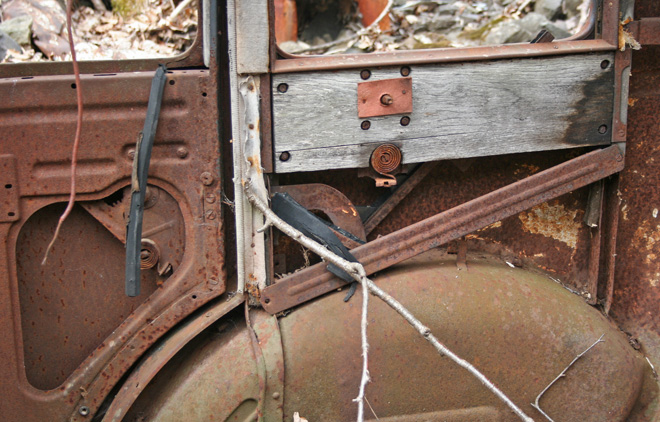 Since the upholstery was gone inside the car, you could get a good look inside all of the doors. Here we could make out what appeared to be a mechanism for opening the windows.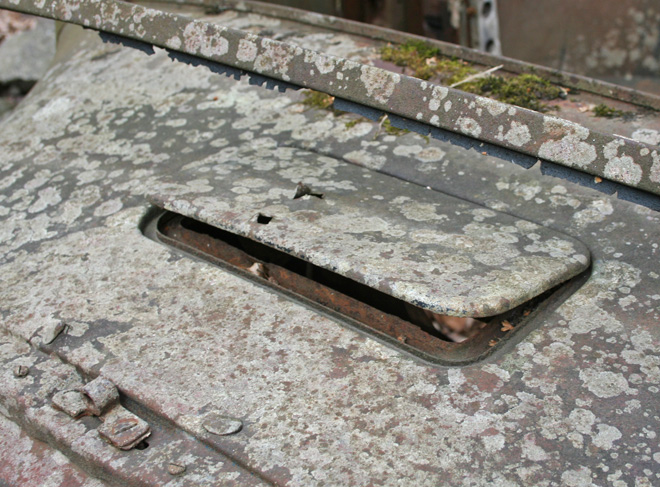 Up front the engine compartment of the vehicle was gone, with only a short foot of car still intact protruding forward of the passenger compartment. Atop this section of hood was this small hinged plate. I have no idea what this was for, perhaps some type of storage locker or vent?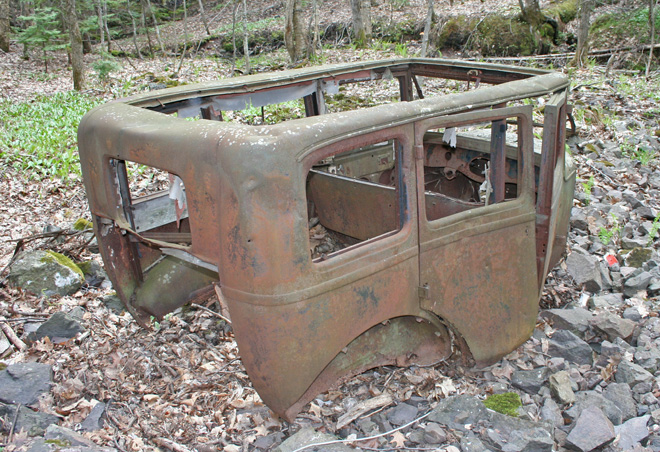 Besides that, there really wasn't too much of interest to find on the old rusting hulk. The most amazing part of all was the fact that it existed at all, relatively intact and sitting up right in the middle of this ravine. It looked almost as if it was driven here, turned off, and no one ever came back to get it. And the car still stands, waiting, for that passenger to arrive that never will.