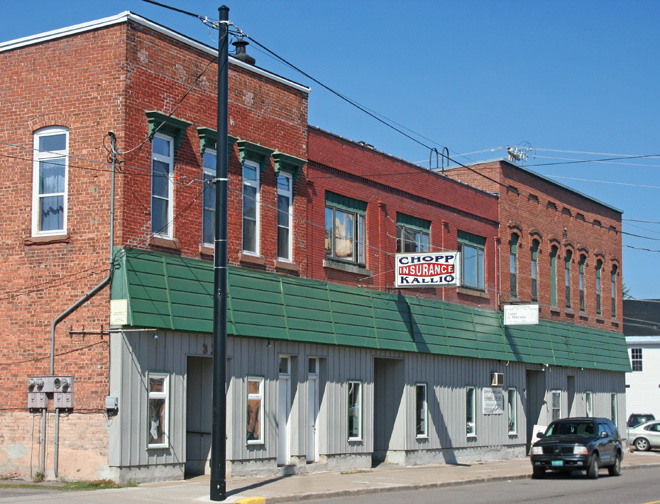 Last up on our tour of Lake Linden's fire ravaged downtown is a trio of buildings that occupy a prime piece of real estate in the center of the village – at the crossroads of Calumet and Center (now Fourth) just across the street from the village hall. Two of these buildings were built with a few years of the great fire, with the third added several decades later. More recently all three buildings were given a "modern" facelift, creating a shared first floor facade that extends across all three buildings. This gives the impression that the buildings are all one and the same, but in reality there is three separate and unique structures here. We'll start with the first of the three – the Wieder Block.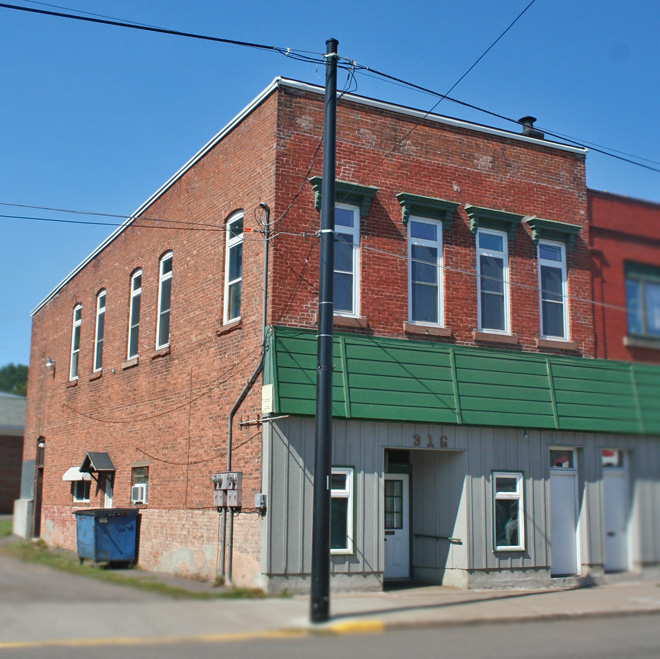 Thanks to that modern store front facade and the ravages of time, this old 1890 brick commercial block looks rather unremarkable and plain. But the faint outline along its upper ridge seems to suggest that it at least once was graced by a rather large cornice along its top. Turns out the old building looks incredibly different today then back in 1888.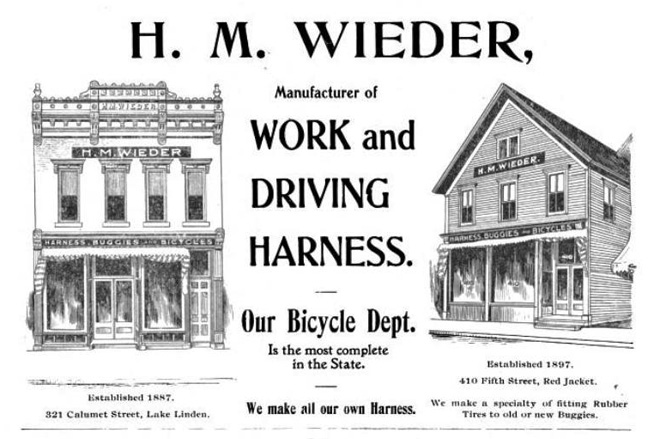 Here's a drawing of what the old Wieder Block once looked like back in its youth (its the building on the left). Wieder was a harness maker, who made most of his business in the new fangled bicycle craze. The date on the ad would seem to suggest that Mr. Wieder established this store prior to the fire, but I couldn't find any records of him suffering any loses because of it. Either his business was spared, or his losses weren't large enough to warrant printing in the paper.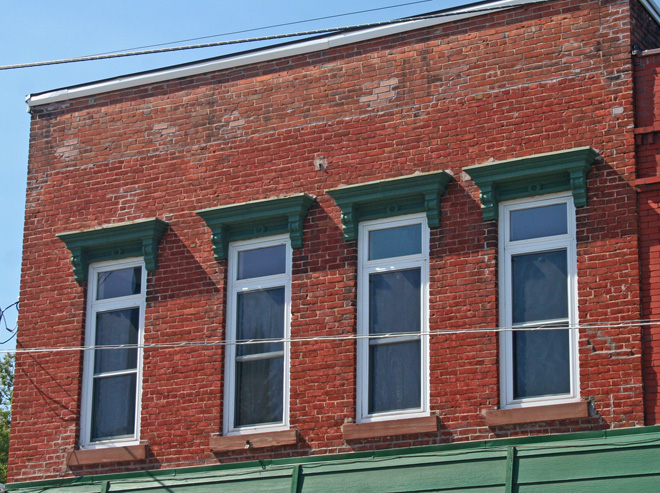 A closer looks to the building's upper floor reveals what looks to be original window pediments, since they look very similar to the ones seen in the previous ad drawing. You can also see where that massive oversized cornice once was attached to the building. Unfortunately it hasn't survived up to this day. It looks like the windows also feature sandstone sills, which is always a nice touch.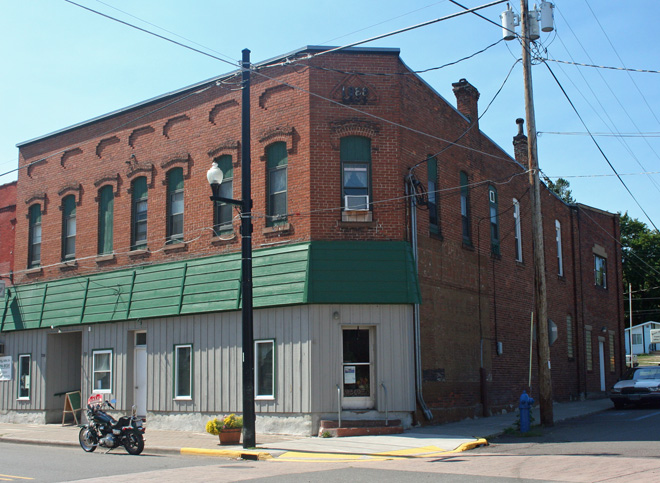 We'll skip that newer center building for now and head directly to the highly sought corner lot, home to this two story brick building with a corner entrance. This is the Pearce Building, built in 1888 by Wisconsin native Joseph Pearce. Pearce was a rather enterprising individual who after working as a farmer for many years learned the trade of tinning – a skill involving placing thin layers of tin on iron objects as an early form of rustproofing – and came to Lake Linden to practice. But Mr. Pearce was a man of many talents, and besides tinning dabbled in several other businesses including furniture dealing, undertaking, and hardware sales.
As an early pioneer to Torch Lake City (Lake Linden's first name) Mr. Pearce's unique skills proved incredibly profitable, and the man was able to buy up a considerable amount of real estate at the corner of Center and Calumet streets. Unfortunately the great fire of 1887 put a damper on Mr. Pearce's plans, as his young businesses were burned to the ground along with the rest of the village. But he still owned a rather expensive piece of real estate, and the fire itself had provided yet another opportunity – an unprecedented demand for hardware to assist in the rebuilding process.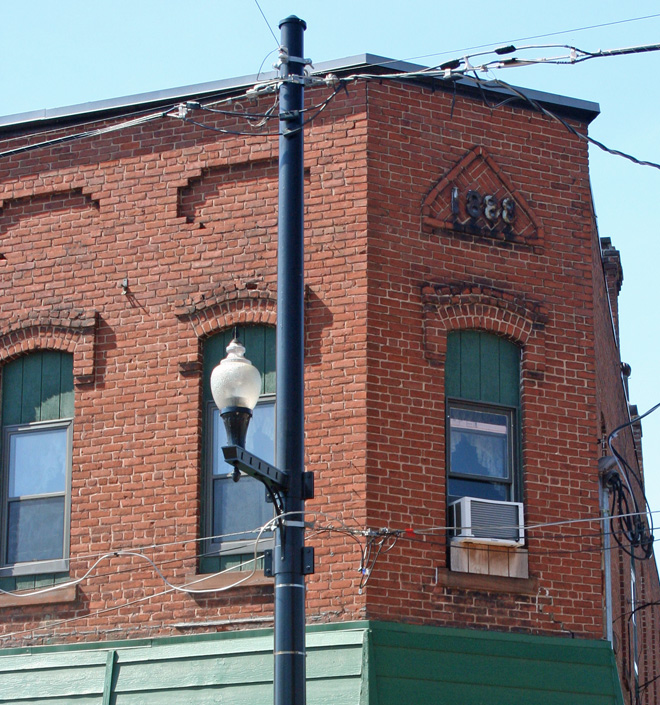 Almost immediately Pearce rebuilt, erecting this large two story brick building next door to the old hardware store he once operated from. The building's date of birth can still be seen atop that corner entrance, placed within a decorative triangle of brick.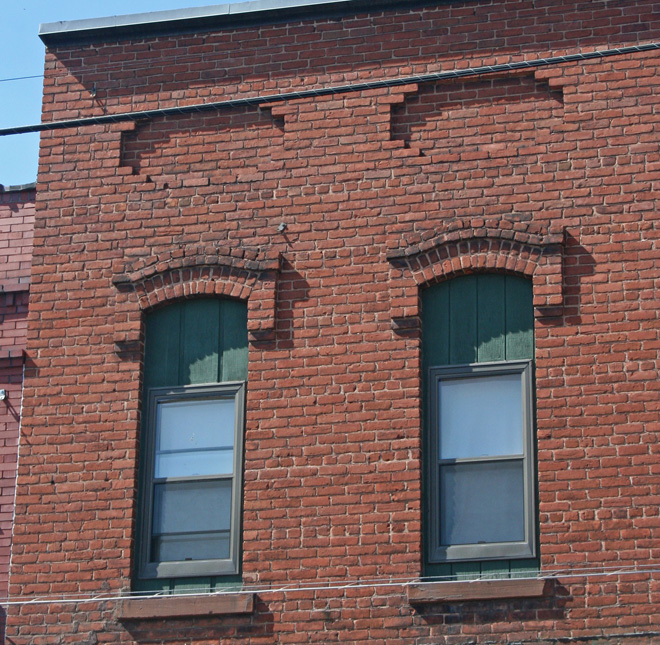 Like the rest of the neighboring buildings, the Pearce Block would receive an unfortunate first floor facelift. Fortunately the second floor was left untouched, and continues to showcase an interesting use of brick highlights above the windows and up along the building's crown. More sandstone sills can also be found here.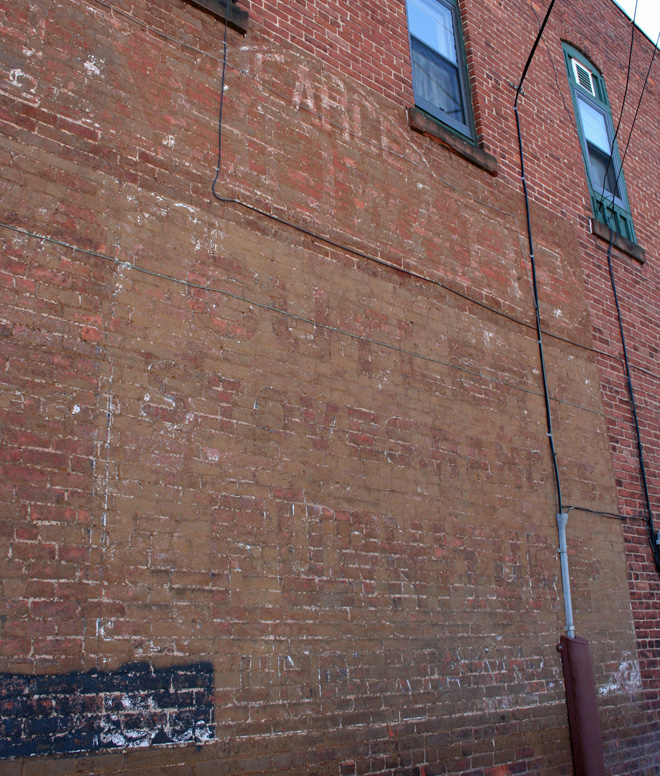 The Fourth Street facade of the building reveals a faded but still legible advertisement for the old hardware business. Fueled by the incredible need for hardware supplies for the first few years after the fire, Pearce Hardware did exceptionally well and by the turn of the century Pearce was able to expand his empire. He started selling furniture next door to his hardware store and had built a new tinning shop behind it.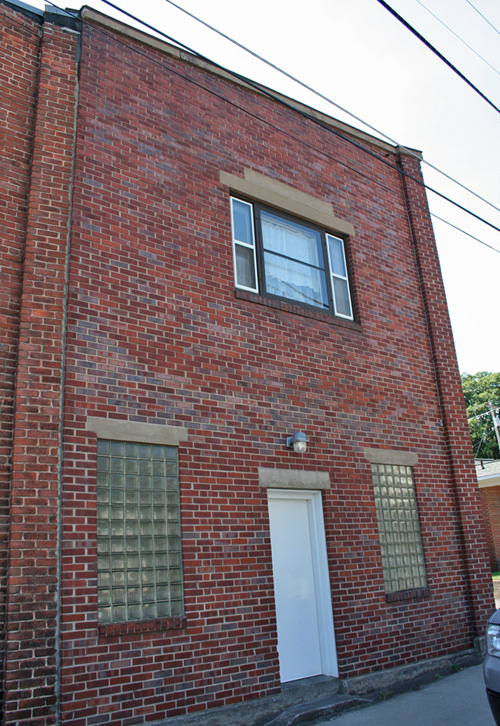 Here's a look at the tinning shop which consists of a two story brick addition placed on the back of the Pearce Building. It was home to a small elevator for hauling supplies up and down from the second floor.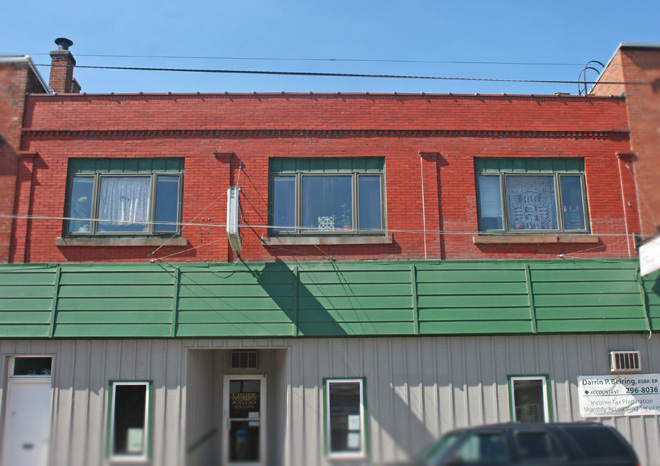 By 1917 the Pearce business had continued to expand, becoming the Pearce Hardware and Furniture Company and now run by Pearce's son Ransom. This new endeavor required a great deal more space, prompting the expansion of the old Pearce Building with a brand new two story commercial block built in the gap formed between Pearce's building and the Wieder Block next door. This new building would house Pearce's expanded furniture showroom as well as provided rentable space for another business.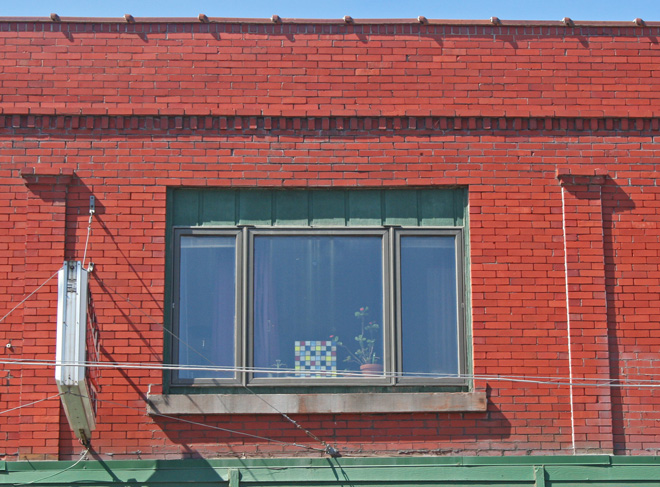 This new building is incredible plain and uninspired. The two story brick structure offers a few brick accents such as dentil patterning along the frieze and several pilasters place between the windows. Once again the first floor is ruined by a modern facade enhancement.
This last block would seem to demonstrate the age old adage that for every door that is closed, another is opened. While the great fire of 1887 may have been destroyed Pearce's business, it also provided an exceptional opportunity with the rebuilding effort that followed. As an owner of a hardware company Mr. Pearce was exceptionally well placed to profit immensely from the disaster. Such success allowed him to expand quicker then might have been possible otherwise, allowing Mr. Pearce to build quite an empire to call his own.