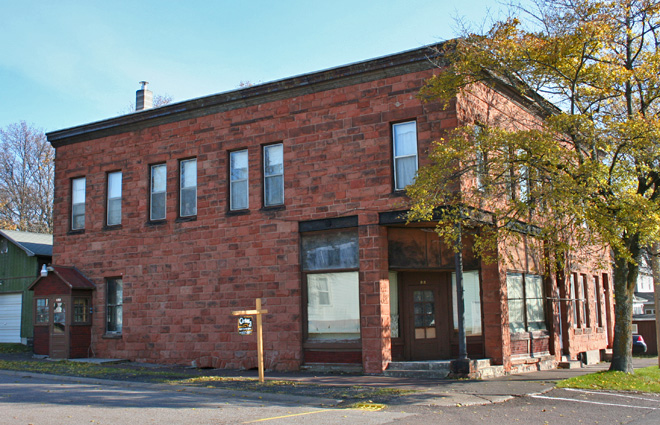 Sitting at the corner of Pewabic and First Streets in Laurium stands this impressive sandstone building. It's obviously a commercial block and looks to be built in the standard style with storefronts on the first floor and apartments on the second. Most likely those storefronts were once home to a general merchandise store; or perhaps as saloon; or maybe a confectioner. This is all quite normal and predictable, except for one thing. This particular building sits alone and isolated, a commercial island lost in a sea of residential homes at the far north-eastern edges of the village.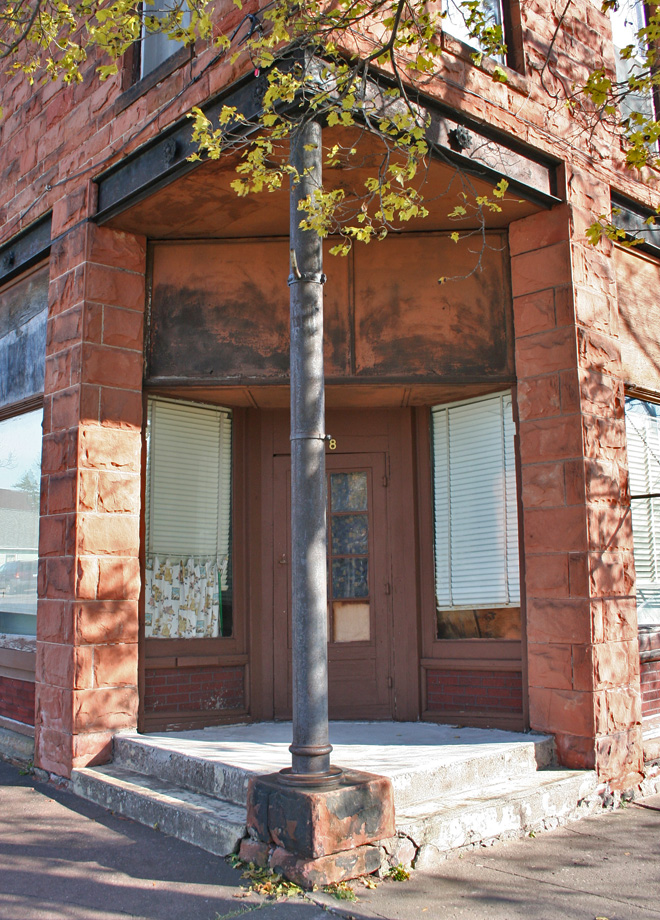 The building's most notable feature is the rather stately corner entrance that marks its south-west corner. Such a grand opening would seem to suggest the building faced a rather important intersection, yet neither neighboring street could be considered anything of the sort. Laurium's main commercial center sits a good five blocks away from here. No interurban line ran past here, no railroad came anywhere near. Instead First Street's role was that of a physical boundary marking the northern reaches of Laurium's original platt; a platt that came no where near this far east.
In fact this particular block is Laurium's 46th, occupying the south-east corner of what would become known as Laurium's seventh addition. The building in question doesn't even appear on maps until 1917, and only as a blacked in square with no descriptions or additional data.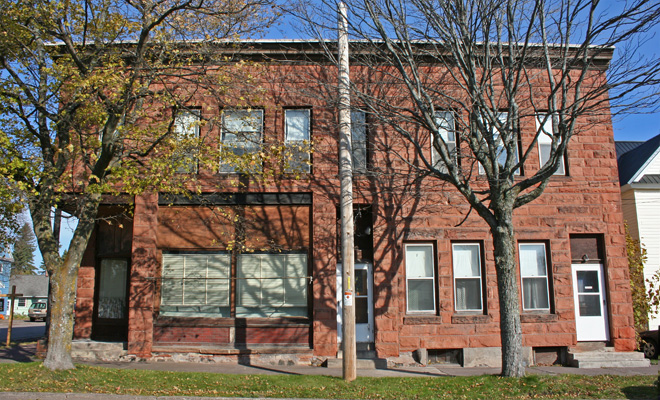 From the front the building is shrouded by the neighboring trees, its intricate sandstone facade overwritten by the splattering of shadows from the adjacent branches and leaves. Though shrouded some of the building's details can still be seen. Most notable of which is the fact that its first floor – contrary to what was first thought – does not contain a pair of storefronts as one would expect. Instead it looks as if the building was originally built with only a single storefront paired with a first floor apartment, or at the very least some type of office space. Those small windows running alongside the entryway would do a store very little good. And since they are completely surrounded by sandstone, they would also appear to be part of the building's original design.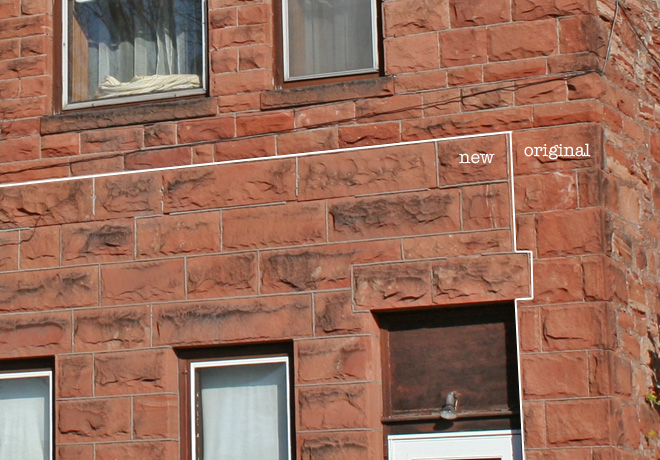 After a closer look, however, it would appear that the building has presented another interesting conundrum. There's something not quite right with that apartment/store front, even though it has a facade facing. If you look closer you'll notice that the coloring is a bit off, and the blocks are of a bit larger size then those that make up the building's other walls. It would appear that this particular wall was a later addition, added after the building was originally constructed.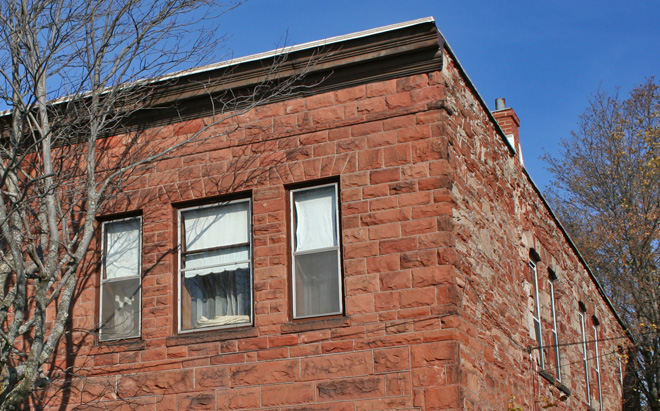 More proof can be seen by taking a closer look at the building's second floor. Here we can see a particularly unique header treatment placed above the windows, once that utilized a series of vertically placed stones that give the impression of an arched opening. Its a detail that happens to be missing from those first floor windows, an oversight that doesn't seem to likely along the building's first floor facade.
Of course all of this just begs the question: what was so important about this particular building that its owners felt the need to add a whole new sandstone wall to its front facade once the original storefront was converted into office/apartment space. It wasn't as if the particular structure sat right downtown along a busy thoroughfare. This is the seventh addition for goodness sakes.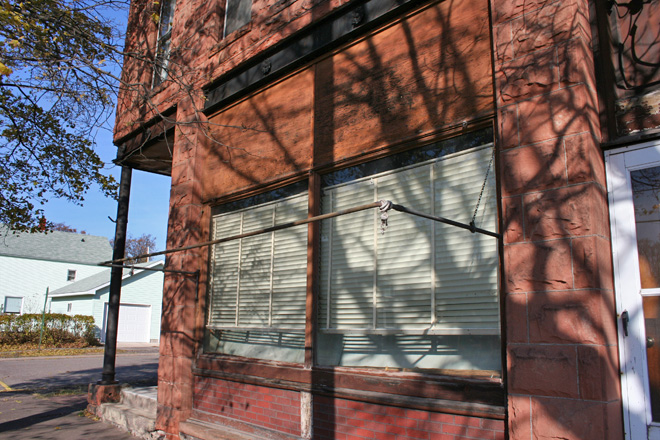 Here's a look at the building's other storefront, though this time it has survived to this day in the same capacity (though now vacant). No sandstone here, just large iron beams running atop what would have been the store's large windows. As would be expected those windows have since been closed in, with only a insignificant portion of the original still serving that purpose. It would seem that the building continued to serve – at least part of it – as a commercial space far into its life.
Of course what does this all mean when it comes to the question of why this particular building is where it is? Why place such a large sandstone structure so far from the rest of Laurium's commercial district? Who built such a building and what businesses did it serve? Unfortunately these pictures do very little in answering any of those questions, and all my research avenues have come up empty.
Perhaps someone out there has some answers….
Though private, the building can easily be seen from the road. Entering Laurium from the south along M26, continue past the blinking light at Depot/Third Street and drive another two blocks to a "T" junction. Turn right here onto First/School Street and continue east for another three blocks. The building sits on the north-east corner of the intersection of North Pewabic Street.