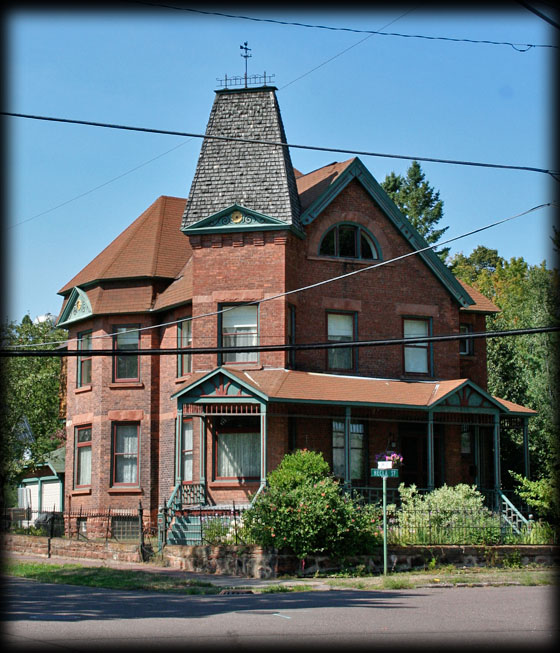 William Harris was one of Lake Linden's most prominent citizens, having not only ran a successful mercantile business in town but also serving as the village's first mayor. After the devastating fire of 1887 decimated twelve city blocks, Harris helped finance the rebuilding effort with several grand – and most importantly fireproof – buildings. One of those buildings was Mr. Harris's own private residence, a unique Queen-Anne style brick home on the corner of Hecla and Second streets.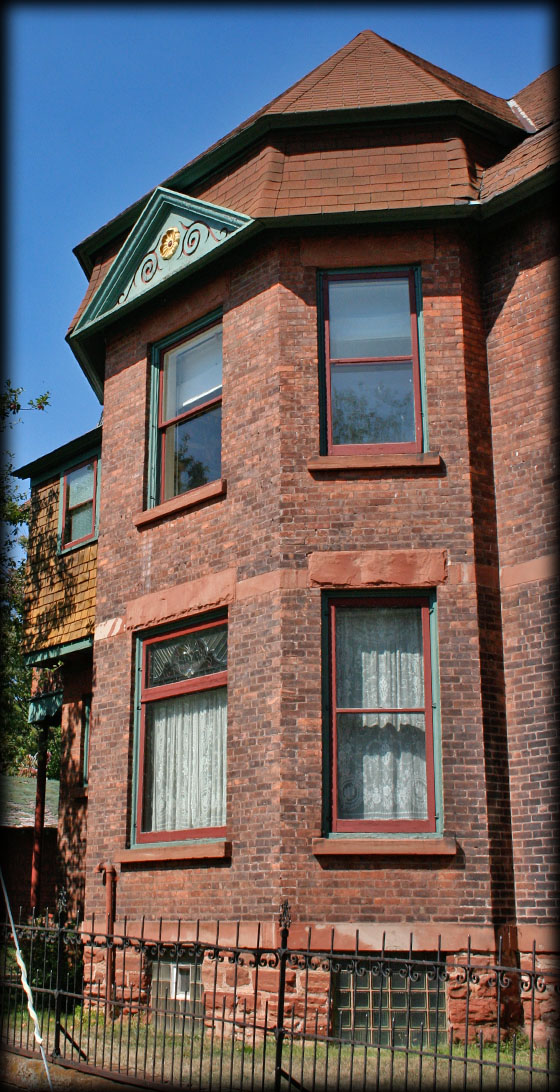 The Harris House is a brick and sandstone masterpiece, but surprising petite for a man of such stature. Besides the sandstone foundation, the building sports the rusty stone in belt courses and window lintels.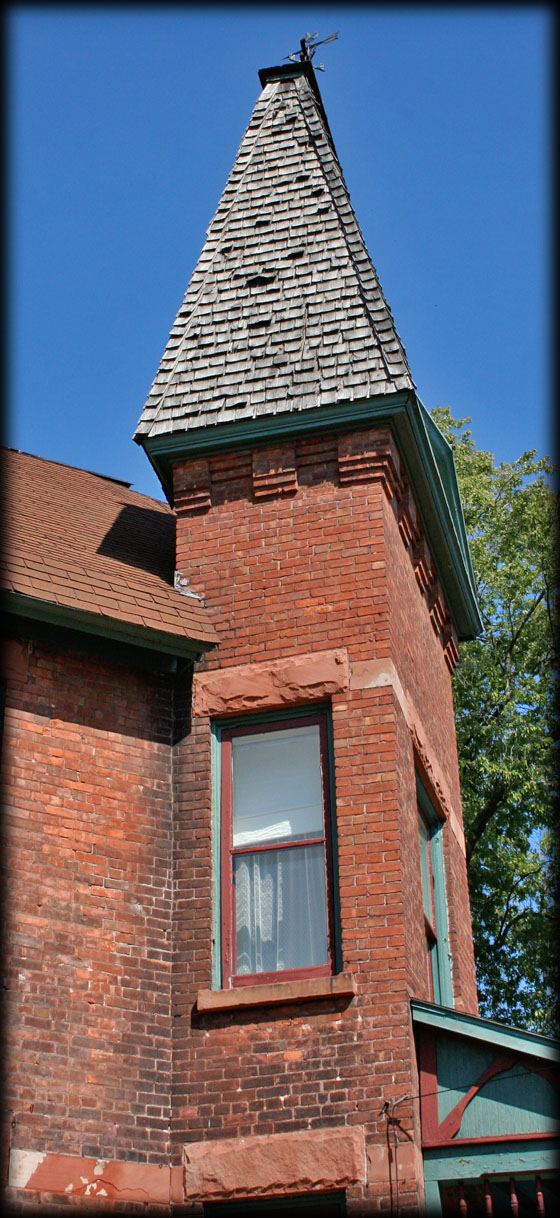 The building's most arresting feature is its unique off kilter rectangular turret which adorns its south-east corner. Though far too narrow to provide any living space, it definitely makes a strong statement when viewed from the road.
While a building of incredible beauty and stature, I found the assortment of odd and ends found curbside to be much more interesting then the house itself.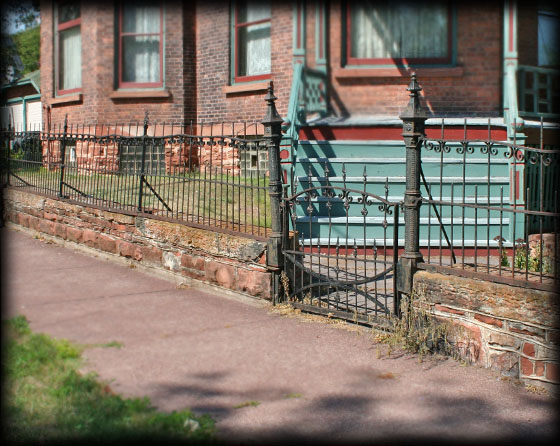 By far the best part of the old building is the still intact wrought iron fencing surrounding it. Perched atop a short sandstone wall, this old time embellishment gives the building a great deal of its classy curb appeal. While many old buildings in the Copper Country still retain their old property walls, the iron fences that once graced them have all been removed. Not here however.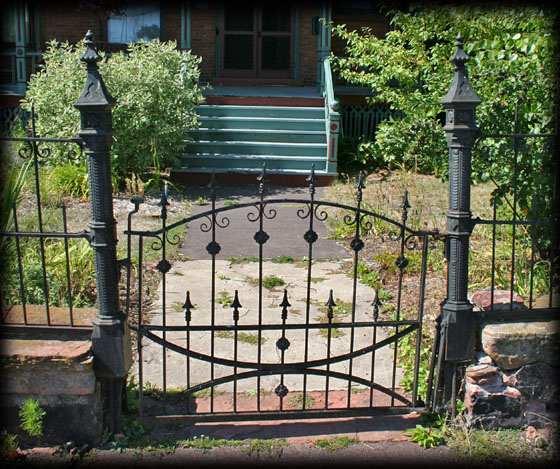 In addition to the fence itself, the building also manages to still feature its iron gates as well. This one sits across the path leading to the building's main entrance.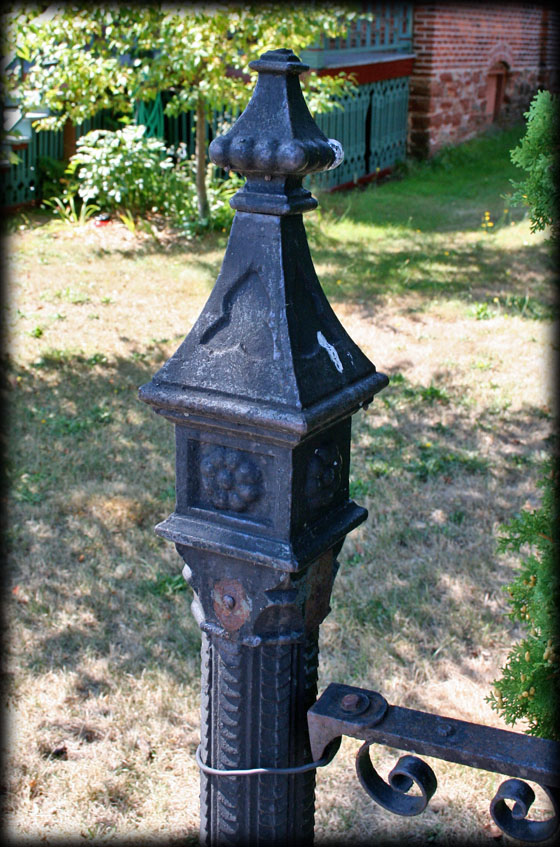 Here's a closer look at one of gates supporting pillars. It amazes me the amount of details there are to be found here.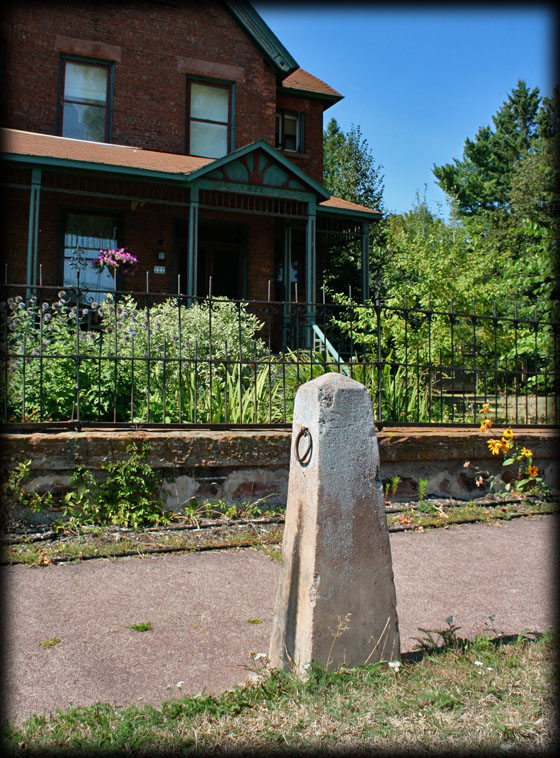 Then we have this unique item, found right alongside the sidewalk running alongside the building's Hecla facing facade. This is a hitching post, used to tie up horses during the golden age of the horse and carriage. For the Harris's – who had their own carriage house – this particular post was probably here for the use of their guests.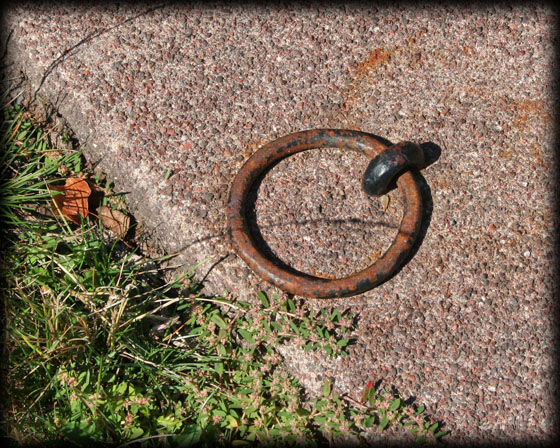 Besides the concrete post, I was also able to spot quite a few of these small iron rings embalmed into the sidewalk alongside Second street. These must be more hitching rings, but why they're laid out here on the sidewalk and not atop posts of their own is a mystery to me.
These would also seem to suggest that the Harris's had a great number of guests stopping by at one time…..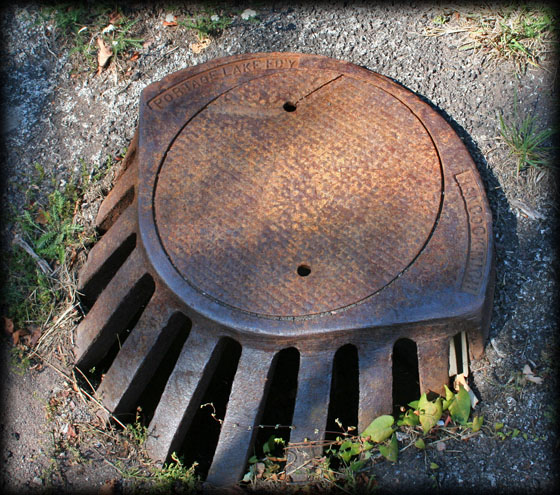 One last item of note to be found alongside the old Harris House. This guy sits at the corner of Hecla and Second streets, and it obviously a storm drain. While that may be pretty rudimentary by itself, the fact that this particular storm drain was cast at the Portage Foundry in Hancock makes it a bit more special.
This old drain cover, along with the old hitching posts and still intact iron fence, makes it seem as if the old Harris house and the corner it sits on have been stuck in this perpetual time loop where it's always the end of the nineteen century and nothing ever changes. A lot lost in time…