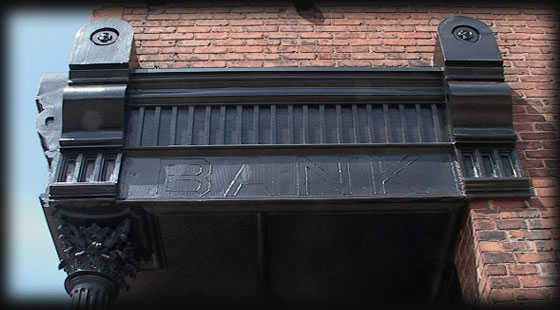 The Merchants and Miners Bank was formed in 1873 by Charles Briggs, a prominent Copper Country businessmen who owned several general stores in region. The bank's first home was a small wood framed building at the corner of Red Jacket Road and Mine Street, a site now occupied by the old AT&T Telephone exchange. Soon the bank prospered and outgrew its adolescent home, requiring a larger and more stately home. Such a home would be found at the new Union Building under construction at the head of Calumet's main street, and as such one of the building's two storefronts was built specifically with the bank in mind.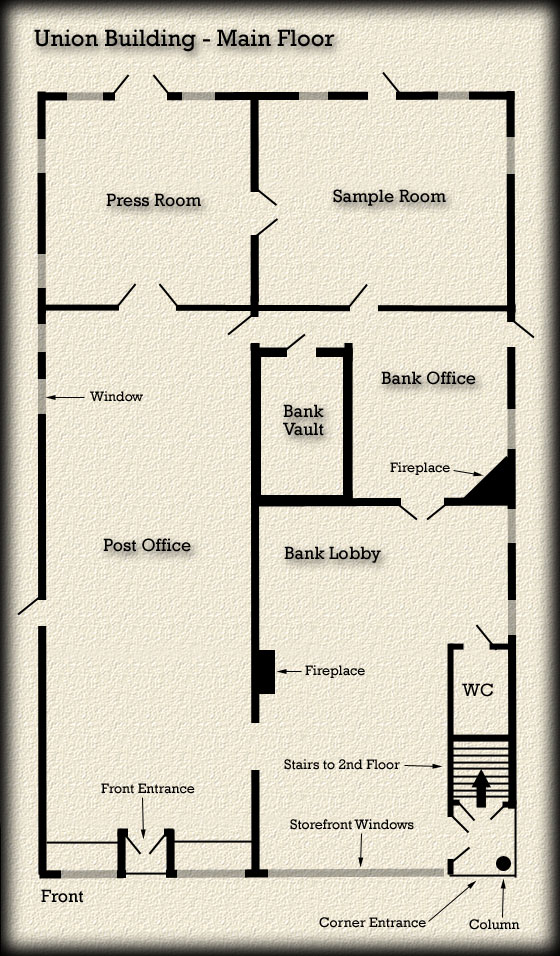 Being the Union Building's premier tenant, the bank's retail space was customized to meet the its specific needs. This meant a three room arrangement, anchored in front by a rather stately main lobby and teller space. Behind that lay an equally grandiose office space outfitted with another fireplace and beautiful parquet floor. Rounding the space out was a large two story vault featuring two and a half foot thick walls and a pair of heavy iron doors – one on the main floor and another in the basement.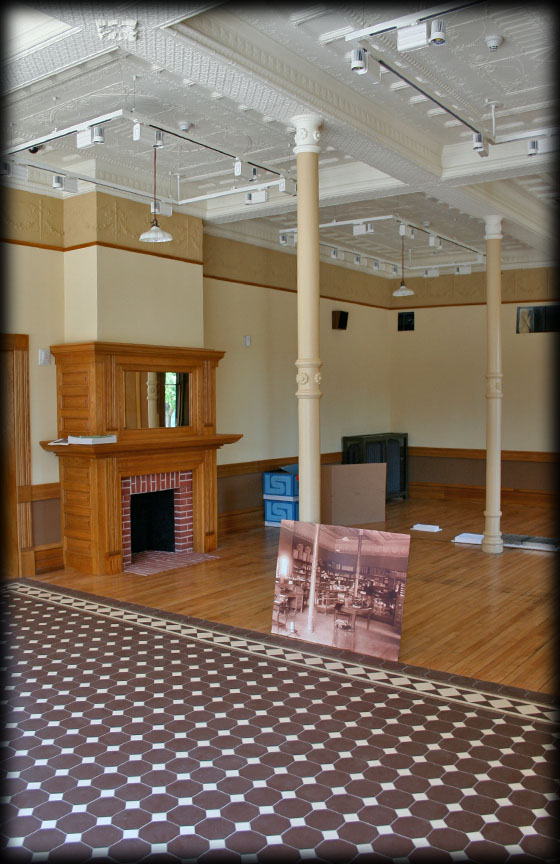 The bank's ornate corner entrance is only the start of the space's luxurious offerings, as walking through that entrance brings you to a rather ornate lobby area decked out with plenty of pressed tin, wood paneling, and ceramic tiling. Here would have stood the main counter, where well-dressed male tellers would have served the bank's customers. For banks operating in the time before federal oversight, such luxurious trappings were used to insure customers of the bank's prosperity and longevity. I would have put my money here, thats for sure.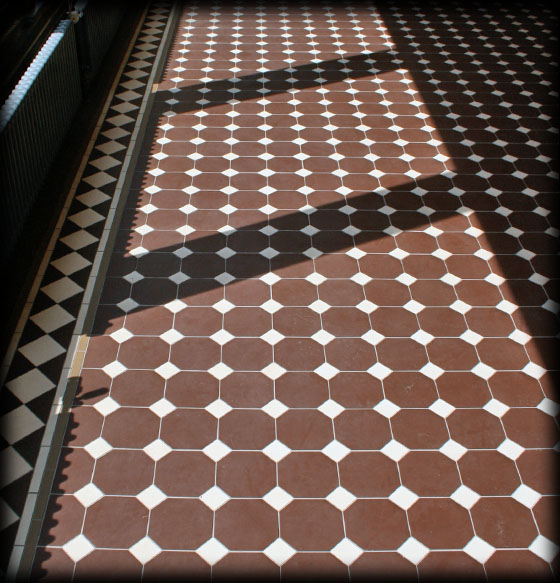 Though not original, the tiles seen here along the rooms front windows are a close approximation of what was probably here when the building first opened. Though no one is sure of where the original teller counter would have stood, I would guess it was along the edge of this tiled area. Considering how little space the bank occupied, most of this front room was probably devoted to employee space.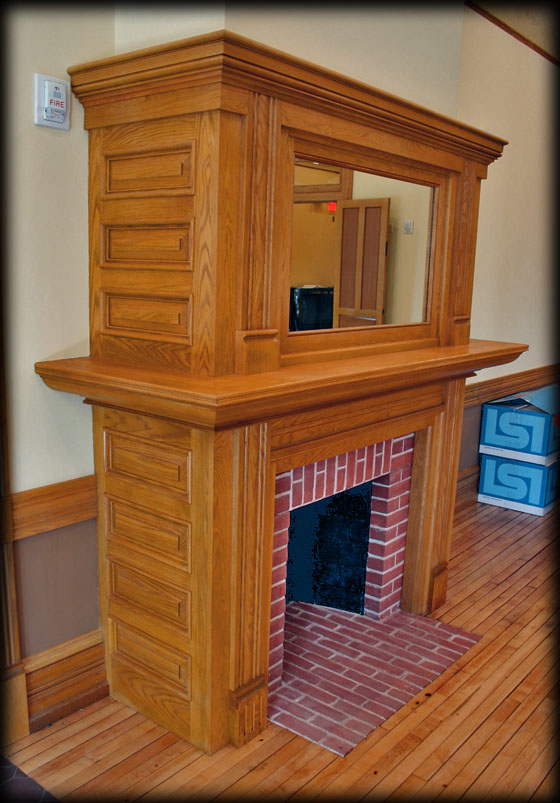 Helping to provide that air of prosperity discussed earlier was this impressive looking fireplace found along the room's north wall, just past the tiled portion of the floor. This is one of two fireplaces that can be found in the building, both sitting here within the bank's spaces. Since the building was already heated by steam, these fireplaces were probably more of a status symbol then a practical heat source.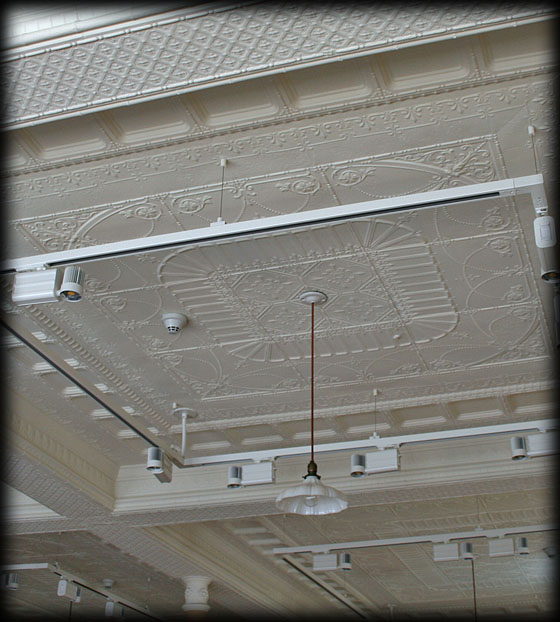 Up above you find a remarkably preserved pressed tin ceiling, set between an array of tin faced beams that criss cross the ceiling. Of course the modern track lighting is an addition, put in place to help illuminate the future visitor's center that will occupy this room. The building's more anemic lighting offerings would not have sufficed in such a modern space.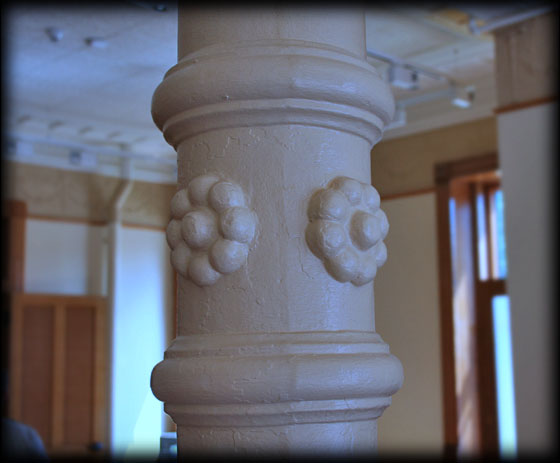 Situated within the center of the room are a pair of iron posts, there to help hold up an interior wall sitting directly above this space (the inner wall of the lodge room). The posts include an interesting floral embellishment along their wastes, embellishments that gains a bit more flavor once viewed from their backside.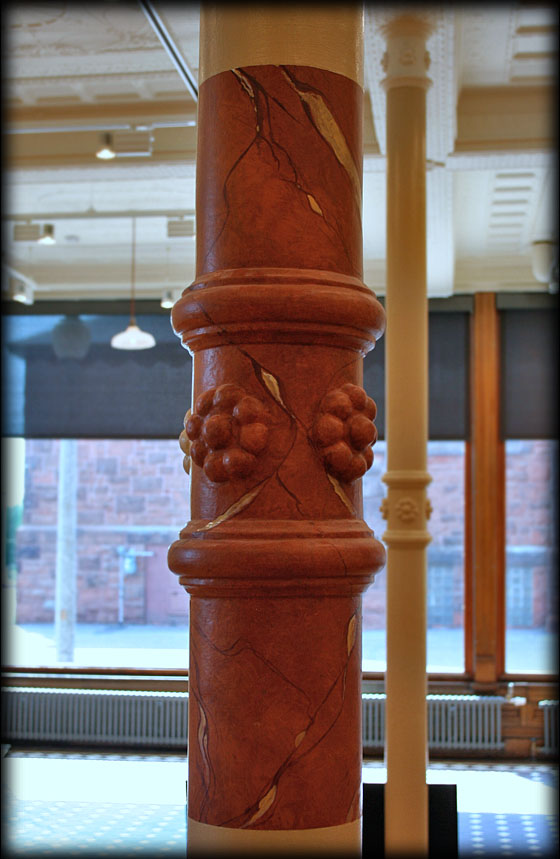 Here we find one of the buildings assortment of vignettes – small reproductions of the building's original surface treatments. This particular vignette shows how these iron posts were originally given a faux marble appearance, probably to match what might have been marble counters. I would guess that more plain columns would not have provided much of an air of class. An interesting choice for sure, but an original one none-the-less. Unfortunately such a treatment would have been far too expensive to recreate in their entirety, so this small portion was done instead.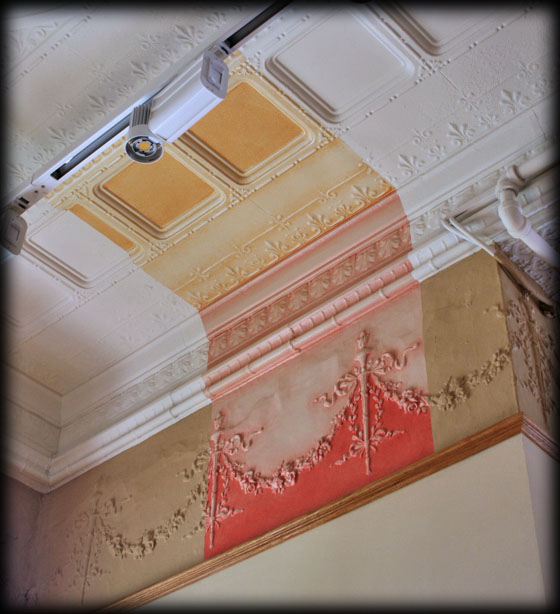 Another similar vignette can be found up along the room's ornamental tin frieze and cornice. Once again this represents what these elements would have originally looked like back when the bank was here. While rather ugly today (at least to me) such color choices were probably all the rage back in the dawning of the Victorian age.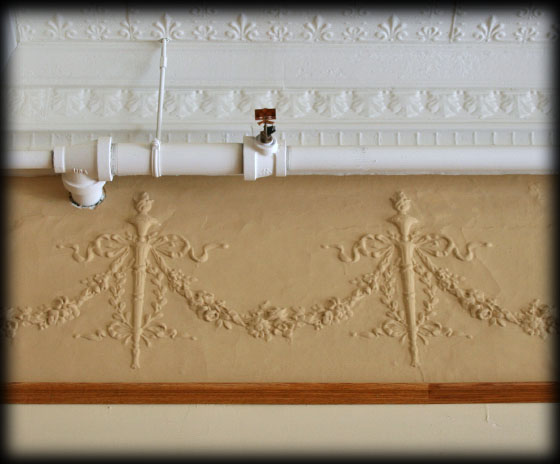 Here's another closer look at that frieze, but this one without that awful original paint job. The impressive amount of pressed tin found in this room makes it the most ornate in the whole building. Not surprising considering the rooms tenant.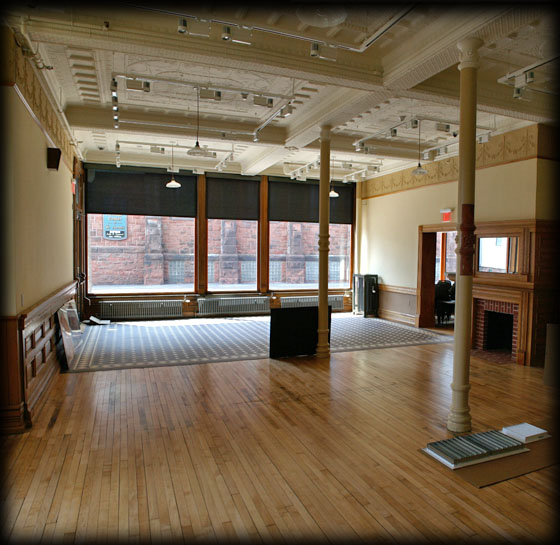 Before making our way to the neighboring office space, I take one last look back at the bank's lobby and teller space to see where we had been. While impressive, more impressive rooms would still follow.
Moving on….
The Grand Opening of the Keweenaw National Historical Park's new Calumet Visitor Center – housed within the newly renovated Union Building – will be held on Thursday October 27th with a ribbon cutting ceremony at 10am. In addition to the visitor center itself, the building will be home to several interactive exhibits about life and work in the great metropolis of Red Jacket. The building will be open to the public between 9am and 5pm, and there is no cost for admission.