Tonight the Keweenaw Heritage Center will have its opening night reception, featuring yours truly as the guest speaker. I will be giving a talk on architectural heritage, featuring some of Calumet's less known historical figures and their contributions to the village's landscape. In honor of this event, I've preempted our previously scheduled conclusion of the Victoria Mine tour to provide an exclusive inside look at the Heritage Center, which resides in the former St. Anne's Church on Fifth Street in Calumet. We'll return to our regular schedule programming next week….
As was customary for most any church built since the middle ages, St. Anne's cathedral was adorned with an array of stained glass windows. While these picturesque windows served to illuminate the churches interior, their primary purpose seemed to be the creation of a rather mystical and surreal atmosphere flooded with soft light and comforting hues. These windows elevated the church from your standard utilitarian structure to something a bit more enlightened. As the soaring ceilings of St. Anne's nave seemed to be reaching for the heavens, the stained glass windows along its walls seemed to bath you in the glorious light of God himself. This is what makes St. Anne's, and St. Joseph's, and every other church built in the same style far superior to the more modernist interpretations of Sacred Heart or St. Albert's; in these churches you really feel like you are in the presence of greatness and feel humbled by it. And a big part of that feeling is no doubt due to those stained glass windows.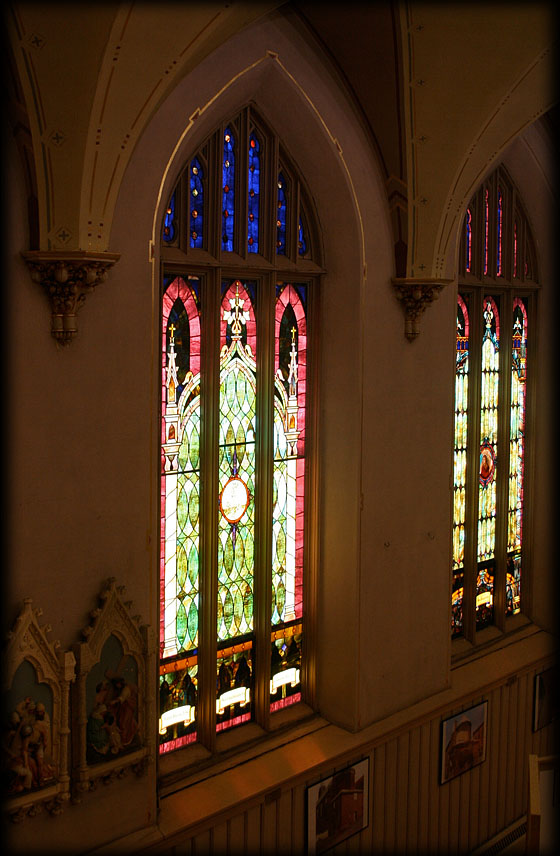 St. Anne's collection of stained glass includes 14 gothic inspired windows that light the nave with brilliant blues, reds, yellows and greens. These windows all follow a similar pattern, each highlighting a Saint or other biblical figure in its center surrounded by a mosaic of colored glass.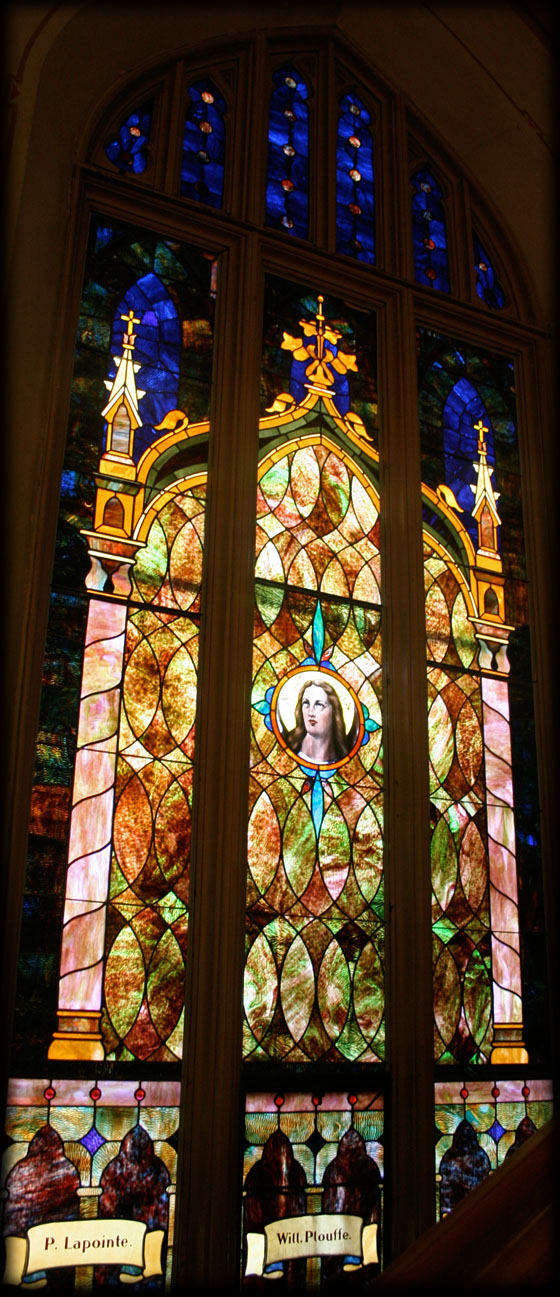 The windows all share a similar look, which mimics its high Gothic surroundings, complete with fluted spinals and pointed arches.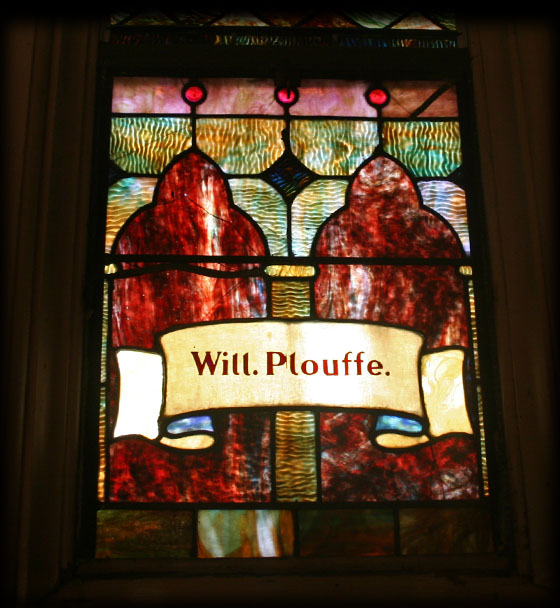 Each window features a trio of panels along its base that denote the names of families or individuals who donated money for that particular window.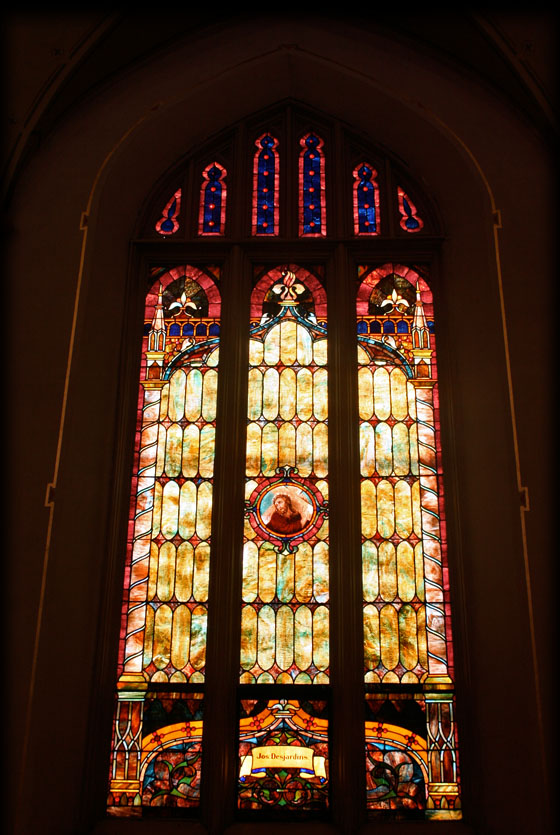 Some windows have only one spot on the bottom for those that donated, like the one seen above.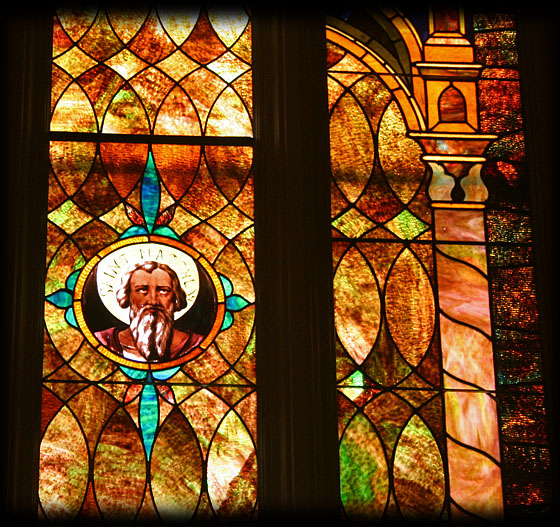 Each window features a pair of columns on either side – one of which is seen here. The columns are attached to a pointed arched roof, creating a panel on which the rest of the window is laid.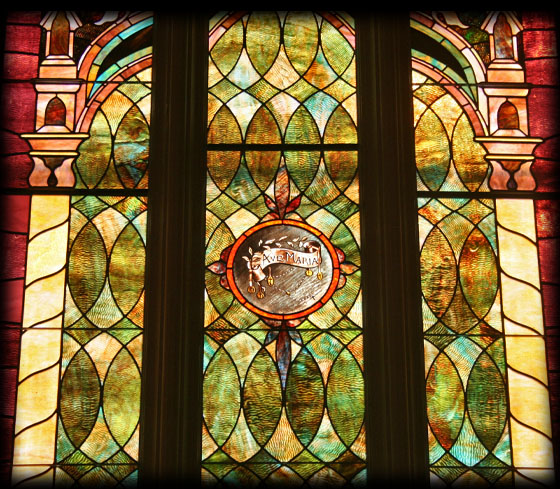 Each of those panels shares a familiar circular pattern that resembles fish scales. Centered within this scale pattern is a compass rose featuring a particular biblical theme or person. Ave Maria is a latin term describing the Angelic Salutation, more commonly known as the Hail Mary. It is a prayer that forms a basis of the rosary.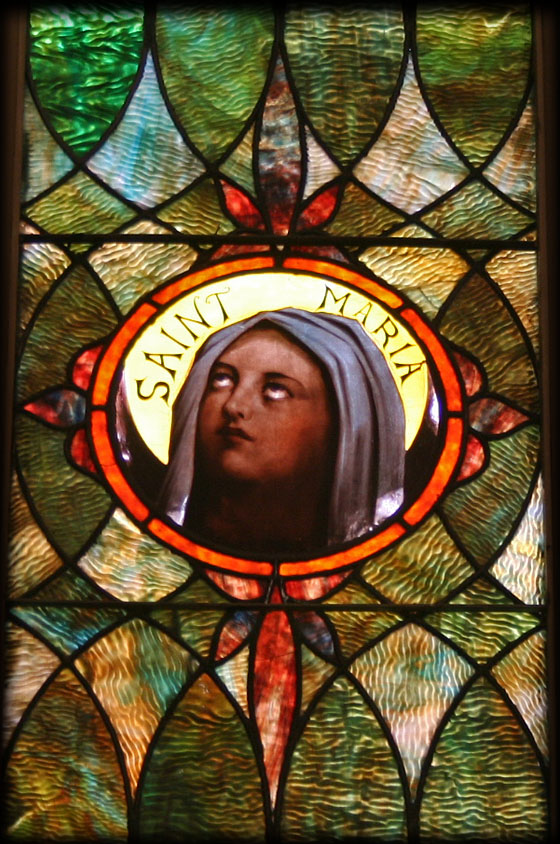 I love how detailed and life like the saint's faces look in these windows. I'm not sure how it was done, but it looks to have simply been painted on the glass.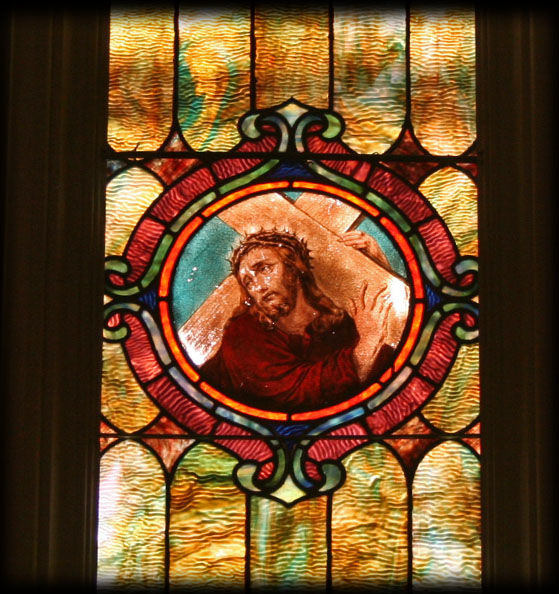 Jesus gets a window too.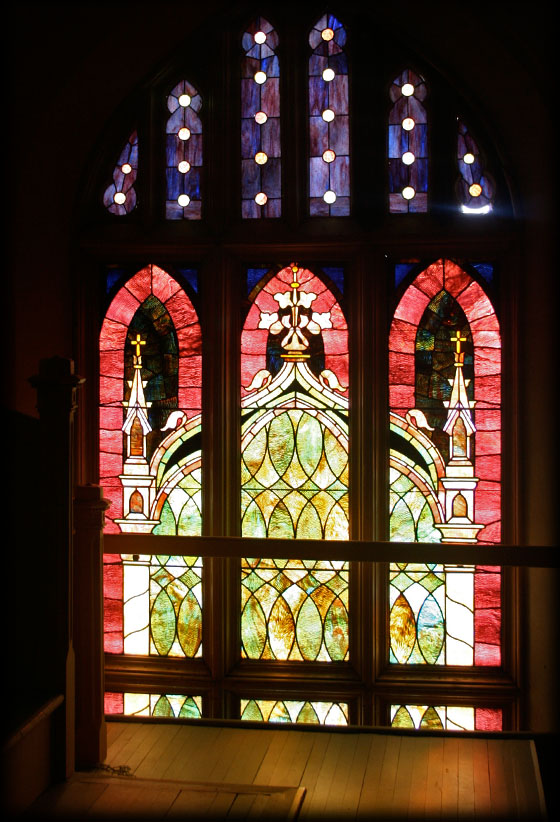 The last pair of windows along the nave are partially blocked by the choir loft, but that only provides a chance to get up close for a better look at their upper ends. Love the purple.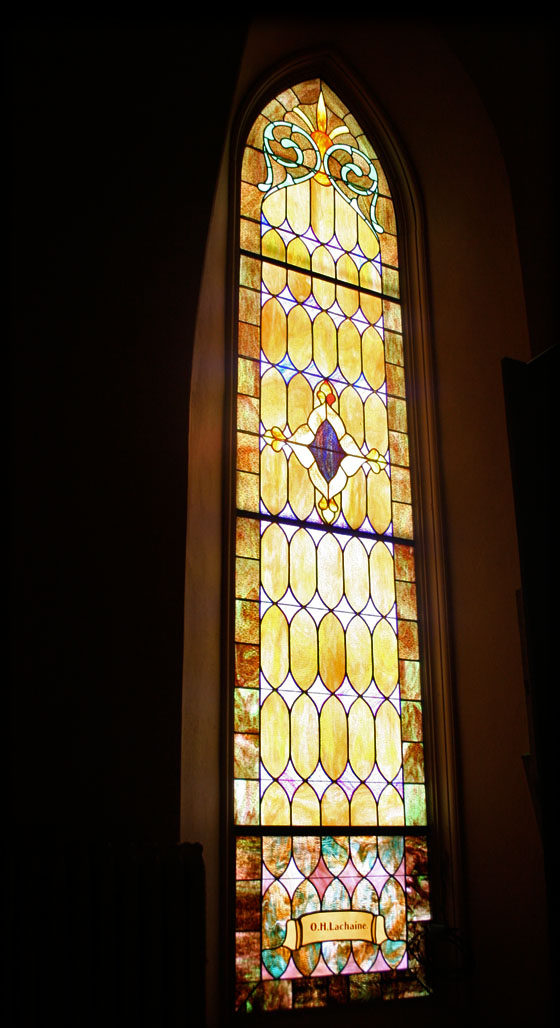 Once at the choir loft those massive stained glass windows are replaced with much small and narrower versions scattered along the front of the church. These don't feature any iconography, but still share similar themes from their larger brethren, including a toned down fish scaling and a spot to honor the person who donated to the windows construction.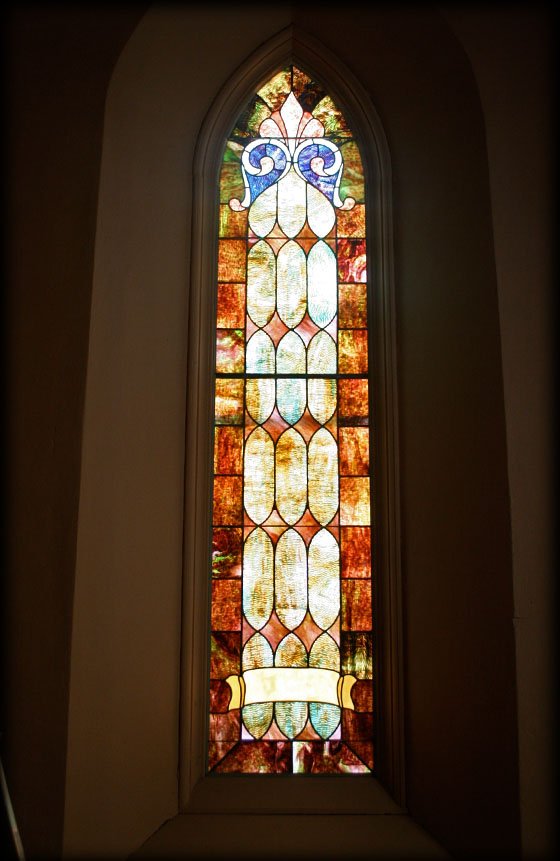 Another beauty, featuring amazing looking "rusty" panels along the edges.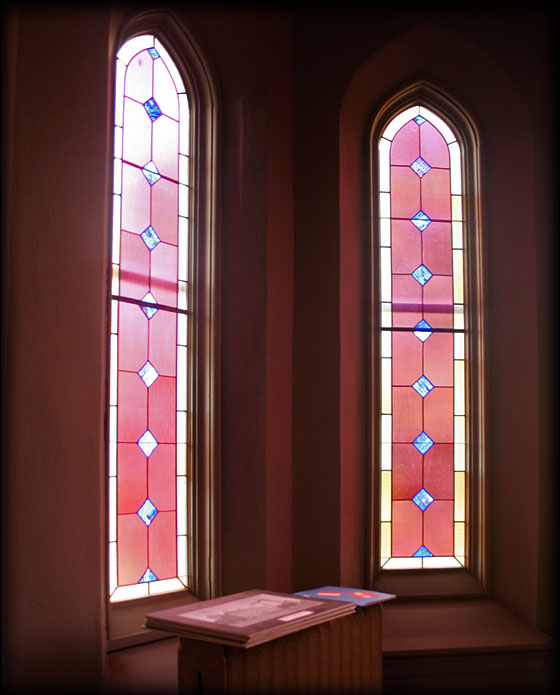 Meanwhile back down in the Baptistry we have a few more small examples, these having very simple designs. I love the red hue these windows bath the room in.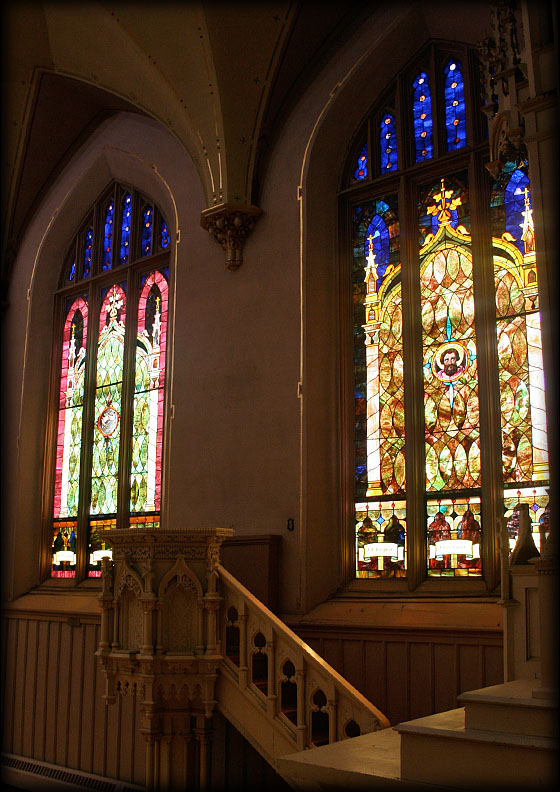 One might make the argument – as I do – that without its stained glass windows, a church is nothing but a large empty room. These windows are St. Anne's heart and soul and even without its pews and other church accessories you still have a wonderful sense of awe and wonder as you enter the old nave – due mainly to these windows. It is no wonder that it was the threat of the loss of these wonderful pieces of art – as the previous owner was planning on removing them and selling them off – that prompted the community into action in protecting this wonderful treasure. The building wouldn't have been the same without them.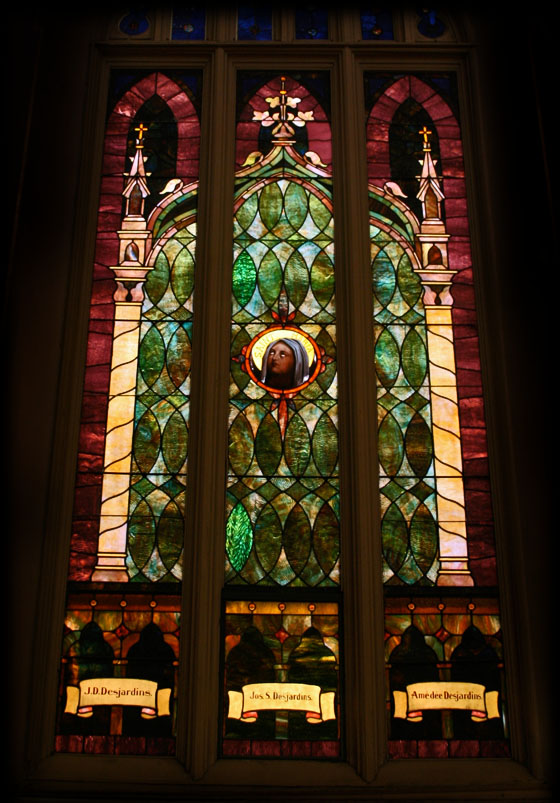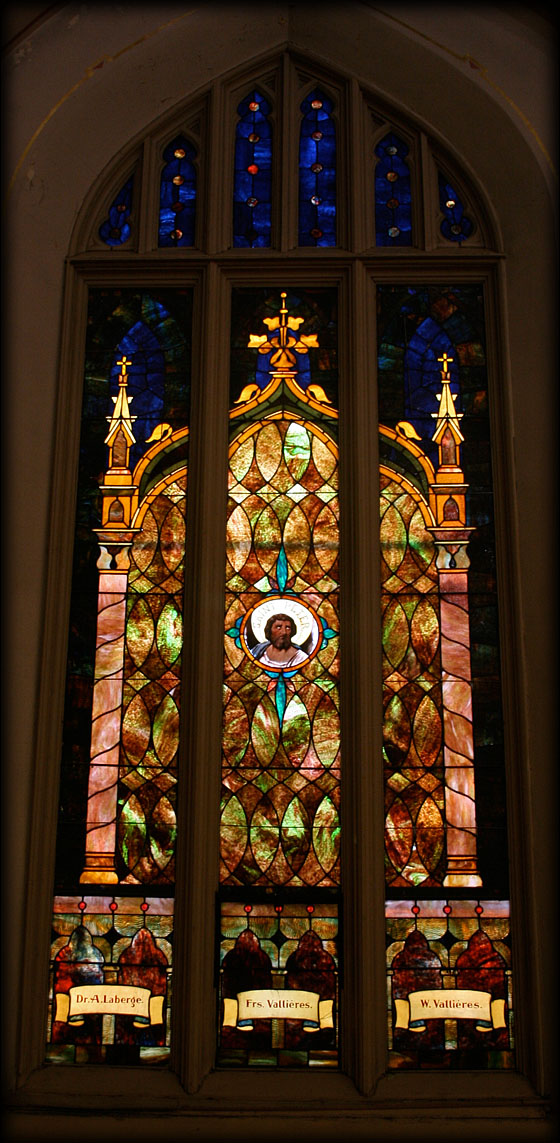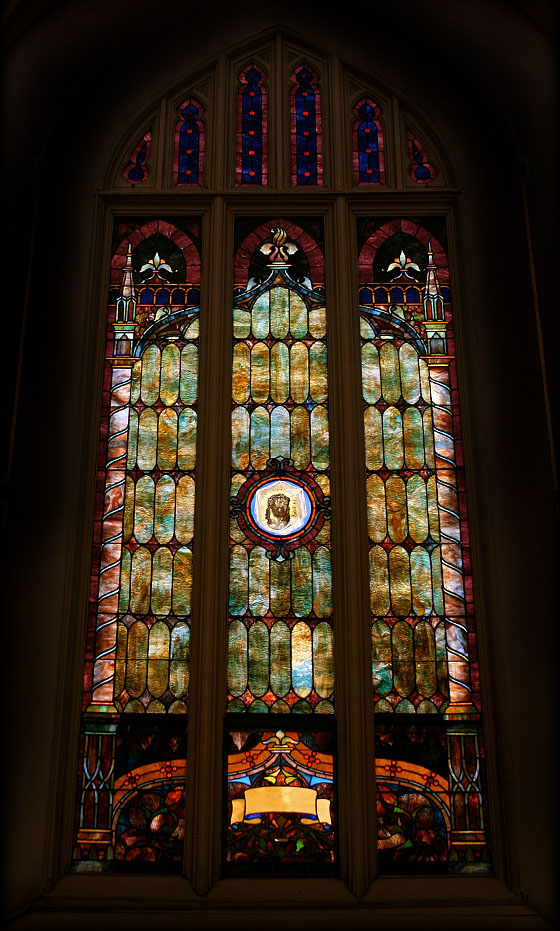 The Keweenaw Heritage Center opening night reception is Thursday, June 23 at 7pm. The Heritage Center is inside the former St. Anne's church, at the corner of Scott and Fifth Streets in historic downtown Calumet. Hope to see some of you tonight!