This Thursday the Keweenaw Heritage Center will have its opening night reception, featuring yours truly as the guest speaker. I will be giving a talk on architectural heritage, featuring some of Calumet's less known historical figures and their contributions to the village's landscape. In honor of this event, I've preempted our previously scheduled conclusion of the Victoria Mine tour to provide an exclusive inside look at the Heritage Center, which resides in the former St. Anne's Church on Fifth Street in Calumet. We'll return to our regular schedule programming next week….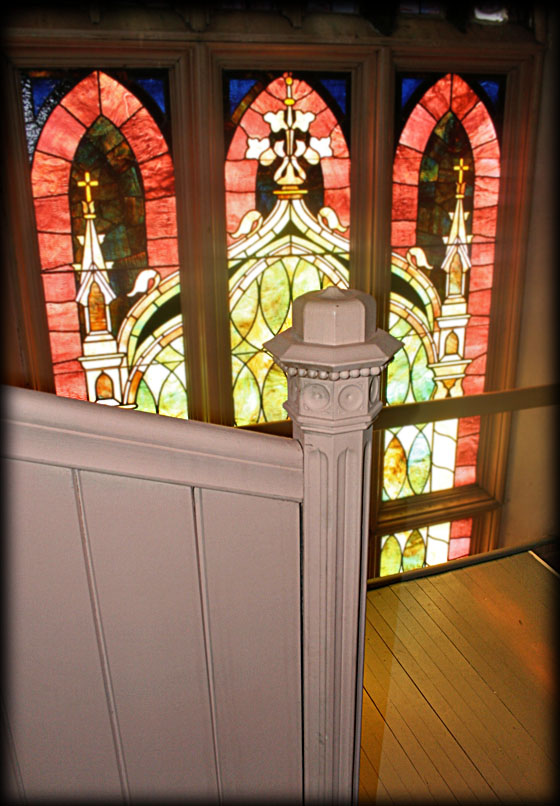 After leaving the old pipe organ behind, it was time to take a look around at the rest of the old church and see what other interesting details I could uncover. The first of those details to get my attention was this interesting baluster found at the far end of the choir loft. This railing marked the original stairway that provided egress to the loft. I found this odd, considering the center had installed a new stairway at the lofts opposite end, one that made its way down into the nave directly. I wondered why that was necessary considering there appeared to be a perfectly good stairway over here. But then I looked down it…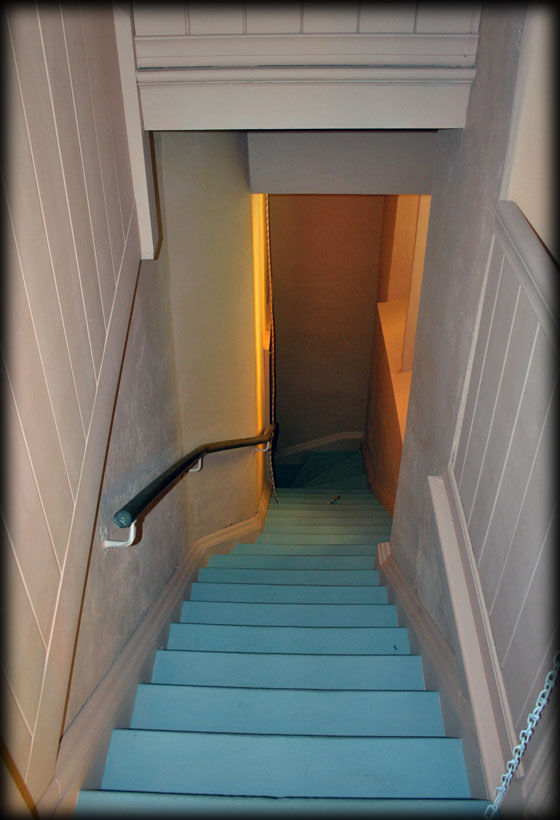 This one was a bit narrow and steep, which most likely would have been a problem for most anyone of today's specifications who wished to make their way up here. However, the stairway does receive a generous amount of light thanks to a pair of stained glass windows down near the landing.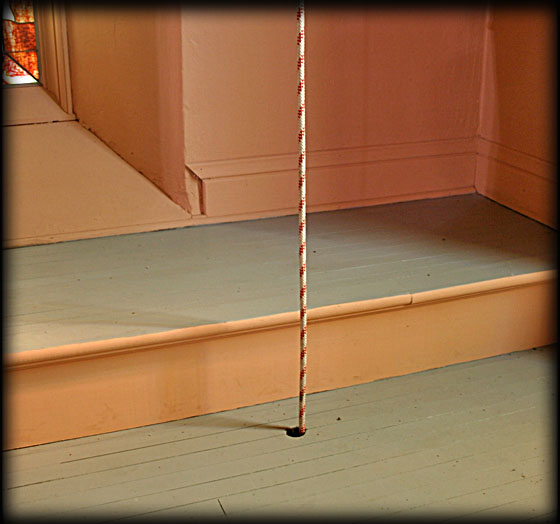 Before heading down those stairs, I paused first at this oddity. It would appear that this cord would have been used to ring the church bell in the tower above this point, though I don't believe St. Anne's bells are still intact. I would have taken a climb up there to see for myself, but since the only way to do that was to walk up a three story tall free standing ladder and squeeze myself into a narrow and dark hole in the ceiling – I decided against it.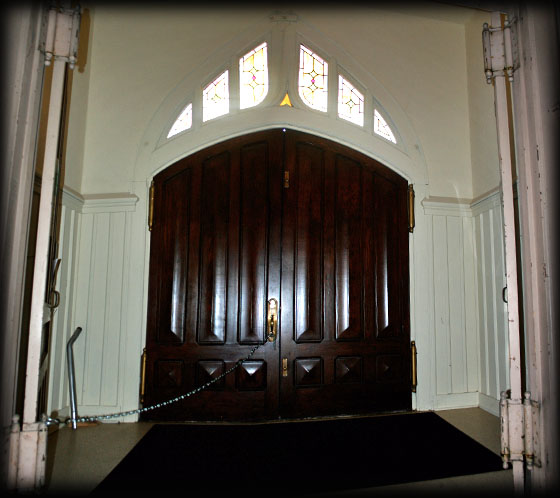 Once back downstairs I took a look at the building's main entrance, which consists of two rather large wood doors. Another set of large doors sits a few feet inside, forming an airlock of sorts between the outside and the rest of the church. Besides this main set there are two other narrower sets of doors flanking it, both also featuring their own airlocks. Sitting between all these doors are a pair of small closets.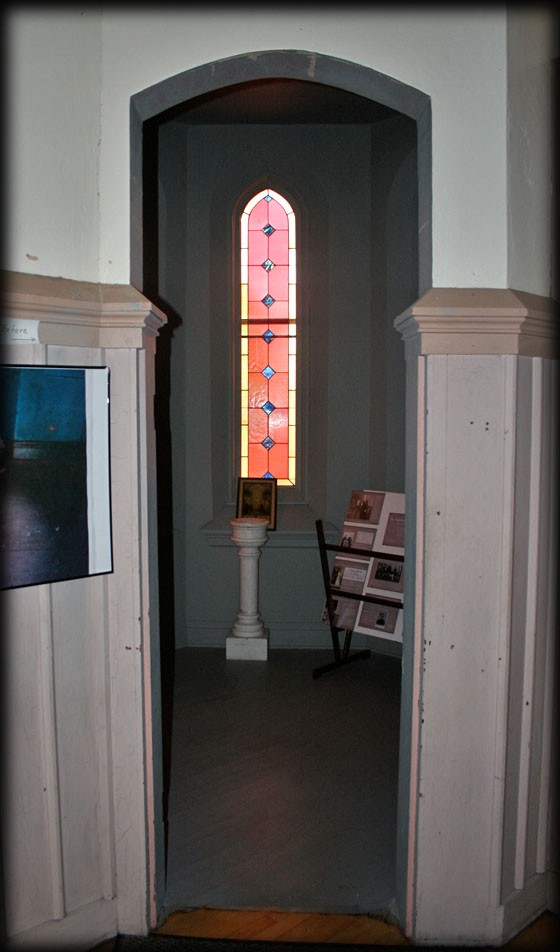 At the far end of that front hall sits this interesting room, consisting of a small octagonal space surrounded by several narrow windows. Turns out this is the baptistry, once used to baptize babies using the small sink seen under the window (though that sink is actually from St. Mary's). The room resides within an octagonal turret that protrudes out of the building's northwest corner.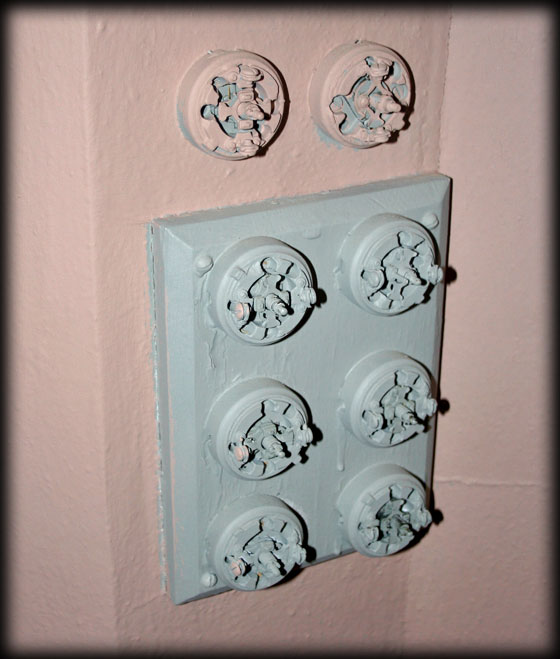 Though the room itself was rather uninteresting, there were these rather unique archaic knobs set within the doorway to appreciate. I would imagine that these operated the main lights back in the nave. Originally the nave would have been lit by several chandeliers hanging down from the ceiling and a few light stands sitting along the aisles. Unfortunately all these lighting fixtures have since been removed, so I suppose these knobs no longer have any purpose. But they sure look neat…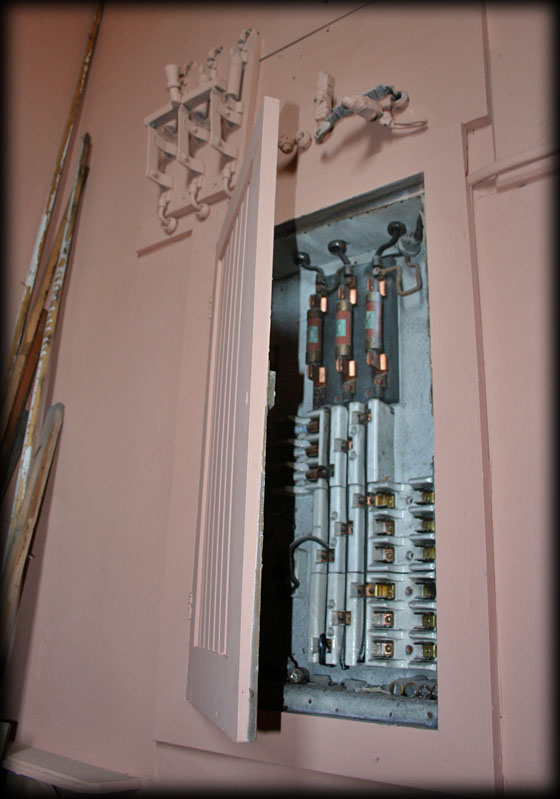 Another interesting collection of old electrical equipment can also be found at the other end of the building, behind the apse. I don't think these are used anymore either.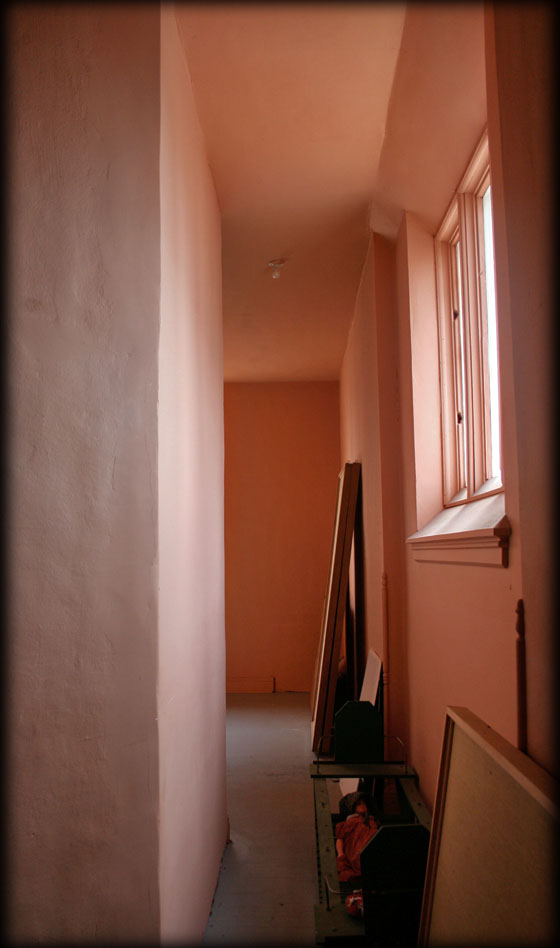 Back here are a pair of rooms connected by a narrow hallway that makes its way behind the octagonal wall of the apse. The area seems more like an afterthought then an actual room, as it doesn't seem big enough to serve any particular purpose.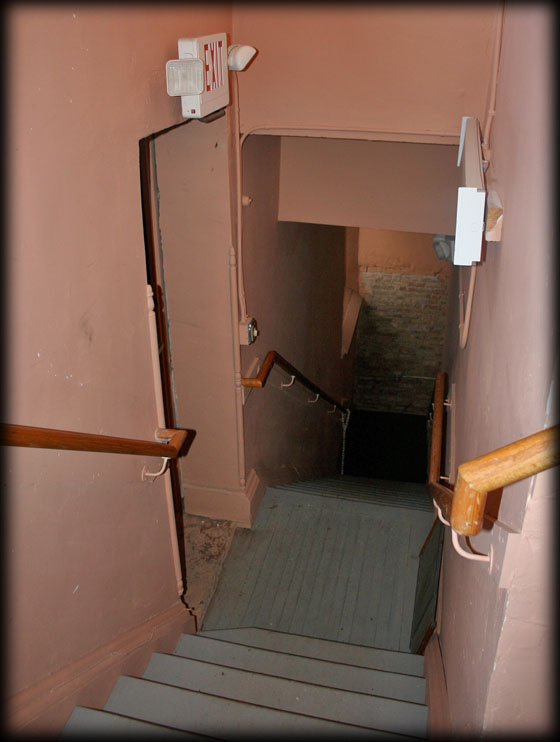 Also back here are the stairs to the basement. The Center has a brand new staircase that takes you downstairs, a much wider and less narrow version near the front of the building. But this one is the buildings's original.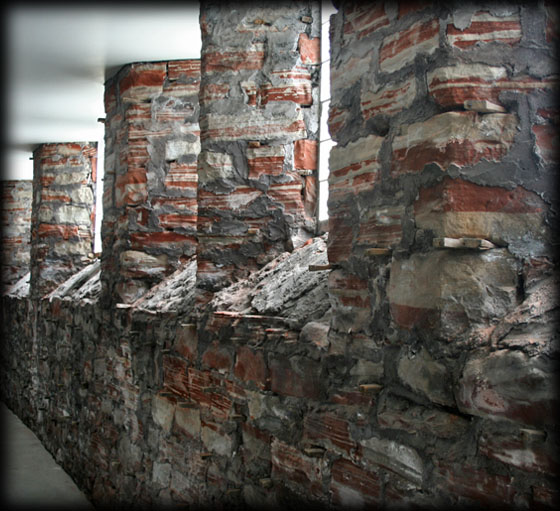 Upon reaching the basement you're confronted with these beautiful sandstone walls that line both ends of the space. Between them the Center has created a large reception hall, complete with cement floor and new drywall walls and ceilings. There's even a pair of nice restrooms. If it wasn't for the beautiful sandstone walls you would think you were sitting in a modern conference room.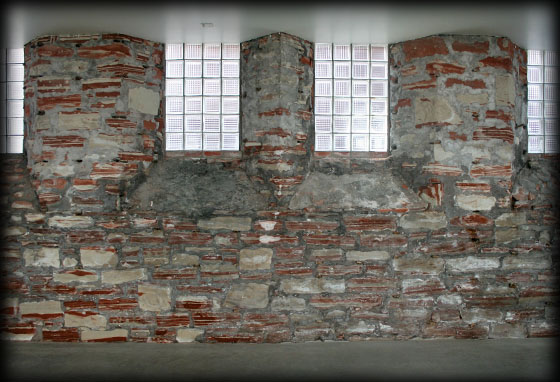 For a time, this old basement was home to a one-room Catholic school. When the old church was a flea market, the owner had used this space essentially as a landfill. He had cut a hole in the floor of the nave above, and shoveled useless junk he couldn't sell down here to rot. Needless to say it was quite the mess to clean up.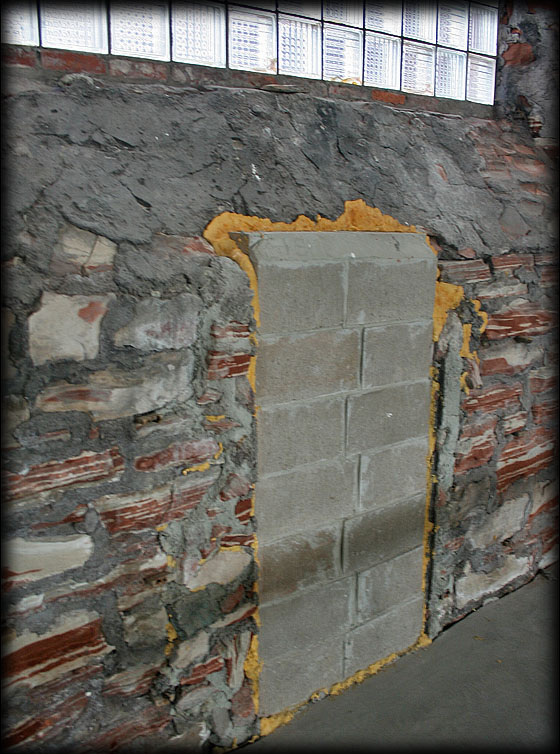 Over on the west wall I found what looked to be an old passageway which has since been sealed up. Turns out this was a tunnel that connected the church to its neighboring rectory, so that the priest could head back home without stepping foot outside. It looks to have been recently sealed, though I doubt the tunnel behind those concrete blocks is still intact.
With nothing else to see down here, I headed back upstairs to take a closer look at the church's most vibrant and incredible feature – its stained glass windows.
The Keweenaw Heritage Center opening night reception is Thursday, June 23 at 7pm. The Heritage Center is inside the former St. Anne's church, at the corner of Scott and Fifth Streets in historic downtown Calumet. Hope to see some of you there!