We left the furnaces and casting buildings behind and heading upward – up the short hill backing the structure to see what else we could find behind. Turns out a great deal more of the building was to be discovered.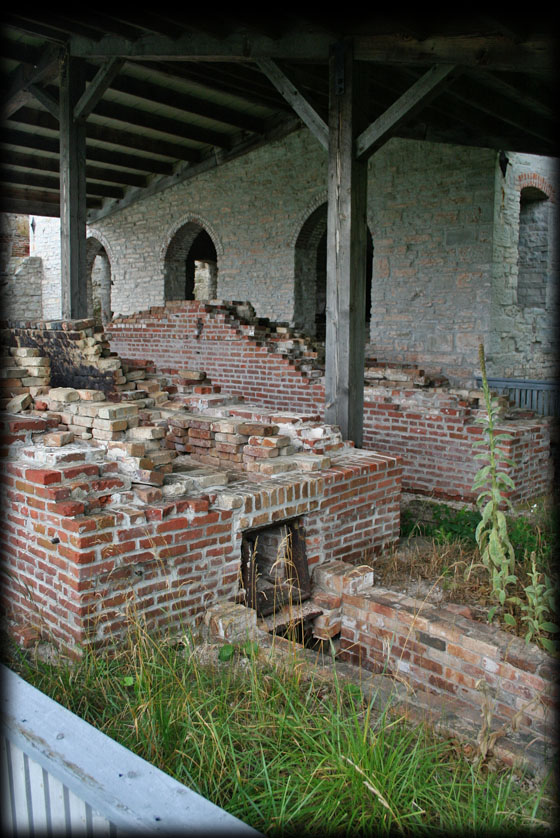 First up was an odd collection of brick foundations that sat just outside the rest of the complex. Interestingly these brick foundation seem to have been recently covered with a new – and rather modern looking – roof. As to the foundations themselves, that was yet another mystery.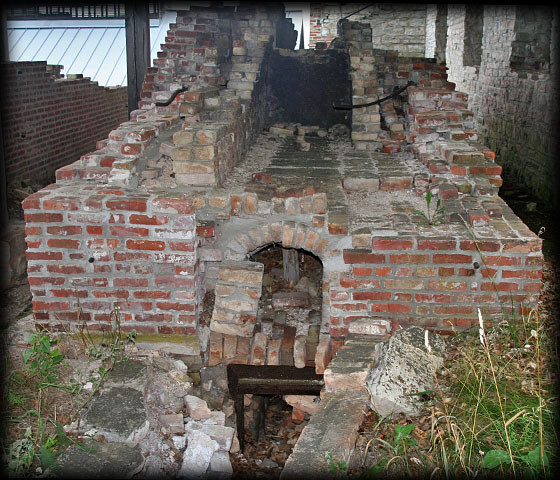 Up close the foundations appeared to look like ovens, complete with a small brick arched opening in their front.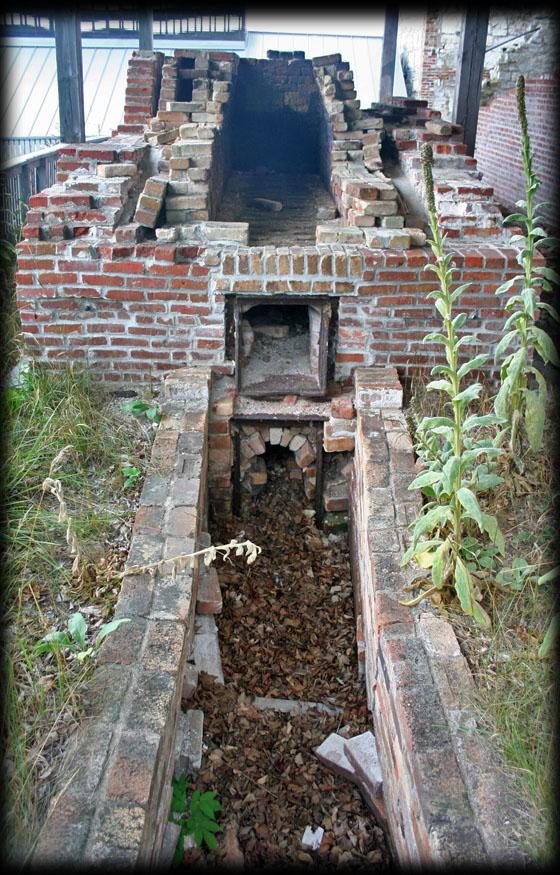 Moving back we find a narrow trench leading away from those doors, a feature that the made us think that we were looking at some type of boiler accompaniment. Since it led away from a second smaller opening just below the "oven door", our impression was that the trench might have been some type of ash pit.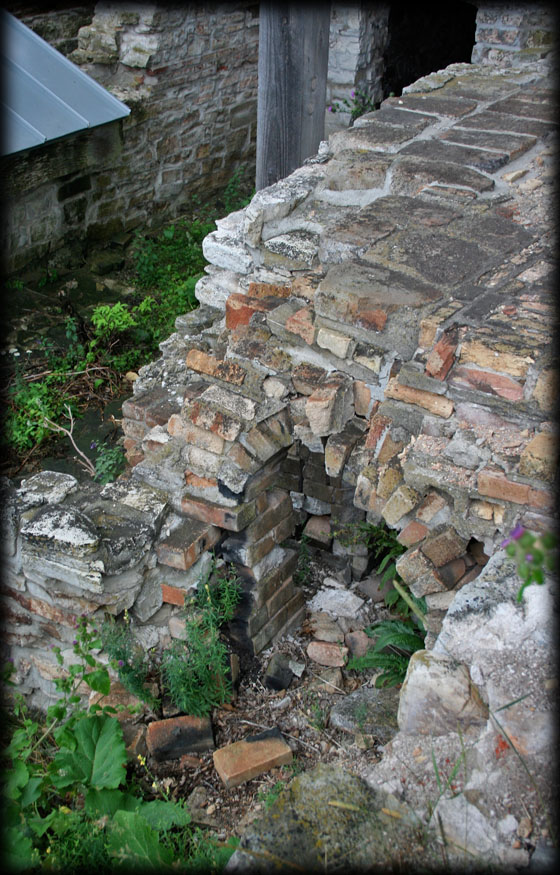 Another odd opening, this time along the side of the foundations.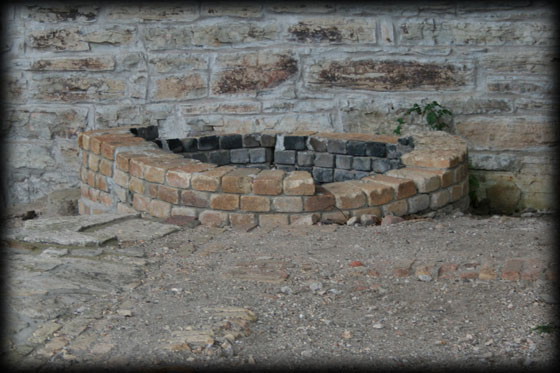 Nearby we find another item that would seem to suggest we were looking at some type of boiler accompaniment – a ring of bricks that could be the base of some type of stack.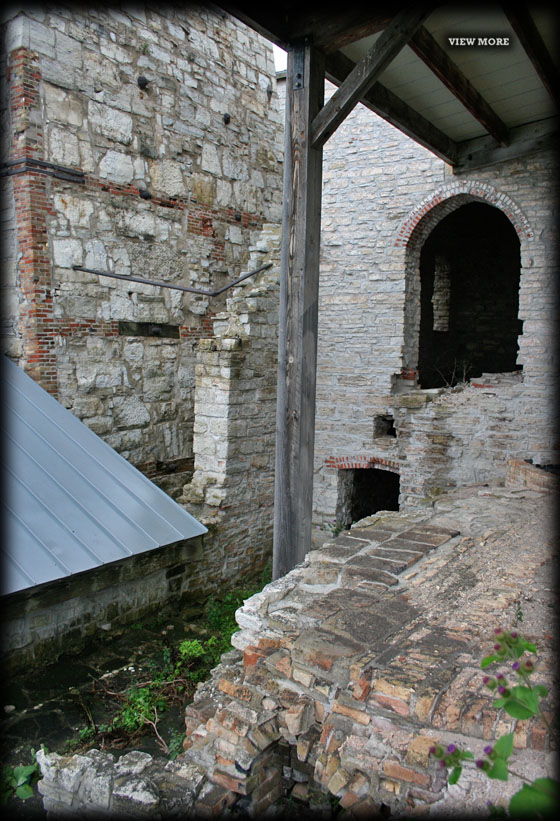 Whatever they may have been, those brick foundations sat right behind one of the casting buildings and associated furnace. Next door we could see the outer wall of yet another building, and headed over to investigate.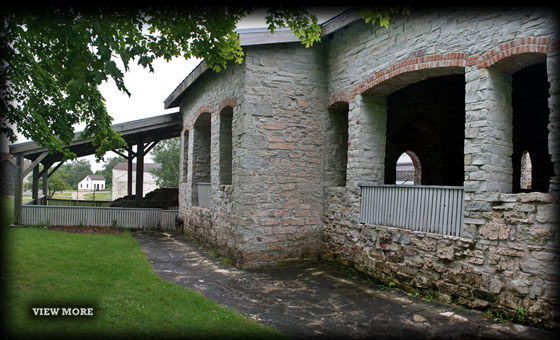 As we rounded the corner we found ourselves looking out across the back wall of a rather expansive structure (you can make out the awning protecting tho mystery brick foundations in the background). Like the casting buildings down below, this building also featured limestone construction and brick highlights over the openings.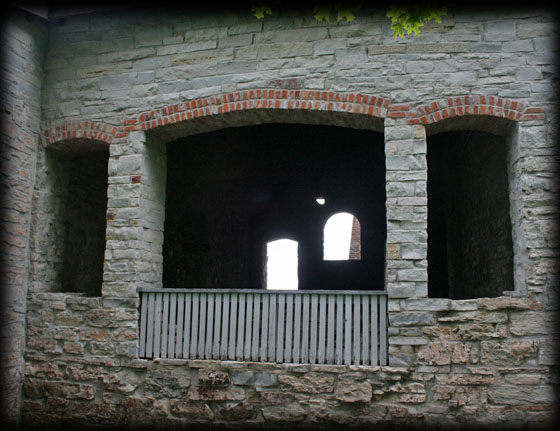 And speaking of openings, there sure were quite the number of them on this end of the complex. In fact there were more openings then solid wall along this section. Those openings consisted of two pairs of windows flanking what looked to be a large loading door. Interestingly those loading door openings were partially blocked by wooden fences. But while they barred our entry into the building, they didn't stop us from peering inside and snapping a picture.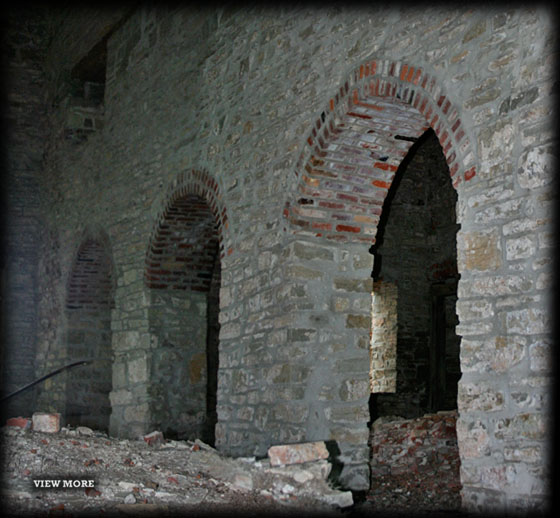 Yet again we were presented with a rather medieval looking view, as the room beyond the barricades was lined on both ends with rows of arched openings. Unfortunately only piles of rubble lay between them, providing no further clues to the room's purpose.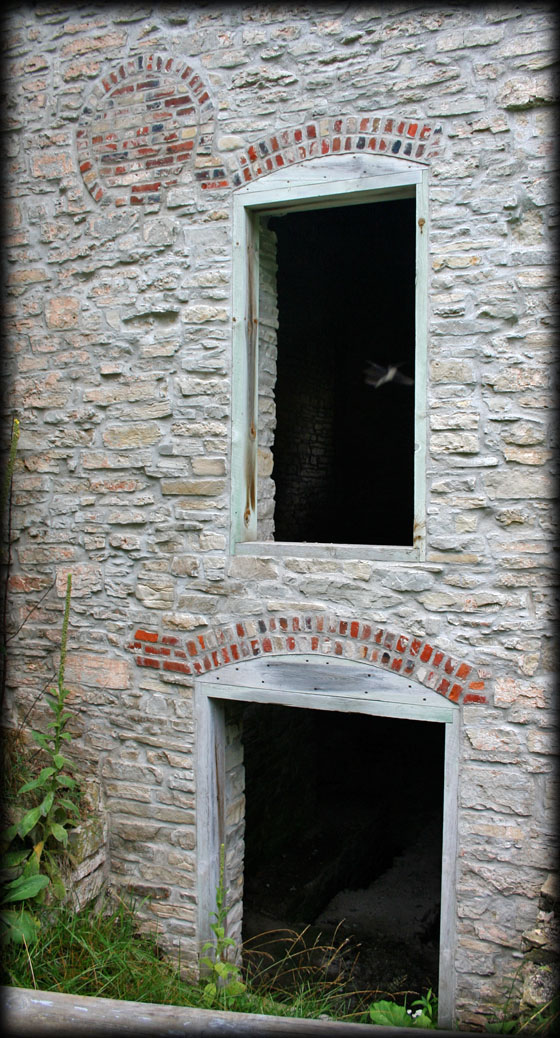 Heading back outside we continued along the complex's back wall, admiring a few more brick topped openings along the way. These two were joined by what looked like an old opening for a stove pipe or other flue like accessory. Whatever it was it only served its purpose a short time as it had apparently been bricked in at some point during the building's life.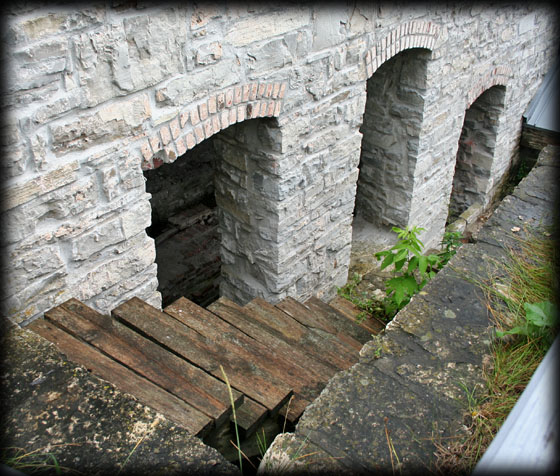 Nearby we find the remnants of an old stairway heading down into the depths. We elected not to investigate considering the age those steps must have been (though they looked like they could have just been installed last week oddly enough).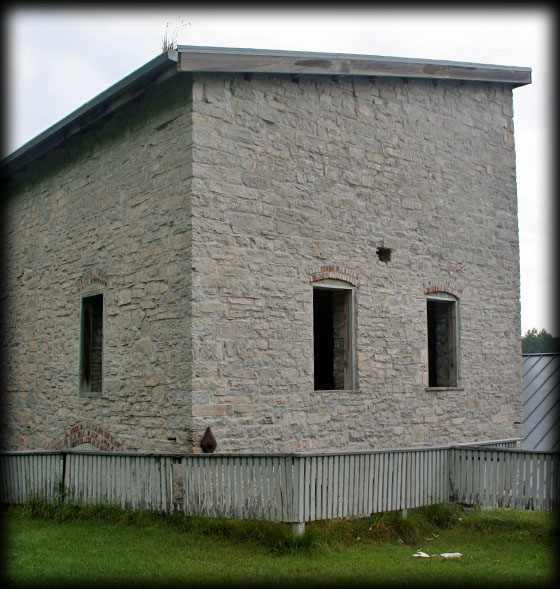 Finally we came to the end of this sprawling back building, which sat atop a steep cliff formed by a man-made wall of stone. Unlike the opposite end of the building, this end only featured a pair of small windows. There was also the odd presence of a wood fence that seems in too good shape to be original to the building. Weird…
But what really grabbed our attention was what sat down below that fence and adjacent wall of stone. An conical shaped structure built of brick….
To be continued….