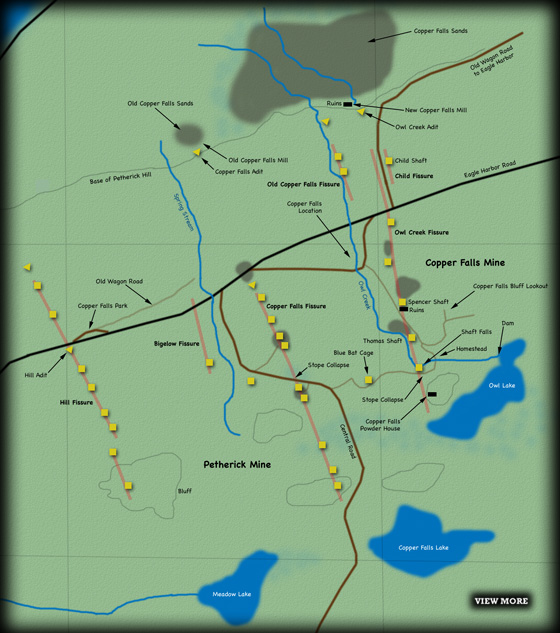 As I've noted before, Petherick Hill is littered with a fortune's worth of old mine workings, over 35 shafts and adits when all is said and done. Though accessing a total of seven fissure veins and several miles worth of the Ashbed lode, all these openings were part of the same mine – the Copper Falls. Originally the entire hill was considered the Copper Falls Mine, until the company sold off sections to open offspring mines such as the Petherick and Arnold. Its all very confusing unless you have a map to put it all in the proper order. So towards that end, I present to you the definitive copper falls area map (click on the image above to view).
The map showcases each of the Copper Falls known fissures, marked in red. Yellow squares represent known shafts, and triangles are adits (But keep in mind there were far more shafts and adits sunk into the earth here then this map notes). Gray blotches are tailing piles, either poor rock or stamp sand. The map also marks known ruins, as well as various other points of interest that can be found along the way.
Keep in mind, the map above is for reference purposes only. Portions of the old mine site are now under private ownership and should be respected as such.