Yellow Jacket – Then & Now (p2)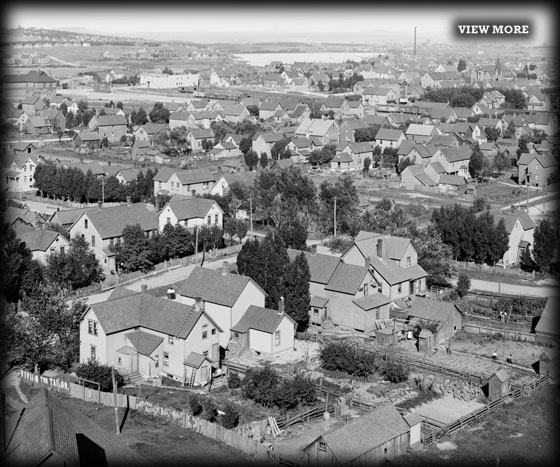 Continuing our tour of the C&H mining town of Yellow Jacket, we make yet another rotation atop the Tamarack No.2 rock house and across our high-res panoramic of the greater Red Jacket area. In this frame Red Jacket itself finally comes into view along the top of the pic, separated from Yellow Jacket by the Mineral Range rail corridor (look for the lines of passenger coaches and box cars). But we'll come back to Red Jacket later in this series. First we have to continue our walk along Oak Street….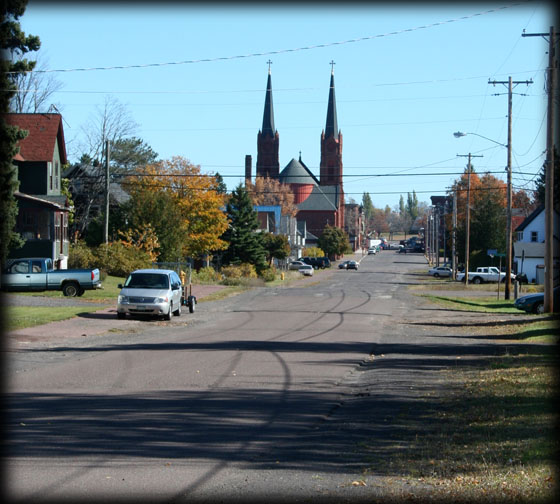 Looking east down Oak Street from our Yellow Jacket location we can see the towering twin spires of St. Paul's (previously known as St. Joseph's) which marks the western border of Calumet village and the beginning of Yellow Jacket. Everything between here and there was considered C&H property, and under the company's control. For anyone not living in Yellow Jacket crossing Ninth Street would be trespassing, a technicality that C&H used to its advantage to halt any striker's parades from passing St. Paul's.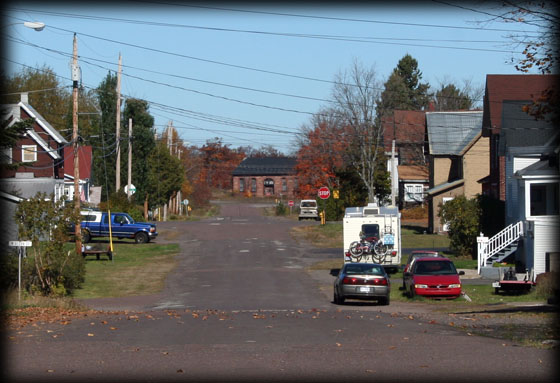 Yellow Jacket's existence owes greatly to the establishment of C&H's Red Jacket shaft just north of the community. Looking down Eleventh Street today you can still get a long distance view of that old shaft's surface plant. While a century ago this view would have been dominated by the shaft's massive shaft/rock house just above that pine tree on the right only a single abandoned building marks the site today, a structure which I believe once housed the shaft's sinking hoist but was later used as a warehouse.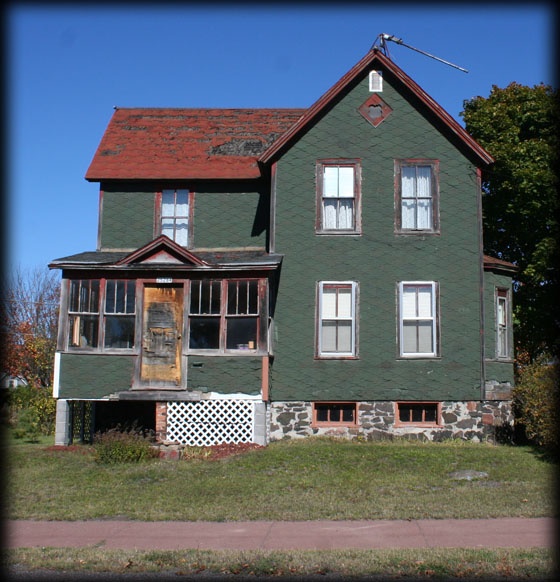 Turning slightly to the left form that earlier vantage point, you find yourself looking at this old house sitting at the corner. Unlike most of the houses along Oak Street, this particular model looks to have been altered the least over the last century. It even still sports that diamond shaped window in the attic.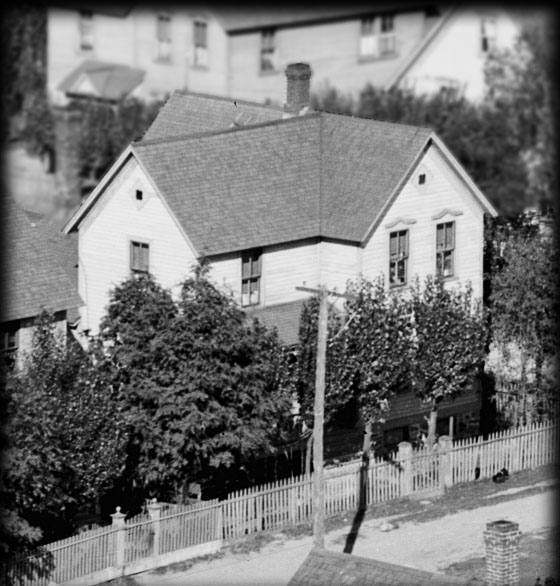 Here's that same house as it looked in its youth. Like the rest of the homes along Oak Street, this one appears to be for a slightly higher class of worker. Considering Oak Street would essentially be Yellow Jacket's "main street" if it had one, I suppose the houses here might have been of a bit higher quality to put on a good show. Turns out that this house was originally home to Mr. Thomas Koski, a "rockman" employed by the C&H Mining Company.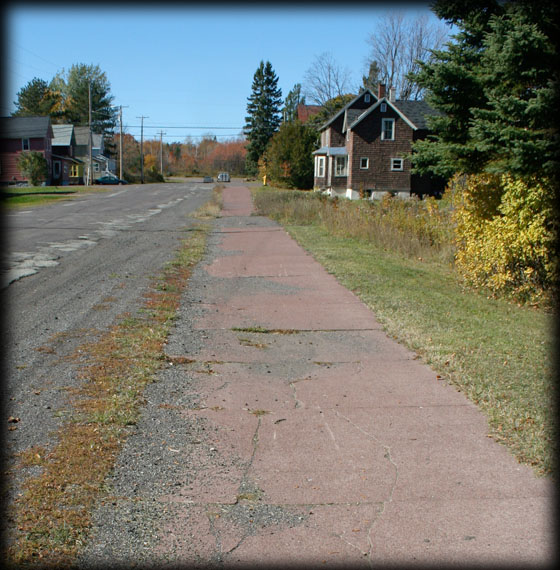 An example of Oak Street's importance to the community is the presence of these guys – sidewalks. In our high-res images these walks were only dirt paths, but at some point they were given the proper concrete treatment (the red tint is from the conglomerate poor rock used for the aggregate). In fact Oak Street is Yellow Jacket's only street to have paved walkways, allowing residents of both it and neighboring Tamarack to walk all the way to Red Jacket in comfort.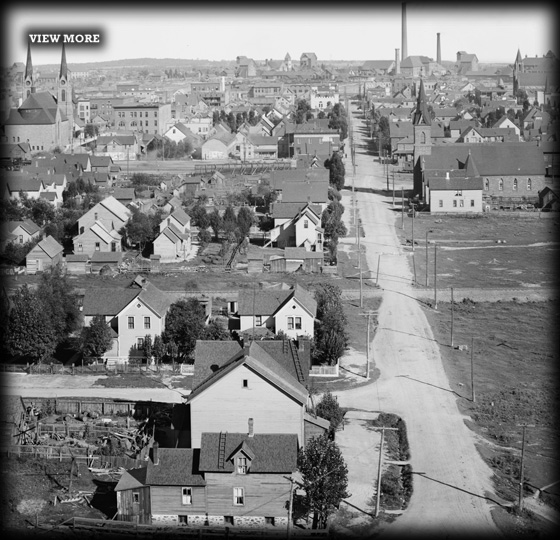 From the Oak Street intersection we turn south along Eleventh Street and make our way to the community's southern border of Portland Street. From our high perch atop the shaft house we turn slightly to the right once again to bring that area of Yellow Jacket into view. This side of the community is dominated predominately by the spire of St. Mary's – Yellow Jacket's only church – and the relatively unsettled western reaches of Portland Street.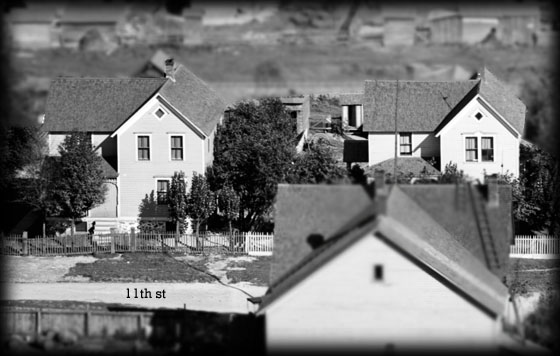 Of particular interest in this latest frame are these houses sitting along the end of Eleventh Street. We've seen these houses before, most recently along Oak Street. This particular house style seems to be the standard type C&H built all across Yellow Jacket. The home to the left was originally home to Jacob Kalcic, who was a trammer boss for C&H. He lived there with his wife, son, and daughter. To help cover rent the family also took in a boarder: a trammer by the name of Ivan Sterk. The house to the right was home to a miner by the name of Martinson, who lived there with his wife and a boarder by the name of Iver Kjolso who was also a miner.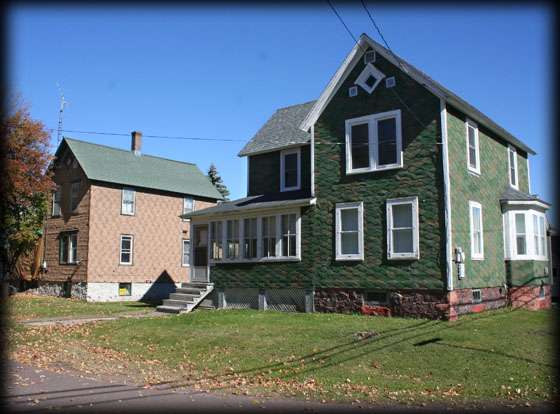 Here's those same homes as they look today. Besides the enclosed porch, they look very similar to what they once did. Of course there is the manner of that ugly siding, but I'm sure we can blame the 70's for that…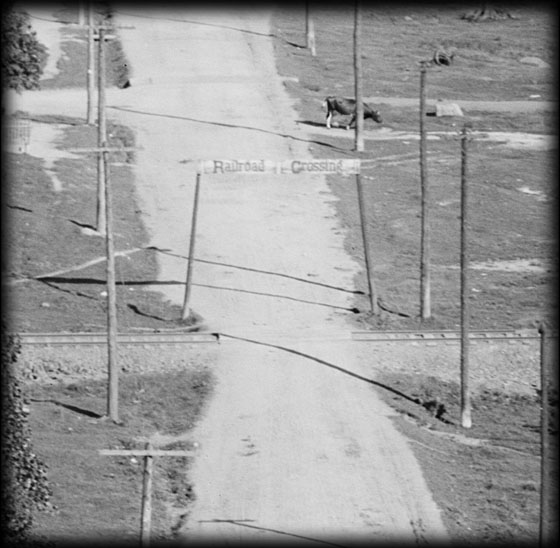 Just east of those two homes, Portland street crosses tracks belonging to the C&H Railroad. These tracks – nicely marked by the large overhead banner – served the Red Jacket shaft to the north side of town and cut a swath down the center of Yellow Jacket along the way. South of here the tracks would cross over Osceola Road on a trestle that still stands today, before heading on to join up with the rest of C&H's surface plant. (on a side note, you gotta love that cow just wandering around next to the tracks. Someone's having beef for dinner!)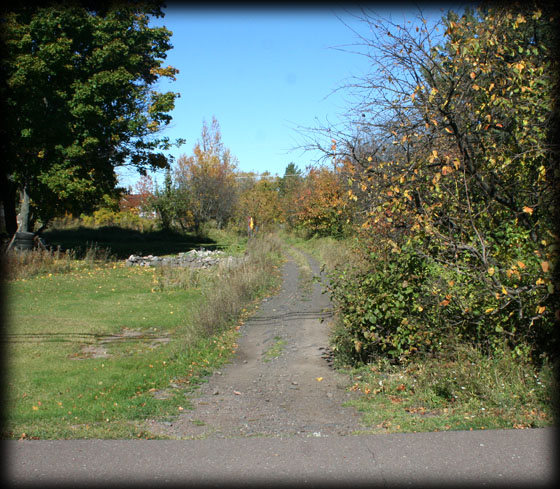 The tracks are long gone of course, but the old right-of-way continues to plow its way through the center of Yellow Jacket. Today it looks to be used as a general purpose trail and alleyway. This shot is looking north.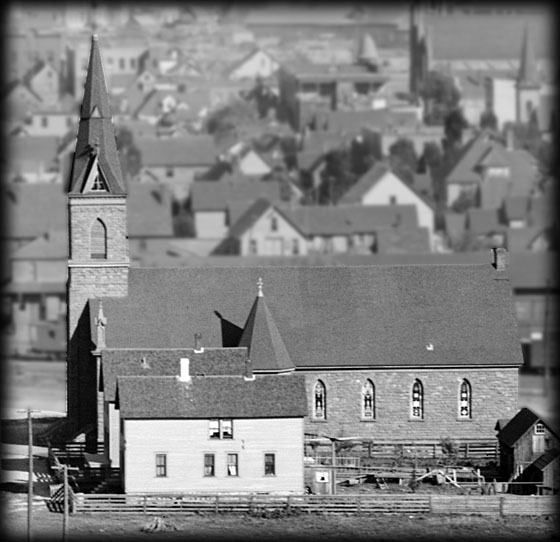 Further up the road and past the tracks we have this end of Yellow Jacket's most famous landmark – St. Mary's Church. The church was built in 1896 and served Red Jacket's Italian emigrants. (check out its CCE profile HERE) As was generally the case, this particular structure was built atop C&H owned lands donated by the company for the specific purpose of housing a church.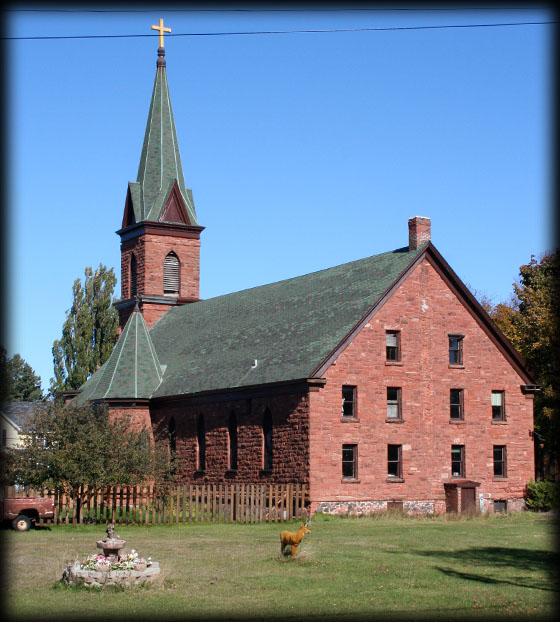 Here's that same church a century later, this shot taken from its less photographed rear side. Though its front facade and spire are beautiful gothic pieces, I find its rear side to be slightly more interesting thanks to the collection of double hung windows lining its south wall. It seems to be an odd choice on a church, and makes its back side look more like an apartment building or hotel.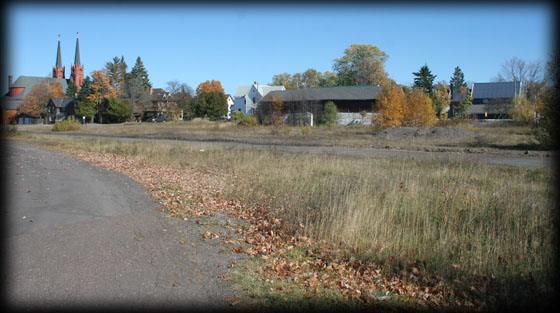 With the church behind us, we found ourselves crossing onto the lands once occupied by the Mineral Range rail yards. Here Yellow Jacket ends and Red Jacket officially begins. And while it may mean the Yellow Jacket portion of our tour is over, there's still quite a bit of those high-res panoramics to explore. Stay tuned!
To Be Continued….