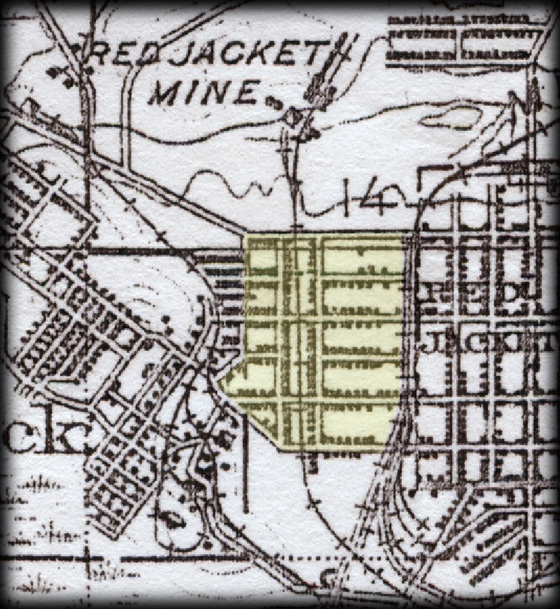 Upon crossing First Street in Tamarack Location we had officially left lands owned by the Tamarack Mine and had crossed onto property owned by its rival – C&H. This was as far west as C&H had though it needed to go when it first opened its mine, a lack of vision that enabled the Tamarack to rob the C&H of its conglomerate. But since C&H had also acquired the surface rights along the entire length of the lode's outcropping, it had no need to mine the lode at depth and instead turned its western land holdings into building sites for more worker's housing. Sandwiched between the Tamarack Mine to the west and Red Jacket itself on the east, this small corridor of land would become known as Yellow Jacket.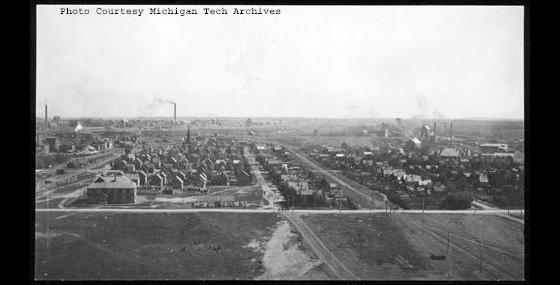 Yellow Jacket was a community surrounded and penetrated by industry. To the south-west sprawled the surface plant of the Tamarack Mine while the Mineral Range yards and rail corridor formed the community's eastern border. Most intrusive was a spur of the C&H Railroad, which carved its way through the center of town on its way north to the Red Jacket Shaft – which loomed menacingly to the north. It was probably a pretty dirty and noisy place to live when the mines were at their prime.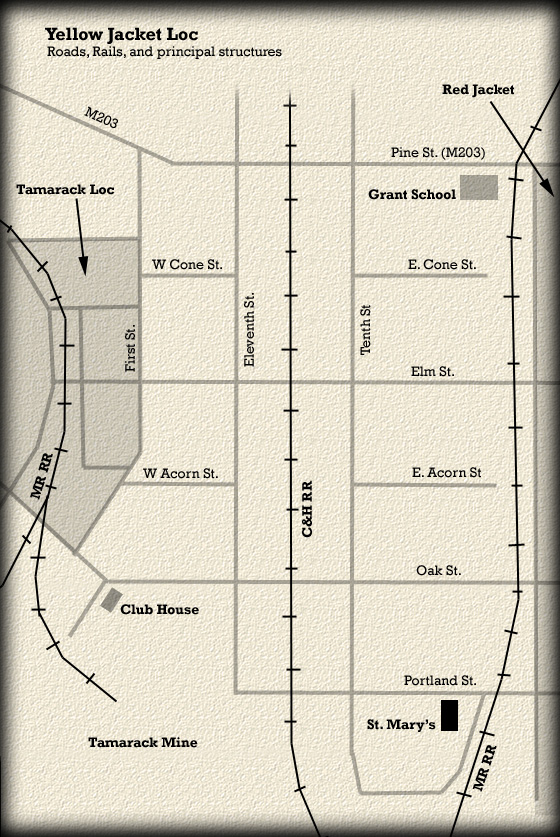 Yellow Jacket is essentially cut into two symmetric halves thanks to the C&H's rail corridor. Bordering that corridor are the community's two main north-south corridors: Tenth and Eleventh Streets. Crossing those rails are Red Jacket's main cross streets: Portland, Oak, Elm, and Pine. Two additional cross streets – Acorn and Cone – are cut in half by the rail corridor and are labeled West and East depending on what side of the rails they reside. Like Tamarack Location, Yellow Jacket has no commercial center to speak of. The only major structures are a elementary school on its north-east corner, a catholic church, and that Tamarack Mine's club house (which most likely still resides on Tamarack property).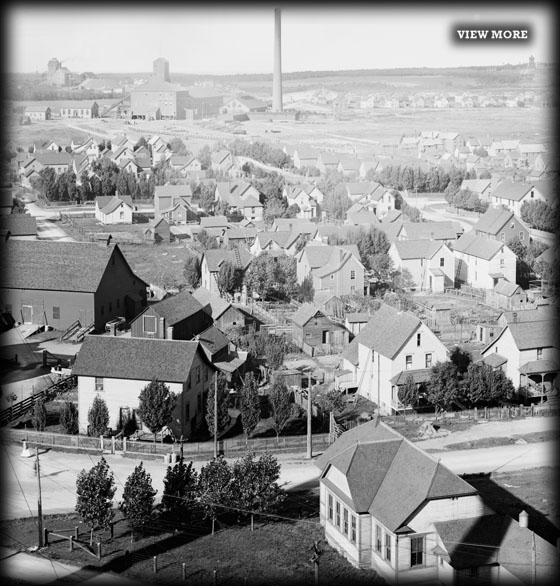 Turning back to our high-res images, we rotate a few more degrees to the east to get our first look at Yellow Jacket as it appeared a century ago. Some of that engulfing industry can be viewed in this frame especially the towering bulk of C&H's Red Jacket shaft in the background. But we start our tour down at the bottom of the pic – along Oak Street.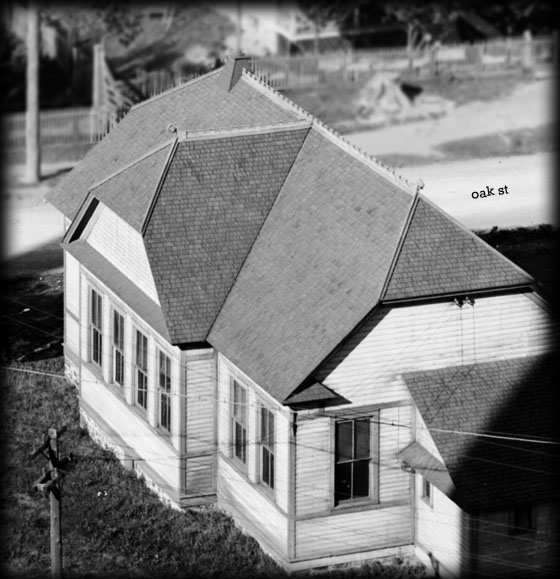 The most notable building found along Oak Street is this stately building sitting just east of the mine's entrance along Oak Street. The building was originally built as a club house for the mine's management, but would later become Tamarack's dedicated kindergarten school when the main school up the hill became overcrowded. It was heated from steam supplied by the adjacent Tamarack boiler house.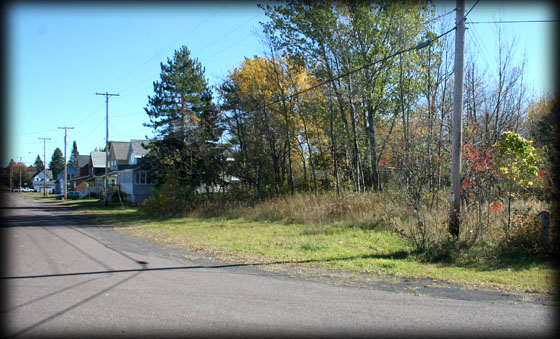 Unfortunately this stately building didn't survive the century, and is no where to be seen today. It's now just an empty field.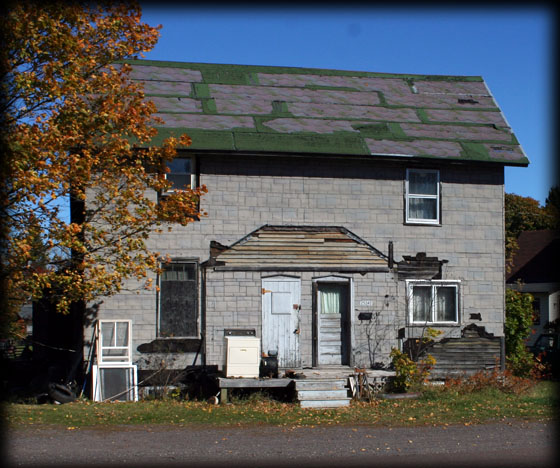 Across the street, however, there does remain a piece of the past. Though it looks a little worn from wear, this large duplex was once a rather trim and neat company home…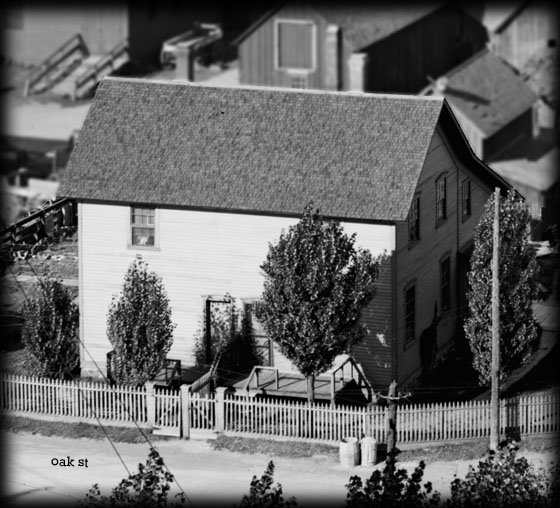 Back in its youth the old duplex sure had a much more neat and tidy facade. It also had a nice fence and a few trees in the front yard. Interestingly this house seems to have a few more ornate details (look above the windows on the house's right side) then you would expect for simple worker housing. Considering its placement right next door to the Tamarack Co-Op, I wonder if this house was occupied by some of the store's workers. The placement of that barn like structure in the background might even mean this home housed teamsters for the store's delivery surface. Unfortunately I can't find an address in my sanborns, so I can't look up in the Polk Directory to see who lived there. Whoever it was, it sure looks as if they were probably middle class.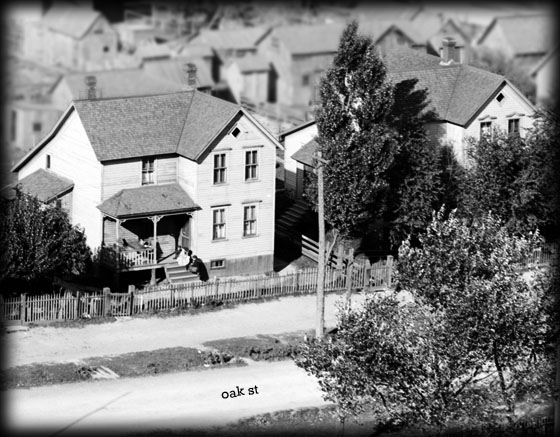 Continuing down Oak Street further into Yellow Jacket we find quite a few of the homes along this street look to be for a slightly higher class of worker. Not only were these homes rather large they also featured nicely adorned porches and ornate window pediments.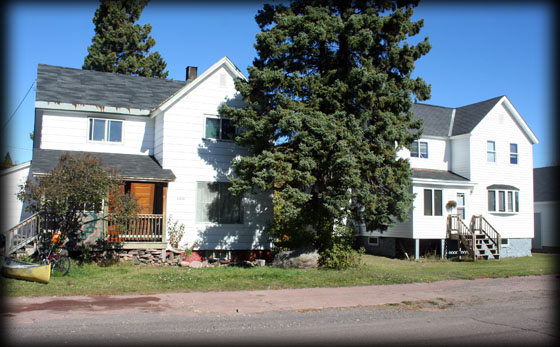 Here's those same houses as they look today. They've endured a good deal of modern make-overs, including new siding, enclosed porches, and replacement windows. In fact they look nothing like those more classy homes of days gone by.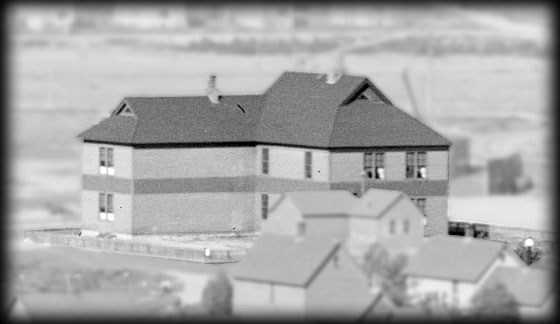 Before moving on to the next frame in our high-res panoramic, we'll first take a look at one last interesting detail on this one. This is the Grant School, built by C&H to serve the residents of Yellow Jacket. It's a very classic and common style for such structures. In fact, almost all of Calumet's schools look almost identical to this one, with the only differences being size and shape. What you see here is actually the combination of the original structure (first only known as the Yellow Jacket School) and an additional wing (the left wing in the photo) added several years later. The school would be later expanded once again as Yellow Jacket grew. Though heated by steam heat (supplied by its own boiler), the school was not electrified at the time this picture was taken. In 1917 the school was staffed by eight teachers, and its principal was a Mrs. Farnham from Laurium.
To Be Continued…