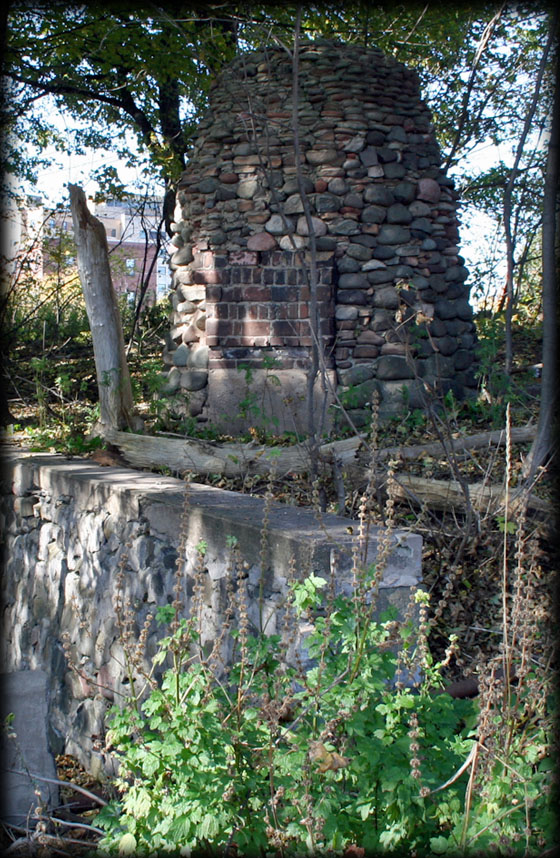 While taking a stroll along Hancock's Lake Street a month back I found myself confronted by a rather intriguing ruin hiding out beside the road in the trees. It sat up behind a rock and concrete capped retaining wall running alongside a neighboring houses yard. At first I thought I was looking at the back of an old outdoor grill, but its position up behind the wall and far from any house made me think otherwise. Besides, if it was a grill it was facing away from the neighboring yard and instead looked out over an adjacent empty field. I had to go up and around to take a look at its front end, to see what exactly I was looking at.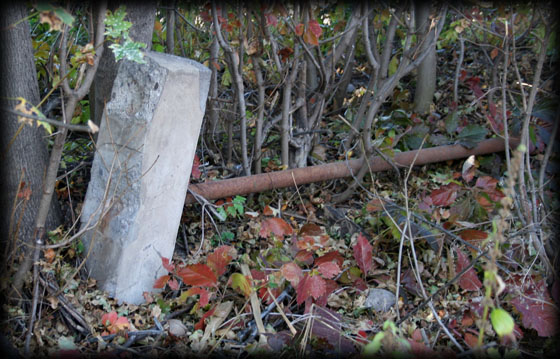 On the way I noticed a few more interesting items. Running alongside the road were a series of concrete pillars connected by long pieces of iron pipe – in what looked to be some type of crude fence. The fence joined up with that retaining wall seen earlier and were no doubt two parts of the same system. The area behind the fence and surrounding that rock monument was heavily overgrown and looked to have been abandoned for some time. Up ahead I could make out the remains of an old driveway heading up into the property and decided to use it to get myself closer to the mystery ruin.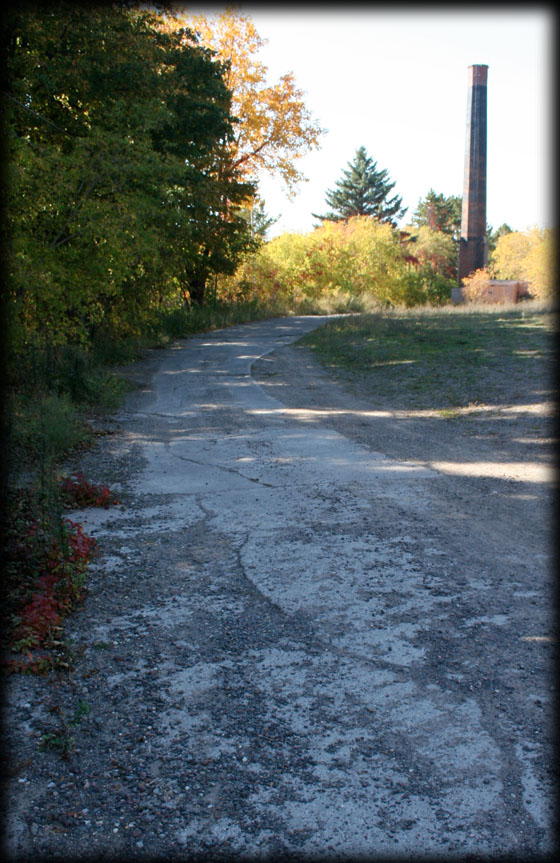 The old driveway circled its way around an empty field, ending down at a tall smokestack standing alone along the tree line. It was obvious that there was once some type of massive building here, and that stack was once part of its boiler plant. Whatever that mystery ruin was, I was sure that it belonged to whatever structure once stood here. I moved further down the driveway to get a better look at that rock monument's front face. Almost instantly I knew what I was looking at, and also knew what building had once stood here. It was St. Joseph's Hospital.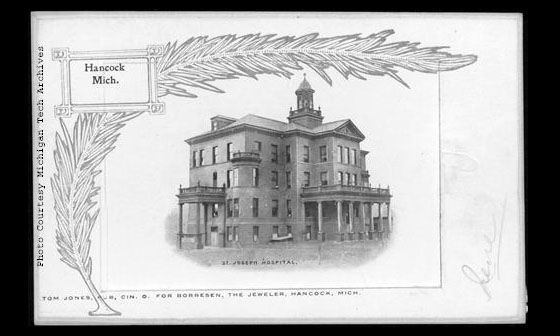 St. Joseph's hospital began its life in the tight confines of a private residence in Hancock. By 1903 the small religious hospital outgrew its early facilities and a brand new state of the art facility was constructed along Water Street in 1903. The four story building featured a brick and sandstone facade and was topped by a raised cupola that soared some 70 feet over the surrounding cityscape. In 1931 the hospital was expanded yet again, this time with the addition of a large chapel on the building's east wing and construction of a three story nurse's residence next door. Both the original hospital and nurse's residence were heated by a large boiler plant sitting between the two structures.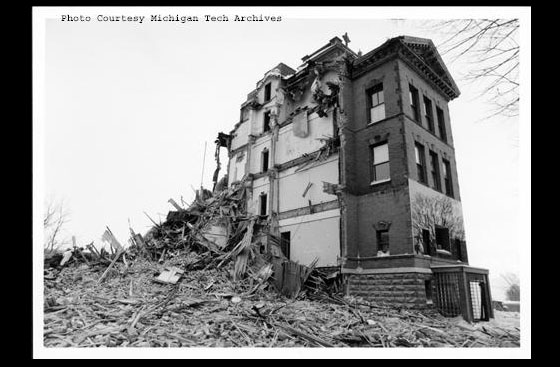 By 1950 the old hospital was showing its age, and yet another brand new state of the art facility was constructed to replace it, just down the street at the corner of Water St. and Michigan Ave. The old building was converted into a nursing school and renamed Ryan Hall. But by the 70′s the old building had outlived its usefulness and was finally torn down – leaving nothing but an empty field and the remains of its old boiler plant (which was still being used to heat the neighboring nurse's residence).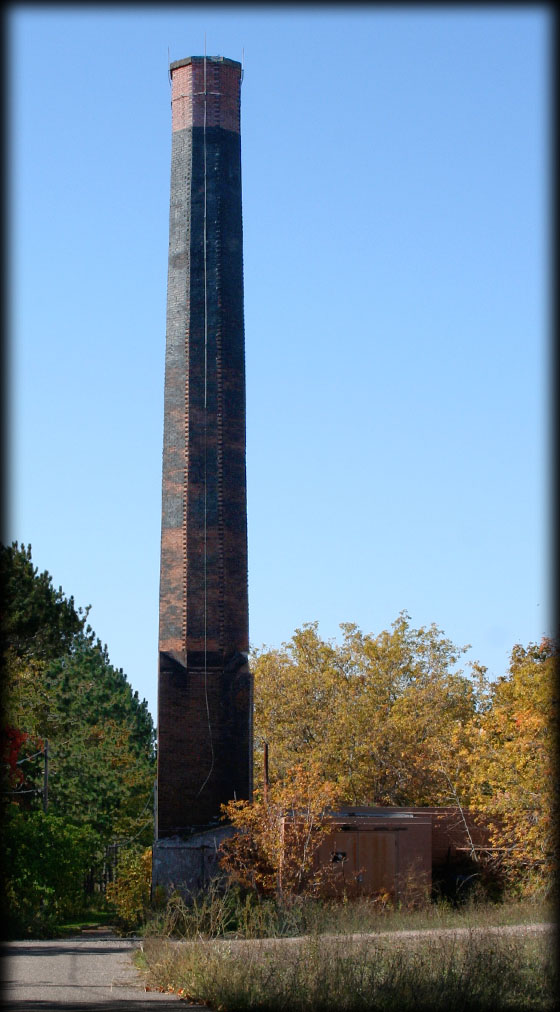 It was that old boiler plant that I was looking at down along Water Street, still standing proud in a deserted field. It's no longer being used, but apparantly no one has gotten around to tearing it down yet. The old boiler house itself, however, has been torn down. Most likely it was replaced by a smaller and more efficient modern boiler which required a smaller structure to house it- seen to the right of the stack in this photo.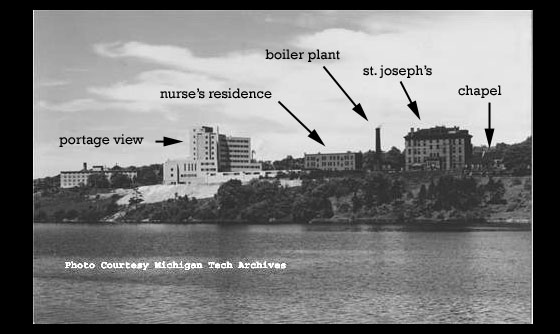 After the new hospital was built in the 1950′s the old hospital that once was housed only in a small house had grown into a massive complex of buildings that created an iconic silhouette along the Portage Canal. In this shot taken before the original St. Joseph's was torn down you can see all three of the medical facilities main buildings. To the far right is the old St. Josephs – known here as Ryan Hall. To its right can be glimpsed that old hospitals massive chapel addition. To the building's left can be seen the stack of its boiler plant, which looks to be still operating at this time. Next in line is the nurse's residence, followed by the massive bulk of the newly built St. Joseph's hospital.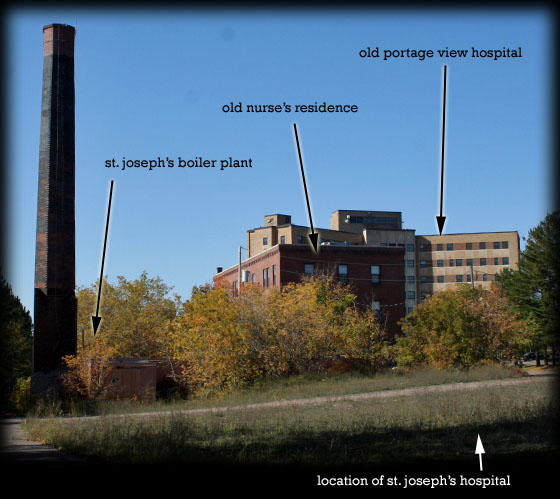 Today the old St. Joseph's may be gone, but the rest of the complex still remains. Besides the old boiler plant, you can also make out the old nurse's residence on the right and behind it the new St. Joseph's hospital – known more recently as the Portage View Hospital.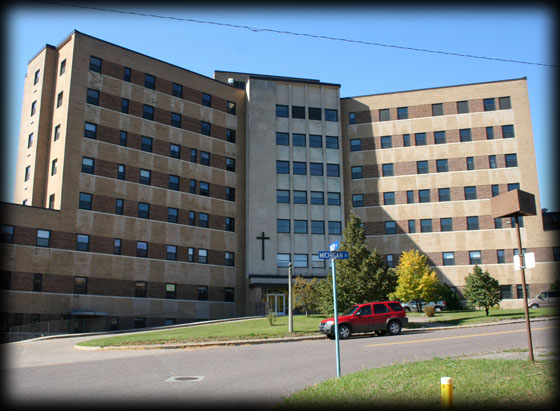 Here's the new St. Joseph's as it looks today. This hospital would serve the community for another fifty years, during which time it would be transferred from private to public hands and become Portage View Hospital. In 2000 this building would become replaced as well, by a new facility built up the hill near the old Quincy Mine. Today the old building was converted into office space and is currently being used by Finlandia University and several smartzone businesses. The old cross on its front facade is the only remaining clue of its religious origins.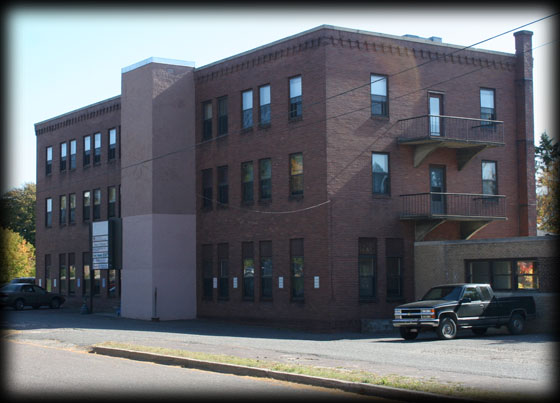 The old nurses residence continues to be used for medical purposes still today, as home to several doctor's offices and other services. The brick tunnel on the right is a covered passageway that connects the building to the neighboring Portage View hospital. I would assume the ugly box attached the building's front facade is a modern elevator enhancement (for all the good it does, ADA requirements have definitely managed to destroy the charm of a lot of old buildings)
As far as the original St. Joseph's itself, its now just an empty field surrounded by an old driveway. The wreckers had managed to remove almost all traces of the old religious institution – except one that is. A small rock lined ruin that survived the rush of progress thanks to its minuscule stature and location far outside the old building's footprint. But it happens to be an important reminder to what once stood here and the work that was done in the service of mankind, if you are observant enough to notice it hidden within the trees…