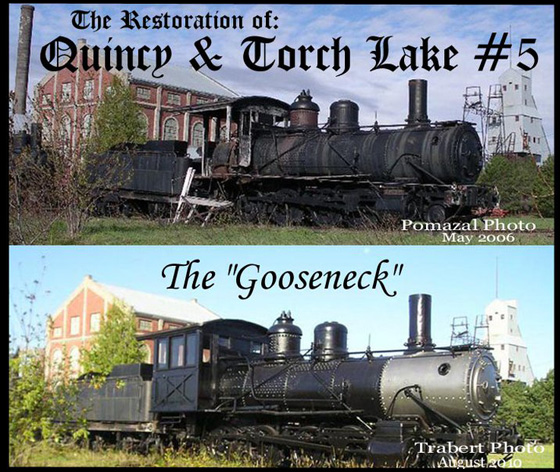 Two weeks ago my Quincy Roundhouse update post garnered quite a bit of interest, especially in the old No.6 locomotive parked out front. There was some discussion as to the feasibility of its restoration, which according to local railroad guru (that's my words not his) Chuck Pomazal won't really be that bad – relatively speaking. As proof he sent me this beautiful before/after pic of another Quincy locomotive that had some series issues of its own. This would be the No.5, which by the looks of things Mr. Pomazal did a heck of a job on. Looks brand new. Here's to the No.6 sharing a similar fate, giving a few more years.
BTW, the Quincy Locomotive house has now got itself a brand spanking new roof complete with vent hoods! It's also starting to look like it did back in its youth. When they workers clear out I'll have to get down there and get some pics..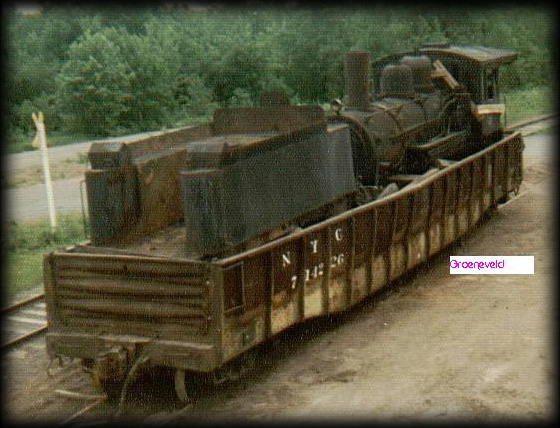 I've posted this gem from Bruce Groeneveld before, but since its related to the topic at hand I thought I'd give it a second run today. (you can re-live its first appearance HERE) This is the infamous No.6 locomotive that sits outside the Quincy Roundhouse today, but taken back when it was being removed from the area for greener pastures down south. Turns out those greener pastures were in fact not so green, as the loco never received the grand second life it was promised. Here's hoping its treated better back home.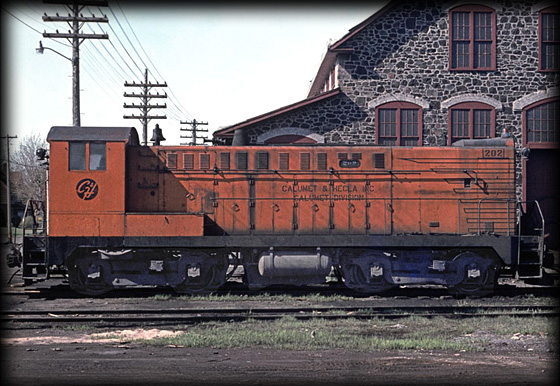 While we're on the subject I thought I'd throw in one more loco pic I have in my library. This one's a bit more modern, showcasing C&H's Baldwin Diesel No.202 sitting outside the Machine Shop. The photo was sent to me by another railroad guru – Timothy Lab. Here's what Tim had to say about the above pic:
"This is Calumet and Hecla's Baldwin Diesel #202. You should recognize that it is sitting in front of the C&H Machine Shop on Mine Street.
This was the normal "waiting" location for the diesel power. They did store the diesels inside the stone roundhouse across Mine Street and during the 1960's at least, they were also sending rock cars inside the roundhouse to be repaired. The rock cars were placed on the turntable and then rolled into a stall. During the 1960's the C&H used two Baldwin diesels and the Copper Range used three Baldwin diesels. In neighboring Marquette, the Duluth South Shore and Atlantic, also was using Baldwin diesels. Down in the Escanaba -Iron Mountain – Crystal Falls area, the Chicago and North Western and the Milwaukee Road, also used Baldwin diesels. That must have meant there was a very good Baldwin salesman in the area!!!"
My thanks to Chuck, Bruce, and Tim for sending me such great pics, and let's hope there's more great stuff coming! (hint, hint, guys!)