Hancock was first platted by the Quincy Mining Company in 1859, just a few years after the village of Houghton was incorporated across the lake. While Houghton was conceived independent of a mine company's control, it would take the young community of Hancock over 15 years to shake off the yolk of its corporate masters and become an incorporated village. By 1888 the village had managed to outgrow its older brother to the south and boasted a population of over 6000 (vs Houghton's measly 3500). No longer was Hancock that naive community of its youth, suckling on Quincy's corporate teat for substance; the village had matured into a full fledged municipality. It was only fitting that it would build itself a full fledged village hall to celebrate.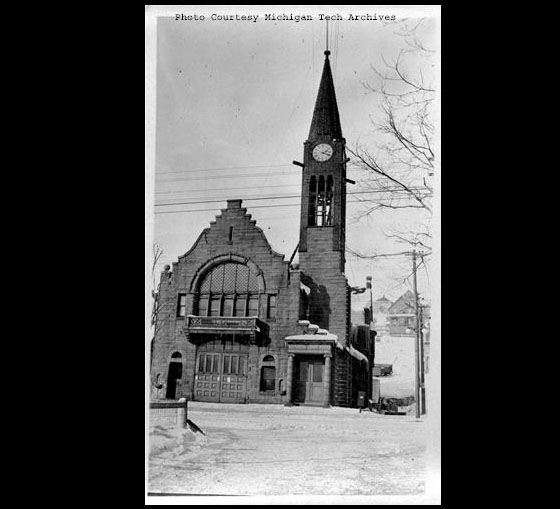 Hancock's village hall was built in the waning years of the 19th century – around 1898. As was common for the period, the hall was built as a dual purpose structure. Not only did it house Hancock's government offices but it was also home to the village's fire department. The first floor housed the village's collection of fire fighting equipment ( which in 1900 consisted of steam powered fire engine, one hook and ladder truck, one hose wagon and one hand hose cart) while the second floor was home to the village offices and council chamber. The building was built using locally quarried sandstone along with a wood framed clock tower on its south-east corner.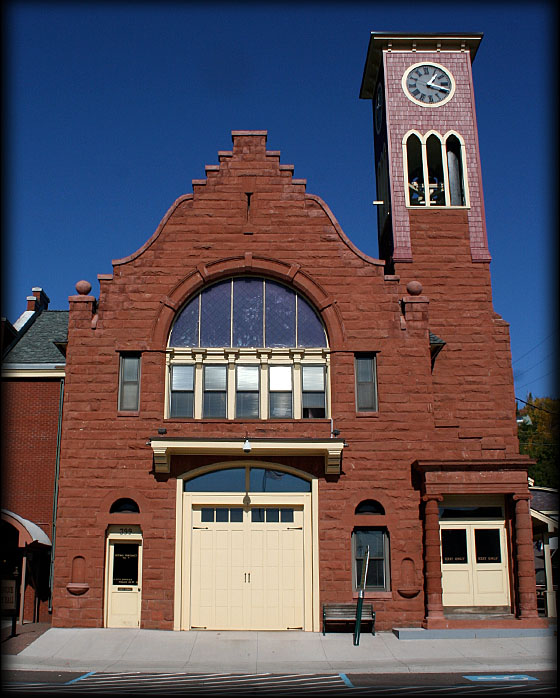 Today the building continues to serve Hancock's government, though it no longer serves as a fire station. Instead its first floor is occupied by the city's police department. The upper floor – including the council chamber – are still used for their original purposes. Considering its age the building is in great shape, though it has lost the spire from atop its clock tower at some point. Though you can't see it here, the building has also been expanded somewhat considerably in the last hundred years with a new wing erected on its west end.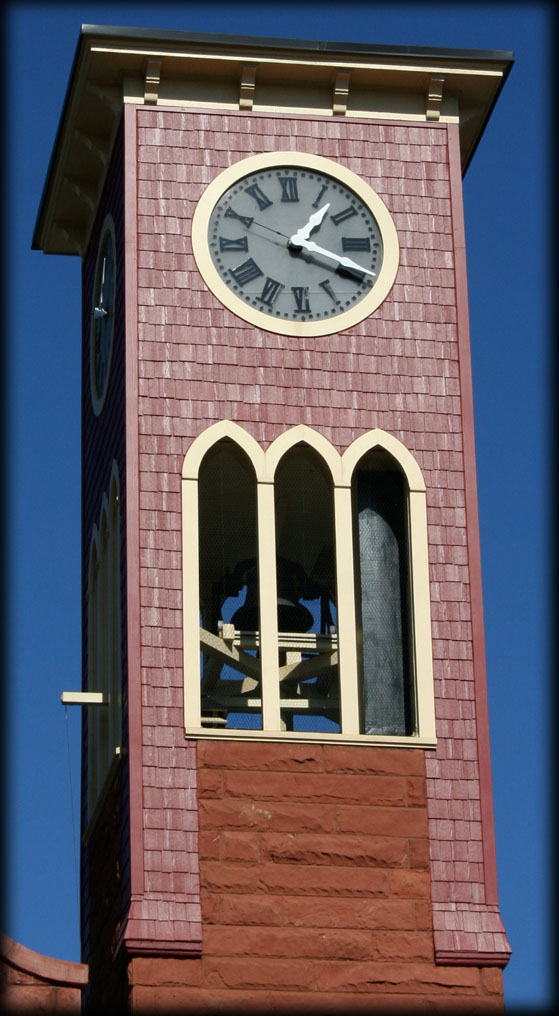 The building's most notable feature is its 80 foot tall clock tower. Interestingly the tower itself is wood with only its bottom half made from stone. The tower was originally used to dry hoses, but now simple acts as a clock. Another odd detail is the fact that the clock has only three faces – its north face is simply a blank opening. I guess no one up the hill needed to know what time it was.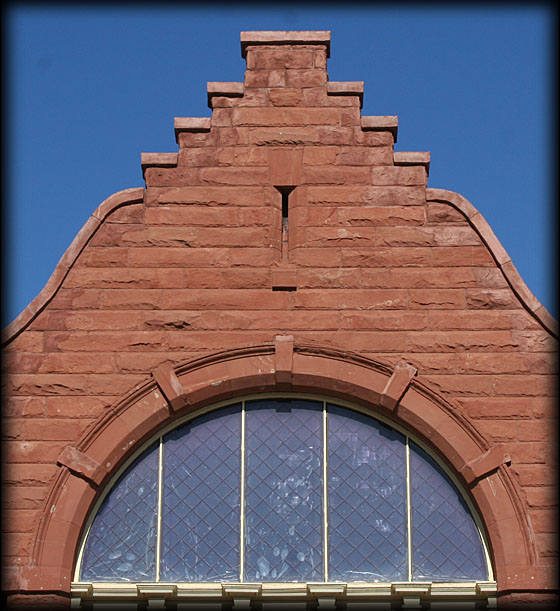 To me some of the most notable features of Hancock's city hall are its large round-arched window on the second floor and stepped gabled roof peak. The small slit cut into the facade reminds me of those arrow slits cut into castles. I have no idea what its purpose was here, if it wasn't purely decorative. (perhaps an attic vent?)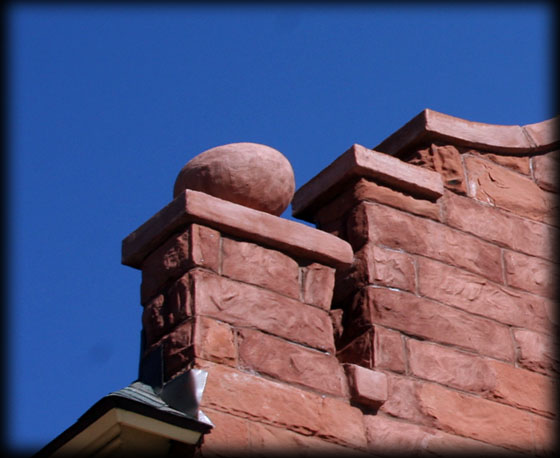 Here's a close look at some of those gabled roof details, including the small sandstone knobs sitting up on the corners.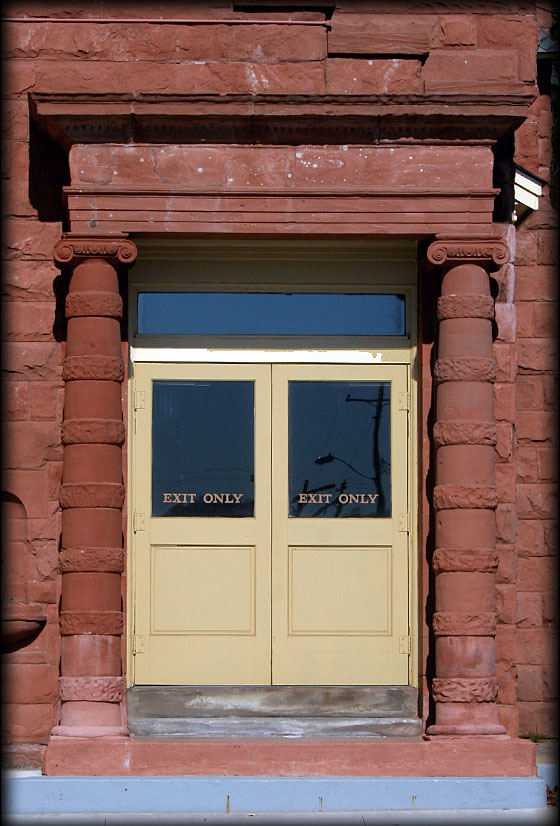 Downstairs the building's main entrance is flanked by a pair of columns and topped with a narrow portico.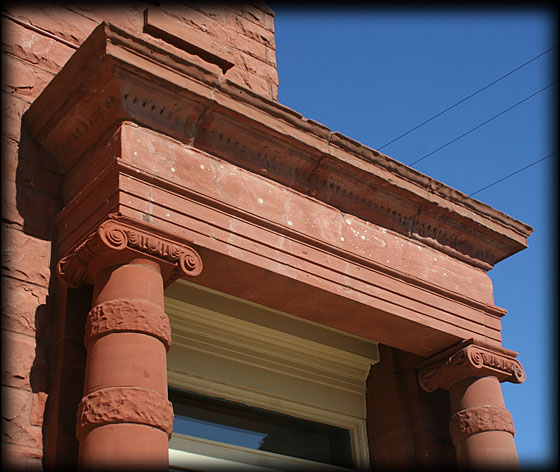 That narrow portico is topped by a somewhat oversized cornice and the columns are accented with scrolled capitals (these would be considered ionic columns I believe). I love the alternating smooth and rough faced rings along the columns. The size of that frieze makes me think there should have been something written there, but it looks to have always been blank since its construction.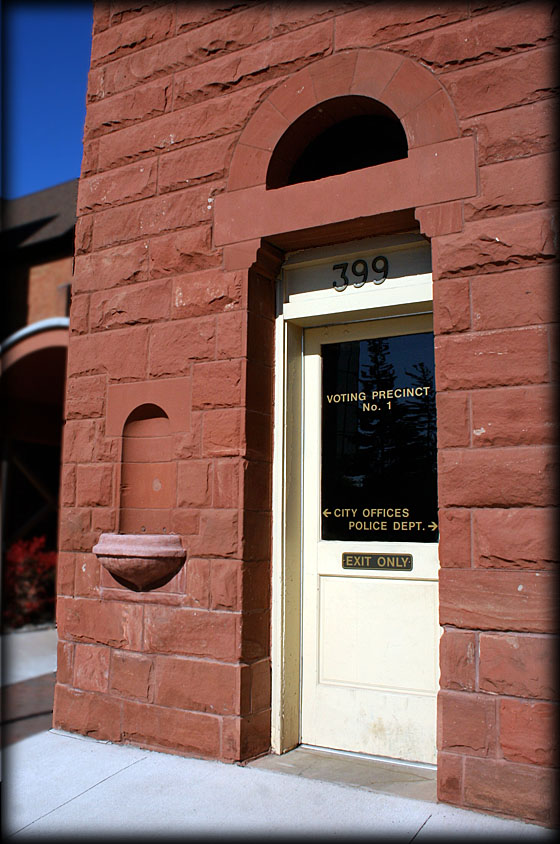 On the other side of the old fire station door is another doorway, this one featuring an interesting arched transom opening (but not a window?). But the most interesting thing of all here is the odd bowl shaped item just to its left. At first I didn't notice them (there's actually two, one more next to the main doors) but once I did I thought they might have been drinking fountains of all things. But fountains built into the facade of the building itself?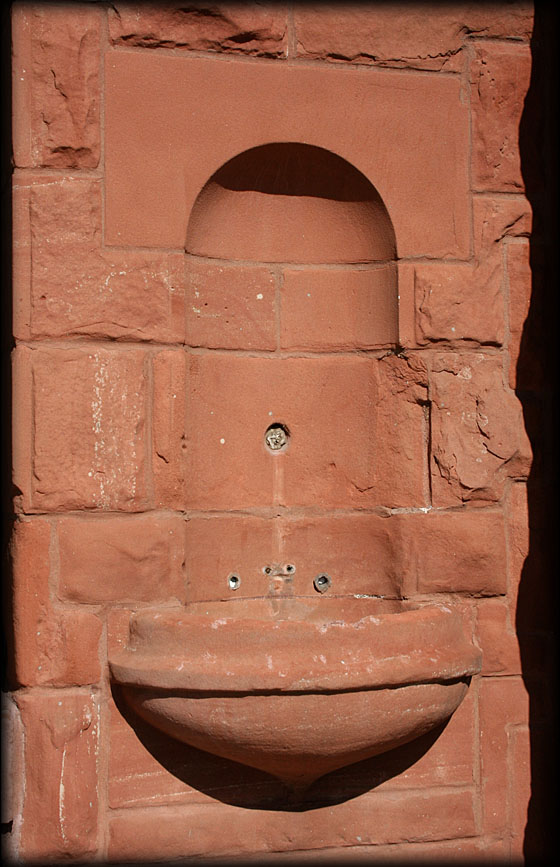 A closer look reveals a few more details that seem to support my original theory. Those metal fittings set into the back of the thing sure look like they could have been hooked up to some pipes and valves. But if they were drinking fountains that would sure be an odd thing to slap on the front of the building. Was running water such a new thing that they wanted to show it off? Or was it one of those "power of your government" types of displays for the common man? Weird for sure, but I think I like them. If only they built in exterior water fountains on more buildings we all wouldn't be so thirsty so much of the time….