A Few More of Allouez No.3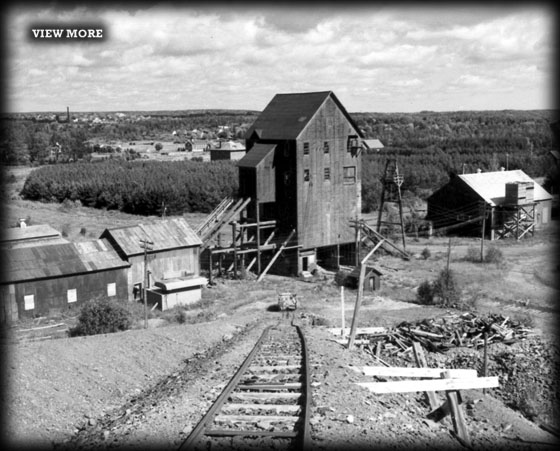 Paul Meier brings us more old-school views of Copper Country mines, this time with a look at the Allouez-Douglass Shaft (Allouez No.3) sitting outside of New Allouez. We've seen this particular angle before, as Bruce Groeneveld took a shot from the same vantage point (see his shot HERE. Obviously a popular spot to take photos back in the day. Besides showing the complete No. 3 surface plant, this picture is also very interesting to me for what you can see in the background.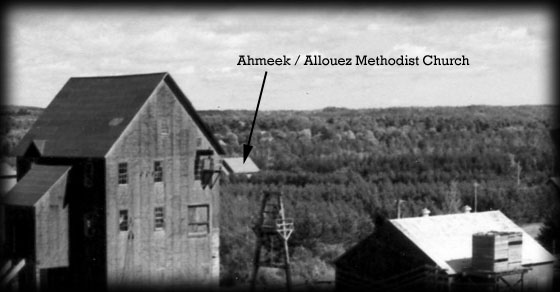 Peeking out from behind the rock-house can be seen the roof of the Allouez/Ahmeek Methodist Church. The church continues to stand today along the highway, but I think its just used for storage and its grounds as a summer camping ground for some snowbirds.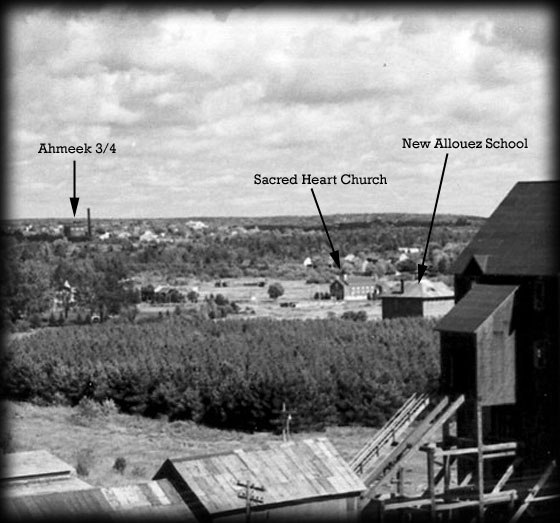 Over to the left of the rock-house we have a few more interesting structures visible in the background. First up is the New Allouez School, which is the large two story structure sitting just to the left of the rock-house. Last time we were here the school was gone and only its front stoop remained. Today even the stoop is gone, as someone has built a new house atop the old school's foundation.
Next in line we have the Sacred Heart Church of Ahmeek, known today as the Our Lady Of Peace Church. To the left of that we have the skyline of Mohawk along with what I believe to be the Ahmeek No.3/4 surface plant. At first I thought the structure next to the stack was the hoist house, but after I could't find the rock-house nearby I know think that structure is actually the rock-house, seen from the front. I could be wrong, but I don't know what else that smokestack would belong to over there but the Ahmeek No.3/4 (unless it belongs to the Seneca, but it doesn't seem like the right location for that).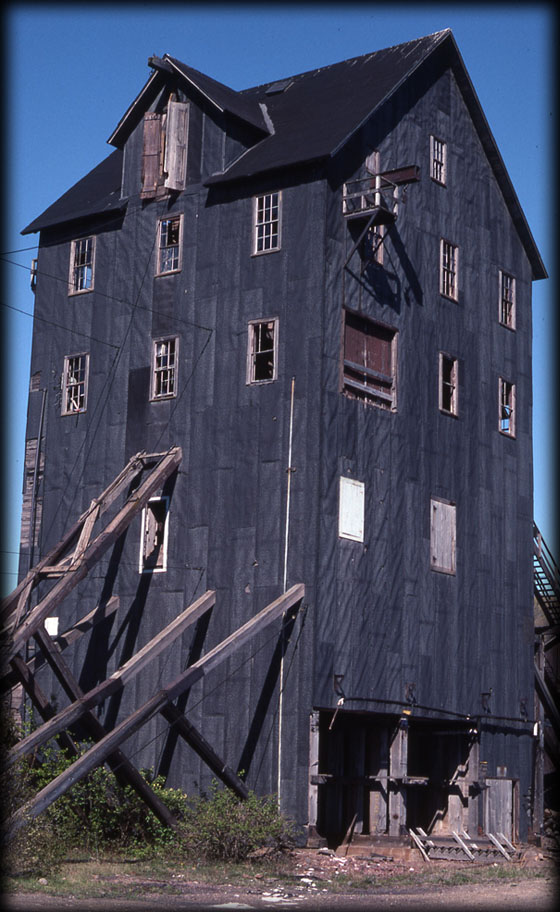 Before leaving I'll leave you with another shot of the Allouez No.3 thanks to Paul, this time in color. This view is the reverse of what we saw up top, looking up at the Allouez's rock-house from the ground level. Though built in the same cheap manner as the Iroquois, this guy looks to be in a tad bit better shape. Or perhaps its just the addition of color that's making the difference….