C&H News and Views – now online!
The great C&H is often remembered in the abstract, as only a ghostly figment from time's endless memory. To those that study the great copper empire that once existed here the Calumet and Hecla company is more legend then corporation. But as its inevitable shut down and disbandment showed, the great company was not immortal and was just another ming company in a long list of company's that once graced the Keweenaw's shores. It was just a lot better at it then most.
But in the end C&H was just like a company you or I work for today, and as such had many of the same corporate habits and rituals as we have come to know and love. One of those was the monthly company newsletter, a periodic publication that most companies put out in one form or another but very few of us actually take the time to read. Though rather self serving and augmented with an healthy does of corporate piety, these publications provide an fascinating snapshot into C&H's corporate culture and daily operations. It also provides an interesting look at the actual people who worked at the mine – a collection of individuals who were more elaborate then simple trammers or a miners.
Thanks to long time reader Gordy Schmitt – who happens to have a large collection of C&H's monthly newsletters for some reason – we can all take a glimpse back into C&H's corporate past and see what it was actually like to work for the legendary company. Gordy was gracious enough to scan more then a couple dozen of these newsletters and send them my way on DVD so that I could share them with all of you. Therefore starting today I'll post one of those newsletters on my scrapbook page for you to download and read, and will continue to do so for each week until I've got them all online. Be warned, however, these are PDF files and some of them are rather large – several megabytes or more. They will take a while to download with slow connections.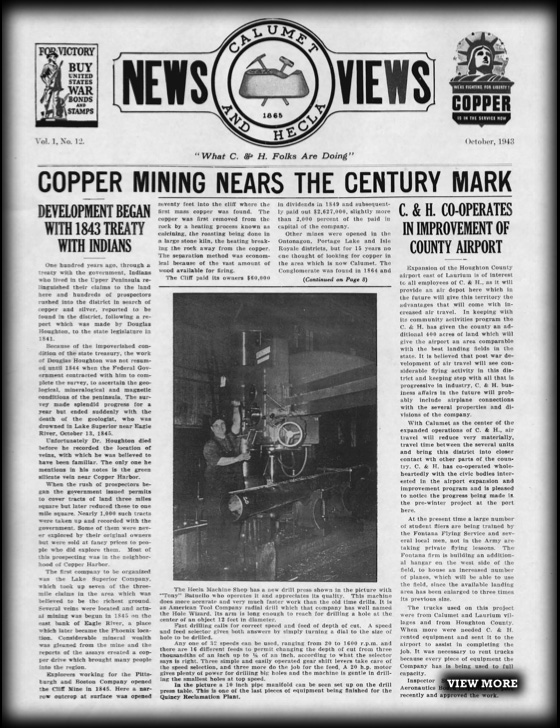 This week's issue comes to us from October of 1943 when World War II was still in full swing and copper demand was high. Download it HERE and give it a read.