In response to my call for my fellow explorers out there to contribute to the daily postings here on CCE, Paul Meier has stepped up to the plate dutifully to supply some really amazing pics of the copper empire while it was still in operation. This current batch was taken by his grandfather around the 1950's, and provide a very interesting snapshot of a mining region in the throes of a slow and creeping death. These photos also help to de-romanticize an era some tend to look back at fondly, an inclination I think we are all guilty of once and a while. But as beautiful as the Copper Country is today its easy to forget that this was once an industrial landscape, littered (both literally and figuratively) with all the baggage that comes with it. You'll see what I mean as we flip through a few of Paul's pics…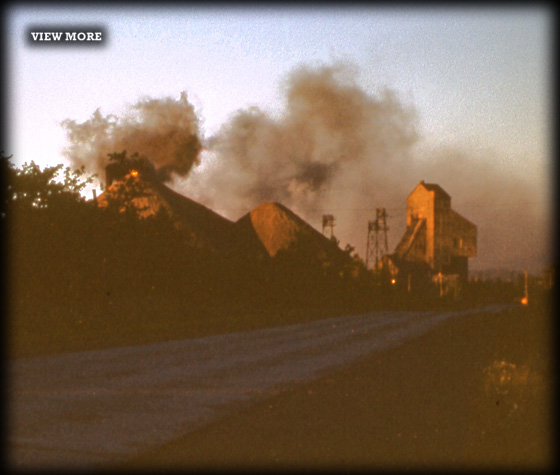 This one is of the Ahmeek 3/4, a shaft that could be considered the saving grace of C&H considering it did a majority of the company's copper production towards the empire's close. At first glance I thought there was a fire atop one of the rock piles, but most likely that black smoke is from the boiler house's stack which just happens to line up perfectly with the rock pile's top. Either way that's a lot of smoke, and I hate to be the people living down wind of it. (Mohawk I'm talking to you)
Accompanying this photo was this little tidbit from Paul: "In the '50's all you had to do was drive in, sign the guest book and walk around. The last time we toured it, was about 1963 we had to stop at the office in Calumet and sign waivers. Finally there were no tours officially allowed. Sometimes a sympathetic employee would allow me to weasel in a short look." Its an interesting look into a different time. Today no mine would think of allowing people to simply wander around their surface plant, imagine the lawsuits!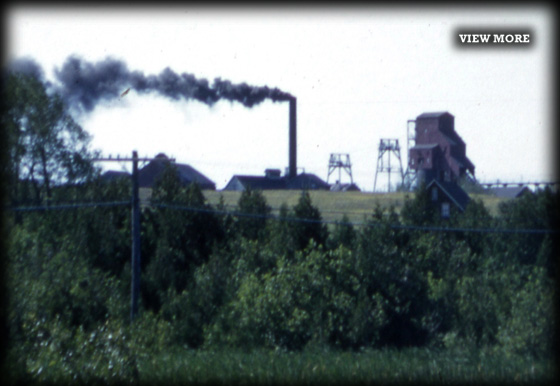 Now we move southward to the Centennial No.2. (check out our tour of the site as it looks today HERE) Today the poor rock pile is long gone and the hill was once used as a landfill, but there are a few ruins scattered about to remind you of its more industrious past. While the landscape in the pic is rather green and lush, the billowing clouds of black smoke easily detract from the serenity.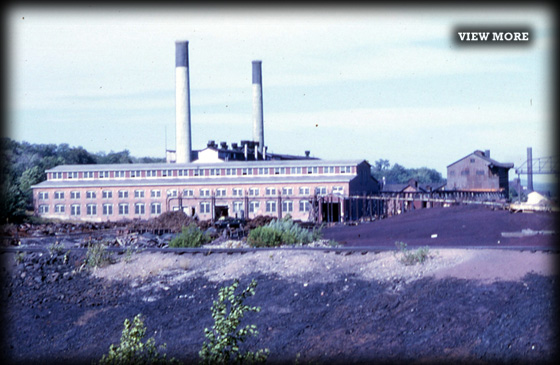 Moving still southward we find ourselves along the pristine shore of Torch Lake and the C&H Smelter. Due to the lack of smoke billowing out of the smelter's boiler stacks it would appear that the plant was not operating when the photo was taken. (those stacks were torn down in the late 1990's) The electrolytic plant seen in front of those stacks still stands today however, as the home of the copper recycler PCI. To the right (seen more clearly in the big picture) is C&H's massive coal dock. While there's no smoke in the photo, there remains other scars from the smelter's presence most dominant of all is the massive piles of slag on which Paul's grandfather is apparently taking the photo.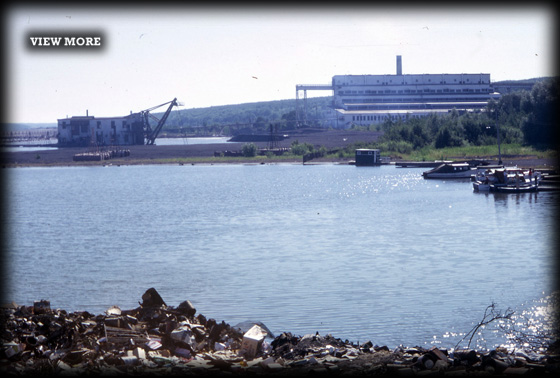 Here's my personal favorite of the group. I have a certain fascination with the Ahmeek Mill, partially due to living under the shadow of its ruined hulk while I was living down in Tamarack City. I love pics of it when it was in its full glory, as this one beautifully exemplifies. I also love to see the old dredgers while they were in use and not beach up against the shore. But I'm not such a fan of the destruction those same icons were wreaking on their environment. Most telling is the pile of trash that Paul's gramp seems to have been standing on to take this shot – a pile of trash sitting right alongside the lake. The juxtaposition of all that destruction with the small marina to the right (at the current location of the Hubbell Park I believe) speaks volumes about the effect this industrial landscape had on its surroundings.