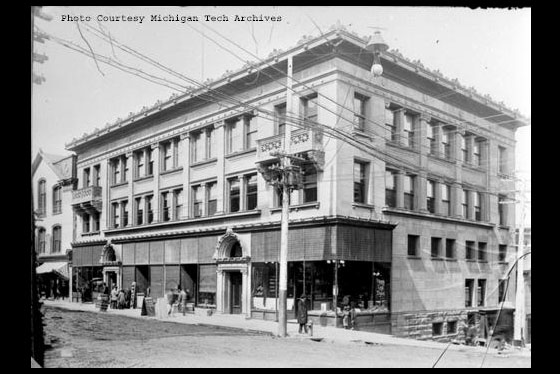 Thanks to the adjacent Douglass House, the corner of Shelden and Isle Royale became Houghton's de-facto commercial center. Here the city's most influential and important residents erected grand monuments to the Copper Country's commercial aspirations, and established the city's grand architectural jewels in the process. One of these impressive edifices is the massive Shelden-Dee Block, a three story sandstone beauty financed by members of Houghton's most prominent families. Mary E. Shelden (the Shelden side) was widow to the late George Shelden, son of Houghton's founding father Ransom Shelden. James Dee (the Dee side) was a famous real estate developer and founder of the Houghton Electric Light Company. Together these two influential Houghton-ites financed one of the grandest commercial block in all of Houghton, a structure that still stands today.
The Shelden-Dee Block of today is virtually unchanged from its original incarnation, even down to its Luxfer prism glass along the storefront transom windows. The building is fiercely symmetric, and in actuality consists of two identical structures attached edge to edge and built as mirror images to each other. The Shelden portion of the building is to the right, with the Dee portion sitting to the left.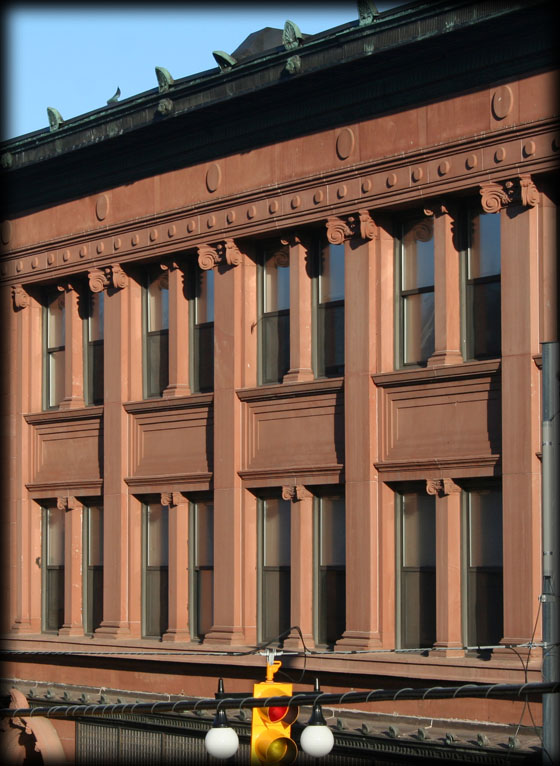 The building's clean and symmetric approach is probably most easily recognizable along its upper facade, which features several window bays outlined by pilasters of alternate size and topped by scrolled capitals.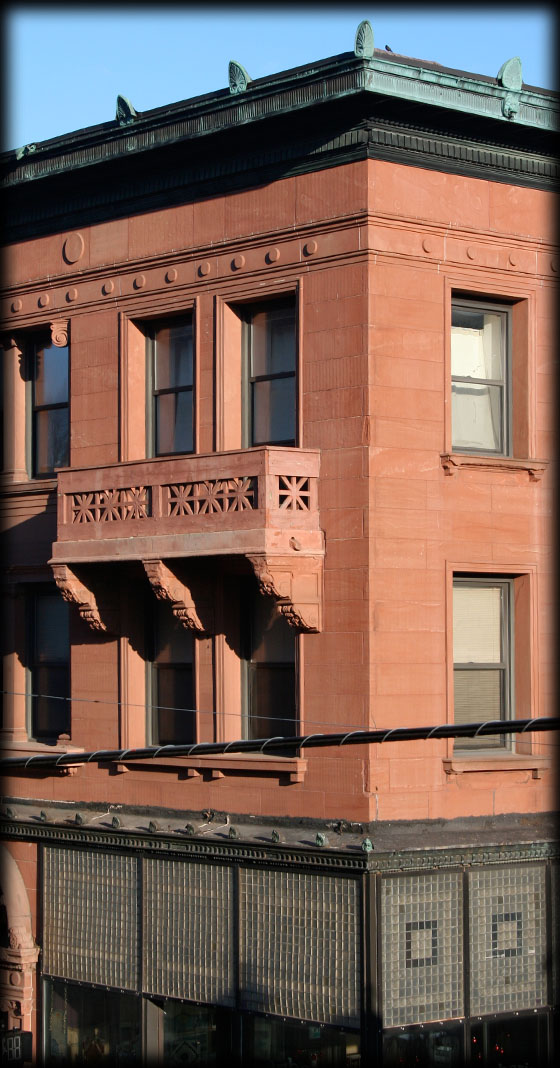 The upper facade also features a pair of these interesting details. Though they may appear to be small balconies, I doubt they're actually functional. I would guess that these are purely decorative (considering that they are still intact to this day seems to back up that theory, since most other functional balconies along Houghton's buildings were torn down long ago for safety concerns). I originally had thought these were completely made of sandstone, but a closer look betrays the fact that the balustrades are actually made of wood and only the hanging brackets underneath are of sandstone design.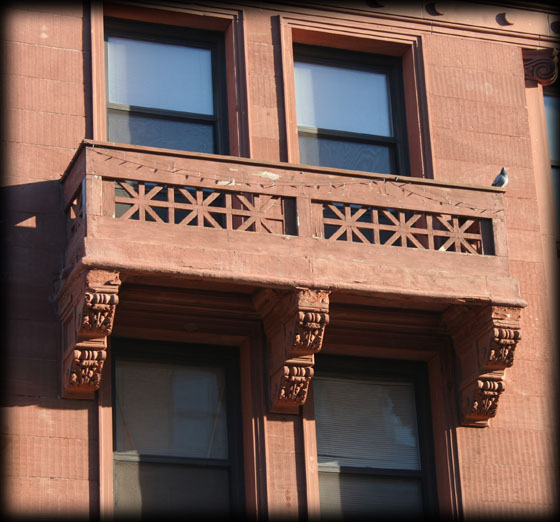 Here's a closer look at one of those balconies. From here you can more easily make out those portions made from wood and those made of actual sandstone.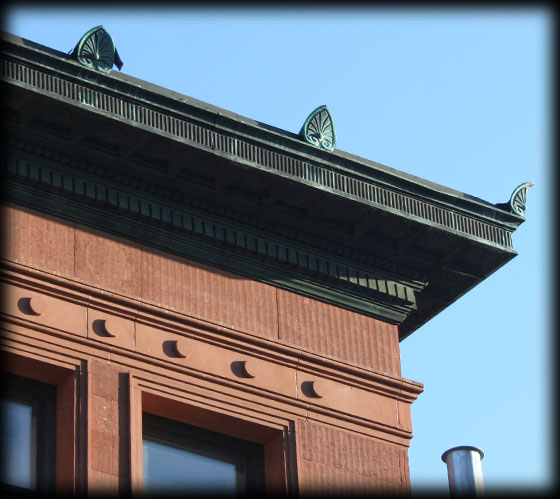 Up along the building's crown is an overhanging eave built of copper and embellished with a line of protruding decorative leaves, which also appear to be made from copper.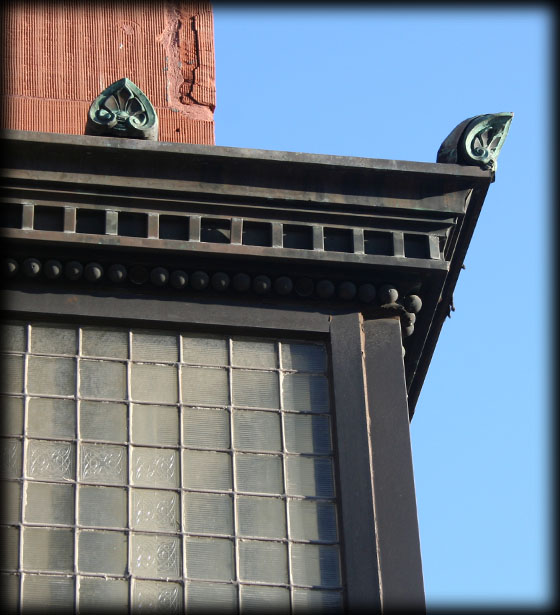 Down atop the storefront's glass transoms runs a similar detail, complete with those same leaf embellishments.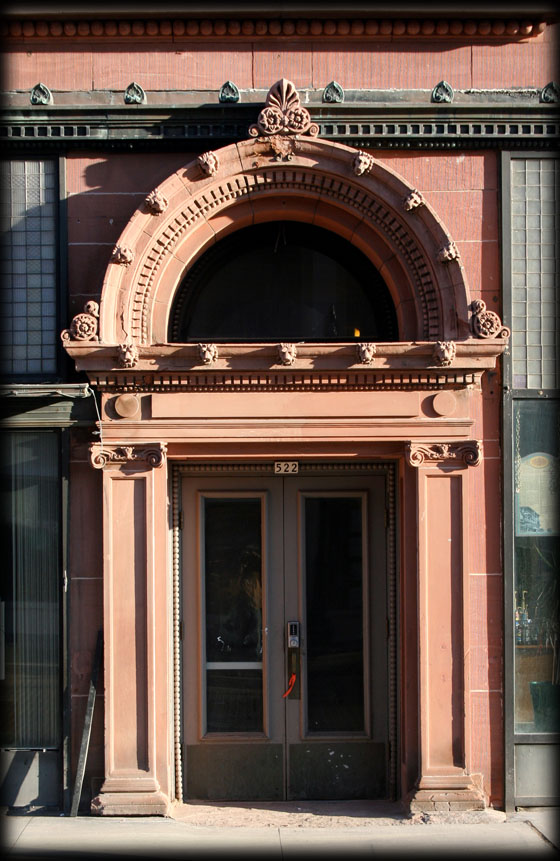 By far the Shelden-Dee's most unique and awe inspiring details are its pair of highly ornate sandstone entranceways. A pair of stately pillars flank the doors while a rather robust (and somewhat obtuse) arched hood caps the semi-circle transom window. The doors seen here (as well as the identical set on the Shelden portion) lead up to the building's upper floors. Those spaces would have originally been home to general office space but have since been converted into apartments.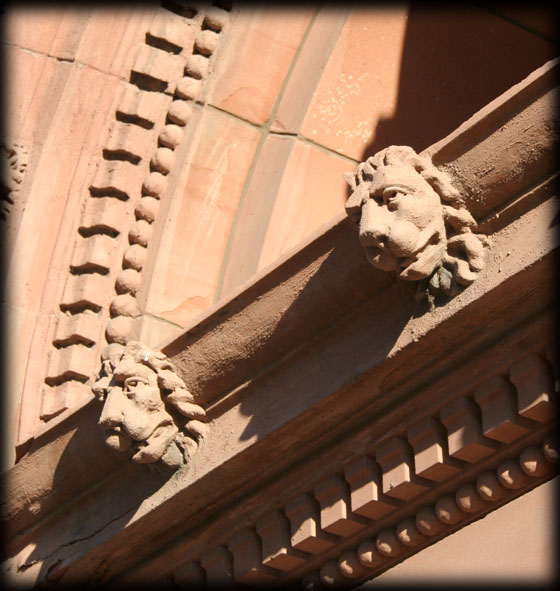 Sprinkled along the sandstone arch lining the semi-circular transom are a line of small lion heads (lion heads!) looking down over the sidewalk and those that pass by.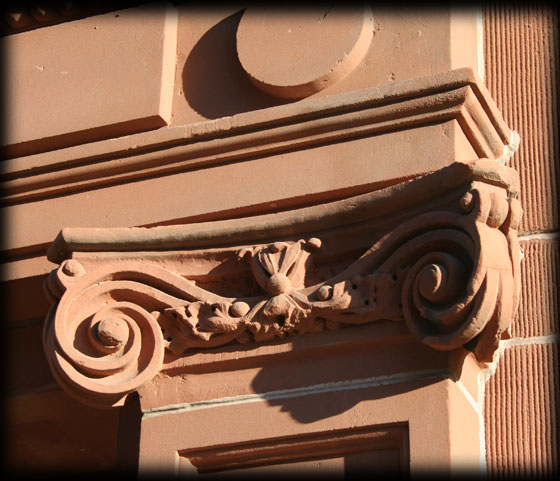 One last detail before moving along – this one taking a closer look at one of the scrolled capitals capping the entranceway's flanking columns. Without touching the things I can't be sure if they're actually carved out of sandstone, or if they're simply some type of painted plaster. The lack of wear makes me thing they're plaster, but that's just a guess.
To Be Continued…