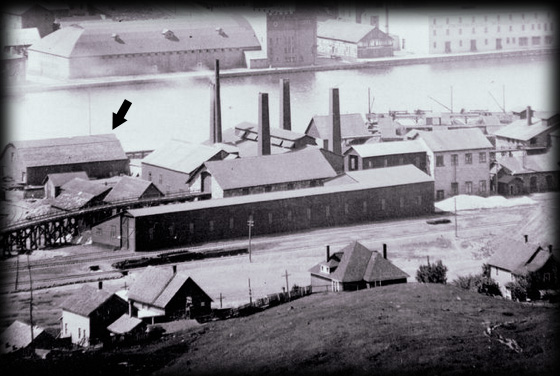 Once the molten copper has been poured into ingots and allowed to cool, the finished product is then sent via tramcar to its final stop at the Quincy Smelting Complex – the dockside warehouse. This large wooden structure was one of the complex's original structures, originally built in 1898. It was constructed along a large wooden dock from which freighters would be loaded with the finished copper ingots.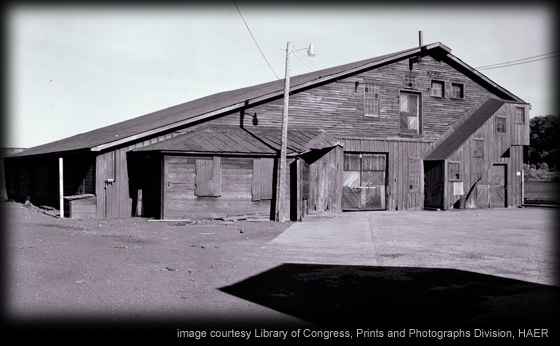 Over the ensuing years the building was altered and additions were added as the additional room became necessary. The most extreme of these renovations occurred in 1916 when a large sloped roof addition was added to the back of the building. As a result the warehouse that stands today bears little resemblance to its original incarnation.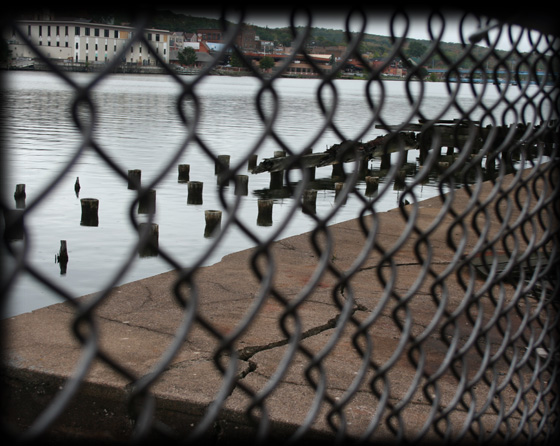 As for the large wooden dock that once ran along the face of the warehouse it has been reduced to a line of water logged pilings paralleling the shore. However the large concrete loading platform in front of the warehouse itself is still intact.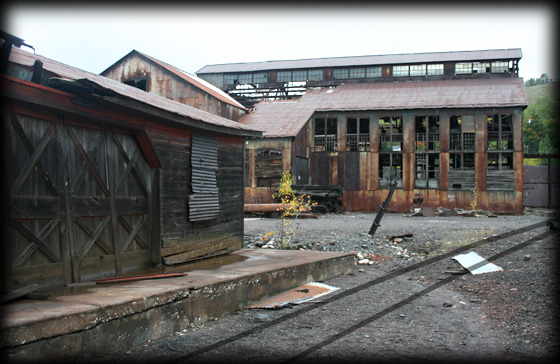 In addition to the water frontage along the building's south face, the old warehouse was also fronted on its east end by a railroad spur. Here sits a second loading platform sitting along a spur of the nearby Mineral Range railroad. I'm not sure if this spur was used for deliveries to the warehouse or for shipment out to local customers (which is a possibility I presume) but I do know the spur was a later addition, laid around 1907.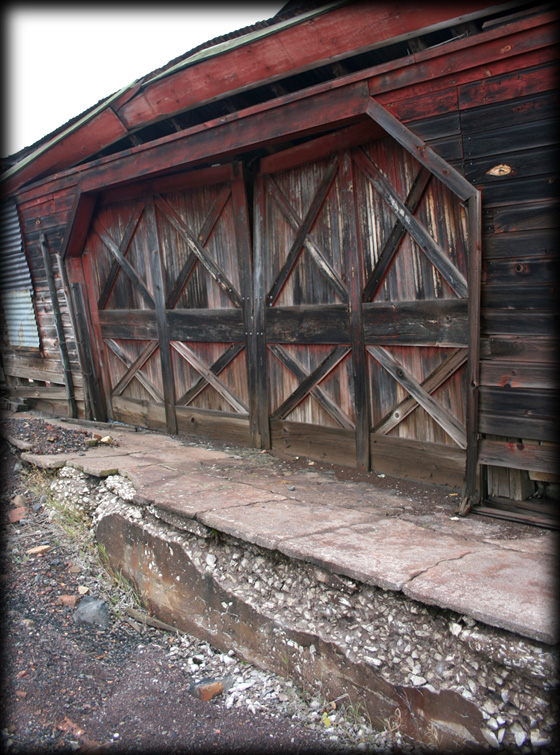 What I find most interesting about this side of the warehouse is these old wood plank loading doors which face the nearby railroad siding. These doors appeared to open sideways, like a large pair of french doors. What I find most interesting about them is the angled corners, which add a level of sophistication to a building that was most utilitarian in nature.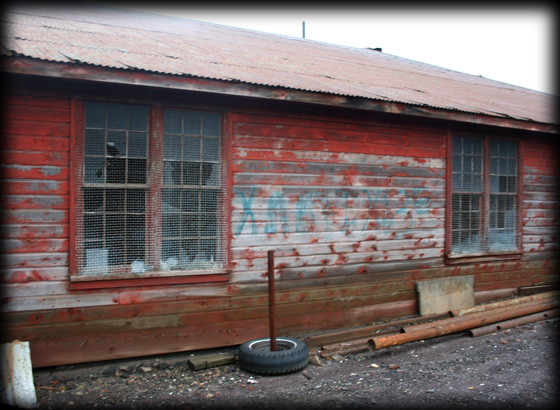 The warehouse's more recent north facade was a bit more plane, featuring only a series of small windows and a rust-red paint job that could use a fresh coat.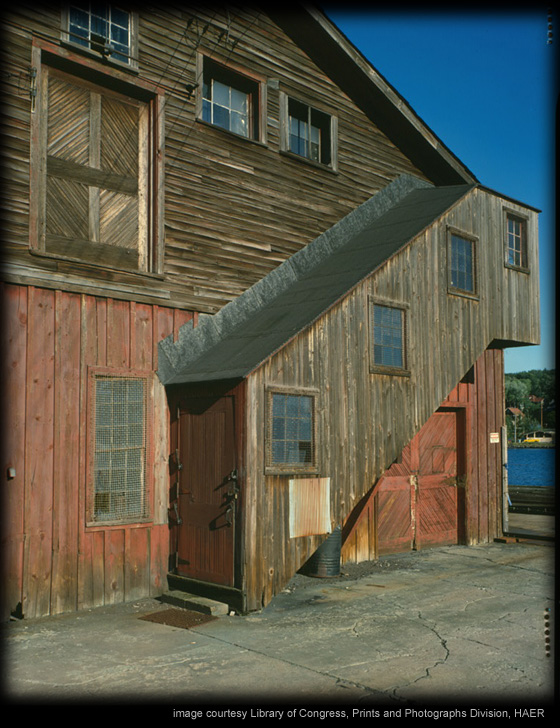 Meanwhile along the western facade we have something much more interesting. Here the building is topped by a second story, reached by means of a covered stairway slapped on the outside of the building. The presence of an upper loading door on that second story makes me think it was also used for storage though I wonder why you'd want to haul copper up there. Without any evidence of a crane or other loading mechanism I would think it would be hard to haul copper up there. I would guess it was used for something else – perhaps for more general storage.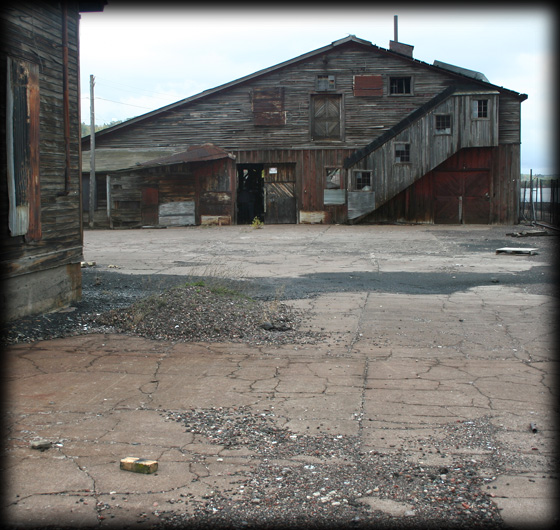 Before entering the old building we first noticed the cracked remains of a large concrete slab which sat in front of the warehouse and bordered the nearby dock. Turns out this large open area was also used to store copper, copper that was awaiting more immediate shipment.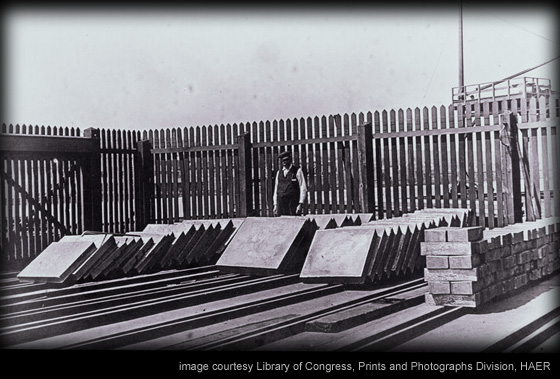 Heres a shot inside that same storage area while the smelter was in operation. The large square pieces of copper were known as cakes, and were also cast in the casting house. These were in sizes ranging from 100 to 4,000 pounds and were custom made for specific customers. They were usually used to create sheet copper.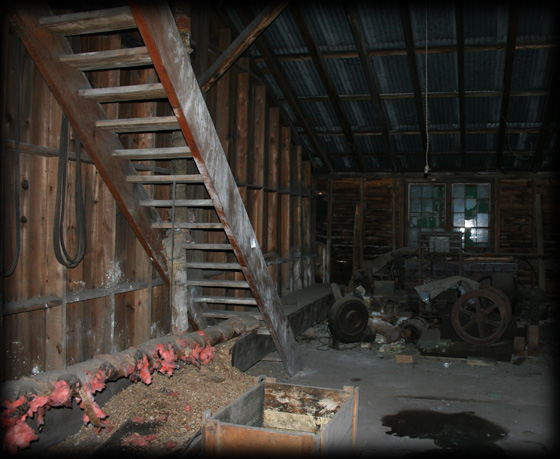 Finally making our way inside we find what one would expect in a warehouse – a large open space. At the far end light flooded over a pile of debris from a collapsed section of roof while on this end we were confronted instead with a great deal of darkness thanks to a generous supply of boarded up windows. Next to the door we could make out a wood stairway making its way up to the second floor above out heads.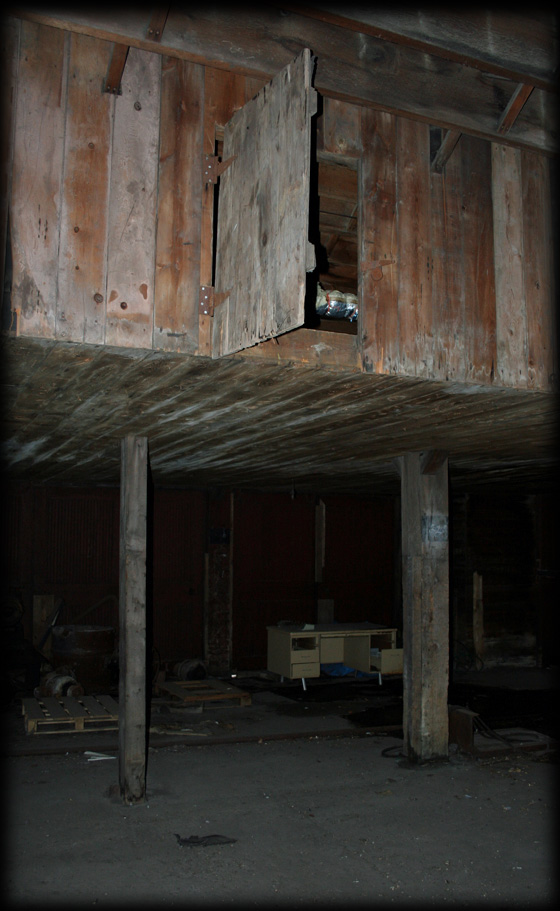 Looking up above our heads the second floor looked more like a loft space – consisting of what looked like an enclosed box attached to the ceiling. A few small loading doors were spread out along its inside surface. I'm pretty sure now that this second floor wasn't used for copper – but was most likely used for some type of general storage of perhaps equipment or supplies.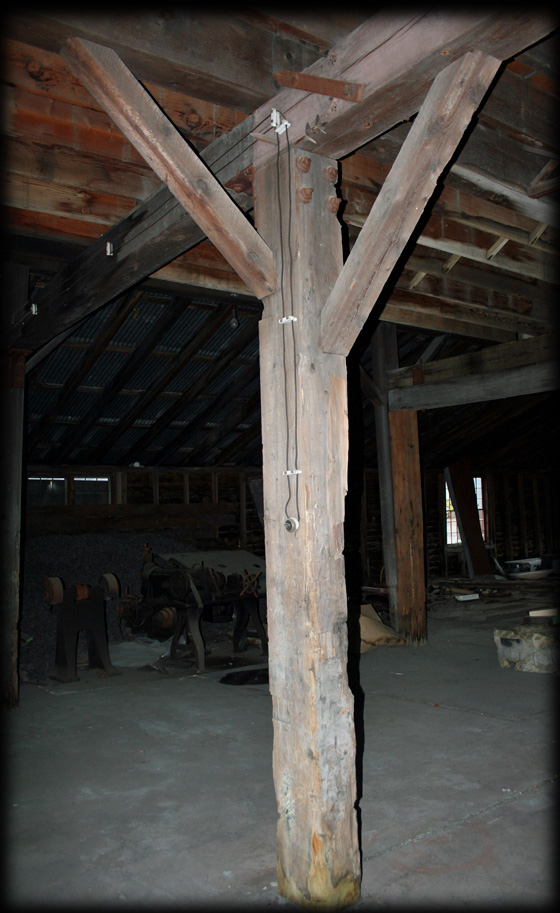 With nothing else left inside the dark for us to see except more empty space and pillars, we exited the building and headed out towards the next step on our tour – the massive structure that is the Cupola Building.
The Quincy Smelter is private property and is open to the public only during special Quincy Smelter Association's tours and events.
To learn more about the walker Casting machine and its history be sure to visit the Quincy Smelter Blog for their own virtual tour of the site.
To view more photos from the Quincy Smelter – including some awesome wide angle imagery – be sure to check out the Quincy Smelter Gallery at David Clark Photography!
And of course, if you have any photos of your own to contribute to the discussion, make sure to post them over at the Copper Country forum's Quincy Smelter Thread.