Did some browsing through one of my favorite web sites yesterday – the Library of Congress American Memory site – and stumbled across a collection of photos from the Detroit Publishing Company. The Detroit Publishing Company was a photographic publishing firm established in the late 1890's by a Detroit publisher William Livingstone and photographer Edwin Husher. They company used a proprietary colorization process to turn their black and white prints into color postcards – a popular "art form" at the end of the nineteenth century. Amazingly, the company had managed to take quite a few photographs of the Copper Country during its heyday, a good number of them in my favorite format – panoramic. Though the photo's aren't the best quality, they do provide an interesting glimpse into the region. Lets begin… (click on the sample photo's below to open the annotated panoramics)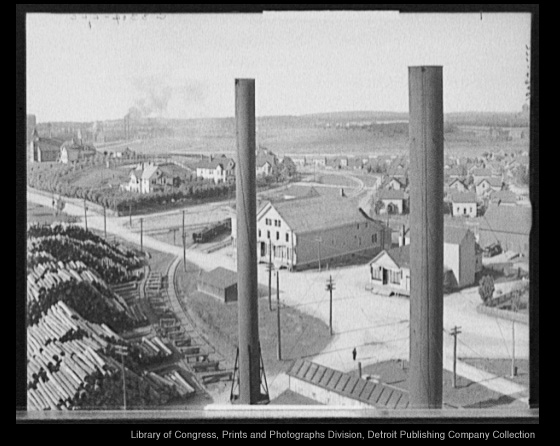 This is probably the most famous of these DPC pans showcasing the sprawling metropolis of Calumet. More specifically the towns of Tamarack, Yellow Jacket, and Red Jacket. This shot was taken from atop the Tamarack No.2 shaft house, with the large stacks visible in the foreground belonging to the shaft's boiler house. This is a great shot, and even with the poor quality you can still make out a few local landmarks including St. Joseph's (now St. Paul's), St. Mary's, and the Mineral Range Roundhouse near Swedetown.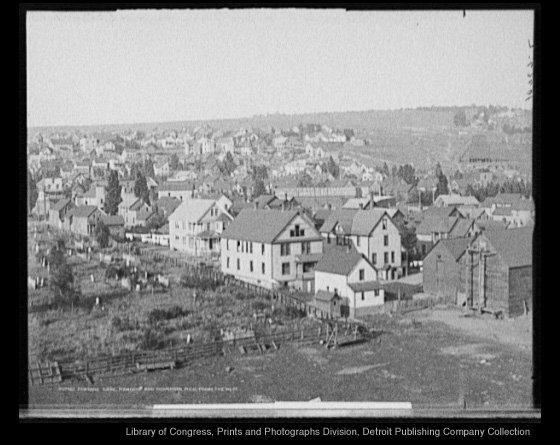 Here's an unique pan of Hancock, taken from the roof of St. Joseph's hospital looking east. St. Joseph's later became the Portage Hospital, and its first building sat just down Water Street from the old Portage hospital building (now part of Finlandia University). Most interesting about this image is the glimpse of the old St. Joseph's Catholic cemetery on the far left. (also seen above) This cemetery was later paved over and became the parking lot for the new consolidated Catholic church – the Church of the Resurrection. This cemetery was joined by a Protestant version to its west (not visible in the photo) – which also was paved over for a new church.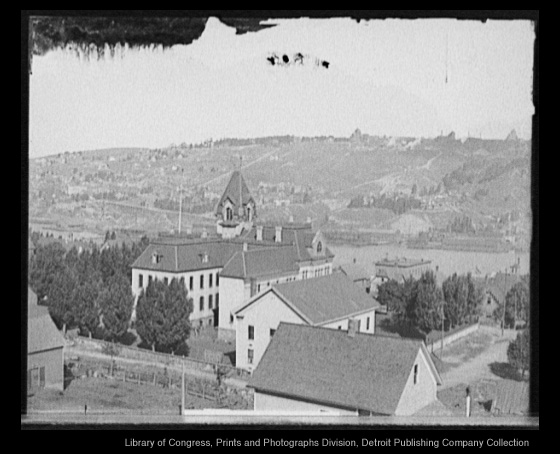 Here's a great shot of early Houghton, showcasing a newly built Houghton County Courthouse. The photo was taken from just above South Street, which at the time served as the southern limit of the city. A great deal of downtown is also visible in this photo, including the very top of the Douglass House, Houghton National Bank, and the now missing tower to the Houghton Fire House. The original Houghton High School is also clearly visible just left of the courthouse.
To Be Continued…