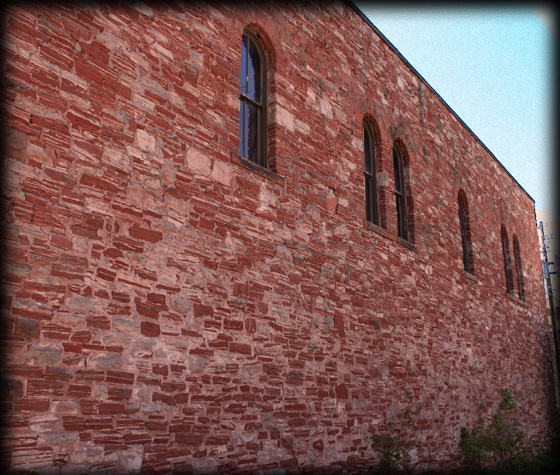 Sandstone was not a cheap building material, especially when it came to the finely cut deep red stones used in a building's street facing facade. In order to cut costs architects would utilize stones of a rougher cut and duller color on the rest of the building's walls, specially walls that faced alleys or were set up against pre-existing buildings. The Red Jacket Fire Hall was no exception, as can be seen here on its northern wall which originally sat up against a wood-frame saloon.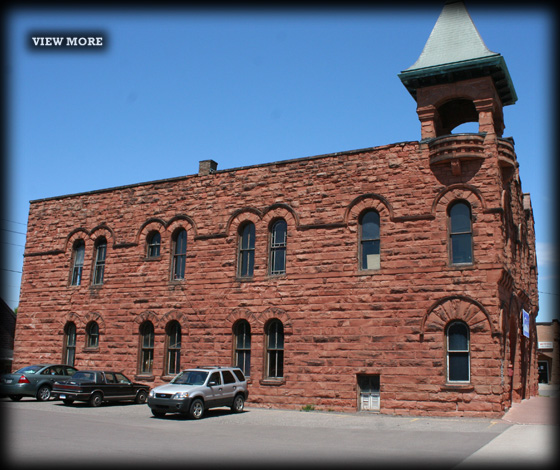 However, the building's south-facing wall would present a problem. Here the fire hall was bordered by Red Jacket's Methodist Church, a small wood-framed building which sat on the extreme south-east corner of its lot. Between it and the fire hall was a large open space, which meant the fire hall's southern wall would have to be built out of the more expensive stone used on its front facade as well. This increased the building's costs significantly (upwards of $20,000, or a half million dollars today), but it also meant the fire hall had two beautiful facades to enjoy still today.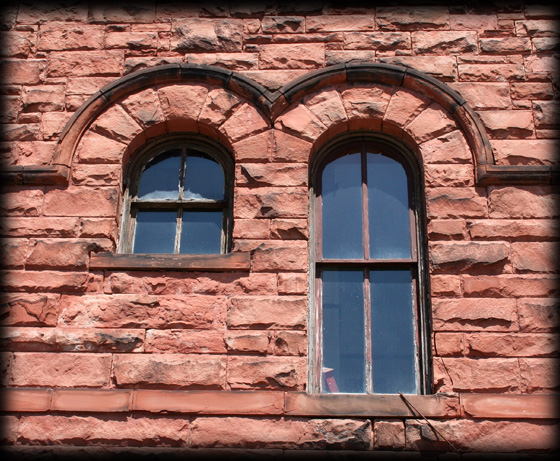 Here the fire hall features a large collection of round-arched windows, most of which are set into pairs. All these windows are topped by a sandstone arch set into the wall, with the windows along the upper floor further adorned with an edged drip stone. The drip stone is arched as well, and continued unbroken along the length of the facade. For some reason a few of these window pairs feature a half-length window, such as the pair shown here.
Red Jacket paid for a contingent of full-time fire fighters that not only worked in this building but lived here as well. Here on the second floor was a sleeping area for a dozen men, a recreation room, reading room, bathroom and the fire marshals office. These windows belong to the fire marshal's office.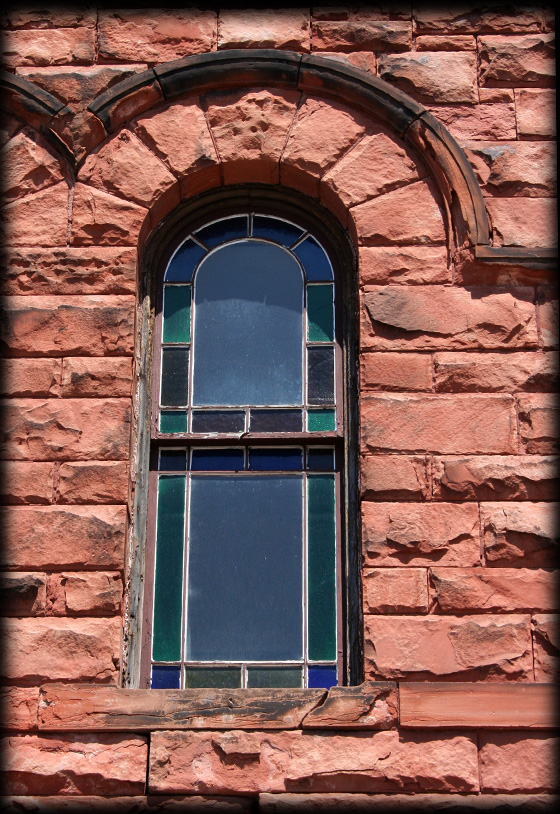 Another interesting touch along this south wall is this stained glass window. I would guess that all these windows were once similar to this one, but were either broke or removed. This seems odd on a municipal building such as this, but the presence of the church next door might have influenced its inclusion. This particular window sits atop the staircase, overlooking the large living area on the second floor.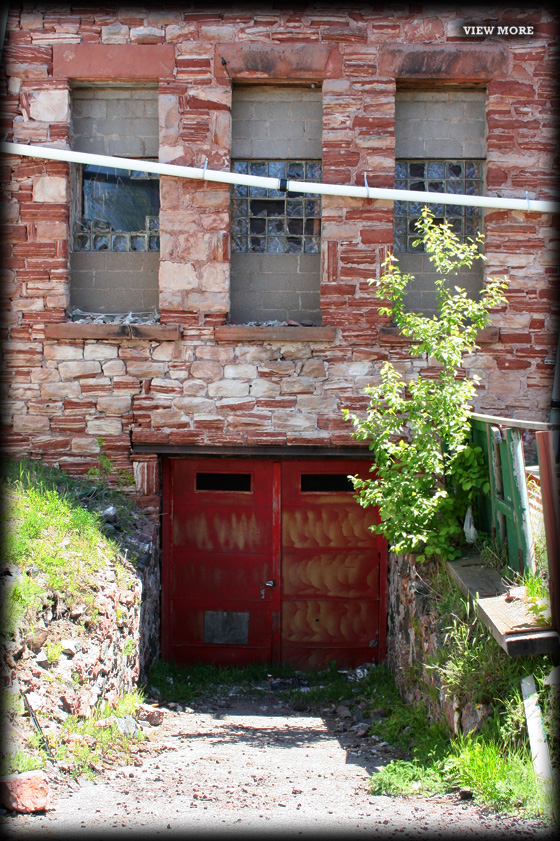 Compared to the south wall, the back wall is a far less brilliant site. Overlooking the alleyway as it was, there was no need for this wall to be spruced up in any way. No one would see it. This walls most prominent feature is its walk-out basement entrance, utilized by means of a dirt ramp. I would suspect that this entranceway was for the station's horses, since I believe they were housed in the building's basement. But I have also heard they housed horses on the main floor as well, so I'm not sure.
What I do know is that this building is by far one of the most beautiful in the village (I think it even tops the Calumet Theatre). Currently the building serves as the Upper Peninsula's Fire Fighting Museum and is open to the public for tours for a small donation. (last I knew the donation was only a few bucks, but that was a while ago). I went on the tour a while ago and my 5 year old son loved it. (lots of fire trucks to check out). Its also a great way to see the interior of this building which largely remains untouched since it was abandoned in 1964. The village's current fire hall now resides in the village office building (Calumet Theatre).