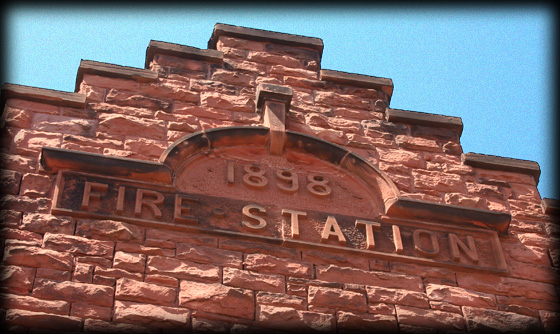 Red Jacket's first fire hall was built in 1875 in response to a disastrous fire that had destroyed most of the fledging town five years earlier. Quickly the town rebuilt, and within a few decades had grown into the region's premier metropolitan area. With thousands of more residents and hundreds of more buildings within its boundaries, the town needed a new and larger fire hall. Thanks to the success and generosity of nearby C&H, the village had available to it a surplus of funds in order to build this new station. In 1898 the result was one of the grandest buildings in all of Red Jacket.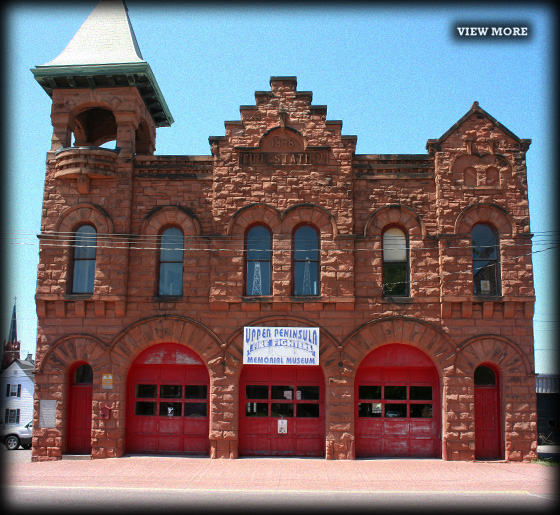 Built entirely from Jacobsville sandstone, this massive building exhibits bold Romanesque features such as arched openings, protruding gables, and arcades. Its main floor is dominated by three equipment bays book-ended with a pair of narrow doors. Its second floor features six round-arched windows complete with complimenting drip stones. Protruding from its upper floor stands a squat bell tower along with two gables.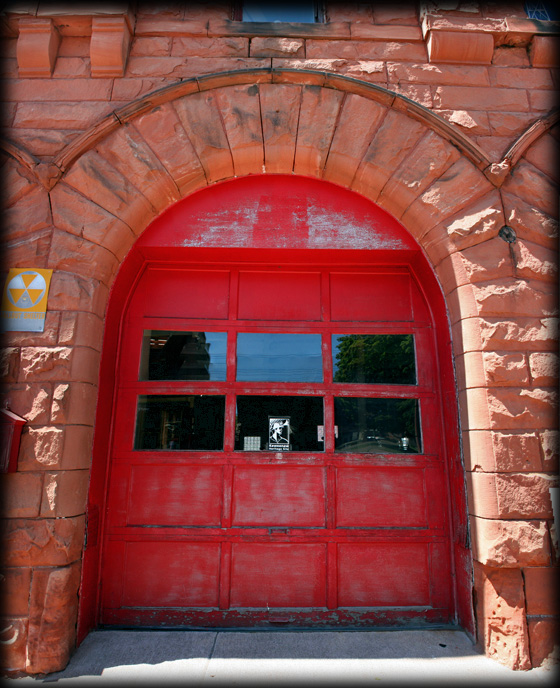 Here's a look at the central equipment bay. I'm sure these were faced with a pair of outward opening doors, the garage door seen here was no doubt a later addition. At Red Jacket's peak, this fire hall housed a total of two steam fire engines, a hose cart and a ladder cart.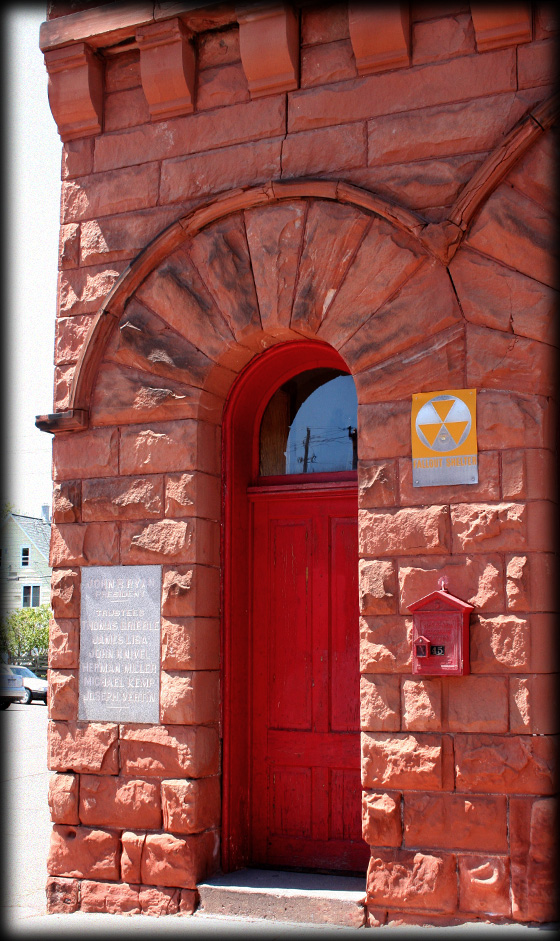 Complimenting the equipment bays are a pair of entrance doors. These are amazingly narrow, and look to be an artistic consideration more so then a practical one. They are also round-arched, utilizing a arched transom window to fill the gap. As some point the building was used as a fallout shelter (as evident by the sign), which seems odd considering its basement has a walk-out on the back side.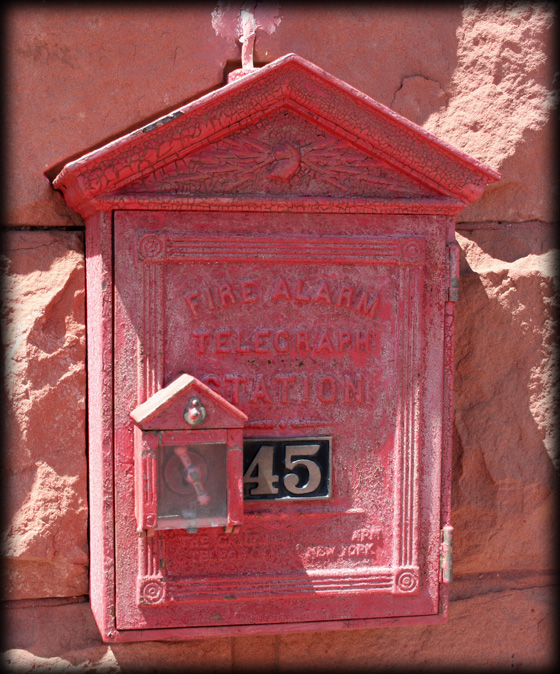 Also visible here on the building's front facade is call station 45. Probably the last remaining of its kind in Calumet, this call box would be used by civilians to report a fire. Dozens were scattered about the village, each one transmitting a special code to station that not only alerted them to a fire, but also told from which fire box that call originated. I'm not sure if this one had a simple pull handle inside, or if there was an actual phone. Most likely just a pull handle, considering its marked as a "telegraph station". At first I wasn't sure if the box was in its original position, since it seemed odd to have one right on the side of the fire station (you'd think a nearby fire would be easily seen by the firefighters inside). But if you look closely at the wall behind it, you can see the stone has been etched out to receive the box. So I guess it is original.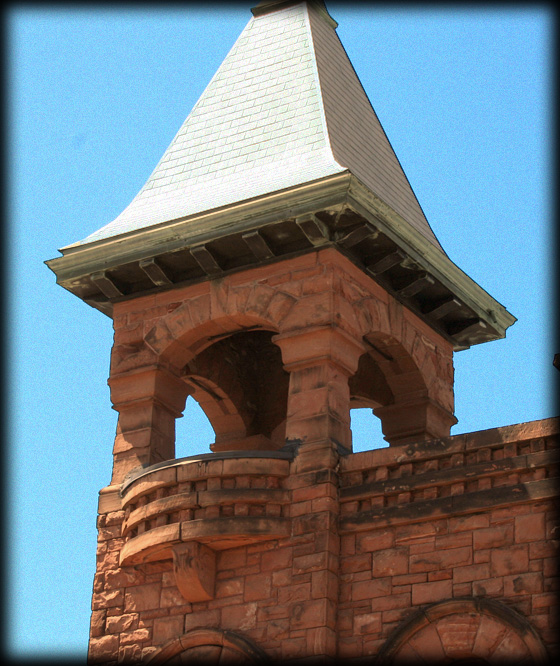 The fire stations most prominent feature by far is its corner bell tower, Not only did this hold the fire bell used to alert the town in case of a fire, I have heard it was also used to hang hoses for drying. I love all the masonry details here, including the sandstone capitals, arched openings, and the curved balconies.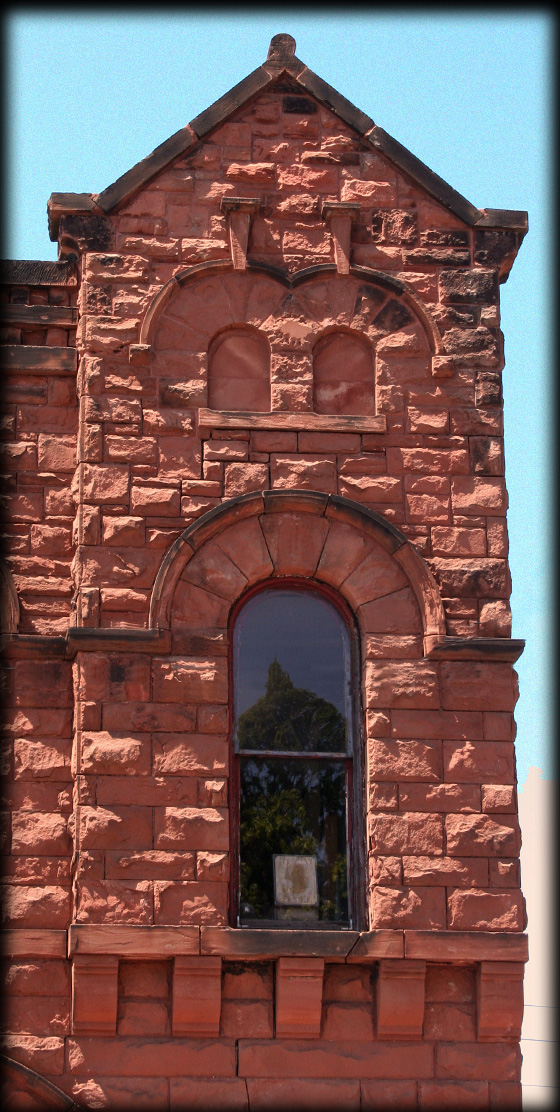 Complimenting the station's bell tower is this impressive protruding gable at the building's opposite corner. I found interesting here that the masonry changed from coursed to random at a point above the drip stones. Why I'm not sure. The faux attic window openings are also a nice touch.
To Be Continued…
Information for this post obtained from the Biographical Dictionary of Copper Country Architects – an excellent on-line resource of Copper Country architecture compiled by Michigan Tech students as part of a History of American Architecture class project.