Now that we have a vehicle that can more readily travel along the old roads near Copper Harbor we took a trip down an old road near the Clark Mine in search of the old mine's powder house. The road is marked on maps as "Powderhouse Road", so I had a feeling that we would find what we were looking for down its length. (It's those sharp instincts of mine that allow me to find all these abandoned places) About a mile down its very rocky and rugged length we finally found it – conveniently right up alongside the road.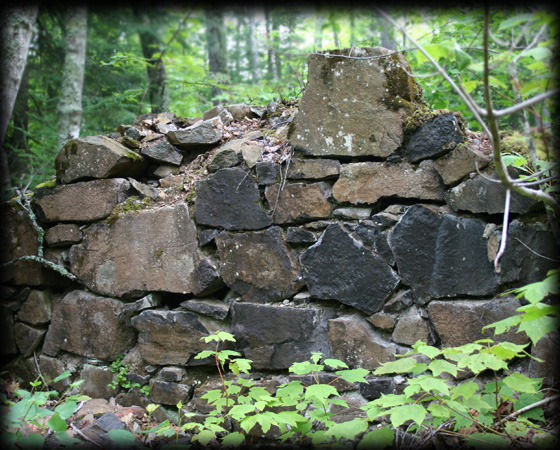 Unfortunately there was very little left of the old building, but considering its age that was probably to be expected. The building was extremely small – even for a powder house – measuring only about a dozen or so feet in length. Most of its walls had collapsed, leaving only a small section of its west and east walls still standing. Here's the east facing wall, which is by far the most intact of the bunch.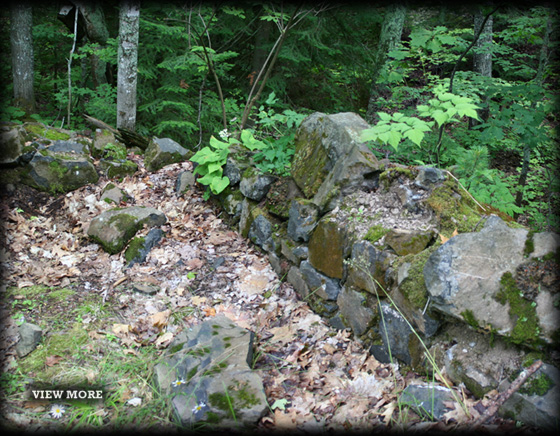 Inside the small building sat a large pile of debris – rock from the walls and roof I would suspect. The pile was a good couple feet high, and made the old powder house look less like a building a more like a pile of rocks. While its west wall was also somewhat intact, it took a little more effort to make out its south wall just barely peeking up through the rubble. The panoramic above shows how the inside of the old building looked, including its east (left), west (right), and south walls. The north wall was just a pile of rubble.
I'm pretty confident that this is the Clark Mine powder house, due mostly to its location. It sits about half mile south of the old mine, just over a rugged ridge line. But it could very well belong to any number of other old mines that once called the region home. For now I'll just refer to it as the Clark Mine Powder House until I find out otherwise….
Turns out this isn't the Clark Mine Powder House after all. Thanks to Capt. Kurt, I now know this is most likely the Star Mine powder house. (See comments for further info) But once again, I could be mistaken..