Once again its going to be my attempt to bring back daily posting here on CCE, but this time with a caveat. Its unrealistic to think I can write the same type of posts I've been writing for the last few years on a daily basis, its just too much work. So instead I'm going to attempt to create smaller pieces that only feature a couple photos and a very finite focus. The large format exploration and historical pieces will remain, but they will be interspersed with these new smaller pieces. Today we begin with a few photos…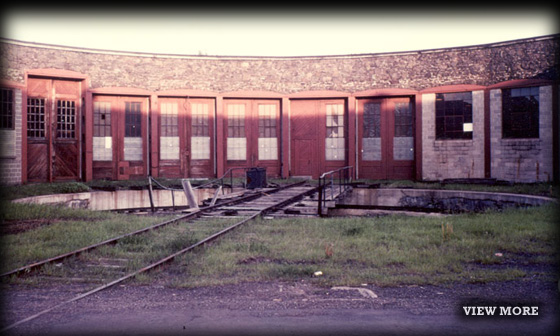 After doing the previous exploration of the C&H Railroad remains, my go-to railroad man Gordy Schmitt sent me a few pics of the old rail yards as they appeared back in the '70s. (Thanks Gordy!) We'll begin with the old roundhouse itself before it was converted into the current Calumet Electronics building. Gordy points out that the turntable was still in place and operable at this point. He also notes that the locomotive stalls shown here were converted into simple repair stalls for rock cars and other rolling stock when the railroad converted to diesel.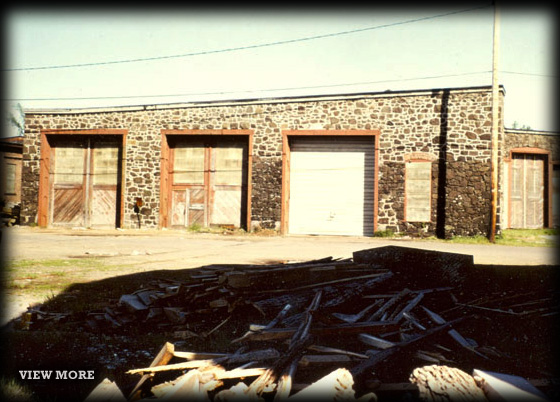 Those new diesel engines were stored and worked on in three new stalls added to the roundhouse's north wing. Gordy notes that C&H simply cut openings into the old roundhouse wall to create these new stalls. I had wondered why this was done instead of simply re-using the old stalls served by the turntable. But by comparing the old turntable stall doors with these, itr might be that the old openings were just too narrow for the new engines.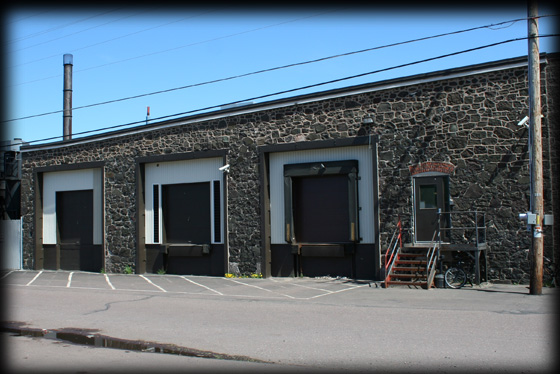 Just for comparison sakes, I added this new photo of the same diesel doors as they appear today under the guise of Calumet Electronic's loading doors.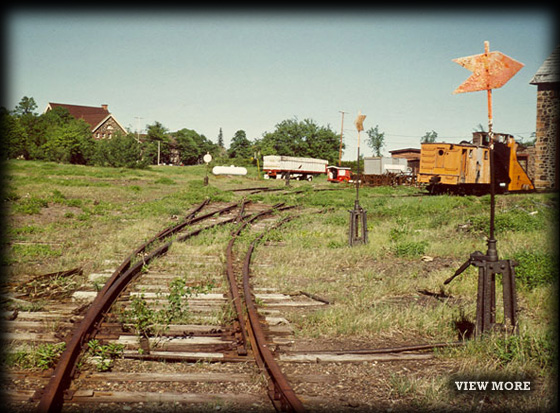 Gordy all sent a few shots of the old tracks when they were still intact. Here's those old tracks as they approached the roundhouse. The old C&H plow seen here sits on a spur leading into the machine shop. (the plow now stands down next to the warehouse and pattern shop) Next to it would have been three more spurs serving each of the diesel stalls in the roundhouse.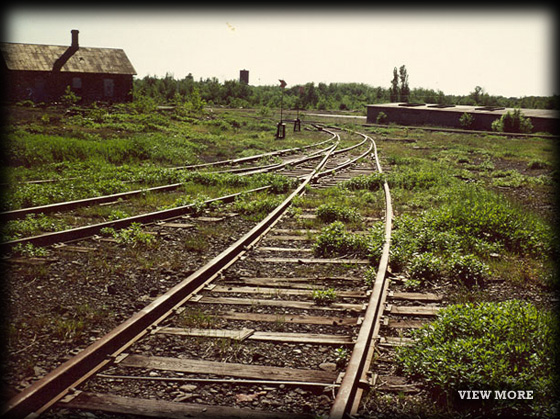 Heres looking at the same tracks, but this time looking southwest away from the roundhouse. Everything up to the second switch mechanism seen here no longer exists. That second switch mechanism is point "E" on my map from yesterday.
Great photos Gordy (as usual) and thanks for sharing!