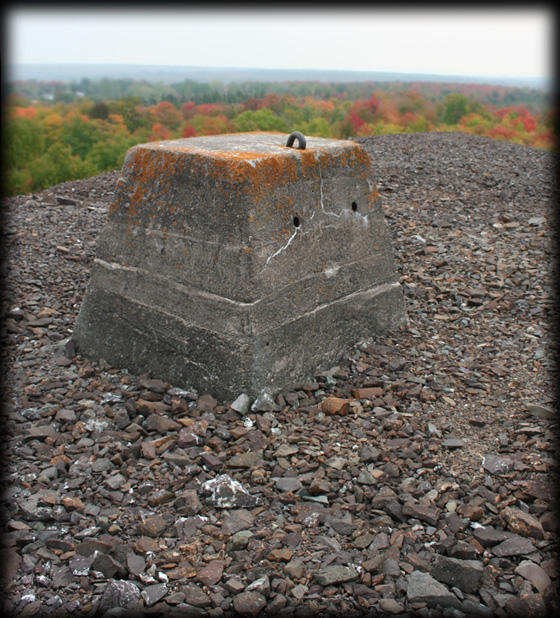 Sitting all alone up there it seems out-of-place and perhaps even lost. But there it was, a concrete footing smack dab in the center of the Baltic No. 2′s massive poor rock pile. Why it was up here we weren't exactly sure, it was the first time we found anything atop a poor rock pile besides poor rock. Made of concrete, it was topped by a iron eye-loop along with a pair of holes on its shaft facing side. It looked to be a tie down of sorts, or perhaps a footing for a trestle or pulley stand. Either way its placement atop a rock pile was odd.
The only clue we had was the fact that the Copper Range branch line that served the mine made its way between this rock pile and the shaft house to the No.2 next door. Currently the rock pile borders the old CR right-of-way, which might have been a problem when the old railroad was still running. Its possible that this concrete footing was used to support some type of tramway that allowed the poor rock from the No.2 to be transported over this rock pile and dumped over its other side. This way the pile wouldn't shift westward into the CR right-of-way but would instead carry itself eastward and out of the way.
Of course it could have been used for a variety of other purposes. Perhaps someone out there has a better idea then I….