First of all I would like to thank all of you for your patience during the last few weeks as I raced to finish the new site in time (I was only about 20 minutes late – not bad). It was a lot of work and more then a few late nights recently but the new site has finally arrived. But there's more changes yet to come, as I began writing the site's new daily content and start in CCE's new direction. More about that new direction later, for right now I thought I'd give a little tour of the site's new (and not so new) features. Let's begin…
OLD Black Background
That's right its back, and its here to stay. Though it has always been an issue here on CCE, I still think its the best look for this site. The photos pop much more and it brings a much more artsy fartsy feel to everything. Perhaps in the future I'll try to add that style changer others have mentioned, but we'll see.

NEW Drop Down Menu
I've been wanting to add one of these babies for years and its finally here. Here you have direct one-click access to every CCE category and tag listing, as well as easy to find contact and store options.
Here you will find a listing of each and every exploration ever conducted here on CCE (over 50 in all), organized by the five basic types we have all come to know and love: mine, mill, railroad, industry and town. You can simply select your exploration of interest from the drop-down menu (a crowd favorite) or browse through an image list. During the re-design I went back through all the posts in CCE and updated their categories, so you'll find a few new ones on the list you might not of realized were here.
During the last few weeks I have went back through CCE's 400+ posts and re-categorized several that seemed to have the same theme. The result was a few new categories that really aren't that new at all. Of course there's the ever popular Copper Country Scrapbook and Then & Now features, but you'll also find the new Industrial Footprints and Copper Country Anatomy listings as well. "Footprints" are posts related to the mapping of the copper country and the ruins that remain. "Anatomy" delves deep into the nuts and bolts of mining technology and processes.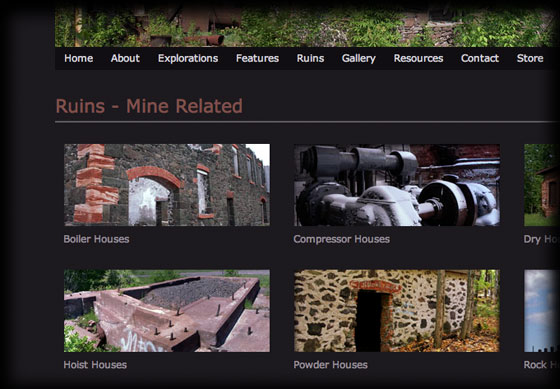 Probably the most revolutionary change to CCE is the Ruins Menu. Now you can quickly find all posts from CCE relating to a specific ruin, such as a Hoist House or Shaft House. To do this I have went back through the posts and added tags to each describing what type of ruin we were exploring. Now you can browse through every "H" shaped hoist ruin all at once, or find those hard to uncover posts about mining machinery or railroad cars. Your welcome.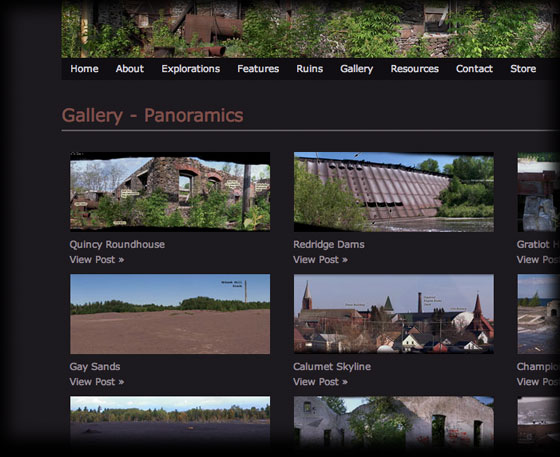 This is my favorite addition to the site, and something I have always dreamed of adding. Gallery is a listing of (almost) every illustration, map, and panoramic that I have every created here on CCE. Each is one-click accessible, opening the map or illustration on top of the page with the Lightbox effect. You can also go directly to the post which features that map, illustration or panoramic.
It's a great new resource but in its current form is a little raw. The organization is based on date (with the oldest first), but in the future I plan to make it alphabetical. Its also incomplete, so I'll be adding more illustrations, maps, and panoramics every week. You'll also notice an empty category for Videos which for some of you old timers (I'm looking at you Jay) means a return of all the videos that you may vaguely remember as being part of this site.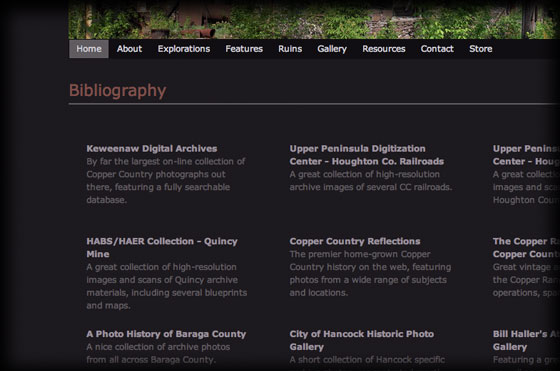 Here's where some of the new exciting components of CCE and our new trilogy of sites come into play. Besides a link to the CCE discussion page at Copper Country Forum, you'll also find links to the soon-to-be-added YouTube and Flickr accounts for CCE. There you'll be able to find even more photos and videos not featured here on the site.
There is also a new listing for Bibliography, which is something many of you have asked for in the past. Here you'll find a list of all my internet based resources that I have used to compile the site. Right now there just a very bare-bones list of resources, but I plan to add more and categorize them in the future (there just wasn't enough time to get it done by my deadline).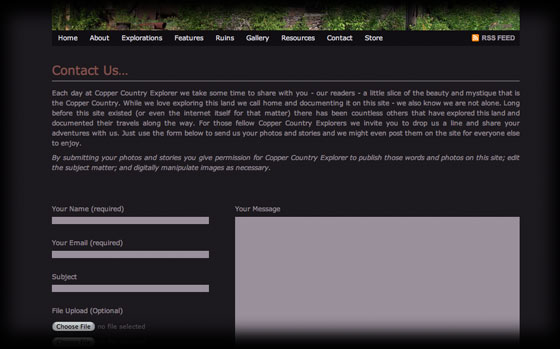 Now CCE's contact page is simply one form, from which you can both send messages and submit photos. I'm planning a big push in the next year to get even more input from all my readers, including not just photos but stories and essays as well. So this form will come in handy (it's a little messed up to you IE users out there, so just bare with us for a few weeks while we work out the bugs).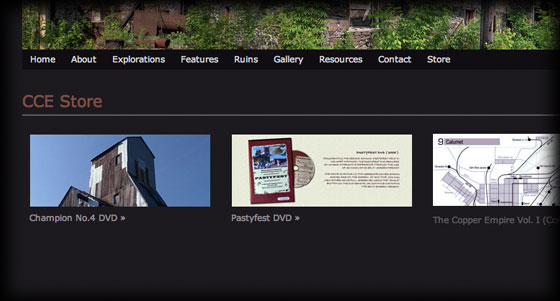 The store is now linked directly to Copper Country Media's on-line store. In the not-too-distant future there will be other categories open as well including T-shirts! Today you'll find a new addition of the Pastyfest DVD, which I made several years ago.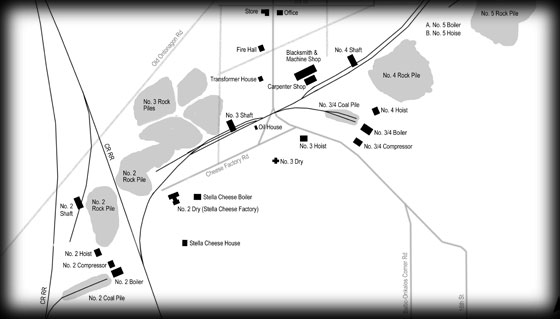 There is also a small tease for the new CCE maps, which I'm happy to report I have finally finished. Tentatively known as "The Copper Empire Vol. I", the map set contains over 50 (!!) printable 8.5×11 sheets detailing the mines, railroads, and industry of the Copper Country from Painesdale to Mohawk. Compiled from various archive sources including Sanborn Insurance Maps, Historical Nautical Charts, and old Topographical maps; these maps detail every shaft, hoist, boiler and support structure for over 30 mines and mill locations. It's definitely a must-have for every copper country explorer out there, and will be available for download on April 15th.
Well that wraps up our tour of the new site. Hope everyone likes it and I hope it was worth the withdrawal pains over the last few weeks. Tomorrow the new daily (!!) posts will start and CCE will start on its fourth year. Thank you all for your support and readership and here's to another three years (and hopefully more) of CCE!