Now Available: The Copper Empire (Vol I)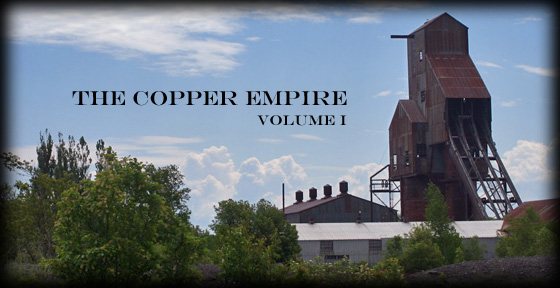 Over the course of human existence there has been several great empires that have left their mark on the civilized world. These empires managed to rise from nothing to become revered the world over, only to crumble to ruin almost as quickly. In the process these great civilizations left their mark on the history of man as well as on the land they once inhabited. Over the course of the last three years I have come to recognize yet another of these great civilizations right here along the shores of the Keweenaw – the great Copper Empire.
It was from along the remote wilderness of this rugged peninsula that one of the country's most powerful industrial civilizations arose. For nearly a century it reigned supreme as one of the greatest copper mining districts in the world before it too – like all the other great empires before it – crumbled to ruin and obscurity. Today only the ruins of those mines and mills remain to remind us of the men and women who once toiled – and often died – in the pursuit of copper riches. Those ruins also serve as clues to the great civilization that was, and provide a glimpse of the size and scope of the great empire that once reigned over these lands.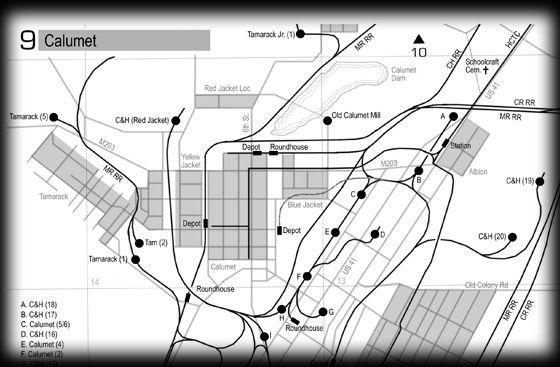 The Copper Empire (Volume 1) is perhaps the most comprehensive and detailed set of maps ever created showcasing this great copper empire in its prime. The maps were compiled from a collection of primary sources with historical information including Sanborn Insurance Maps™, USGS topographic maps, historic nautical charts, and old platt books as well as from a variety of on-line sources and over three years of explorations on the ground. The result is a compilation of over 50 full-page maps detailing every major mine, mill and rail-line that ever existed along the Keweenaw – a complete guide to the Copper Empire in its prime.
The Copper Empire (Volume 1) is concentrated along a 26 mile stretch of the Copper Range lying between Painesdale and Mohawk, divided up into 20 individual region maps centered around specific towns and mine locations. Each map consists of a current surface map overlaid with the historic rail lines, roads, and shaft locations that once existed in its place. These maps are drawn to an identical scale and include section lines, numbers, and township/range identifications. VIEW REGION MAP SAMPLE >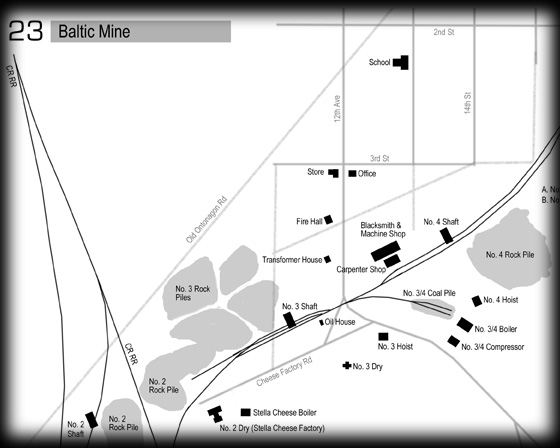 Along with the twenty region maps are a set of 30 close-up maps which provide surface plant details for more than 37 individual mines and mills. These maps label not only the individual shaft locations themselves, but also the supporting structures such as hoist buildings, boiler houses, dry houses, and machine shops. These maps also label nearby public buildings such as schools, churches, and hotels. Along with the mines and mills, the close-up maps also provide detailed views of various industrial areas including the Houghton, Hancock, and Dollar Bay waterfronts. VIEW CLOSE-UP MAP SAMPLE >
The Copper Empire (Volume 1) is available in two formats, either as a PDF format E-Book or printed spiral bound version.
The 61-page E-Book download in cross platform compatible PDF format. (Requires a free PDF reader to view, such as Adobe's Acrobat Reader) Each map in the set is drawn at high resolution (300 DPI) and can be enlarged to over 400% for easy viewing. The E-book version is $12.95.
Click Here to Purchase the E-Book Version

The Copper Empire (Volume 1) *Printed Version* is printed in black and white on spiral bound 8.5×11 paper with soft cover. The printed version is $16.95 plus S&H.
Click Here to Purchase Printed Version
TERMS: This eBook is for personal use of the original buyer only – it is protected by copyright and other intellectual property laws. You may not reproduce, transmit, modify, participate in the transfer or sale of, create derivative works from, distribute, display, or in any way exploit, any of the content of this eBook in whole or in part. The order is immediate and you will receive instructions on how to download the eBook via email so cancellation of your order is not possible. A refund will not be given on your purchase if the eBook has been downloaded. By purchasing this eBook, you agree to the above terms.
Thank you for supporting Copper Country Explorer!