Old Schools of the Copper Country (p3)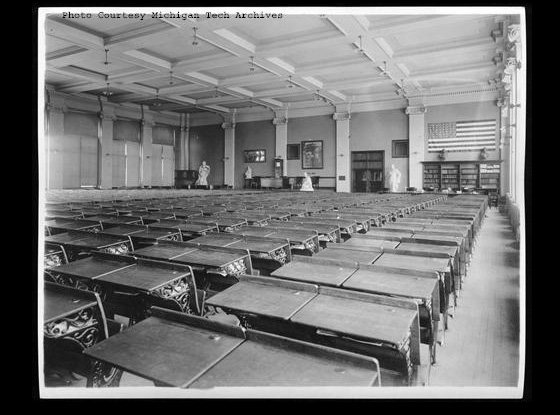 The comforting arm of corporate paternalism wrapped itself around almost all aspects of community life in the Copper Country – including that of public education. While on paper school systems were municipally run and controlled by elected board-members, the heavy influence of the mine companies was palpable. Rural schools may have been set up around the needs of agriculture but the area's urban schools were set up around the needs of mine companies. What mines needed were Americanized, English-speaking workers with skill sets necessary in an industrialized world. These type of students were something local schools were only too happy to produce – with the mine company's help of course.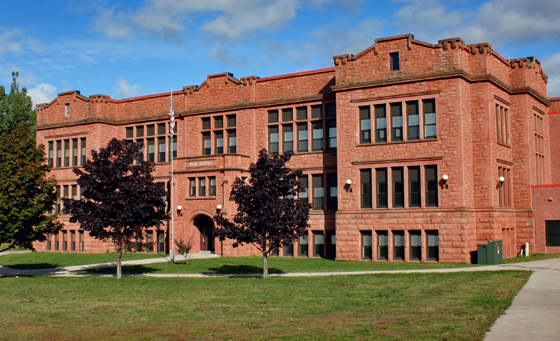 Large mine companies such as the Copper Range Mining Company were very generous in their contributions towards education. Their biggest assistance was often in the form of large modern school buildings, stocked with supplies on the companies dime and heated by company boiler plants. Copper Range built several school buildings along its southern range mines, culminating in this sandstone beauty. Built in 1909, the Jacobean Revival structure served the entire Copper Range district's high school aged children (brought here by train no less).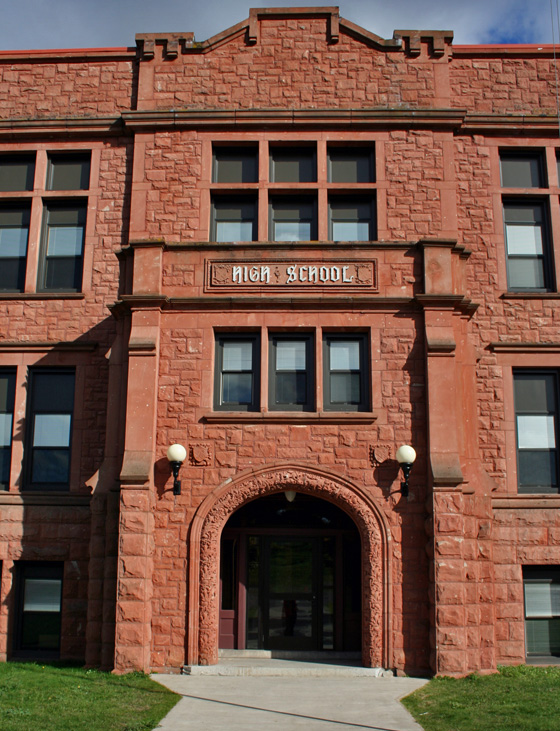 Here's a closer look at the schools front facade. Its original layout was extended with two additional wings added to its rear during the Depression. The Copper Range Co. also built a grand public library next door connected to the school via an underground tunnel (or so the legend goes). In m opinion one of the best looking schools in the peninsula. Its also still in use today.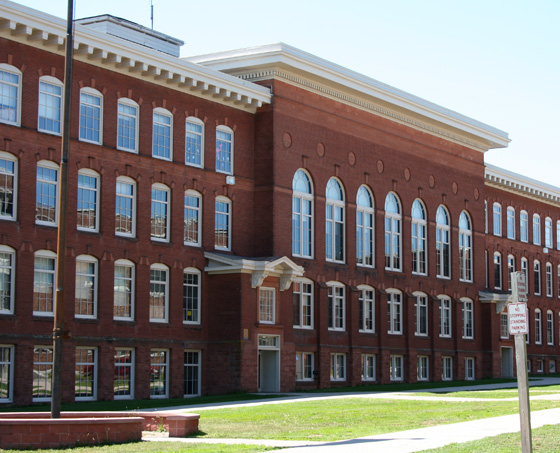 Building schools was one thing, but to have true influence over a schools curriculum and what considered "critical knowledge" mine companies had to go much further. While a mine could not dictate these things to its school board, it certainly could make strong suggestions by the types of equipment and supplies it was willing to provide. In C&H's case this meant the donation of a large amount of manual training equipment such as lathes, welders, and other metal and wood working tools. What school would turn such generous gifts down? The result was C&H's Manual Training and High School building – completed in 1907 to replace an earlier structure destroyed by fire. While serving as the region's high school it also manage to have a great deal of space dedicated to machining and carpentry – skills C&H required in its future workers. The building continues to be used to this day – with a little less emphasis on wood and metal work.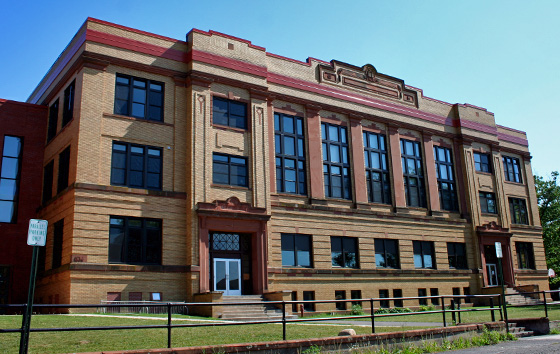 The third player in the Copper Empire was Tamarack / Osceola mines, which were in control of the small town of Dollar Bay along Portage Lake. Not only did the company erect its smelter and wire mill along its lakefront, it also helped establish the town's high school seen above. It continues to be used to this day.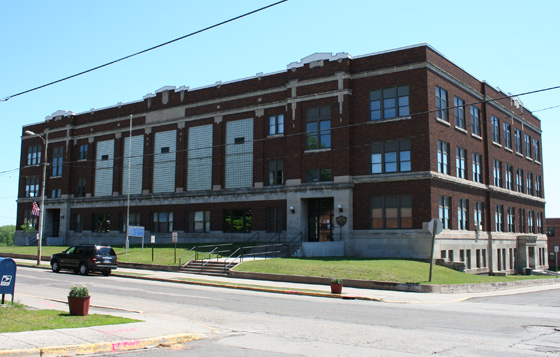 Though C&H was often generous in its contribution towards public education, sometimes it could not supply all of a districts needs to its resident's satisfaction. This was the case for the C&H supplied high school at Lake Linden, known at the time as the Washington High School. While C&H had added improvements to the building over the years, it soon proved inadequate for the growing student population. To town decided to act on its own, issuing bonds an constructing its own school to replace the older structure. C&H leased over the land to the village and in 1918 the new high school was completed. It continues to be used as a High School today.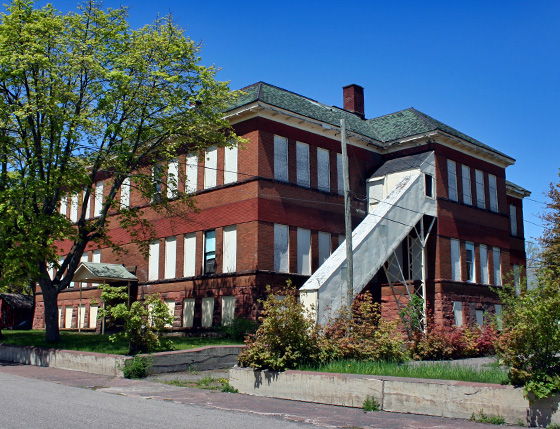 Some towns and municipalities in the Copper Country had no help from local mine companies and had to construct and supply their own schools. In Laurium's case it may have had the use of C&H's high school for its older students, it still required its own elementary schools. Luckily the towns wealthy residents funded the construction of several large schools in the village – including the Charles Brigg's school seen here. This was Laurium's largest and most ornate school – built of brick and taking a commanding presence on a corner lot. Built in 1906 the school featured 10 classrooms, and was the last of Laurium's elementary schools to be in operation. It closed some time in the 1970s.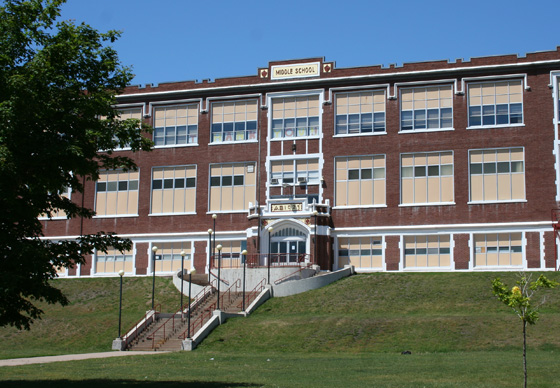 With the port cities of Houghton and Hancock the mine companies influence was even less an issue. Flush with money from a large tax base, these districts were able to build lavish school buildings on their own. Both Houghton and Hancock were able to build large stone buildings around 1923 to replace more modest wood structures that had previously served as their schools. While the Houghton School is no longer standing, the Hancock equivalent is still used today as the cities middle school. (though not for much longer)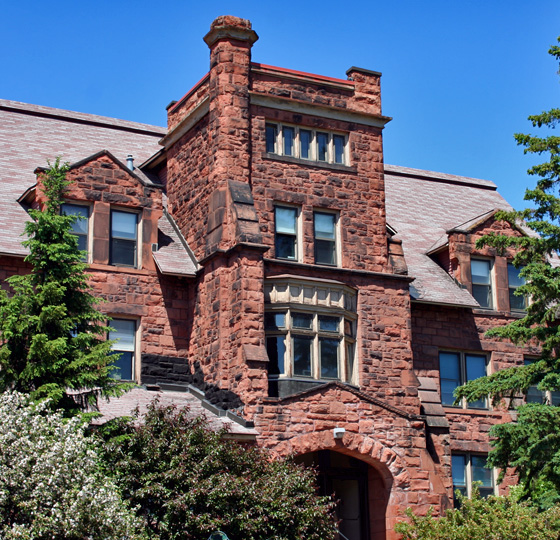 Besides the Keweenaw's abundance of grammar schools, it has also been home to two prominent secondary education institutions. The present-day Finlandia University had its routes in this impressive sandstone building along Hancock's main street. Known as Old Main, this building housed classrooms and dormitories for the Finnish founded Suomi Academy. Built in 1899 it was the first permanent structure for the college and continues to serve the University still today.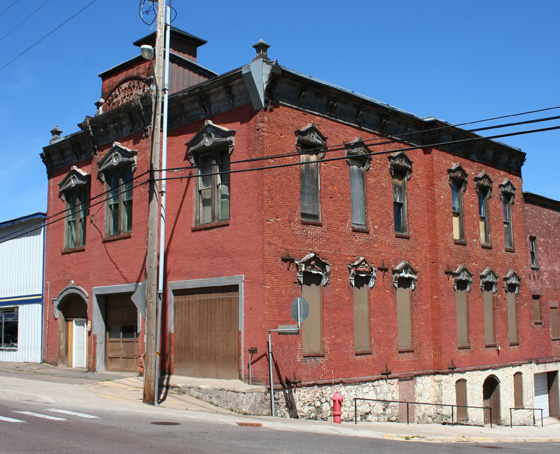 Nearby in Houghton Michigan Tech's routes were equally as modest. Began in 1885, the Michigan Mining School consisted of only 4 faculty members and 23 students. Without even a building of their own, the Michigan Mining School leased out space on the second floor of Houghton's Fire Hall – seen above. The school later entered its more permanent home at State Hall (since known as Hubbell Hall) in 1889. Hubbell Hall no longer stands but the Centennial Fire Hall remains.