Making our way from the sunken dredge we embarked on a long journey across the Quincy stamp sands towards the Reclamation Plant. Like most other sand deposits in the region these have been recently "rehabilitated" by the government – essentially covering the sands with dirt and planting various types of grass. Instead of the alien terrain that greeted us at the Gay sands, here we faced a sprawling grassland punctuated by the occasional tree or bush. It was quite the alternate experience.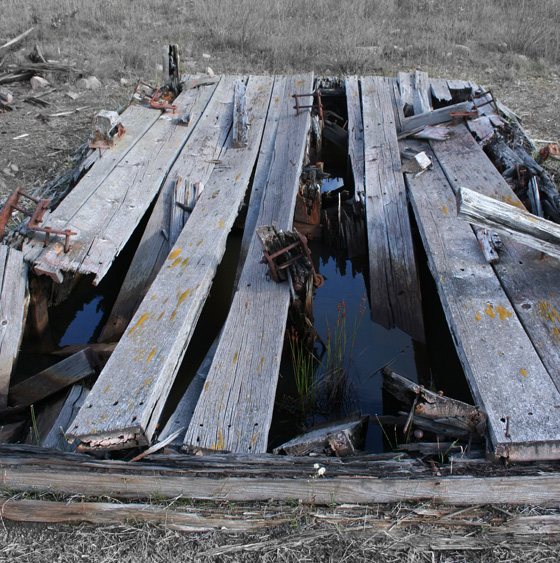 Before we could even reach the plant ruins themselves we stumbled across some very mysterious artifacts in the sand. It looked to be a box – or crate – which was partially buried in the sands. A series of flat boards in varying states of decay sat across its top face. Sprinkled across those boards were a collection of iron bolts and brackets, which were no longer holding on to anything. As strange as the crate was by itself, the true mystery was the line of identical crates that accompanied it.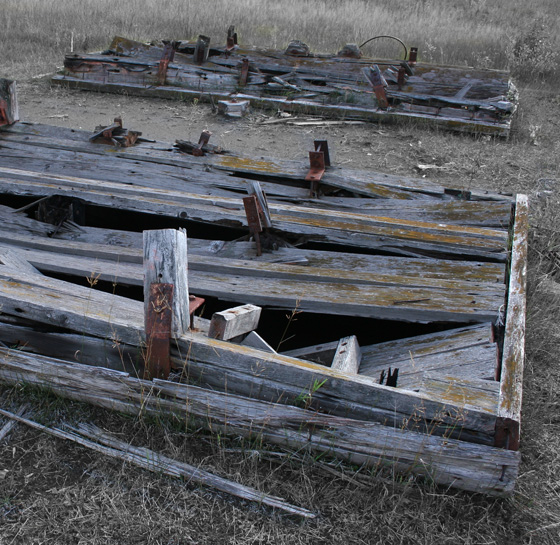 There were about half a dozen of these crates, all half-buried and all featuring the same brackets on their tops. The crates sat in a line, each one an identical distance from the next one. Our first thought was that this was part of a coal dock, but as far out along the sands that we were that seemed unlikely. There was also the fact that these crates were landlocked, surrounded by the sands on all sides.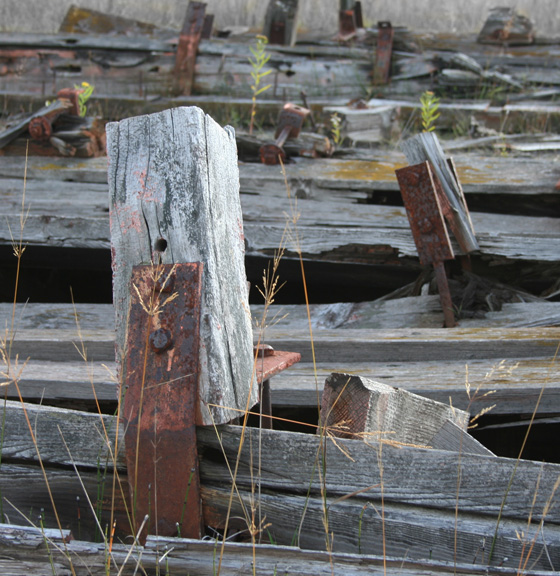 Whatever these crates were once part of, it looked like there job was to support some type of structure running along their tops. Each featured a series of brackets which supported vertical posts – post that look like they were cut off.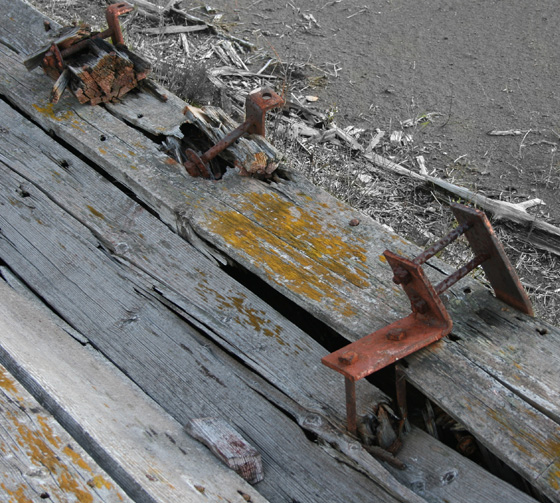 Besides the large vertical posts, the crates featured a large amount of smaller brackets on their edges. There was also a great deal of these brackets scattered across the sands nearby.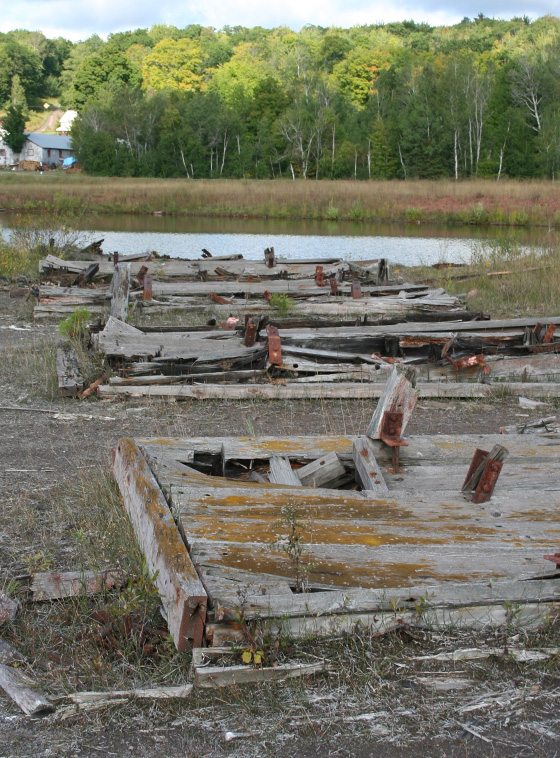 Turning back towards the distant reclamation plant, the lines of crates stretched out towards a small pond which had formed inside the sands. Following their lead, we ended up at the small pond ourselves and noticed one last crate.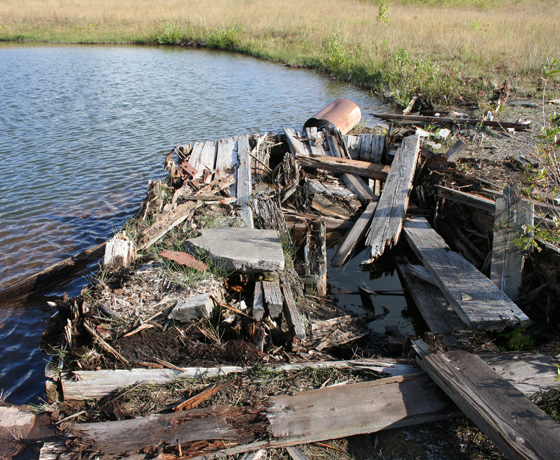 This one was half in the water and half out, which seemed to help bolster the idea that it was part of a dock structure. This small body of water might mean that this crates were once sitting out on the water, perhaps as part of a dock or other structure. If that was the case, the sands that currently surround the crates could have just migrated here over the years. (similar to how the old Isle Royale Coal Dock is now landlocked as well). But that still brings up the same problem – why a dock way out here?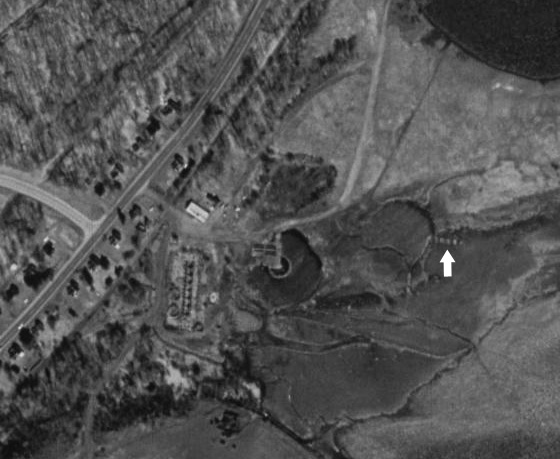 Here's an aerial image from Terraserver, showing our mystery crates in relation to the ruins of the plant (to the left). If these crates were part of a dock, we're sure a good distance out from the plant. But this image brought up another possibility, if perhaps a tad bit crazy one. Could these crates be remains of the old pontoon line that once fed the Dredge? Could they have been abandoned and beached here, only to be buried after decades of sand erosion? Crazy for sure, but we've found crazier stuff…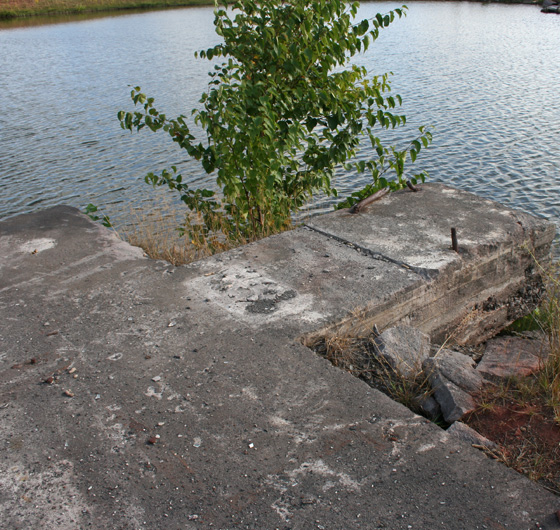 Before our pontoon theory could be further examened, we ran across another relic along the edge of that small body of water. This time it was a concrete structure, set in a "T" shape and protruding out from the ponds south-western shore. On its surface were a series of iron bolts, which once again most likely were used to attach some other structure down to the concrete. This relic was also in line with those crates – which would help bolster the dock theory. Obviously still a mystery for someone else to figure out…