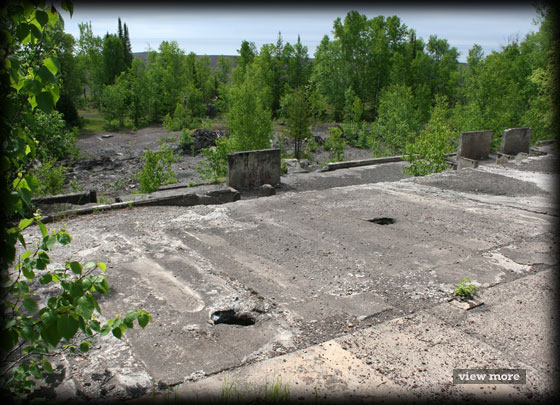 Leaving the engine house, we take another short climb up to the Mohawk Mill's final floor. Here is where the mill's four stamps would have been located, along with the massive rock bins that would have sat behind him. Today this floor reveals almost no sign of either, consisting entirely of a featureless concrete floor and very little else. The lack of details required us to take a much closer look, after which we were to gain at least a little understanding of what once was here.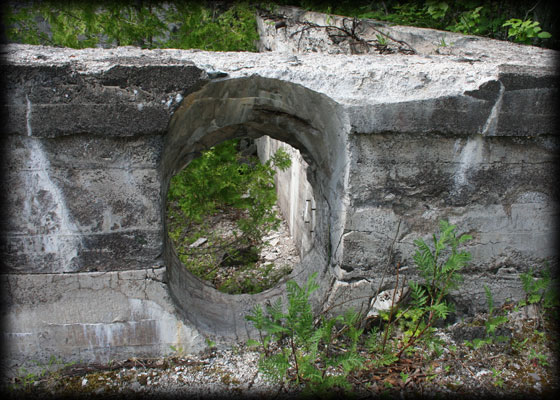 First thing we noticed as we climbed atop this floor was this large opening along the engine house's north wall. It looks like an opening for a large pipe, though I don't know for what purpose.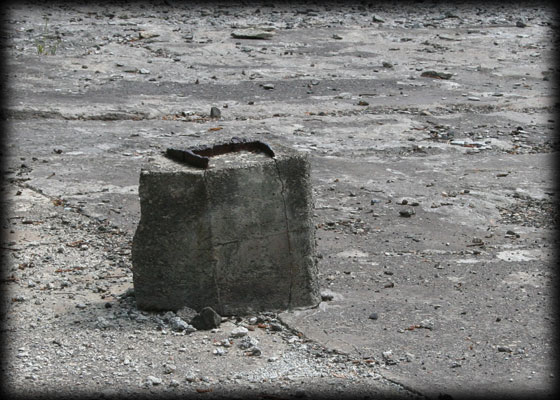 Along the floor itself are scattered a few concrete footings with the remains of the roof supports still imbedded within it. Besides there there was also a few sandstone based versions.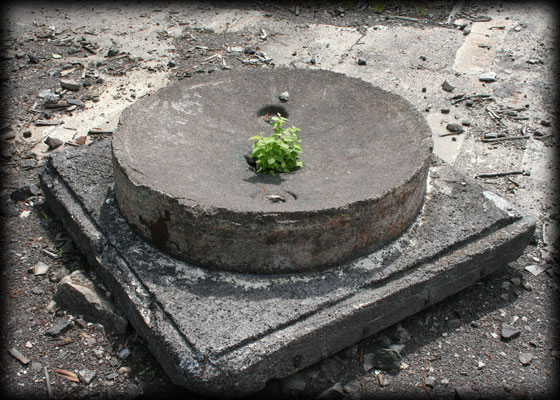 This odd concrete remains looks to be a foundation for some type of machine. Its concave top would seem to suggest a bowl or tank. But the tank would have to be small, as this thing is only a few feet in diameter.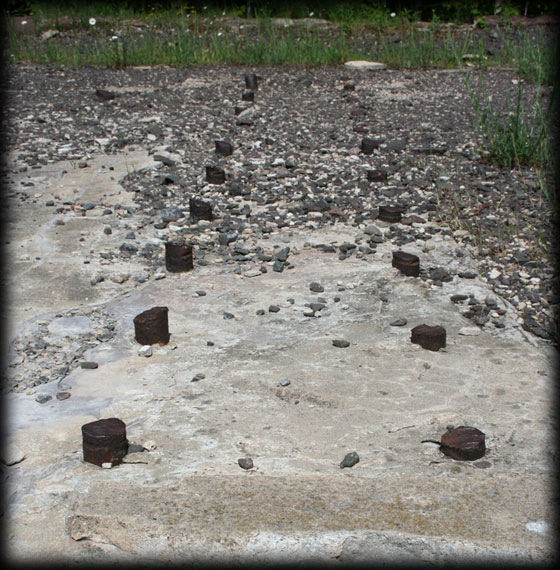 About the only evidence of any type of machinery along this floor are a series of iron bolts sticking up out of the concrete in various spots. This set seems to sit in a straight line, running from the front to the back of the floor.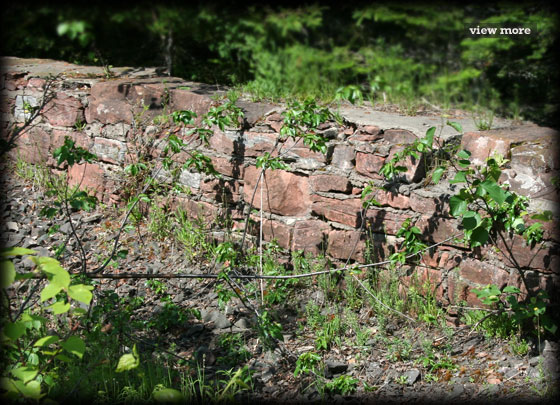 Running along what seems to be the stamp floors back wall is this short sandstone wall, which steps up a few feet to yet another level. I believe that this foundation supported the rock bins sitting behind the stamps. The heavy nature of these bins would have required a strong foundation to support them.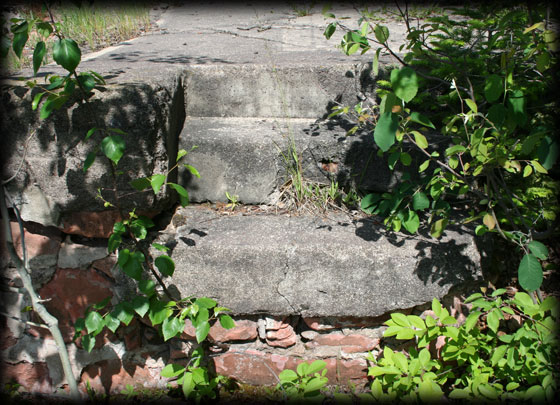 Cutting through the sandstone foundation on the north end of the building was this short concrete stairway.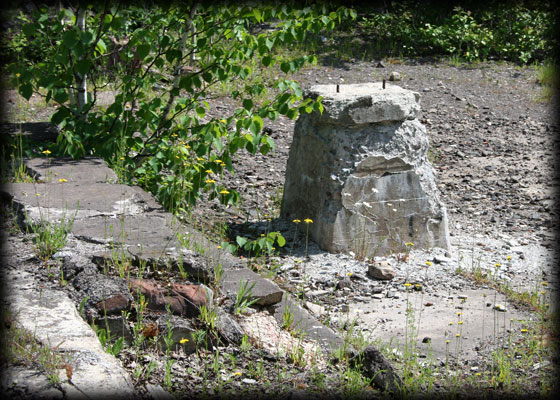 Running along that sandstone foundation was at least one of these concrete pedestals, which look to be a footing for a elevated trestle. I believe that this was one of several that once supported the iron trestle which brought rock cars to the top of the rock bins.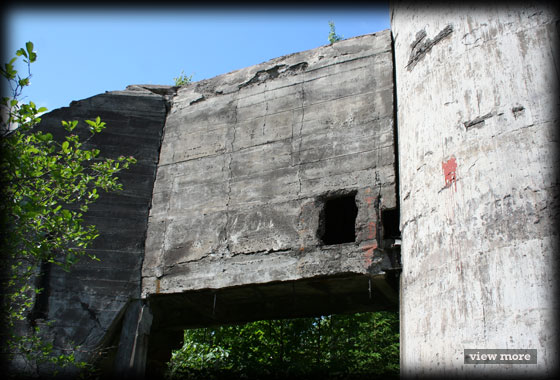 With nothing else to see along the stamp floor, we made our way back into the treeline to get a closer look at the stack which towered above our heads. Unlike most stacks we find, this one was still attached to its large concrete flu. The boiler-house would have been attached to this flu opening.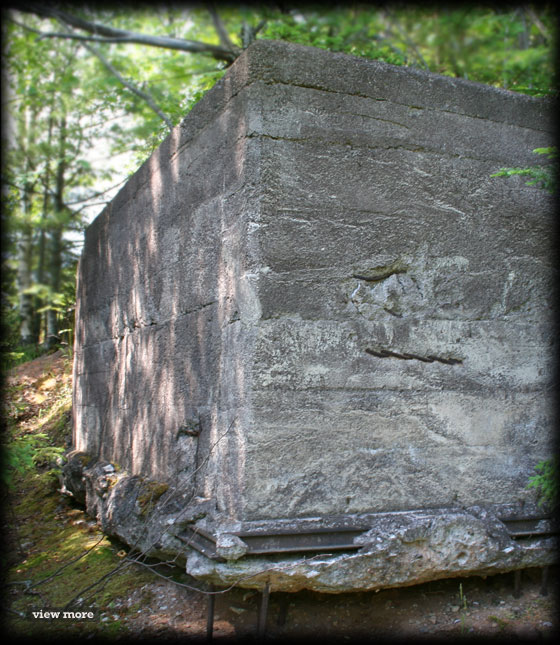 Before we left we found one last ruin that was something of a mystery to us. It was a large concrete "box" which ran at an angle out from the stamp mill floor out several hundred feet into the nearby woods. It looks to have been concrete reinforced, sitting a dozen feet in height, and was pierced by a series of iron bolts out of its top.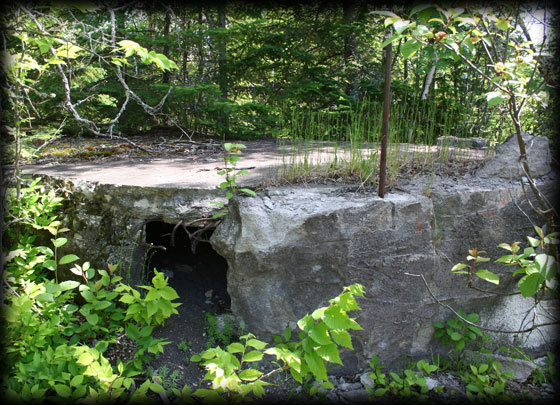 Making our way back to the stamp floor, we found where this concrete box was attached to the building. From the top you can see more iron bolts coming out of the top. You can also see a large hole in the concrete that seems to suggest that the box is hollow. Besides that, however, there was no other doors or windows into the box. It was basically featureless.
This item was not on the Sanborn maps that I have, so I have no idea what it was for. Perhaps someone else has an idea…