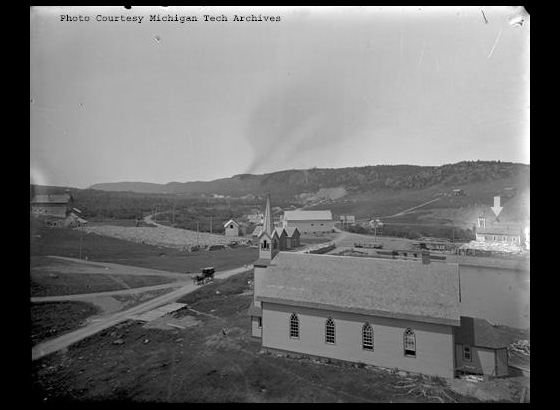 Today we take a leisurely cruise down a stream of consciousness, more specifically mine. So try to follow along if you can. It all started as I was browsing through some Phoenix photos at the Keweenaw Digital Archives in preparation for a post I was going to write today. It was then that I stumbled across the photo you see above, and noticed a peculiar building marked with the arrow. This building looked like a church, especially the steeple-looking protrusion off its front. This got me thinking…
In the foreground of that same picture is the Phoenix Church, previously known as the Church of the Assumption. The story of this church tells the tale of its birth down the road at Cliff Location around 1858. Several decades after the mine closed, the church was moved up the road to Phoenix where it currently stands (check out my post about the church HERE). While I'm not doubting the official account, I had always suspected that the Cliff Church wasn't so much "moved" as it was was dismantled and its parts used to build a new church. This is because I have yet to find any photographs of this church as it appeared at the Cliff, at least not any church that looks at all like the current Phoenix Church. So finding that mystery building got me thinking that perhaps the story was mixed up, and that it wasn't the Church of the Assumption that got moved to Phoenix but it was this mystery building instead.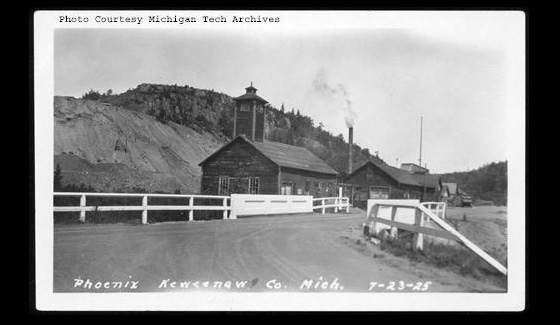 After finding this closer shot of that mystery building I began to feel more confident of my theory. This sure looked like a church, and even the photo description labeled it as a "possible steeple". With this in mind I took a look at all the Cliff photos I could find to see if this mystery building could be found.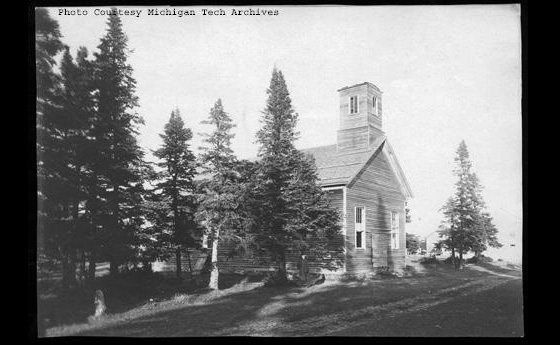 Eureka! While not an exact duplicate, this Cliff Church sure looked like the mystery building at Phoenix. Two windows up front – check. Pitched roof – check. Steeple looking thing – check. Better yet the description at the archives labels this as "Church at Cliff it was moved to Phoenix Location in 1898". Double eureka! With this new information I hastily began throwing together a new post about how the Phoenix Church was a fraud and that only I discovered the real truth. But then I found this…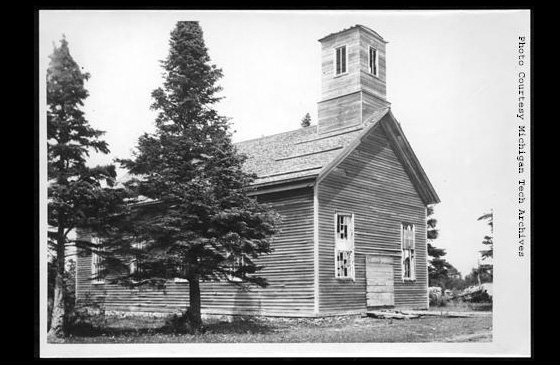 This building looked awfully familiar, but its description in the archives told a different tale: "Eagle Harbor Methodist Church, built 1846-47. (Mr. King bought this and moved it to his place as basis for his home in Eagle Harbor.)" Ugh! It looked like I was a little premature on my declaration. Was this church in Cliff or Eagle Harbor? I decided to take a look at some Cliff photos to find out…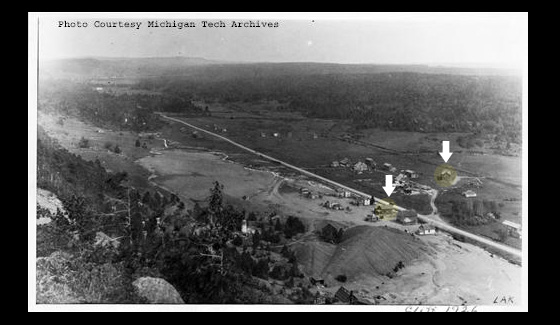 Here's a photo of the Cliff Location – dated as 1926 (keep in mind this would be after the Phoenix Church was moved). The mine is in the foreground, with the South Cliff to the right and Cliff Location to the left. Though the photo is grainy and dark, it looks like there are two churches in this shot. The first one sits along the Cliff Drive while the second is back on a side road in town. By using this photo and an old Topo Map I have of the area, I put together a map to try to locate where these church's were: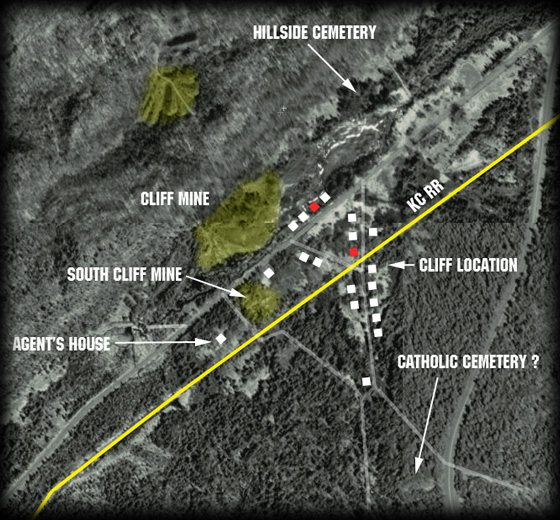 Here is a current aerial image of the site with the old town site superimposed over the top. Though the topo marked the buildings in town, it did not differentiate the churches. But based on several photographs of the site I was able to narrow their locations down to the red squares.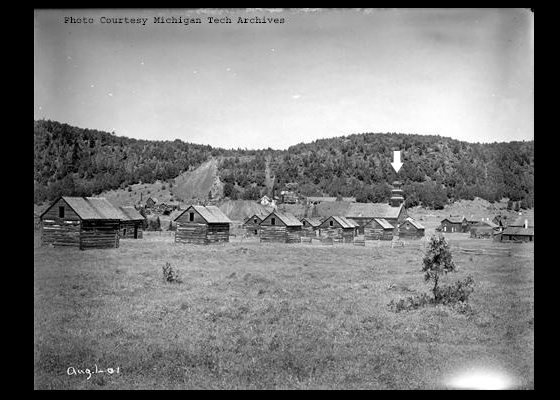 One of those churches can be clearly seen in this photo, which was taken on the north-east side of town looking out towards the mine. This church has a very unique steeple design that we can find on several other photographs of the area.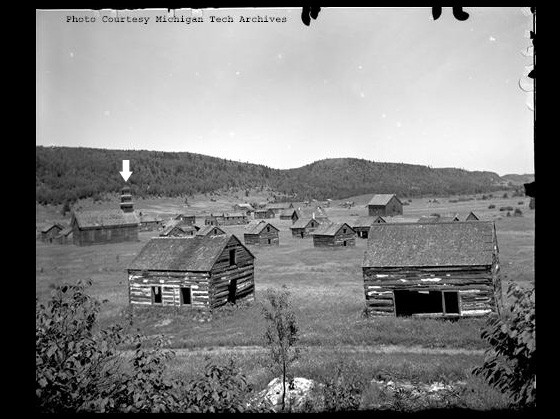 Here it is again, this time from the south.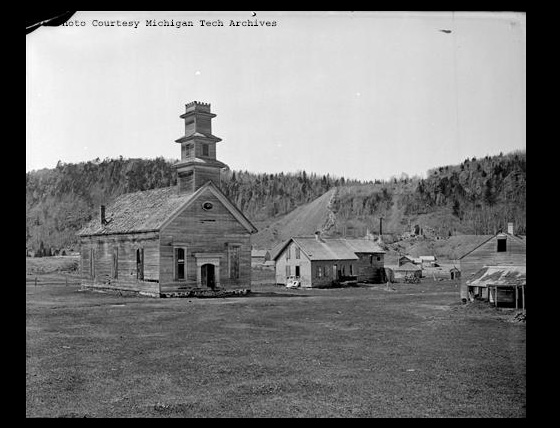 Here's that church in close up. This is identified on the archives (by reader Dave Freeze no less!) as the Methodist Church. This is definitely not the mystery building, nor is it the Phoenix Church since this photo was taken after the Phoenix Church as moved (and it's also not Catholic).
Unfortunately I was unable to find any photos of that second church I had previously identified at Cliff. So it was there that my stream of consciousness dried up. I had thought I was onto something, but I got no where. I was no where near find out what that mystery building in Phoenix was, nor was I able to definitively show that the "Eagle Harbor Church" that looked very similar to it ever existed at Cliff. I got nothing.
But through process of elimination I think I at least made it clear what churches the Phoenix Church couldn't be. Both of those churches I identified at Cliff were still standing at the location in 1937 – when those photos were taken. That means neither could have been the Phoenix Church since it was moved in 1899. So where was the Phoenix Church when it call Cliff home? There's only one other possibility – which a makes perfect sense.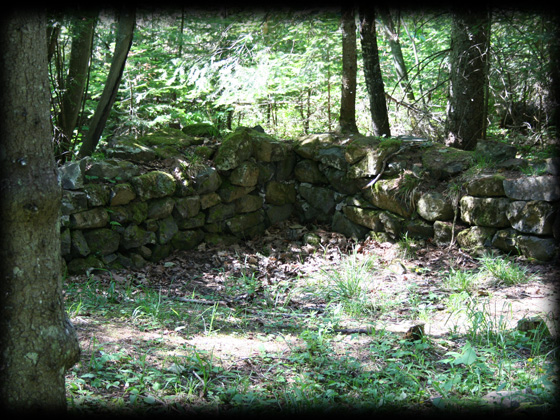 Sitting down at the Catholic Cliff Cemetery are these old foundations. Could these be the old foundation to the original Cliff Catholic Church – before it was moved to Phoenix? Since it sits along the old Catholic cemetery it makes sense, but the foundation looks too small to have supported a church of the Phoenix's size.
So what started as a conspirator theory ended up taking me through dozens of photographs, the creation of a Cliff Location map, and lots of guesswork but in the end got me nowhere fast. After wasting most of my morning I decided to write it all down here. Perhaps someone out there can take the reigns and run with it….