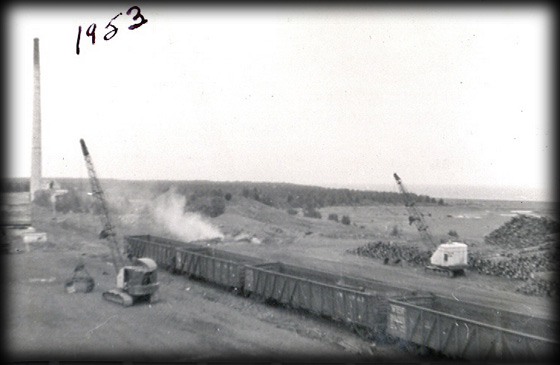 As I requested, Gordy came through with those photos of Gay that I had so embarrassingly called for a few days back. I thought we'd wrap out the week by sharing them with you all. The photo above was taken in 1953, which I deduced from some extensive research. At this time the mill had been closed for several decades, and the reason for the town's existence in the first place (logging) had returned to take its place. You can make out the sands to the right and Lake Superior beyond that. As for what tall structure this was taken from – no idea.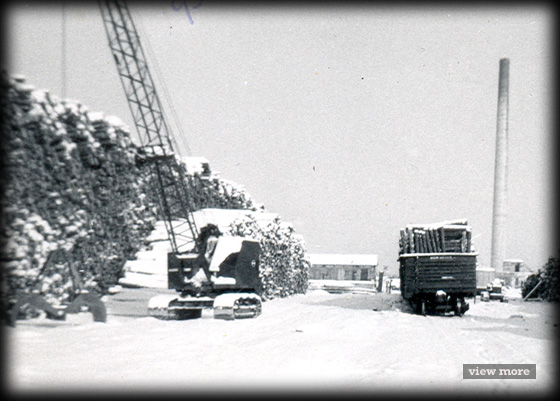 Another shot, this taken a few years later. Those log piles had grown substantially in that time, and we can see a line of train cars loaded up and ready to go. These logging trains were operated by Copper Range, which utilized the same Mohawk-Gay line the mills took advantage of decades earlier. This line was abandoned around 1964.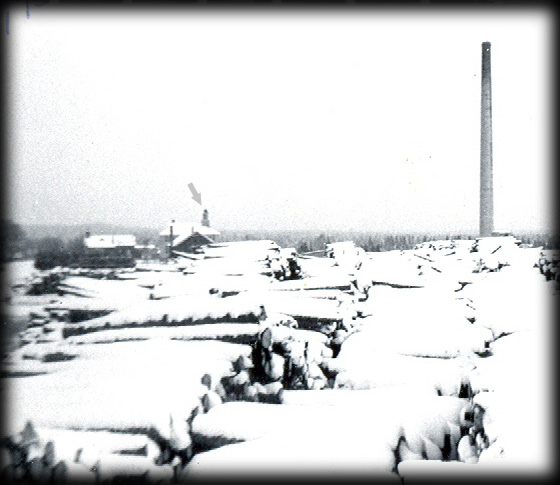 Another 1955 shot of the log staging area. While this picture isn't the greatest, I find it interesting because it shows the old Gay School in the background (I pointed it out with an arrow). At this time the school was still in use, closing around the same time the railroad was abandoned.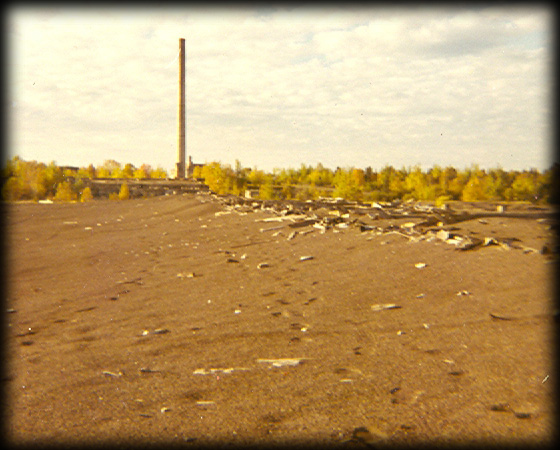 Now we move a few decades ahead in time (1970's perhaps?) and get some shots Gordy took of the Mohawk Mill ruins. This one is taken out along the sands, and shows that old wooden launder that I featured a few days back. There was a lot more of it left then.
And here's a shot showing the mill after it was restarted in the late 70's. Or at least the stack was used again – this time to burn tires I believe. (Hey if your town has a several hundred foot tall concrete stack at its disposal, why not?)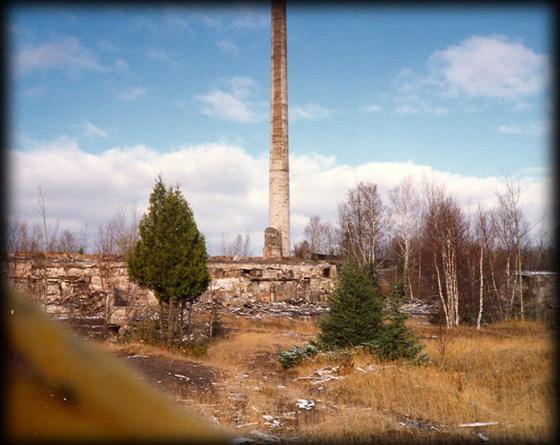 Jumping ahead again (80s this time?) we see the ruins of the mill without all the ugly trees and nature in the way. This is the way these ruins are meant to be seen – naked and vulnerable. The entire complex looks much larger here then it does today, covered up as much as it is by trees.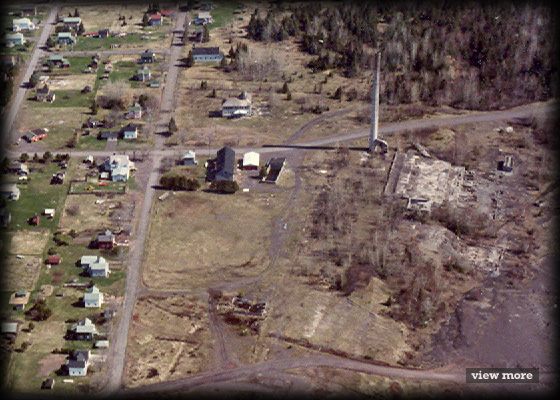 And the piece de resistance, this fascinating aerial shot of Gay and the Mohawk Mill taken by Gordy himself. (He wasn't the one flying the plane however) You can make out a great deal of detail in the ruins, including that concrete hopper I just featured. (off the top right corner of the mill). It also gives the town a very well-thought-out look, complete with green lawns and parallel roads. It actually looks rather nice.