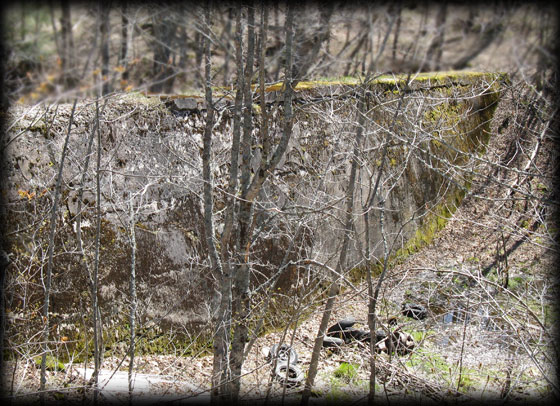 Fresh from my week-long Strep ordeal (much better now thankfully) I find an interesting mystery waiting for me in my inbox. Brian Wereley had just returned from a Copper Country Exploration of his own, where he had found what looks to be an old dam hiding away in the woods. He had sent me the photos to see if I could identify it, which I cant. So I decided to post it up on the old website and see what my readers have to say. (That would be you) Hopefully one of us can get an idea.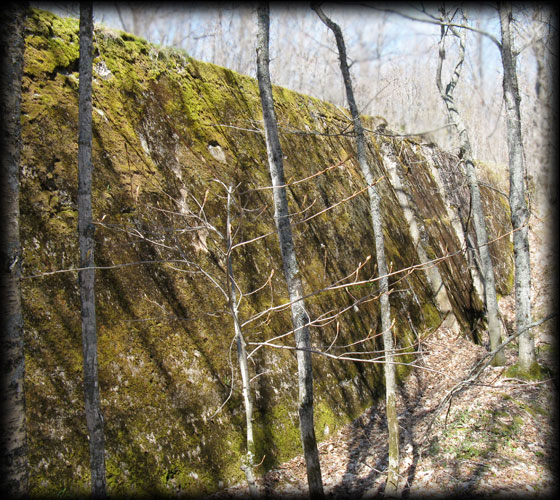 The first picture above is a wide shot of the structure. Brian estimates it as being some 80 feet across and 30 feet high at its deepest point. It sits within a natural-looking gully, stretching from hillside to hillside. Any reservoir it might have once held back has long since been drained or dried up over time. The only source of water is a small stream, which now flows under the dam on its way down the hillside.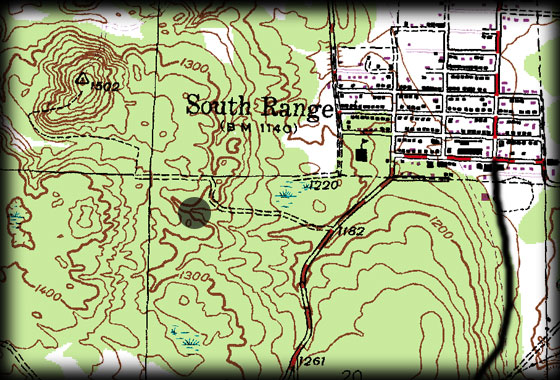 Here is where the structure is located, just south-west of South Range. Its position is baffling to me, because it doesn't seem to be near anything. Any dam such as this that I have found before was near a mine or stamp mill. No stamp mills here, and the closest mine (the Baltic) sits almost a mile to the south-east (over the top of Six Mile Hill no less). While the Wheal Kate Mine (started along Whealkate Mountain just to the north of here) is nearby, that mine pre-dates the concrete used in the dam's construction. The concrete makes this baby turn-of-the-century, most likely built by Copper Range. But for what purpose?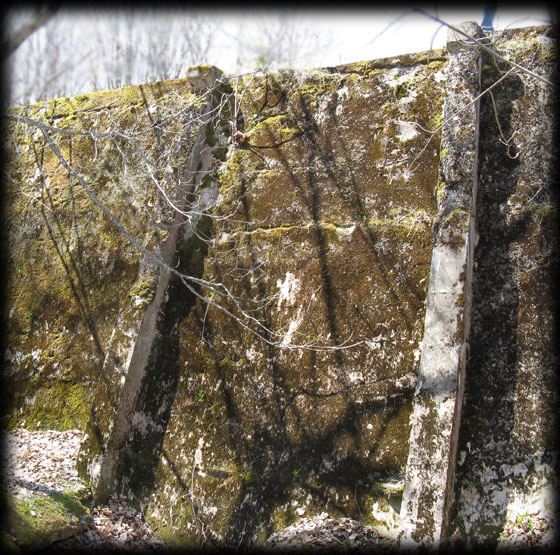 Here's a closer look at what appears to be a spillway along the dam's face. This is the only "embellishment" along the entire structure. No pipes, control valves, gates, doors, anchor bolts… nothing. THere is also no evidence of a pump house or other structure nearby, which would have been needed in order to bring the water from here to wherever it was needed. If it was a gravity-feed system (like what was done at the Quincy Mill Dam), it would have never made it over Six-Mile Hill to feed the Baltic Mine.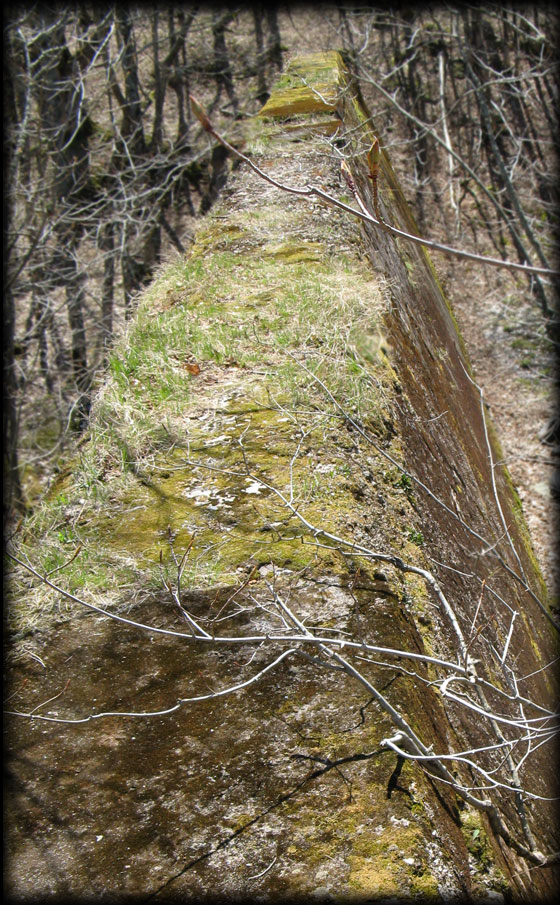 Here's a shot looking over the top of the structure. Its more modern-looking construction would seem to suggest it was built by the Copper Range – which got me thinking about the railroad. Dam's like this were also made to feet water towers along railroads. Readers have pointed out to me in the past that water from wells would be undesirable for use in train engine boilers, so surface water was collected instead. (it was much softer I believe was the reason) So this dam could have supplied water to a water tank along the Copper Range Line. Unfortunately we have another geography problem.
According to the list of water stations at Kevin Musser's site the closest towers (in 1916) were at Mill Mine Junction – about a mile and a half to the north-east. While the topography would allow the use of a gravity feed system from this dam to the junction's towers, it doesn't make sense for it to do so. Mill Mine Junction has a stream of its own running nearby. It would seem to be much easier to simply dam that stream for water then this small little one a good mile and a half away. But that's just me.
So I don't know. I want to say it was built to supply water for a Copper Range water station – but it doesn't really make sense on closer examination. The only other option would be a reservoir for the village of South Range, but it doesn't seem large enough for an entire town's water needs. Hopefully someone out there reading this can shed some light on the subject. For me, its a dam mystery.
Thanks to Brian Wereley for the photos (which are his) and the story. Its a great find, and I'm a little jealous. If anyone else out there has some questions about mystery ruins you found, feel free to send some pics my way. I'll do my best to identify things I know, but if it stumps me I can always post it here and get a whole group of experts to take a look. I love getting photos so send them in!