Centennial No. 3 Panoramic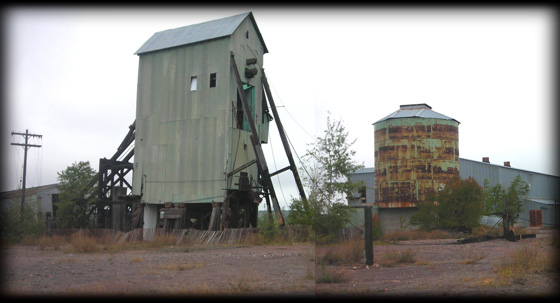 After yesterday's feature on the Centennial No. 3 (as photographed by Jay Balliet), I got a few more photos of the site in my inbox. This has got to be the most popular mine site to photography – which makes sense because it's so close to the road. People love to photograph it. I've always thought that it was the most "alien" looking mine around – looking nothing like anything else in the Copper Country. It doesn't seem to fit it and looks out of place. That's probably why I don't have much interest in photographing it as I do other mine sites. It just doesn't seem "right".
That being said, someday I'll have to get off my butt and get out to photograph it before it succumbs to history – which by the looks of things doesn't seem so far off. For now, I'll just keep on using other peoples photos – its a lot less work then going out and doing it myself. :)
This photo marks the first panoramic featured on this site not taken by me. This wide shot of the Centennial No. 3 surface plant has everything – hoist, shaft, headframe, and even the mill in the background. It was taken by another one of my very loyal and helpful readers – Bill Nich – back in the fall of last year. Thanks Bill!