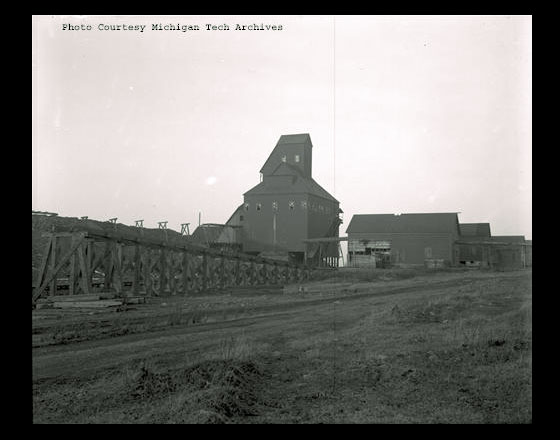 For all of the Copper Country's copper richness, the difference between success and failure was often a matter of feet. A lode that proves extremely rich to one company can prove helplessly bare to another only a few hundred feet away. But the bombastic success of mines such as C&H and Quincy drove a highly speculative market, prompting an insane amount of investment in mines that had little chance of succeeding. No mine illustrated this concept as beautifully as the Arcadian. It was Standard Oil in fact – the oil dynasty run by Rockefeller himself – that developed the Arcadian Mine in 1898. With such a name like that behind the mine, investors saw little chance of failure. Soon over two and a half million dollars was raised (in 1898!) and the Arcadian Mine moved quickly into development.
Standard Oil spared no expense, constructing one of the largest and most impressive surface plants on the Keweenaw. A total of seven shafts were sunk simultaneously and at a dizzying pace. What C&H took 30 years to accomplish, Standard Oil was hoping to accomplish in less then 5. The Arcadian was so sure of the gold mine at their feet that not only was the mine built, but the nearby town of Arcadia as well (now known as Paavola) – complete with over 150 dwellings to house the more then 1100 workers toiling underground. Success was so guaranteed, in fact, that Mineral Range felt no hesitations in building over 3 miles of new line running up the hill from Pt. Mills Junction to the mine itself. It was all a beautiful sight – and a beautiful failure.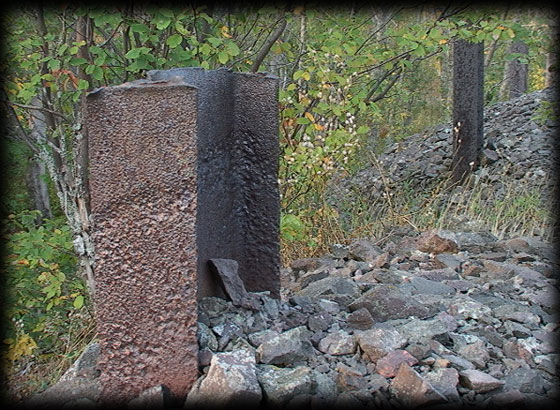 It was 5 years and over 7 million dollars later that the mine had to admit the truth. The ground beneath their feet was barren, and there would be no great profits to be had. The mine was shut down, terminating over a thousand jobs and erasing the town of Arcadia off the map. The company sold off everything they could in the hopes to at least pay their debts; they sold their stamp mill to the Centennial Mine (just like new!), they auctioned off their impressive machinery to the highest bidder, and even shipped their shaft houses out to the newly formed Trimountain mine. Because of this there is now very little left of the great Arcadian. All that remains of the shafts themselves are these stubby beams protruding out of the poor rock piles. Besides that – not much.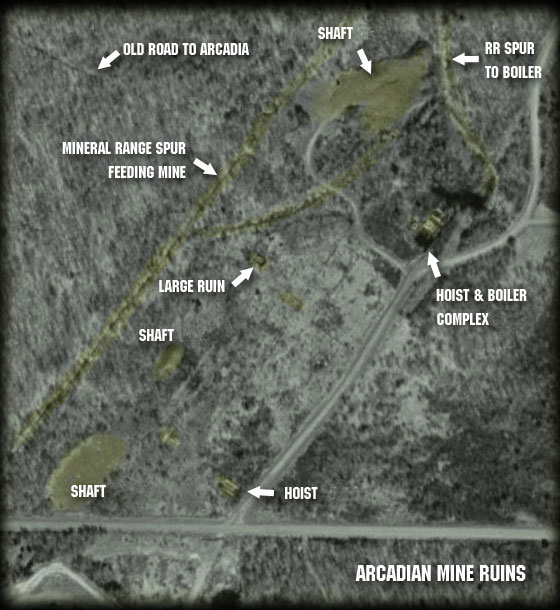 The remains of the Arcadian today are scattered across a half mile length of land atop Arcadian Hill. From this image you can make out the various rock piles of the shafts (2 large piles shown here, 1 more across the road to the south). You can also see the old Mineral Range line which served these shafts. This short spur branches off from the main Arcadian line which runs east-west about a mile north of here. Most of the poor rock from these shafts were hauled away as ballast for the runway at the airport, with only a small amount still left. There are only a few ruins of any interest left.
What you see most of are these protective fences around the old mine shafts. There were seven shafts around here somewhere four of which we managed to find on our explorations – all of them surrounded by these pipes and barbed wire. Some of the fences had fallen down, and today they mostly only serve to warn you of the nearby danger.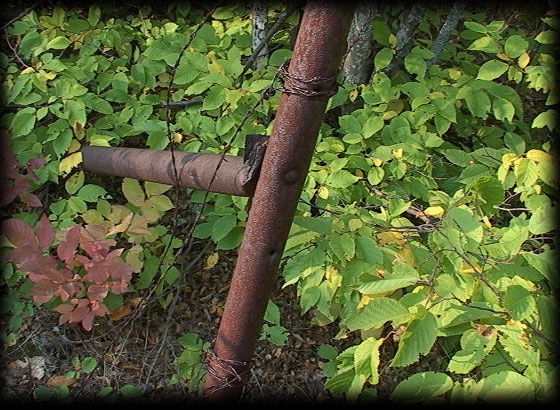 Here's a closer look at one of these barriers. Not very good at keeping people out, but designed most likely to only warn. It was a warning we took seriously.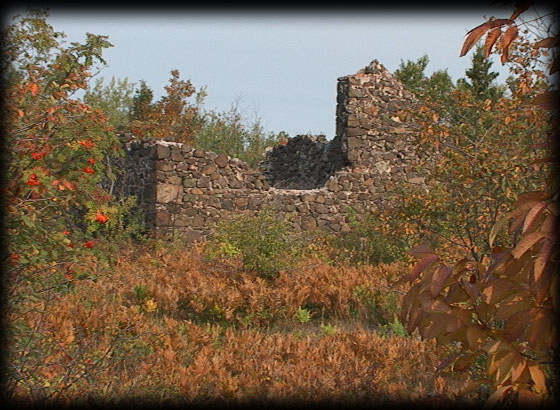 The most impressive structure still standing along the old Arcadian was this beauty. Amazingly we didn't notice it until we were right on top of it. Its a large structure, about a story and a half in height. I'm not sure what it was, although there was a mine shaft nearby. At first we thought a hoist building, but there was no machinery mounts inside – only what looked to be a basement.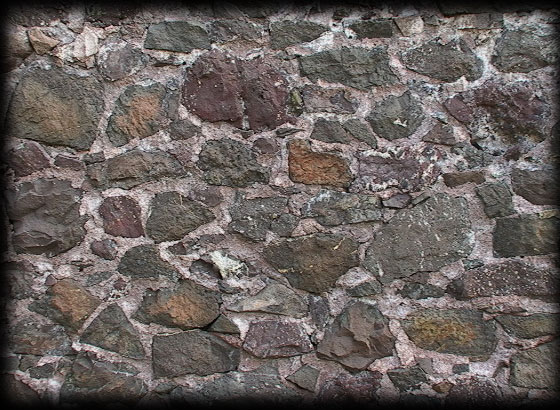 Whatever it was, you can get a great sense of just how sure the builders were that this mine would succeed. While most first generation buildings are built from wood, here they jumped straight to a more permanent and costly material. The quality is exceptional, the smoothness of the wall betraying very little haste.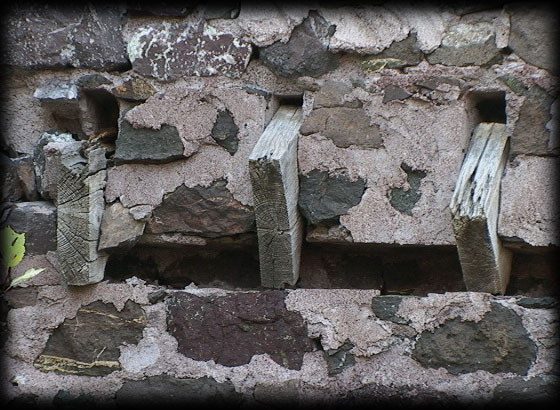 Inside the building are some curious design details including these pieces of wood formed inside the rock wall. Probably some type of structural support, but I don't know for what.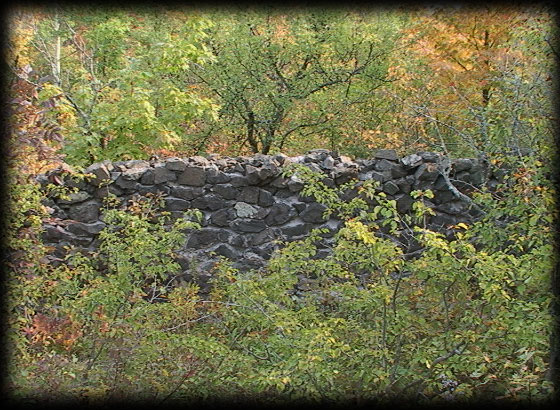 As with most mine site, we were able to find several remains of buildings housing steam engines of some type. These structures tend to stick around a little longer then all the rest, due mostly to their large concrete and brick foundations on which the large machinery once sat. We found at least three of these structures. One large one which is undoubtedly a hoist, and two smaller ones like this one.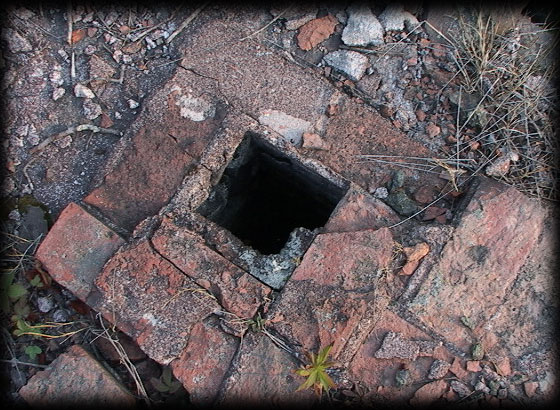 Too small to hold a hoist (at least a hoist of the size most likely lavishly bought for this mine), this foundation probably housed a compressor engine for the drills. You can see the traditional red-brick surface and square holes in which the mounting bolts were housed. These are very similar in design to those used at North Kearsarge and Osceola.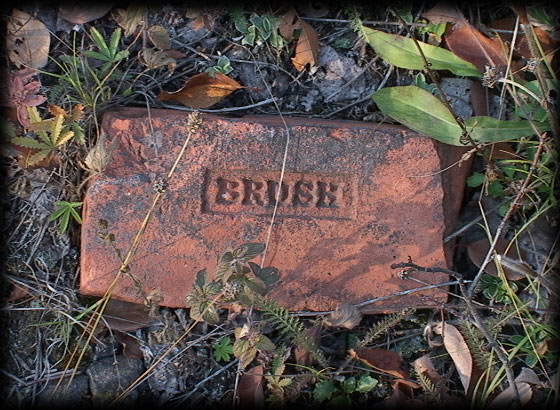 Also similar to both North Kearsarge and Osceola: the Brush brick. We find these guys everywhere, must have been a very popular local brand.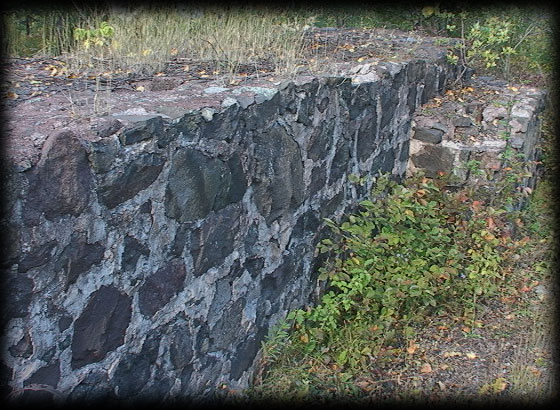 We also found a great deal of smaller foundations scattered all about surface. If you look at the map above you can almost make out what appears to be a pair of cross streets, which lines up to where most of these ruins can be found. Some were obviously houses (offices probably), but the one shown above we think was the dry. It had a very long and narrow footprint, and a flat floor raised up from the ground. Similar to other dry ruins we have found other mine sites.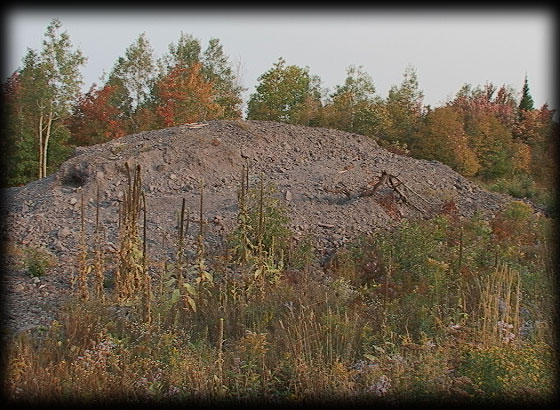 The scattered rock piles, foundations, and barb-wired fences are about all that's left of this once multi-million dollar surface complex. Most everything was hauled away when the mine closed. There was however one large and impressive ruin still standing that gave a good impression of what once was here at Arcadia. We take a look at that tomorrow…