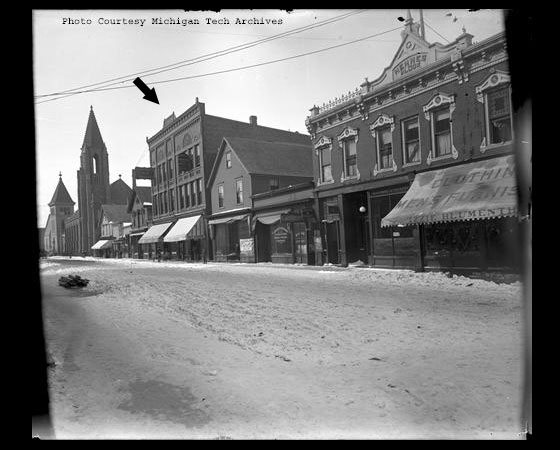 Our Calumet facades tour winds down here along the 100 block of 5th street with the largest building on the block – most recently home to Re-Run Sport & Tool. This three story structure still regains much of its former glory along its front facade, due mainly to some recent rehabilitation work. The buildings store-fronts have been returned to their original look, and the inside has been fixed up nicely. Unfortunately Re-Run has since left the building, and now it stands vacant yet again. A shame for such a fine building. Lets take a closer look.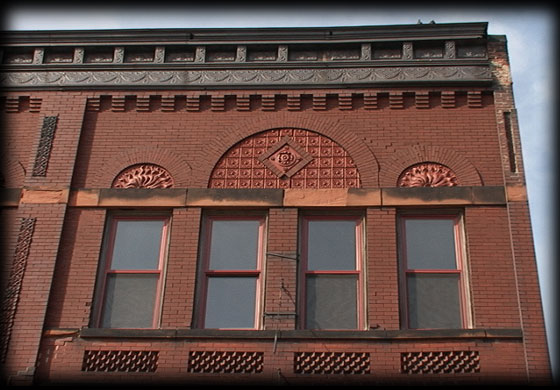 What is most interesting about this building is its irritating lack of symmetry. The building is essentially two large 3-story buildings attached together. Here you see the upper facade of the right "building". It consists of a group of four windows; an inside window, a set of two middle windows, and an outside window. You would think that this pattern would be copied on the left "building", but its not. While the arched window hoods are present, a series of brick pilasters (a rectangular column sticking slightly out of the buildings) run down the buildings facade between the middle windows and the outside windows. This is just plain odd. Take a look below:

Hers a look at the left "buildings" outside windows, and as you can clearly see, they are divided from the middle set of windows by a brick pilaster. Also different is the use of flower tiles down the left side of the facade, a feature missing from the right "building". All these differences between the building's two halves makes me think that the left side was added later. That this side of the building is original, and year later the left side was added with a slightly different (yet similar as well) facade. Perhaps the flower tiles were sold out then.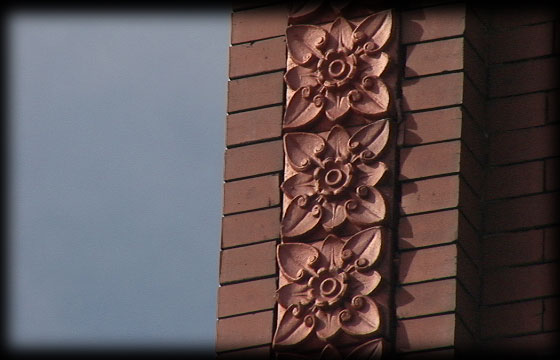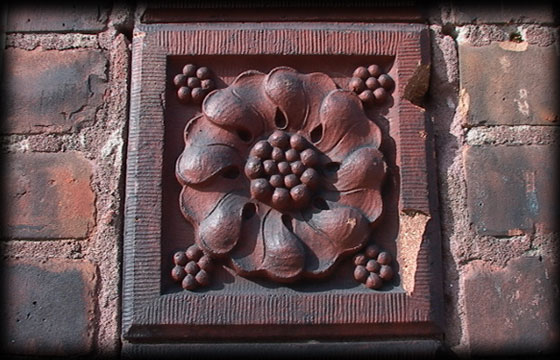 Speaking of flowers, here are some closer looks at those tiles. Flower designs were big back then.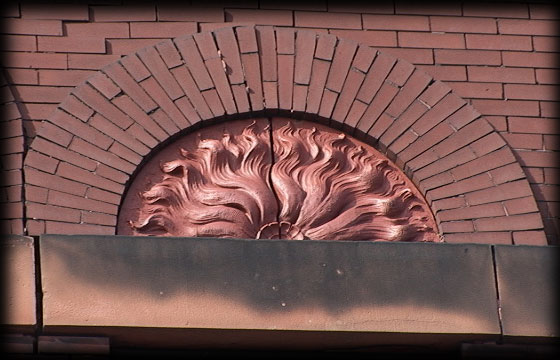 A closer look at the arched window hoods, showing the sunburst (or sunflower?) medallion on the inside. You can see the medallion is made up of two parts. Check out the Bigger Picture here for more details.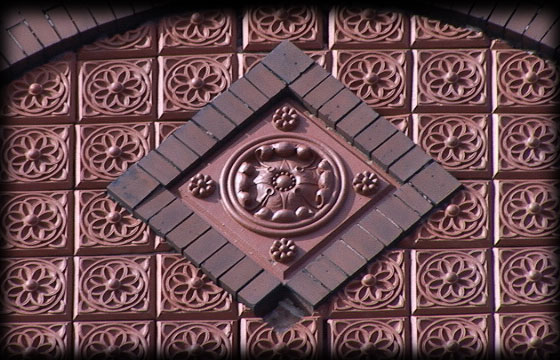 The larger hood over the middle two windows is of a different design. More Terra Cotta tiles, some interesting brick work and a diamond shaped medallion make up this one.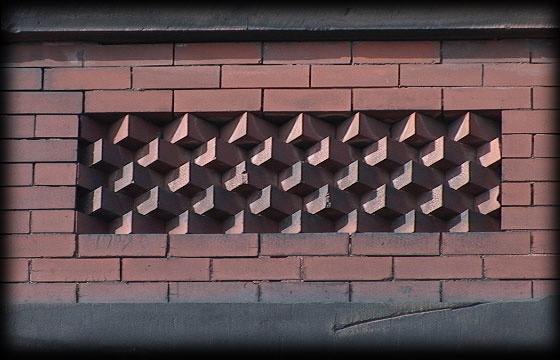 This interesting design is underneath the windows on the upper floor. It also interests me how much extra details the bricklayers put into their work. It must have meant much more work for them, but they did it anyway.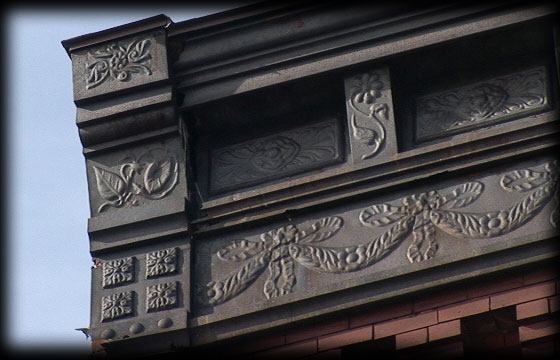 This small detail on the front facade caught my attention. I had assumed that most of these buildings were simply brick or sandstone, but this would seem to suggest an iron skeleton. I guess on a tall three story structure like this the iron would be necessary. Moving on..
Next: 100 Block Potpourri…